September has ended and we were blessed with some news regarding MNL48. But first, let's go back to the recently concluded AKB48 Group Janken Taikai 2017. The lucky winners are the duo fairy w!nk comprised of two cute (and rather delicate) Misaki Aramaki and Hirona Unjo with a debut as a prize. The Janken Tournament has implemented some changes this year that allowed member to form their own groups, trio, duo, or by their lonesome if they so desire. The winners, both from HKT48, were not front-girls and this debuting as a group can help them gain traction with the fans. Or at the very least, it is a good opportunity and learning experience for the girls.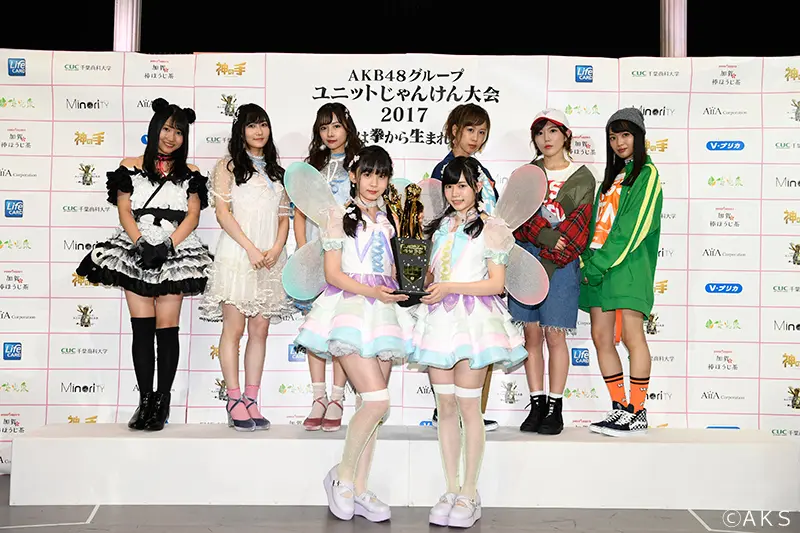 September also saw the MNL48 Official Facebook account suddenly having a flurry of announcements last week with far-reaching consequences for the future of this audition and perhaps, the group itself.
The Facebook page has been releasing videos of AKB members inviting young girls in the Philippines to audition for MNL48. September 22 was the turn of Hana Matsuoka and Filipina-Japanese Emiri Yamashita. While I've never placed too much stock on the so-called "Pinoy pride" but seeing Emiri's video still excited me. The girl is not the first half-Filipina in the 48 Groups but she's currently one of only two half-Filipinas in the whole of the 48 Group (the other supposedly being Makiko Saito of SKE48 – although I've never heard her confirm it at all). What makes it more interesting is that Emiri was bullied at school exactly for being a half, going so far as asking her mom why she was born half (HKT48 no Odekake although I forgot the episode number).
Despite her negative experiences relating to her mixed-parentage, she still likes certain aspects of being half, one of which is eating Filipino food. Her favorite food is sinigang, and she was eating adobo in one of her Showroom streams.
Half an hour later, another post came up. This time, it's about the official announcement of the partnership between MNL48 and ABS-CBN. Not exactly news as I've written about this before but this time, they had pictures of the contract signing.
Last week, a new video was again posted, this time featuring Juri Takahashi and Yuiri Murayama. Takahashi is the captain of Team IV, while Murayama, a former child actress, is the consummate theater performer. Another set of girls I don't really follow, except when they interact with my own favorites. I liked Takahashi's performance in Majisuka Gakuen 4 and 5, and I view her as a very underrated captain.
Anyway, here are some of my thoughts…
First, it has been a long time coming and the audition really needs to start rolling. Getting the AKB girls to promote the auditions of their sister groups is a welcome development and hopefully they also have videos of the big names too. They were lucky to get Mayuyu before she leaves. Maybe videos from Sakura Miyawaki, Jurina Matsui, and Sayaka Yamamoto are not far behind.
Second, they should bring out news about the two locations, Glorietta and the MNL48 Theater supposedly at Centris. There has been reports of construction activity on the Glorietta roof, but we've heard nothing about the theater. While I'm not the type to demand full disclosure, this whole thing has dragged out far too long that I feel it is important that the fans are given some assurance that things are really running as they should. Personally, I see the Theater as a tangible sign that some aspects of MNL48 will stay true to the original format. There are floor-plans available in the internet, but most of them are proposals for investors and are not considered final and official. In fact, the info about the theater wouldn't even be known if fans didn't mine the internet for details.
Third, the partnership between MNL48 and ABS-CBN will be big, and might go beyond the auditions. Forming the group means nothing if you can't get them into shows and events and whatever one's opinion of ABS-CBN might be, they have more than enough muscle to promote the group. AKB48 did not explode into mainstream success just because it is AKB48. Crucial deals, guestings, promotions, and other novelties served to make the group very interesting and the massive fandom that came bascially made them into giants. Plus, Japan already has an existing idol culture that we don't.
If I go by the comments in message boards and in the official Facebook group, many people do not seem to want this thing to succeed and a shocking number of them are self-professed AKB fans. They have different reasons for not writing the group off, but the most common complaint is that the groups seems to have deviated a lot from the "original" format, compounded by a fear that the partnership with ABS-CBN will mix a little "drama" into the process. While I wouldn't want to come across as defending HHE, I would be remiss in my duty if I do not point out that all international sister groups has had to adapt to their country's respective cultures. The only reason why ours seems a bit too different is because Japanese pop culture – particularly the idol culture – does not have a solid foundation in our country. Unlike K-pop whose sound is pleasing to our mostly western sensibilities, J-idol music is unapologetically Japanese, and the average Filipino would not have been exposed to this kind of music. Being a sub-set of J-pop, idol songs are a different beast with its own quirks and eccentricities that may be difficult for the mainstream public to accept. With that in mind, for MNL48 to succeed beyond catering to the fringe elements of pop culture, it must also appeal to non-fans, most of whom wouldn't even care if the group isn't "faithful" to the original, or may even have no idea what exactly is the original.
To be fair, I understand where the fans are coming from. It is difficult for a fan to imagine anything but the "successful" AKB48 norm of low-key auditions. It is also hard to understand why MNL48 can't be network neutral like their sister groups. But think about it: a hyped-up first audition can bring in more fans. More fans equals more money, and more money means that HHE can make MNL48 do a lot more. The idol industry revolves around money: the more the fan is willing to spend, the more opportunities for the girls open up. We can worry about being "faithful" to the system once the group can stand on its own feet.
Viewing things from a business perspective, the partnership between MNL48 and ABS-CBN is a smart move. For an entity that needs publicity, working with a major network is going to go a long way. We don't know yet if the partnership is limited to the audition or if it will continue for some time after. Sure, I feel a surge of irritation whenever they use the term "talent search" instead of "audition" but it's not something that will make me question the whole effort, both terms being used interchangeably in Philippine media for quite some time now.
My feeling about the negativity of some fans to the way the MNL48 audition is going is that fans are having difficulty seeing the bigger picture. MNL48 – like AKB48 and every other idol group in existence – is a business and has to generate income to survive. Besides the many corporate and brand considerations, HHE must also feed, house, and train potentially up to 60+ girls and that's no joke. With this in mind, it is easy why they had to do the things they did namely the tie-up with a major network and putting in gimmicks in the audition, all in an attempt to put the team into mainstream consciousness in the hopes of getting reasonably good returns.
I don't claim that things have been running smoothly, and even I have had some personal issues regarding how HHE handled the Team 8 Fan-meet, but I have to acknowledge that the event – along with the Cool Japan Festival and Japanese Embassy events – were a success. They were also able to convince AKS to entrust them with the brand, and were able to bring in Team 8 twice. No simple feat, especially since various groups have tried – and failed – to bring AKB48 here for many years now.
It is all too easy for us fans to take the management to task because none of us have any real insight to how difficult things are behind the scenes. It is very easy to claim the high ground when a venture's success or failure will not really affect us in an easily discernible way. The idol system in Japan worked because the fans understood that despite their personal opinions, they have a "responsibility" to support their group. We simply don't have that mentality. What we usually do is to regard anything that goes against our expectations as an automatic failure. Is this indicative of us being questionable fans? Or could it simply mean that things are just different here, and on account of this difference, the management has had to change their approach?
Our comments and our reactions are a mirror to who we are as fans. It is not wrong to criticize a slow-moving process, or anything that the fans feel the group, management, or their partners isn't doing right. But I find it rather questionable that we can write-off a group that hasn't even been formed yet.
None of us knows what's next for MNL48. We all want something, anything, to happen but at least we can take comfort in the fact that there is light at the end of the tunnel, even if the end is probably miles away.
——
One last thing:
There are many info regarding MNL48 that are floating around but are not confirmed or officialy announced. The rule of thumb here is that if it wasn't announced by any of MNL48's official social media accounts, then it's not to be regarded as true or final. Not even info from Hallohallo Inc.'s Japanese site because those are mostly proposals to investors are not final. Too often I see info rearding the audition that, upon close scrutiny, are unfounded. So the next time you see an article with new info, try checking in with the official accounts.