Nothing could be more frustrating than the buffering while watching streams online. In this article, we are going to discuss lagging and Twitch stuttering.
We'll provide you with the best ways to watch videos without twitch stream stuttering and how you can fix the lagging videos using Reparit.
Are you watching your favorite streams live, and the video starts buffering? We can understand the level of frustration at that time. Technology has evolved so much that we can enjoy HD streaming. But sometimes problems like stuttering or lagging may encounter. And there could be a lot of reasons behind it that we will discuss later in this article. Let's first know about the stream stuttering in detail.
What does Twitch lagging or buffering means?
Buffering means your video holds on until enough data is loaded to allow it to play without lagging. Sometimes, it takes a lot of time to start streaming, and when it finally does, it plays smoothly only for a few seconds and then starts loading again. If your video consistently gets paused and stutters a lot, that means your video is lagging.
There are many reasons behind a lagging video, and you need to understand them before you can fix it. Let's know these reasons in detail.
Slow Internet Connection_ One of the most common issues in buffering or stuttering a video is a slow internet connection. You will face glitch effects in videos with a bad or slow network. Twitch may start to lag if you have a limited data plan or your internet speed is not enough for it to play.
Slow device_ if your hardware or systems specifications are not good enough, you may experience buffering issues. Moreover, conflicting software in the background can also cause problems. Memory issues can cause lagging in a video to play, as it needs space to load the buffering content. If your system has malware, it can slow down the performance.
Twitch Issues_ Sometimes, there are severe issues in servers or twitch services that result in the worst performance. It may encounter a problem with some browsers due to VPN or proxy settings.
Best Solutions to fix Twitch Stuttering or Buffering
Lagging in streaming can result in a bad user experience as it causes many problems while watching their favorite shows. Several things help to fix these problems. By following the steps below, you can enjoy the gaming streams you like without any hindrance.
Buffer the Twitch on Fast Internet Connection
One of the biggest reasons behind a twitch stuttering is a slow and unstable internet connection. Buffering is the most annoying thing while watching the favorite stream. If you have a poor connection, it will encounter problems. It can result in low resolution, poor quality, stuttering, and lagging of twitch.
Switch to a fast internet connection if you want better performance and high-resolution streaming. Moreover, the internet with limited data bundles can result in slow buffering. Some platforms require heavy bandwidth. If your network is not able to meet that demand, it encounters lags in playing videos.
Optimize your system for better performance
System specification is one of the reasons that you face twitch lags. Having a system with better specifications can help you stream in a better way without stuttering. Moreover, you can optimize the buffering by closing the background applications that run on your PC.
Malware infections in your computer or laptop can cause buffering. You should clean your system from viral infections by using anti-virus software. And if you already have it, try using a better version or switch to a better one. Sometimes, the anti-virus installed on your PC is causing conflict in the twitch stream. You can enhance the performance by disabling it.
Different firewall settings prevent the streams run smoothly. Disable them from system settings to optimize the performance.
Disable VPN and browser extensions
You can fix the lag by disabling unnecessary extensions from the browser. These extensions cause issues and result in twitch buffering. You can disable them by clicking the extension from the menu section on the top right corner. Another way to fix the buffering issue is to clear the cache. Clearing data can help to remove the things that slow down the streaming.
If you have an enabled VPN or proxy, it may interfere with your stream. Turn off the VPN and disable proxy when you are enjoying a broadcast. If you want a secure connection with the internet, try to use a VPN service that does not hinder the buffering.
Use a different browser!
The easiest way to resolve the problem of lagging is by switching to a different browser. If your twitch is stuttering and you cannot identify the problem, then change your browser. Sometimes, the browser is not suitable or matches the stream requirements. Updating the browser can be the solution, but it is not possible to do it instantly. Switch to a different browser to avoid lagging. Moreover, you can solve this by disabling the hardware acceleration from your browser settings.
How to fix lagging video with Reparit?
These are the ways to fix the twitch stream stuttering that we have discussed above. But sometimes, there is lagging in videos that we have downloaded. If the downloaded video does not run smoothly, there could be a lot of reasons behind it. There may be an improper conversion of the files, or they get corrupted while downloading. You can fix the corrupted files by using the Wondershare repairit tool by following these steps.
Step 1: Add Corrupted Video
The first step to repair a corrupted video is to add it to the repairit tool. Click the 'Add' button on the interface to upload the file. Once you have uploaded the video you want to repair, you can see details on the screen.
Step 2: Repair video
The second step is to repair the file. Click the 'Repair' button to start the process.
Step 3: Preview and save
Once you have completed the second step, the Wondershare Repairit tool allows you to preview the file before saving it. You can save the file by clicking the save button on the bottom right corner of the screen.
Step 4: Advanced repair
This feature allows you to recover severely damaged files. Click the 'Advanced Repair' button and add a sample video.
Step 5: Save repaired video
The last step is to save the repaired files. You can get all the videos by clicking the save button.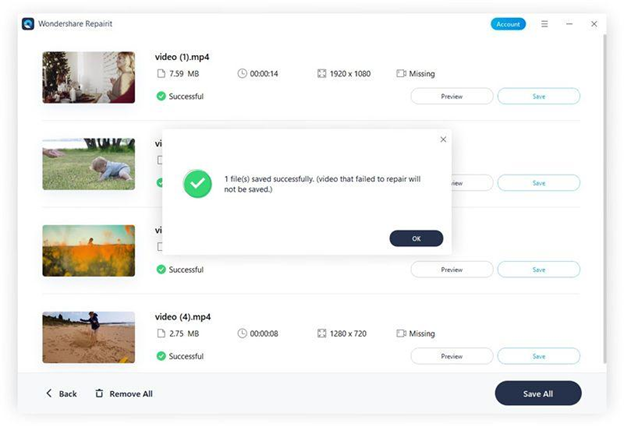 Conclusion
Twitch stuttering may occur due to a lot of reasons. We have discussed these reasons with the solutions to fix them. You can prevent the lagging and buffering by following the steps we have mentioned in this article. First of all, check if there is any problem with your internet connection or system. Otherwise, use a recovery tool for corrupted videos. Wondershare Repairit tool is the best for video recovery. It has easy to use interface and gives you advance recovery with the preview option. Use Repairit tool to overcome lagging and buffering issues.