This article will walk you through bypassing and how to remove Nintendo Switch Parental Control to reset your switch or resume usage, and guide you on how to remove the Nintendo Switch Parental Control. The Nintendo Switch features Parental Controls to allow parents to control, monitor and manage their children's usage experience of their switch. Nintendo details the different features in their own website. For maximum control, the Switch Parental Control has a partner app for your smartphone available for both iOS and Android, and shows the controls, schedules, allowable games, etc.
In most cases, Parent Control works well and does offer a good way to provide more control over your children's usage of your Switch. Upon activation, a PIN is required for accessing control on the Switch device like system settings and for controlled apps. For example, you don't want your children playing Fortnite outside a certain time, the Switch with Parental Control turned on will require PIN to access that game. The PIN is entered at the Parental Control setup and parents are asked twice to confirm their PIN number.
Unfortunately, a large number of parents actually forget their PIN number a short time after setting it leading to problems later on like unable to install apps etc. While this may not sound much a problem, kids who may have outgrown their Switch or parents who decide to gift or re-sell their used Nintendo Switch may need to remove the Nintendo Switch Parental Control.
This article assumes that you have tried to recall your Nintendo Switch Parent Control PIN already but gave up and need an official way to reset your PIN.
How to Reset and Remove Nintendo Switch Parental Control
This assumes that you are using the older system software for the Nintendo Switch. The new updates will require you to register via the app so that its impossible to lose your information.
If your Parental Control help screen (pressing + on the PIN input screen) will lead you to a screen with recovery instructions. Scrolling down will also show you a page with a link to a Master Key reset. This screen varies between the versions released and the ones you have but it will have an inquiry number and a button to input a master key. A master key is provided by Nintendo and you need to input it to reset your parental control PIN.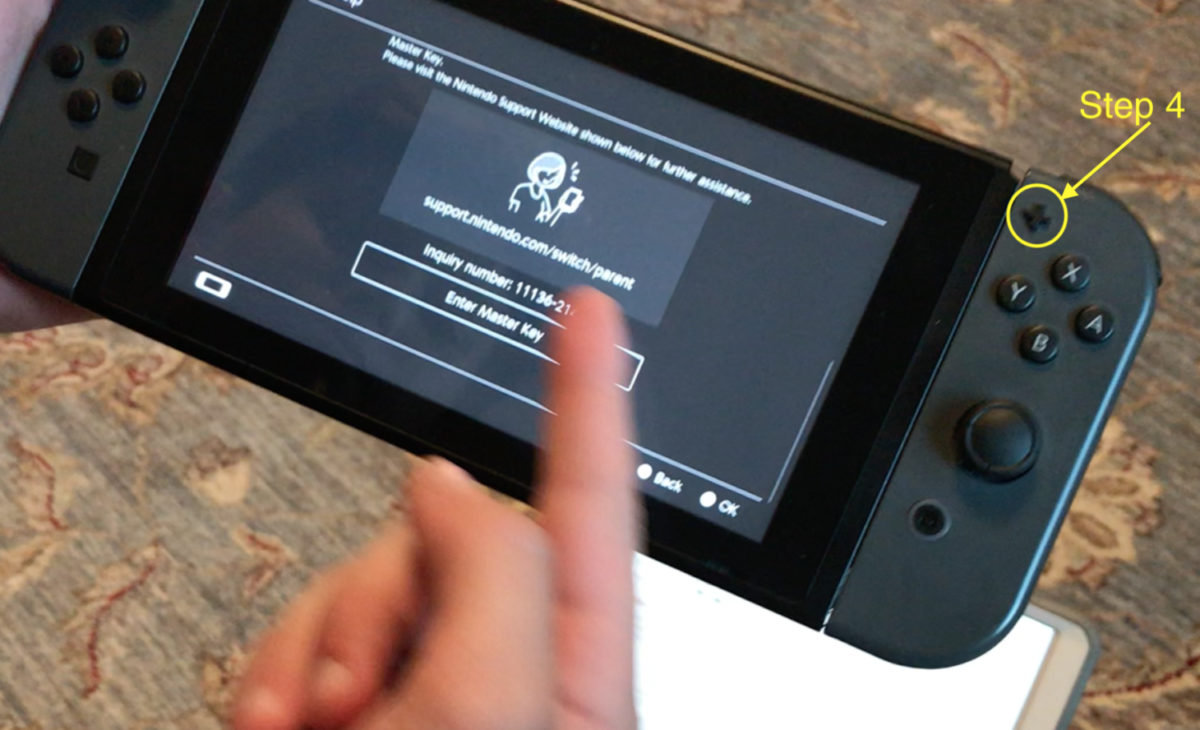 With that information, you can head on over Nintendo PIN reset page.
The page needs a couple of information but the first and primary information the page needs is your location. US English, US Spanish, Canada English, Canada French, and Other are the option. Depending on your region, Nintendo will instruct you to contact support for your reset process. For US English though, which this article uses, you can proceed to the next step.
While I cannot confirm if Nintendo's PIN Reset works on other language/region aside from US ones, you may try to do so as the tool has a serial confirmation.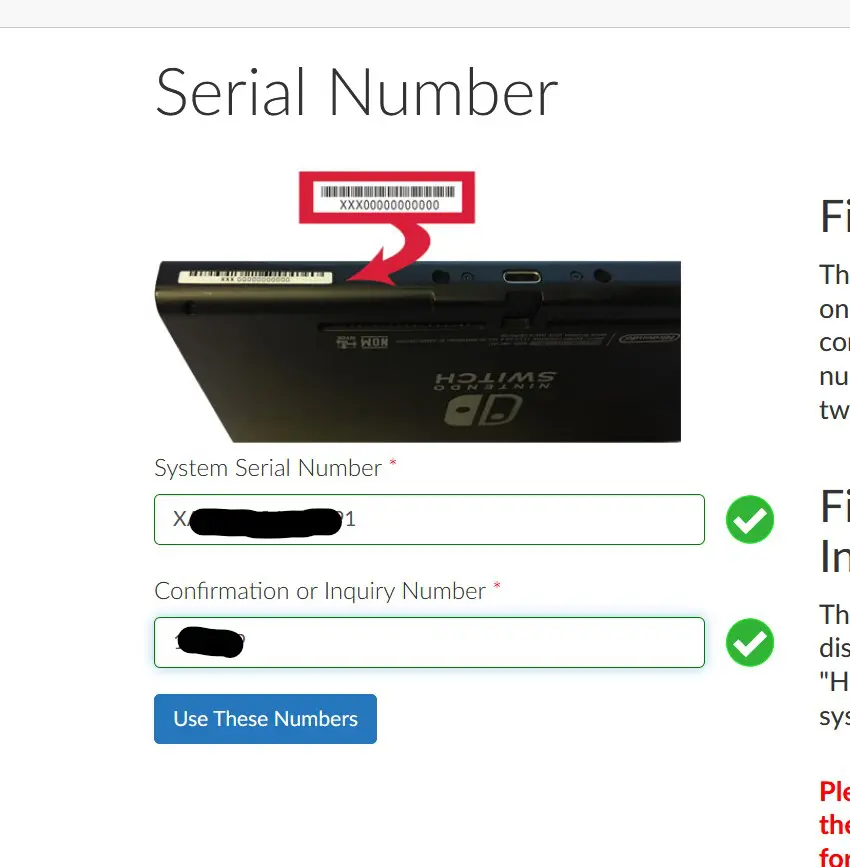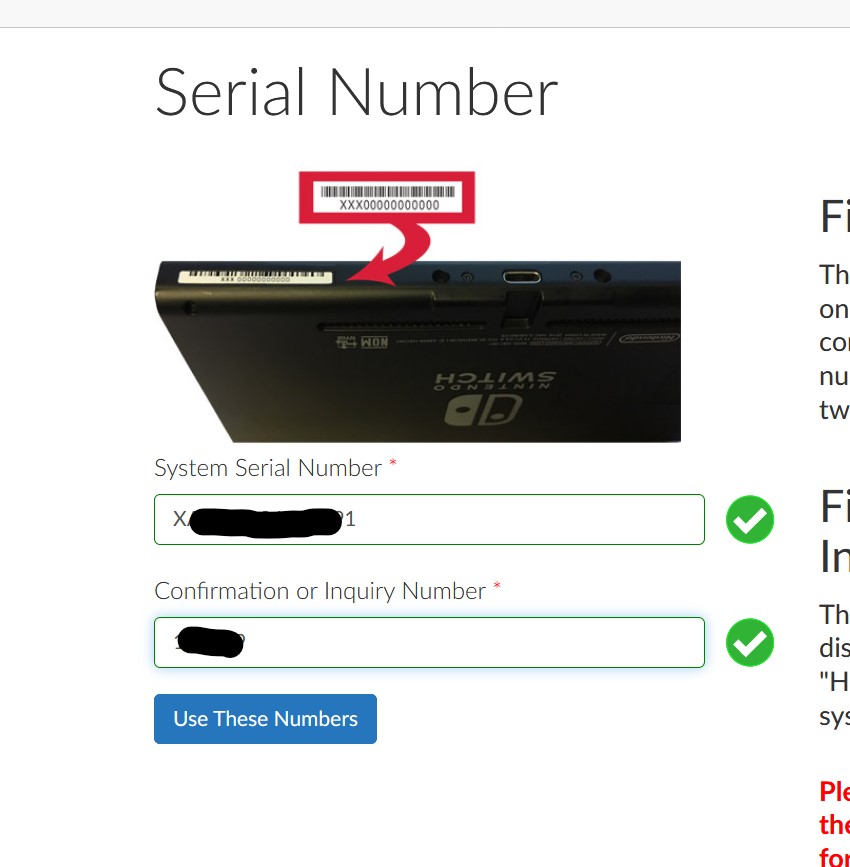 The serial confirmation will check your serial number and inquiry code before you can proceed. You will also need to agree to Nintendo's terms before proceeding. Nintendo will ask you to agree to their terms for record-keeping and verification with your card and that you understand this process.
Review Terms & Conditions
Attention! Did you set parental controls using the Nintendo Switch Parental Controls smart device application? You can find and change your PIN in the application (Console Settings > PIN).
Using this Parental Controls PIN Reset Tool: Please do not exit the screen on your system where the inquiry number displays before submitting this form. If you do, the PIN reset instructions will not work.
A $0.50 fee is charged for this service to ensure it is used by an adult. This also provides documentation of the change.
By using this service I agree that I am the parent, guardian, or adult with permission to reset the PIN on this system.
Proceed to enter your payment details and you will be directed to another page where your master key is.
Enter the master key in your Nintendo Switch. You can now change your parent PIN code and proceed to remove your Nintendo Switch Parental Control.
If you have the newer Nintendo Switch system updates, please check the email you use as well as your phone app for your Parental Control PIN.