Tickets for The International 3 went on sale at around 19:00 CEST yesterday and were sold out shortly after. If you've bought yours and are actually going to The International 2013 then congratulations, you lucky, lucky person! For the remainder of us who have no tickets and are not going to TI3, we are so jelly Valve offers us "the next best thing to being there" — The International Interactive Compendium!
For the price of $9.99, you will be granted exclusive TI3-related features that allow you to virtually be part of the biggest DOTA 2 tournament in real-time. You can make predictions for the match results and stats, have a chance to receive virtual item drops while watching matches in-game and even throw in your very own team list for the All-Star Match. You also get a Smeevil, a Genuine Legendary International Courier. But enough talk! Have at you! It's time to show you exactly what's inside The International Interactive Compendium.
After purchasing and activating the Compendium, it will immediately be accessible from your profile.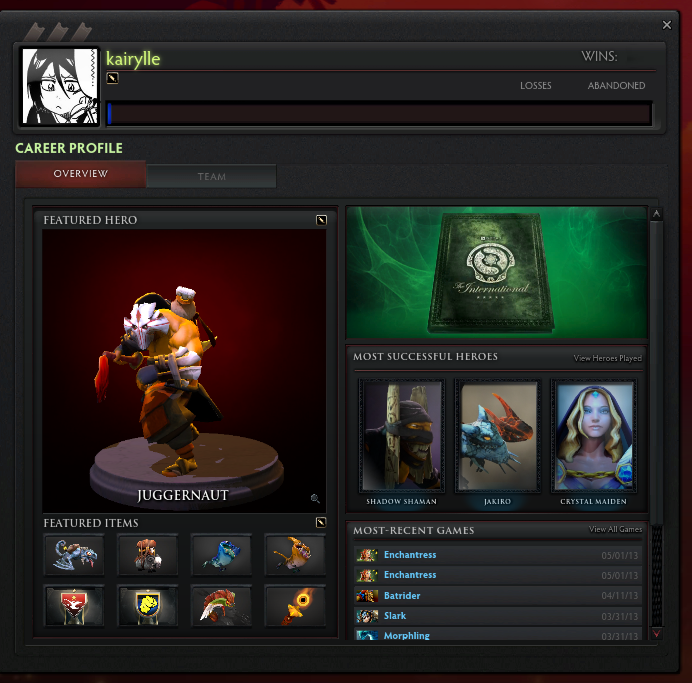 It is designed much like a booklet. You may click on the lower right corner of the current page to turn the next page.
 PREDICTIONS AND BRAGGING RIGHTS
Here's where the fun starts. The East and West qualifiers have yet to begin. The teams who place first for each group each secure a spot at The International 2013. To take the final slot, those at 2nd place, on the other hand, will compete with each other in a Wild Card match to be held right before The International.  You can change your predictions as many times as you want until the timer runs out.
Predictions for East and West Qualifiers get more detailed on the next page. As you can see, there is a score system that allows you to gauge your prediction powers and grants you some bragging rights as to how awesome these powers are.
I'm still not sure as to whether you get a prize for this, but personally, the whole concept of guessing and finding out results is fun. Yes, I will pay for that fun. There were three of us in the same room who bought the Compendium at the same time. This page was all it took to silence us after all the spazzing out. See? This is some serious business.
THE ALL-STAR MATCH
This one is my favorite. The All-Star Match! How often do you see all the top players from East and West gather and play against each other? Wouldn't it be awesome to see BurNing and Ferrari_430 in one team? Or maybe iceiceice being captained by Puppey? If you've seen the MYM vs. All-Stars show match a few years back in WC3 DotA then I guess you understand how I feel. If you haven't then cast your vote and make this is the time for you to understand!
As you can see everything is quite self-explanatory. You choose a player from the drop-down list.  It is up to you to assign which player goes to which role. Roles are assigned using the generally accepted numbering, which is as follows:
1 – Carry
2 – Solo Mid
3 – Offlane/Jungler
4 – Support
5 – Full Support
I guess it's safe to say that the players get to decide who gets to be Captain. Most people make their All-Star teams as East vs. West where all Asians are in one team and all NA/EU are in the other team. Still, though, no one is stopping you from mixing up the Easter and Western players. I don't think we've seen such a mix of teams. Communication would be quite… "interesting", yes?
At the moment, you can only select the players from the players who have received direct invites. The player names will probably increase as the qualifiers reach a conclusion.  It seems — and quite understandably so — that you can only choose from players who are attending The International 3. So as much as we'd like to see LongDD, Vigoss or ArtStyle in action, unless they somehow make it as a participant to TI3, it's quite unlikely.
The International Smeevil
You get the Smeevil as soon as you activate the Compendium. However, customization/upgrading may only be applied when and after you watch TI3 matches. You can check the number of views by hovering your mouse pointer over the courier in the inventory and looking at "Games Viewed".
The Benefits of Increasing the Prize Pool
At the moment, the total prize pool for The International 2013 is $1,639,660. For every International Compendium purchased, the prize pool goes up by $2.50. While I'm still not sure as to how it is going to be divided among winners including the show match, we can be sure that the community will be getting something out of it.
Valve has set three goals each with a corresponding prize pool amount and reward. When the prize pool reaches a certain amount, Compendium earners get "rewards".
Goal 1
$1,700,000
Limited Edition 125% Battle Booster (lasts until TI3 ends)
Goal 2
$1,850,000
Compendium courier gains additional stages
Goal 3
$2,600,000
Newly created Immortal Item
So who should buy The International Compendium? Everyone. Because Goal 3.
Player Profiles and a Space To Watch
The last page of the Compendium showcases a "Player Profile". It includes player information including best and favorite hero statistics. The other half of the page tells us to "WATCH THIS SPACE!", indicating that there's more to be added to the International Compendium. Hopefully, these are other features aside from the addition of more player profiles. (Hopefully not in "Valve Time", too).
Source: DOTA 2 Blog – Introducing the Interactive Compendium, The International Compendium Page