The ADATA Legend 960 MAX is the heatsink version of the earlier released ADATA Legend 960 which was made available late 2022. At this point in time, SSD compettion has heated up and the successor to the Legend 960 has already announced. For the majority of the market, Gen3 and Gen4 is still more prevalent but with prices as accessible as they are now, the ADATA LGEND 960 MAX is the mainstream offering from ADATA, notwithstanding the existence of an ADATA XPG SSD. Regardless, with its specs, the LEGEND 960 MAX has an argument for ADATA's better performing SSDs.
In this review, we'll check out the performance and see how the ADATA LEGEND 960 MAX stacks up against the competition. Read on!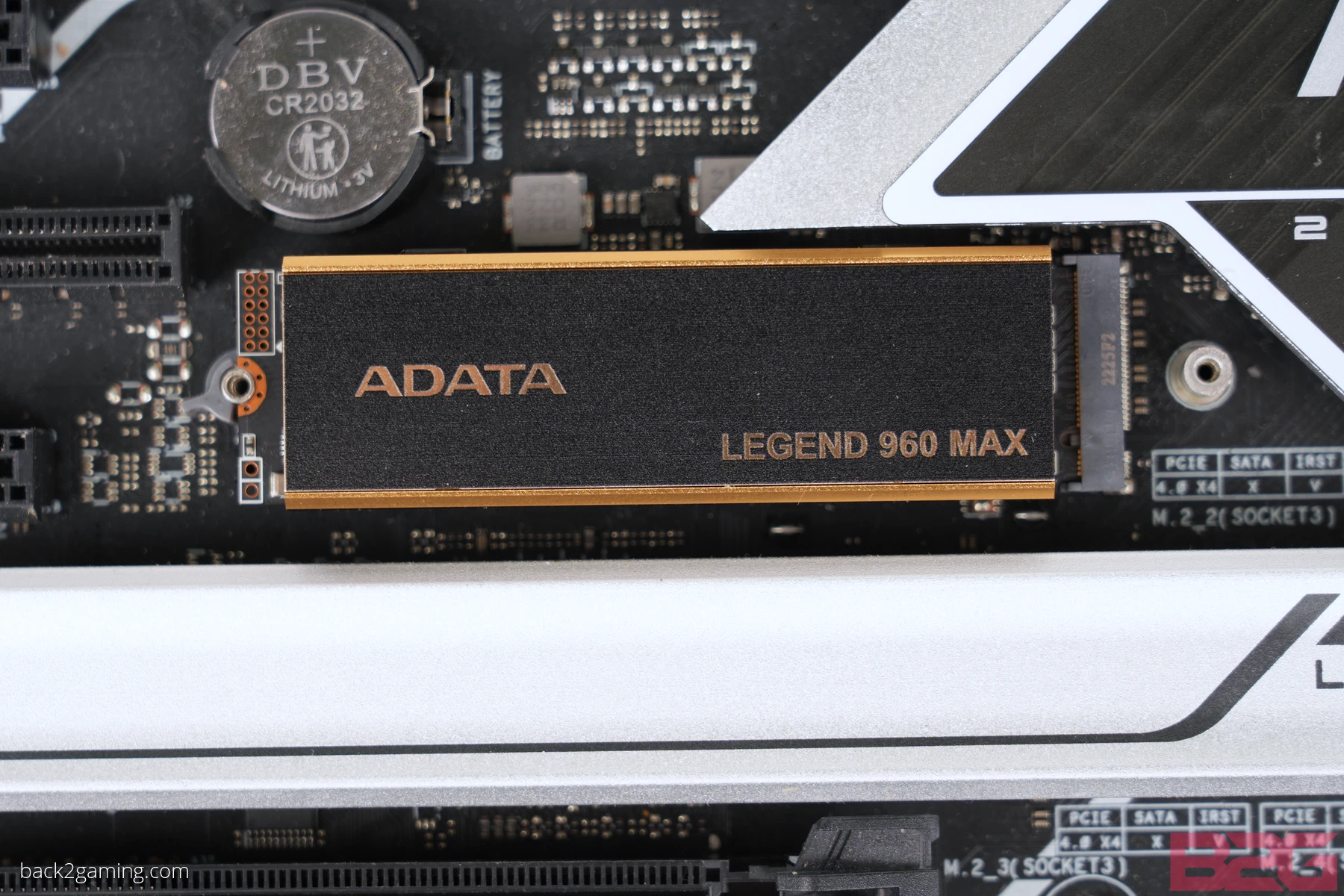 Features & Specification
PCIe Gen4 x4
Max. read/write speed: 7,400/6,800 MB/s
Capacity: Up to 4TB
Heatsink provides effective cooling
Supports latest Intel and AMD platforms
Works with PS5 as expanded storage, click here for details
5-years warranty
Capacity
1TB / 2TB / 4TB
Form factor
M.2 2280
NAND Flash
3D NAND
Controller
SMI SM2264
Dimensions (L x W x H)
80.6 x 23.2 x 10.65mm / 3.17 x 0.91 x 0.42inch(with heat sink)
80 x 22 x 3.3mm / 3.15 x 0.87 x 0.13inch (without heat sink)
Weight
36.6g /1.3oz (with heat sink)
7.3g /0.26oz (without heat sink)
Interface
PCIe Gen4 x4
Sequential Read (Max)
Up to 7,400MB/s (PC/Laptop)*, Up to 6,400MB/s (PS5)
Sequential Write (Max)
Up to 6,800MB/s
4KB Random Read IOPS(Max)
Up to 750K
4KB Random Write IOPS(Max)
Up to 630K
Operating temperature
0°C – 70°C
Storage temperature
-40°C-85°C
Shock resistance
1,500G/0.5ms
MTBF
1,500,000 hours
Terabytes Written (TBW)
3,120TB
Warranty
5-year limited warranty
Closer Look
The packaging for the ADATA LEGEND 960 MAX is a full-colored print with the packaging predominantly done in black with touches of gold. This exudes a certain deluxe vibe and matches the black and gold colorway of the SSD itself. As mentioned, there exists the 960 LEGEND MAX and the 960 LEGEND, the LEGEND MAX being the heatsink version of the same SSD. This is indicated in the box art but just so you know what you're getting, make sure to pay attention to the model name and box art.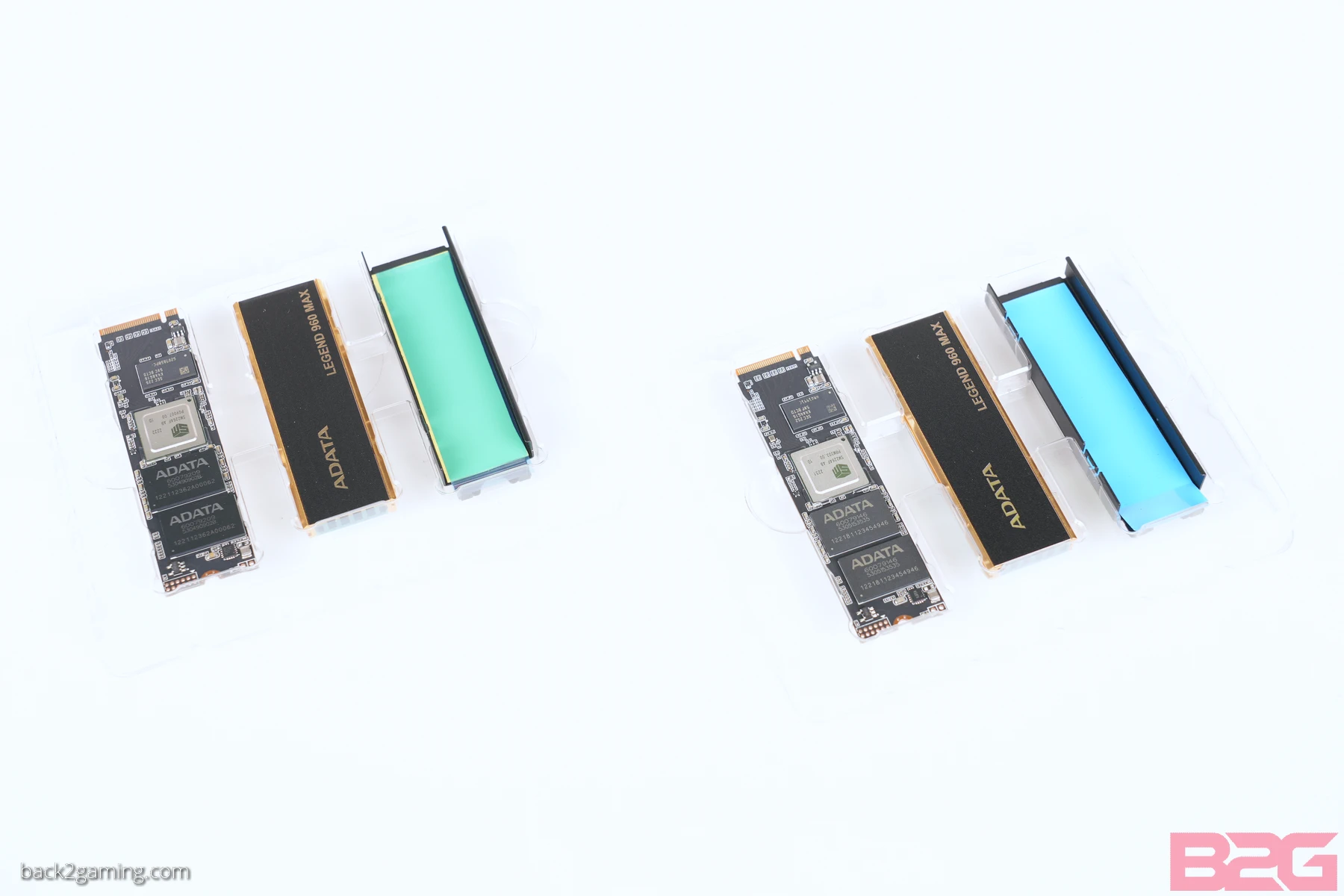 Our review samples for this one will be comprised off the 1TB and 2TB capacities and we'll be listing them down together in our results. Both drive come with the ADATA 960 LEGEND SSD, the 960 LEGEND MAX will have the rear shround and top heatsink which locks itself and easily unclips for removal especially if you're moving drives to a motherboard with a shroud or M.2 cover.
The ADATA 960 LEGEND MAX and the non-MAX version appeared in the tail-end of 2022, by then this is definitely a top-shelf contender and rightfully so: speed ratings are quite competitive and capacities up to 4TB are quite desirable but drives have since come down in price.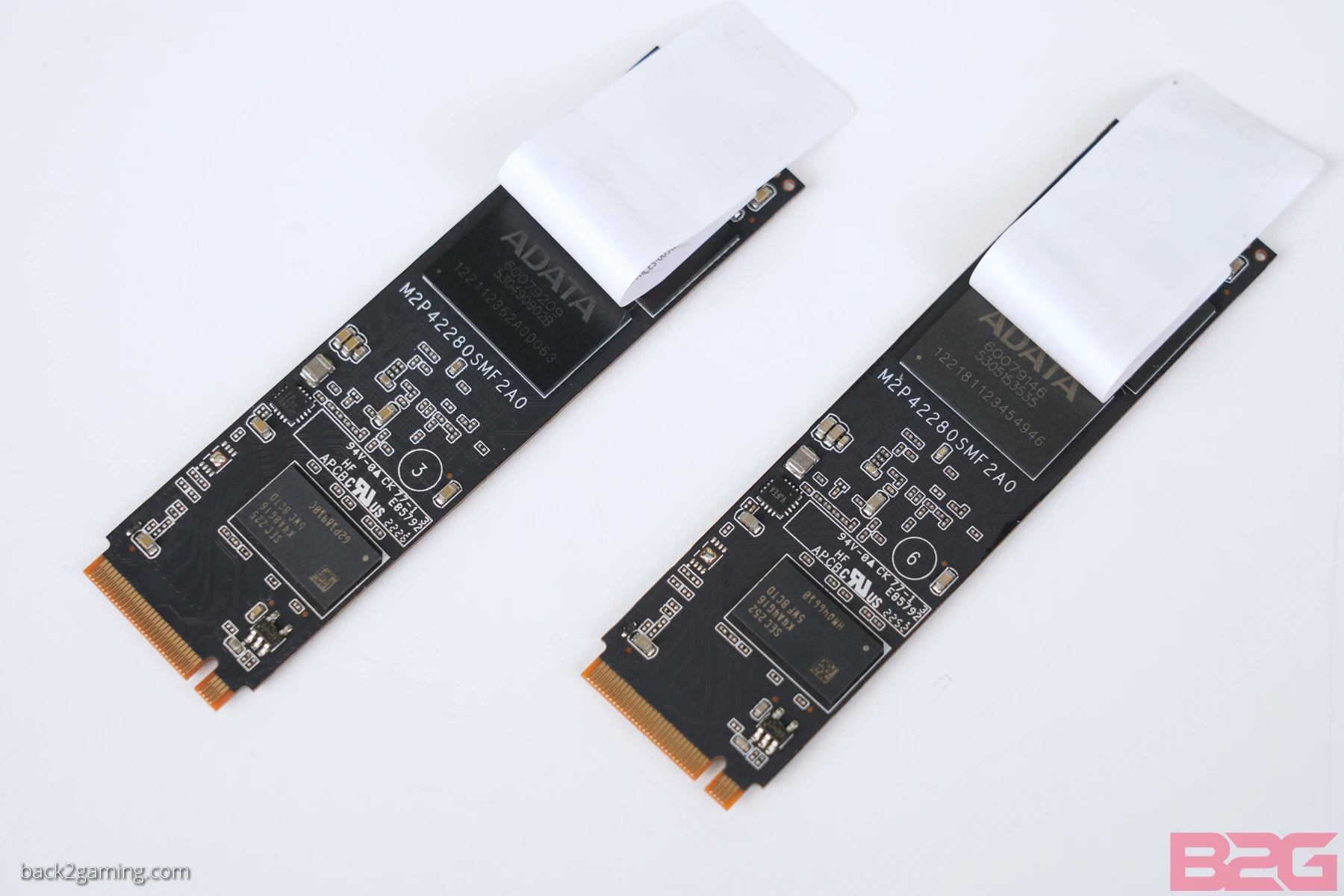 With consumers becoming more aware of part revisions and how they can affect performance down the line, we include the key components in our SSD reviews. Below are the components used by ADATA on our Legend 960 MAX sample as pictured:
Controller: Silicon Motion SM2264
Flash: 60079209 (Rebranded Micron 176-layer TLC)
DRAM:

SAMSUNG K4A4G165WF-BCTD (1TB)

SAMSUNG K4A8G165WC-BCTD (2TB)
Performance Testing – ADATA LEGEND 960 MAX
Test Setup
Processor: Intel Core i9-13900K
Motherboard: ROG Maximus Z690 EXTREME
Memory: Kingston FURY Renegade DDR5-6400 32GB (2×16)
Storage: Kingston FURY Renegade SSD (OS), tested drive as listed
PSU: FSP Hydro GT Pro 1000W
Cooling: NZXT Kraken X72 RGB
Monitor: ROG PG27UQ
VGA: MSI RTX 3050 Gaming X
Our sample for this test is the ADATA LEGEND 960 MAX 1TB and 2TB capacities
Crystal DiskMark
CrystalDIskMark has been the most actively updated disk benchmark amongst all the ones we use and is effectively the most reliable. Unfortunately, version to version results are not comparable which limits the ability to extrapolate comparative data. Still its a reliable and direct benchmark. Like the previous, it allows control over test data pattern, the test data size, amount of passes and individual benchmark control.
PCMark 10 Storage Benchmark
PCMark 10 introduces a set of four storage benchmarks that use relevant real-world traces from popular applications and common tasks to fully test the performance of the latest modern drives.
3DMark Storage Benchmark
The 3DMark Storage Benchmark uses traces recorded from popular games and gaming-related activities to measure real-world gaming performance, such as:
Loading Battlefield V from launch to the main menu.
Loading Call of Duty: Black Ops 4 from launch to the main menu.
Loading Overwatch® from launch to the main menu.
Recording a 1080p gameplay video at 60 FPS with OBS (Open Broadcaster Software) while playing Overwatch.
Installing The Outer Worlds from the Epic Games Launcher.
Saving game progress in The Outer Worlds.
Copying the Steam folder for Counter-Strike: Global Offensive from an external SSD to the system drive.
Final Fantasy XIV Benchmark
Final Fantasy XIV has a standalone benchmark application for PC, always updated to the latest game expansion with the latest Endwalker benchmark delivering some very nice graphical updates. A long-standing feature of the Final Fantasy XIV standalone benchmark is the loading data is captures which is a summary of all the load times between scenes in the benchmark.
Playstation 5 Testing
The Sony Playstation 5 supports storage expansion thru M.2 devices and many SSD makers are advertising their drives as supporting the Playstation 5. That said, we've included PS5 bandwidth testing in our reviews. We use the Playstation 5's internal read speed test for the primary initialization. Due to how Sony designed this benchmark, our testing averages at least 5 reads with the drive formatted after a rest period for best thermal results.
Conclusion
With the prevalence of the PlayStation 5 and its M.2 expansion support becoming a secondary market for high-performance SSDs, the addition of a heatsink is a must-have for many existing products. That said, the ADATA LEGEND 960 MAX is another one of these products that has a late addition heatsink-model.
Depending on where you're coming from or what your system can handle, this is a bursty SSD that can offer good performance and that heatsink is made to confirm to Sony's M.2 slot dimensions for the PS5 so you get sustained temperatures on those systems.
For pure gaming usage, the drive offers very good overall performance but it does compete in a packed division that offer similar performance scores. ADATA hasn't had any big bait-and-switch issues to speak of in the past years so they've had had very good brand equity with recent builders especially bleeding off their larger XPG branding push.
Its a tough scene to compare here in PH with ADATA positioning themselves more closer to Kingston than Samsung, but with Kingston focusing more on their FURY line-up which contends directly with ADATA's XPG line, the mainline ADATA models mostly have WD, Kingston's series, and to some extent Samsung to contend with. Ultimately it will be more about price and ADATA's LEGEND 960 MAX fares better in pricing over in our region, competing more with Crucial and TeamGroup.
That said, with a 5-year manufacturer's warranty or at least a 780TBW rating for the 1TB model, for mainstream usage it is quite competitive and the ADATA LEGEND 960 MAX's lower price than the competitor makes it a welcome option if you're after a gaming or app drive which would see more read actions than daily transfers.
The ADATA LEGEND 960 MAX is available now and comes with a 5-year manufacturer's warranty. I give it my B2G Value Award.
ADATA Legend 960 MAX Gen4 NVMe M.2 SSD Review
Final Thoughts
Good price and competitive performance, the ADATA LEGEND 960 MAX delivers good value and is a decent option if you're not particular about brand choices.
Pros
Decent performance overall
Price
Heatisnk is removable
Playstation 5-compatible with heatsink