Intel's 12th-gen CPU launch saw DDR5 splash onto the scene but with the global economy still recovering from the semiconductor supply shortage, it was not easy for many partners to release DDR5 products and our launch coverage for Alder Lake saw only a few DDR5 partners launching alongside Intel. Here in Back2Gaming, we look towards some of the heavy hitters in this space for launch and have made requests prior to launch but it took time for enough supply to allow brands to allocate marketing samples. One of the companies I was really looking forward to was Corsair. Corsair had a very busy year expanding their other businesses but this company started out as a top memory brand and its always nice to see what they have in store.
In today's review we'll take a look at Corsair's mainstream offering for DDR5 aimed at everyday users, gamers, and enthusiasts to go DDR5 but is foregoing the flash of RGB for a more mature, functional role. Read on to find out more about the Vengeance DDR5.
DDR5 Overview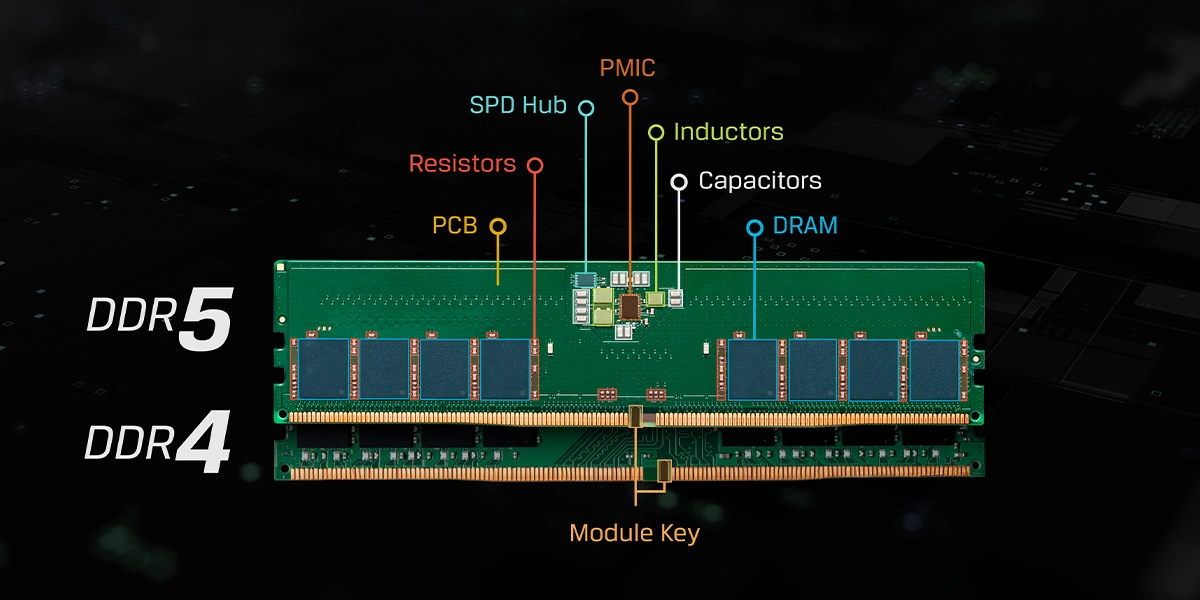 DDR5 makes its consumer platform debut in Alder Lake with the arrival of Z690 motherboards. While DDR4 is still supported by Alder Lake, DDR5 brings with it generational updates that promises increased performance and efficiency and reduced power draw.
Speeds will now be starting at DDR5-4800 with the standard targeted to scale up to DDR5-6400.  The standard also sets a lower operating voltage with 1.1v which is a 20% reduction from DDR4. This is a significant improvement especially for situations where power draw is best preferred minimal e.g. laptops.
Architecturally, PC DDR5 modules will see hardware changes with the introduction of onboard PMIC and an SPD hub, amongst others. The PMIC or power management IC moves power management directly on the memory module which allows the manufacturer to set what they want in regulating power delivery to the components but also is a need as it helps drives improved signal speed and noise reduction which is integral in DDR5's operating frequency.
With DDR5 operating at very high frequencies, the standard maintains strict measures to ensure data integrity. To further support this, DDR5 has on-die ECC although not as advanced as the current accepted definition of ECC on computers, as on-die ECC corrects on-chip and nothing outside of it. Still, it is aimed to providing on-the-fly error correction to assist DDR5 in achieving its higher speeds.
XMP 3.0 Overview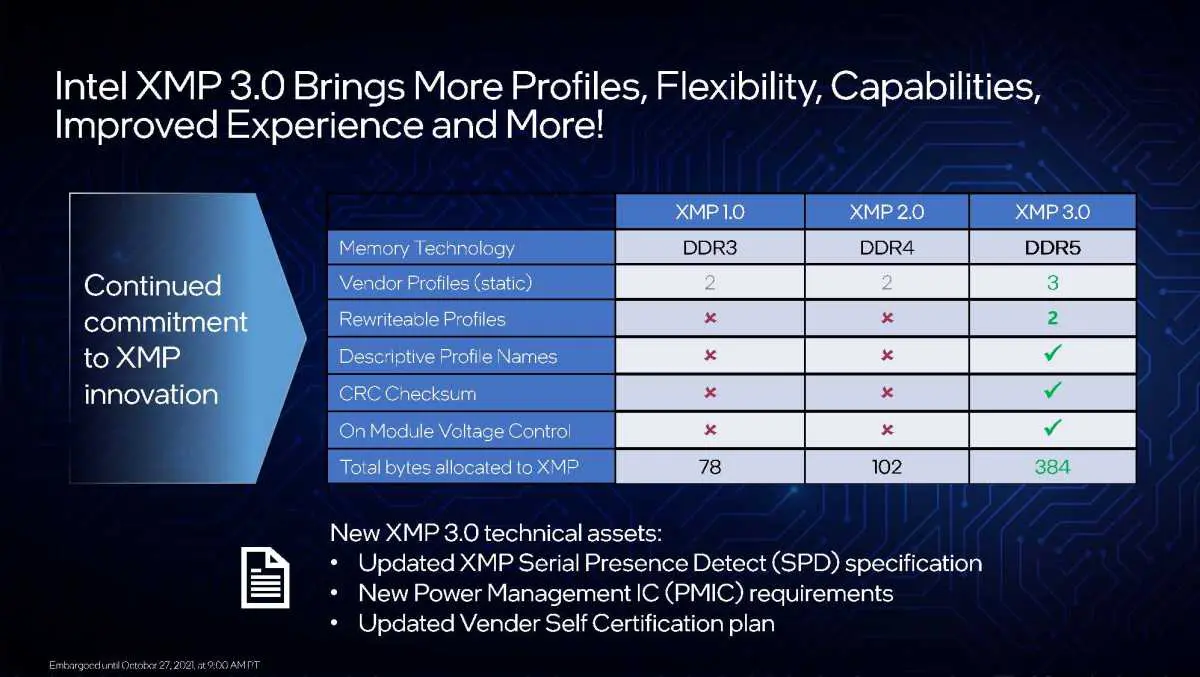 Debuting alongside DDR5 will be XMP 3.0, the latest iteration of eXtreme Memory Profile which will now see an increase in profiles from 2 to 3. Users will also now be able to name their XMP profiles aside from factory bone-stock naming lang Profile #1 and Profile #2. With Alder Lake provided Dynamic Memory Boost which allows the system to go from JEDEC DDR5-4800 to XMP Profile under varying loads.
Performance enthusiasts will now be able to set their own timings and save them under their own Profile. This also means that it may be possible for DDR5 makers to create timing profiles for both AMD and Intel on the same DRAM product, removing the need to offer Intel and AMD specific products or neutering performance by tuning the product to a more neutral timings table.
Features & Specification – Corsair Vengeance DDR5
| | |
| --- | --- |
| Capacities | Singles of 16GB, Kits of 2 (32GB), Singles of 32GB, Kits of 2 (64GB) |
| Frequencies | 4800MHz, 5200MHz, 5600MHz |
| Latencies | CL40, C36 (5600) |
| Voltage | 1.25V |
| Color | Black, White |
Welcome to the Cutting-Edge of Performance: Push the limits of your system like never before with DDR5 memory, unlocking even faster frequencies, greater capacities, and better performance.

Do it All, and Do it Faster: As modern CPUs feature more and more cores, the unprecedented speed of DDR5 ensures your high-end CPU gets data quickly, enabling faster processing than ever before.

Onboard Voltage Regulation: Makes for easier, more finely-tuned, and more stable overclocking through CORSAIR iCUE software than previous generation motherboard control.

Custom Intel XMP 3.0 Profiles: Customize and save your own XMP profiles via iCUE to tailor performance by app or task for greater efficiency.

Optimized for Intel DDR5 Motherboards: For wide compatibility on the latest motherboards.
Closer Look – Corsair Vengeance DDR5
Test Setup
Test System Configuration (Intel 12th-Gen)
CPU
Intel Core i9-12900K
Motherboard
ASUS ROG MAXIMUS Z690 EXTREME
Cooling
ASUS ROG Ryujin II 360 AIO
Graphics Card
ZOTAC GeForce RTX 3080 Ti AMP EXTREME
Storage
KLEVV CRAS C920 2TB
Power Supply
FSP Hydro G Pro 1000W
Case
OpenBench Table Community Edition
We normally test memory on both AMD and Intel systems but since AMD does not currently have a DDR5 platform, only the Intel results will be presented here. I'm also updating my test platform to accommodate modern platforms. With DDR4 presumably lasting another generation for AMD and DDR5 seemingly aiming at higher speeds, I'm adjusting the tests as well as the hardware itself.
For this review in particular, this will be somewhat of a preview and the charts will be updated once data has been gathered from my Alder Lake systems featuring both DDR4-4800 and higher as well as DDR5-5000 and higher.
One thing to note is that since DDR5 uses two memory channels, its reporting to the system that a dual-channel configuration is quad-channel. As of now, only dual-channel DDR5 is out on Z690 motherboards and the readings have yet to be remedied on CPU-Z readings.
Performance Results – Intel
Gaming Performance
Synthethic Benchmark
Conclusion
DDR5 is currently in a tough position and performance outright only shows its benefits in memory intensive application. In games, only a handful of titles will receive performance improvements but at the end of the day, there is a noticeable performance increase and one that should improve over time.
For now, the likes of Corsair's Vengeance DDR5 sits in a position where it benefits greatly from quality and anyone looking to dive into DDR5 without spending much has a only a couple of options but for those that want trusted quality, Corsair has been a staple name in the RAM scene and the Vengeance's exquisite build quality looks like it will hold up for years to come.
Corsair currently offers the Vengeance in DDR5-4800 C40, DDR5-5200 C40 and C38 and DDR5-5600 C36 in 32GB and 64GB kits. The Vengeance DDR5 kits will also comes in both black or white. For those building to match a certain theme but need or care about DDR5 can easily choose from both.
Ultimately, the Corsair Vengeance DDR5 kit leans toward a more mature purchase where functionality is the primary goal rather than looks. Its subtle aesthetic has been with us since the Vengeance DDR3 and has evolved over the years but there's no denying that Corsair logo that quietly decorates the heatspreader top exudes premium quality by just existing.
If you're looking to get a large set of DDR5 and want to cut on cost by staying RGB-free, the Corsair Vengeance DDR5 kit is an easy recommendation and I personally do stick to DDR5-5200 myself as we wait for latencies to keep improve, Corsair's choice to keep their Vengeance DDR5 line in modest speeds makes it an ideal choice for builders that want to go a high-performance brand.
Backed by a lifetime warranty, the Corsair Vengeance DDR5 is my personal choice in memory right now and comes highly recommended.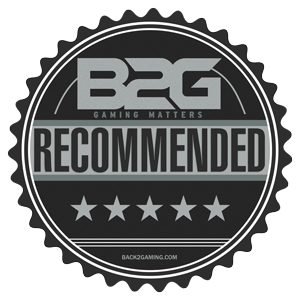 Corsair Vengeance DDR5-5200 Memory Kit Review
Final Thoughts
Corsair's choice to keep their Vengeance DDR5 line in modest speeds makes it an ideal choice for builders that want to go a high-performance brand.
Pros
Good build quality
Good cooler compatibility
Lifetime warranty
iCUE compatible (status monitoring, profiles)
Cons
DDR5 in general is pricey
Heatspreader texture too subtle