Price & Where to Buy
Zero Gamepad – Php1000 (Available at Long Live Play PH)
---
We've taken a look at many gamepads here in B2G, many of which have been aimed at the mobile market giving gamers the ability to get that console gaming feel with their smartphones or tablet via a real gamepad. While many of which have been remarkable in their performance, all of them have one characteristic in common and that all of which have featured the same Xbox-style layout and size. Speaking of size, you can only shrink a gamepad so much due to comfort and usability concerns and seemingly, that's a challenge no one wants to tackle. SteelSeries tried, but their effort was mostly a venture rather than an actual dedication for the niche.
We did find one that's up for the task. Enter 8BitDo's ZERO gamepad. With barely 3″ in footprint and weighs no more than 50gms, the 8Bitdo ZERO is pretty much the world's smallest gamepad. Check out the intro video for a quick intro and overview of the 8Bitdo ZERO gamepad. Read on for our full review!
Closer Look
The 8Bitdo Zero gamepad is packaged in a simple clear blister pack with colored insert. The back of the packaging highlights the different modes and how to operate the ZERO gamepad. Included in the package is a wrist-strap, a microUSB cable and the 8BitDo ZERO gamepad itself.
The 8Bitdo Zero gamepad is tiny. REALLY TINY. Going over the physical characteristics first, our sample is the white and light blue model with the front faceplate having a glossy finish with face button layout following the traditional Nintendo 12-button standard. Shoulder buttons are available with the microUSB cable located in-between. A status LED light display is located at the bottom.
A hole is located at the back corner for looping in the included wrist-rest. This is useful if you don't want to drop the 8Bitdo ZERO when using your phone for other things in-between games.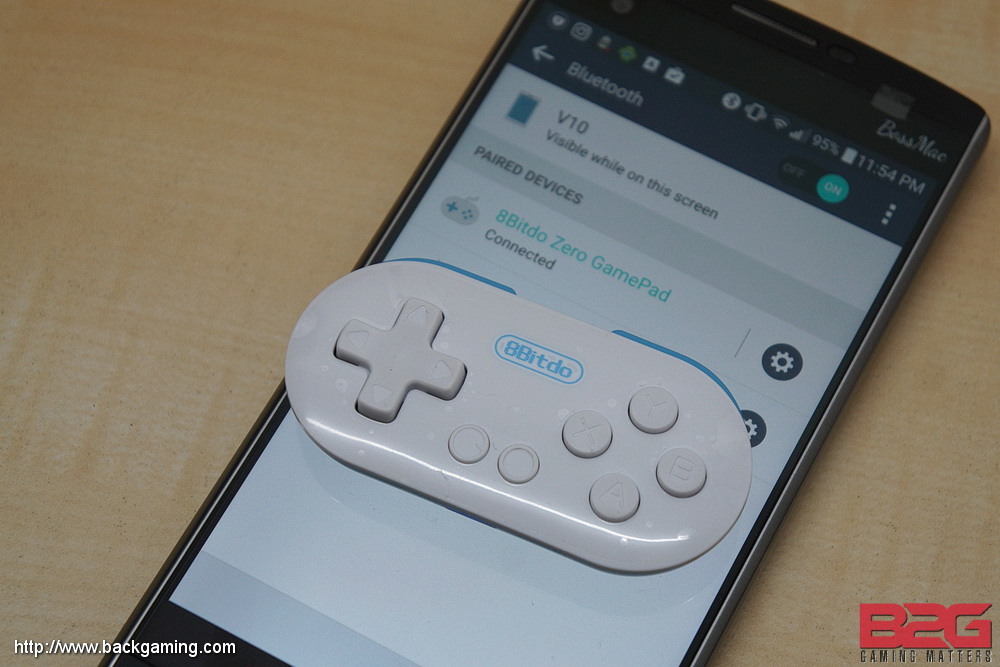 When powered-on, the ZERO defaults to Android compatibility. Please see the packaging for more info about the modes. Right now the 8bitdo Zero gamepad supports Android, iOS, Windows, Mac but firmware updates allow further customizations but we do recommend this for more advanced users who are more comfortable with messing around with their gadgets. For average users, its pretty basic and you're pretty much covered whatever your device may be.
User Experience & Conclusion
We tested the 8bitdo Zero gamepad with an LG V10, ASUS Zenfone 2 Deluxe, LG G3, LG G2 and Windows 10.
If you saw the video earlier, we mentioned how responsive the gamepad is so performance-wise there's really no complaint about how good it is for its particular target usage. If its a straight LOS between the gamepad and the device, there's no issue but if you're going further than 3 feet or through a wall, I don't recommend it.
Buttons are very tactile and I love the responsive feel of the buttons. There's no feedback with this gamepad and that's acceptable also there's no sticks. Still, the layout is pretty decent and everything you need to get your old school gaming is there. The 12-button layout works best with games that don't require stick motions. Also for Windows users, as mentioned if you want to explore further you can play with multiplayer with the ZERO gamepad but there's some work involved.
As for comfort, the quality of the material does a good job aiding in comfort as the coated matte blue backing of our sample reduces slips and improves grip together with the shoulder buttons but the glossy front plate allows sliding motions easier so travelling between keys is effortless.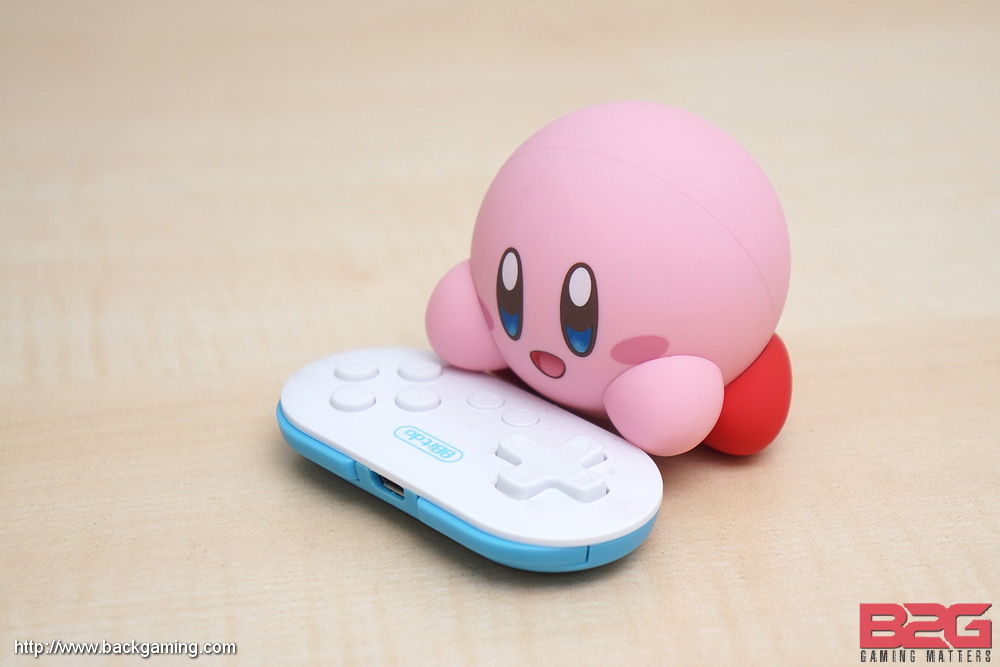 Outside the traditional factors that we consider, I gotta point out the charm that the 8Bitdo ZERO gamepad has. If you're not much of a mobile gamer but is still a gamer and you also have that rocking fashion sense, this thing works as a nice charm for your phone or as multi-purpose keychain.
Ultimately at Php1000, its an easy recommendation. The size alone makes it a very convenient gadget to have in long commutes and waiting times for people always on the go. For games support, its really well-supported and will work with any games that allow button mapping if it doesn't have native support. For touch games that don't have native gamepad support, you can try the many button mapping tools in your respective platforms so you can use the gamepad.
All in all the 8BitDo ZERO wireless gamepad is an excellent product: its functional, performs to the highest standard and is cute as a button. You probably don't want to be going all eSports with this thing, but for what its worth, its nice to see rocking this thing with a gaming crowd.
The 8Bitdo ZERO wireless gamepad is available at Long Live Play PH. We give it our B2G Recommended Seal!