JBL Goes Gaming – JBL Quantum Range
There are brands that I firmly believe will always never steer away from their target market but business is business and today we have one of those brands I never thought would set their eyes on the gaming market. But I do admit I have been wrong before, BeyerDynamic has a gaming line and only recently we have JBL. Now, JBL has dropped the Harman from their name but that doesn't change the fact that the pedigree of this company revolves around great audio. With the company targeting the gaming market and with a big port folio on launch at that, you know its a big deal for them and the lineup is stacked. We have the JBL Quantum One with superb features as well as the JBL Quantum 800 on the higher end but JBL was smart enough to send us the Quantum 400.
The JBL Quantum 400 is priced at $99 it goes head to head against the potential King of Mainstream gaming headsets, the HyperX Cloud. Other than that, the price is indeed attractive and as you'll see in this review, there's a good reason to go for this headset especially if you game on multiple platforms.
Read on to find out more about the JBL Quantum 400.
Features & Specifications
| | |
| --- | --- |
| Driver size: | 50 mm Dynamic drivers |
| Frequency response:  | 20 Hz – 20 kHz |
| Microphone frequency response:   | 100 Hz – 10 KHz |
| Max input power: | 30 mW |
| Sensitivity:  | 98 dB SPL @1 kHz / 1 mW |
| Microphone sensitivity:  | -40 dBV @1 kHz / Pa |
| Impedance:  | 32 ohm |
| Cable length:   | 3.5 mm audio cable (1.2 m) + Type-C to Type-A Cable (3 m) |
| Microphone pickup pattern:  | Directional |
| Microphone size:  | 4 mm x 1.5 mm |
| Weight:  | 274 g |
Closer Look – JBL Quantum 400 Unboxing
Closer Look – JBL Quantum 400 Headset
The JBL Quantum 400 features a DJ-style headband with free rotating earcups on both ends of the band. The earcups can rotate 180* and tilt a bit around 30*.  As I mentioned in the video, the materials used in this headset is plastic and is quite flexible but I have not stretched it to the extreme although I did try bending it for extended for periods to see if stress marks show up but luckily the materials endure.
Going back to the design, JBL's Quantum 400 feature a modern shape with the earcups shape in an almost pear-shaped.  The cups are topped off by the illuminated JBL logos which we'll see later on.
As a gaming headset, a mic is a must and JBL figured putting in a fixed mic is the ideal choice, The mic itself is slim and you can probably get away with it in public if you bend it the right way. The boom of the mic is flexible and allows free movement when in use as well as stowing it away. The end of the boom features an LED indicator similar to a tally light to indicate when the mic is on and off.
As mentioned the cups swivel 180*C allowing nice placement on a surface or hanging on a wall.
JBL uses synthetic leather on memory foam for the cushions on the Quantum 400's earcups. The foam is really soft and provides a nice seal to make the ears feel snug. The headset's ample clamp force doesn't add much stress and makes this a very nice and comfortable wearing experience.
The Quantum 400 also features an adjustable headband. There ticks to mark how large the headband goes it stretched enough to fit really large heads. There are 7 ticks per side so a total of 14 ticks of size adjustment to fit almost any head.
In contrast to the earcups soft, cushy feel, the headband is lined on the inside-end with a slightly firm foam padding. Its soft when pressure is put on it but since the headset doesn't drop much weight on the head, it really didn't have be thick or soft to disrupt the look or feel. This is a nice detail and kudos to JBL to paying attention to that detail. On the outside of the headband we have the JBL logo on a stylized adornment on the top of the arc.
In our first impressions video we mentioned that the JBL Quatum 400 is a versatile headset and that's because it supports both 3.5mm and USB for PC or console or phone use. Both cable can be interchangeably used and are braided and market which end is which. Subtle attention to details like the reinforced end on the 3.5mm jack that meets the headset are nice touches.
On the left side of the earcup we have access to control dials for the headset. On top is the Game-Chat balance dial. As the USB mode support 2 input channels on PC for the game output and chat output, one can switch between which gets the most volume with the balance dial.  Below that is the volume wheel and at the lowest part is the mic mute button. Note that the mic is muted when tilted upwards so the mute button doesn't unmute the mic in that position.
Here's a look at the JBL's lights in the dark. There are options for different effects like JBL's traditional orange colors but users can customize this to their liking.
Software – QuantumEngine
The JBL QuantumEngine is a well-designed software. The interface is intuitive and highly dynamic with subtle details on changes which makes it a joy to use. The QuantumEngine is a universal software that works with the entire JBL Quantum range and proves equalizer options as well as control for surround and lighting.
JBL uses the QuantumSurround as their primary virtual surround option for the Quantum 400 as well as DTS. You'll read more about these in the conclusion.
Last up we have the lighting options where you can choose effect and colors.
Listening Experience and Conclusion
Audio is tested using the USB connection mode as stereo mode provides too much variance for this headset. A good audio card has shown us this headset is good on both connections, I am biased to my sound card so I will trust that.
Sound Performance
Audio quality will make or break a headset regardless of how prestigious its pedigree is and we're quite pleased that JBL did not push any bassy crap that most brands tend to push for gaming headsets. While the JBL Quantum 400 has a warm touch to its overall audio signature, it doesn't push the lower end too much and makes it a much more pleasing headset in terms of sound character. Higher frequencies particularly cartridge pings and metallic twangs tend to sound a little off and while they don't sound wrong, people who are more used to a more realistic render will notice it. Overall sound quality is good and detail is nice, with the JBL Quantum 400 able to create subtle separation of details and while nothing spectacular for its price, its always nice to have.
Surround Testing: DTS vs QuantumSurround
Let's get it out of the way: the JBL Quantum is not a true surround headset and both DTS and QuantumSurround are virtual surround solutions meant to mimic a true surround experience. JBL of course focus on its own QuantumSurround and its obvious who's going to be the winner here but to be fair, the JBL Quantum 400 has decent DTS audio and conveys a much much smaller sound stage compared to QuantumSurround which creates a very roomy sound stage and creates nice difference in audio detail based on distance. Its gonna depend more on your game on how good its multi-channel rendering is but for the most part, JBL picks up quite well on most modern games and renders distance well.
The weakness here is not that the surround is good or not, its actually the lack of QuantumSurround for console users which is a real letdown given the more loyal userbase of console gamers that have made brands like Turtle Beach and Astro such a mainstay in their space and JBL could've carved a nice niche for focusing on console as well.
Comfort
With the majority of the build of the JBL Quantum 400 made up of plastic, JBL has made this headset very light. I'd have to note that I am concerned by the lack of metal but despite me forcing this pair into weird, unnatural bends yet still hasn't snapped, proves to us the material JBL is using is quite good. The benefit of an all-plastic build, is lightweight and for a headset that is a must for long-term gaming sessions. I went a full 8-hour work day with the JBL Quantum 400 and it's easily forgotten which made me transition into a game session later that day without feeling tired. Clamping force is good and feels natural and the memory foam pads on the earcups are heavenly and give a perfectly nice seal around the ear.
Value
At $99, there's heavy competition for the JBL Quantum 400 but given the versatility of the JBL Quantum 400, it literally gets the easy pass of being able to be used on the majority of gaming platforms and still work, yes, even phones with USB Type-C. This makes it a convenient and go-to recommendation for that gamer that needs something that works with everything. For the serious gamer though, the sound quality is there and comfort points are also top marks for the JBL Quantum 400.
Some nitpicks though, we still miss surround options for console and JBL needs to address the material they used to at least add some confidence to users who are not used to an all-plastic build.
Overall though, it's hard to find fault in the JBL Quantum 400. Sound quality is excellent and versatility is just superb. If you're looking for an all around gaming headset, the JBL Quantum 400 is the easiest choice you can make. And it's a great choice for $99 or Php5,999!
JBL backs  the Quantum 400 with a 1-year warranty. We give it our B2G Recommended Seal!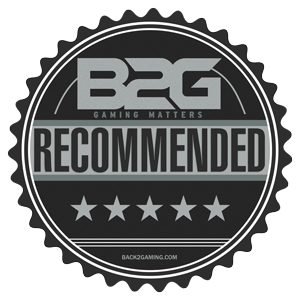 JBL Quantum 400 USB Gaming Headset Review
Final Thoughts
Overall though, it's hard to find fault in the JBL Quantum 400. Sound quality is excellent and versatility is just superb.
Pros
Superb sound quality for price
Light and comfortable
Versatile usage options
Soft ear cup cushions
Lighting option is not gaudy
Cons
Plastic may put off some people
Limited lighting options
Surround is ok but not revolutionary