The last years since lockdown has been a mixed bag for many people but for people who have shifted from the office to a work-from-home situation have faced many challenges. Don't get me wrong, working from home has its benefits like the lack of traffic but just like the office, sitting down for long periods of time will eventually put its toll on the body. This is multiplied more by the fact that you're probably working in your lounge shorts or sweatpants with snack in reach.
Prior to 2019, I've already developed nerve problems on my left leg due to spending half my life in a chair and the past 10 years of professional IT has really expedited that deterioration. Most people would have it better but if you're like me and just want to be proactive in prevent this further, a sit-stand working desktop would an ideal scenario.
Now there are a lot of options out there with handcrank manual sit-stand desks or fully electric multi-stage ones but those easily cost more than $200 or Php10,000. Thankfully, there's also desk solution that you can use directly on top of your desk.
Today we'll be checking out exactly that with the Hashi  Desktop Sit-Stand Workstation (model DWS30-01). Featuring a height-adjustable 800mm desktop, the Hashi DWS30-01 allow users to raise their workstation up to 50cm which should raise most 70cm desks with a maximum +50cm height for a total of 120cm which is quite tall. Read on to find out more about the Hashi Sit-Stand workstation.
Hashi products are available from authorized dealers below as well as online from partner stores:
Hashi Authorized Partners
AAA Brilliant Machines (ABM) Inc.
Astral Data Systems Inc.
BuildeeInovations Corporation
Complink Philippines
Davao Futurebright Enterprises
Dynaquest PC
F8 Photo
GameOne PH
GBS Technologies
Hashi Official Store – Shopee
Hashi Ideas – Lazada
IECC Computers
I Love PC Atbp.
iTech Philippines
Laser Marketing
PC Chain Superstore
RASI Computer
Strategic Technologies
Tarlac Mac Enterpises Inc
Villmain Computer Systems
… and more
Check with your local dealer price and availability as well as ongoing promotions.
Closer Look
Hashi ships the DWS30-01 in a wide brown cardboard box. An illustration of the product is on front as well as its weight capacity and features. The shipping weight of this package is relatively heavy so care is advised when moving the box. To protect it in transit, Hashi lines the inside of the box with some foam and covers the desk in a plastic bag.
Inside the bag is the semi-assembled sit-stand desk, an accessory bag and the manual. You will need a screwdriver to complete the desk.
The desk part is fully assembled together with the gas lift and the frame and all the user needs to do is to screw in the keyboard tray. You technically don't need to do this if you don't plan to use the keyboard tray so if you're not installing it, please keep the keyboard tray and screw holes in a dry place.
As evidenced by the screw holes, the Hashi Sit-Stand Workstation is made of high-density particle board laminated with a melamine textured finish. Hashi  ships the DWS30-01 in black with possible white options in the future.
The gas-lift structure and frame is very well built with clean worksmanship and no sharp edges. The metal is also powder-coated in black and maintains a great finish throughout. The gas lift assembly is operated by the lever on the squeeze lever on the right side of the sit-stand desk and is very strong. Hashi markets their Sit-Stand workstation at 15KG but we've tested with a heavier desktop build just to test it out it can withstand a wee-bit more. Monitors weighing 15KG and below should go well here with nearly all laptops being very manageable for the desk's weight capacity.
Here's the Hashi Sit-Stand Workstation without the keyboard tray installed.
Here's the workstation with the height increased. The one in the photo should be around maximum height.
Installing the keyboard tray requires installing some plastic guides in the keyboard tray and screwing them in place. The photo above shows the keyboard tray installed with the Hashi Sit-Stand workstation collapsed.
Finished Look
If you're using the Hashi Sit-Stand Workstation as a desktop riser, here's a sample with a 24″ monitor and a TKL keyboard. This is on a 160x70cm desk.
Here is the same setup with the Hashi Sit-Stand Workstation raised.
For more compact setups, here's the Hashi Sit-Stand workstation with a 13″ laptop and a 60% keyboard and  mouse on the keyboard tray.
Here's the same laptop setup but elevated.
User Experience and Conclusion
I have been using sit-stand desks for 3 years now and all my work desks are height-adjustable. I have 2 3-stage electronic ones and the one in the photo above is a manual crank model. I have a newer "gaming" electronic sit-stand desk I am setting up as well but I am not gloating about these but I want to share with everyone that I feel I could've saved myself from leg pains if I only stood up more. But with office desks being all sitdown height, the majority of us will be at the mercy of these desks. That said, its never too late to practice a healthier computing lifestyle.
With height-adjustable desks starting at $200/Php10,000 or so, its hard to get into the habit but with the Hashi Sit-Stand Workstation retailing for only Php5,500. Now if you're looking at this from a gamer standpoint, I highly discourage using this for gaming as the desk will wobble if you're gaming intensely not to mention the smaller mousing area. For those of you working, the size is larger than a typical rackmount console but if you do prefer a larger mousing area, you can push the monitor to one side and use the desk area for a larger mousing surface especially if you're using a full layout keyboard.
If you type really fast and have a lighter setup, there is a chance the desk does wobble this is only if you're either really heavy-handed or are intentionally tipping the keyboard tray. Otherwise, the Hashi Sit-Stand Workstation can handle daily work usage especially typing heavy workloads.
For its price, the material quality is very nice and with popular brands selling their own similar sit-stand desks for more at around Php9500. For nearly half the price, there's really nothing you could say that's different except the front cutout for the keyboard but other than that, Hashi's take leans towards more in terms of value.
For those asking if the keyboard tray can slide inwards, due to how the underframe takes up that space, it is impossible to engineer a retractable keyboard tray for sit-stand converters. That said, this goes for all know models and sliding trays would definitely hurt stability so inbetween that and stability, the compromise is for a more stable surface.
That said, the Hashi Sit-Stand Workstation is a great entry for those that want to go into sit-stand workstations but don't want to give up their desks just yet. Its rock-solid and well made but the price is nearly half of popular namebrands with not difference in features and quality.
If you want to go from sitting all day to a sit-stand lifestyle which may help lower risks of posture and other health concerns related to a sedentary lifestyle, the Hashi Sit-Stand Workstation is a value-based entry that should help you transition into a sit-stand working life.
Hashi backs the Sit-Stand Workstation with 1-year warranty. I give it our B2G Recommended Seal!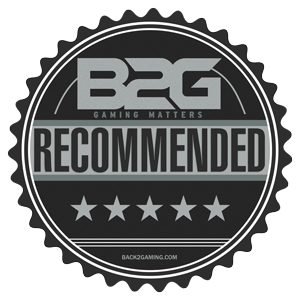 Hashi Sit-Stand Desktop Workstation Review
Final Thoughts
If you want to go from sitting all day to a sit-stand lifestyle which may help lower risks of posture and other health concerns related to a sedentary lifestyle, the Hashi Sit-Stand Workstation is a value-based entry that should help you transition into a sit-stand working life.
Pros
Great build quality
Good price
Decent weight capacity
Good gas-lift feel