Spot on precision, grip comfort, excellent accuracy/sensitivity, and programmable buttons are a few things that any hardcore PC gamers would want to have in their computer mouse (and RGB). However, to have all of these, you usually have to pay a premium…but HAVIT thinks otherwise. Offering 19 programmable buttons, PIXART 3360 Optical Sensor, and OMRON Switches for less than USD30(PHP1500). Is the HAVIT HV-MS735 worth it? Let's find out.
HAVIT HV-MS735 MMO Gaming Mouse
Specification
Sensor: Pixart 3360
DPI: 500/1000 (default) /1500/ 2000/4000/8000/12000 (can be adjusted among DPI via software)
Programming: Supported by software
19 programmable keys | Macro Setting and Memory Function
With driver: Yes
Sensor Type: Optical
Report rate: 500Hz
Interface: USB
Maximum acceleration: 50G
Frame rate:12000FPS
Cable length: 1.8 m
Compatible with Windows2000,ME,XP,Vista,Win7,Win8,Win10,MAC,Linux (Programming functionality not available on Mac and Linux)
What's In The Box?
1pc – HAVIT HV-MS735 MMO Gaming Mouse
1pc – diver user manual
1pc – mini-CD
Available At:
Unboxing – HAVIT HV-MS735 MMO Gaming Mouse
The packaging of the HAVIT HV-MS735 MMO Gaming Mouse is the brand's trademark packaging. Most of their product is packaged like this. A black box inside a white carton that highlights the features and specification of the product.
Looking at the front, the package highlights the design of the mouse and some of its specification. At the back, more details of the mouse specifications are highlighted and the origin of the product as well as its certification.
Taking the white carton off the black box reveals an ample phrase from the brand stating "Enjoy what I have". On the other side reveals the brand's logo.
Opening the box reveals the actual mouse. The colour combination of the black box and the yellow padding is quite of an eye candy. Also, an appreciation phrase from the brands is also revealed stating, "Thanks for choosing HAVIT".
The box also contains two user guide in different languages, one appreciation card from the brand, and one driver installer via mini-CD.
Closer Look – HAVIT HV-MS735 MMO Gaming Mouse
Taking a closer look at the HAVIT HV-MS735 MMO Gaming Mouse reveals its key features and ergonomic design. It weighs about 127g and its size dimension stands at 13 x 4.3 x 7.4 cm. Out of the box, the first thing that will capture your attention is its 12 programmable button at its thumb side.
Furthermore, the thumb side of the mouse appears to have a thumb rest too which is definitely a welcome feature to have. As we have said before, one of the main key selling points of this mouse is its 12 additional programmable buttons. With that being said, this mouse is dedicated to the right hand. So sorry left-handers.
Each of the 12 programmable buttons is inclined at an angle to give a sense of the location of the buttons during use without looking at it. I have to be honest though that it will take time for any users to get used to this mouse to locate and press the correct button.
Just like the keyboard, this mouse also features a bump on one of its buttons and it's on the S6 button. This bump is added to give you a more sense and feeling of what button is your thumb touching.
The other side of the mouse features a finger rest as well. But for me, it's a ring finger rest. Though can also be used as a pinky finger rest. This side of the mouse shows its ergonomic design and a combination of matte and glossy plastic design. Giving some premium look and feel for its overall aesthetics.
The front and the back of the mouse features a basic but gaming-oriented design. Its left and right click button of are long and wide. Along with its scroll wheel are two buttons that can change the DPI settings. Furthermore, the scroll wheel features 3 buttons. One is by pressing down the scroll wheel while the other two buttons can be activated or press by tilting the scroll wheel either left or right. These buttons are also programmable.
The back features a glossy design with 4 LED indicator that states the current DPI profile settings being used. The brand gaming series logo can also be seen at the back of the mouse.
Now the bottom of the mouse highlights the product certification, origin, model number, dimension, maximum acceleration, and its serial number. Furthermore, the mouse features 5 Teflon feet. These feets are strategically placed on locations that HAVIT believes will have more weight or pressure placed on during use.
Like any other gaming mouse, most if not all. The HAVIT HV-MS735 MMO Gaming Mouse features 1.8m long braided cable with a ferrite bead filter and a gold-plated USB. A cable tie is also included which is definitely a plus.
Performance – HAVIT HV-MS735 MMO Gaming Mouse
The HAVIT HV-MS735 MMO gaming mouse uses Pixart 3360 optical sensor. This sensor is designed basically for the demand of high-end gaming with a maximum DPI of 12000. Pixart 3360 comprises of navigation sensor and IR LED integrated into a 16pin moulded lead-frame DIP package.
Testing Setup:
i7-6700k
G.Skill Trident Z DDR4 16GB 2400mHz
AsRock Z170 Gaming K4 with dedicated Gaming Mouse Port
SteelSeries Hard Mouse Mat / Warlord Dragonfire Cloth Mouse Mat
In terms of performance, the sensor performs very well and was able to handle very fast flicks and slide across the surface. No acceleration was present during the testing and the default polling rate was 500 Hz but you can set it to 1000 Hz. The sensor was able to track accurately at a low DPI and no jitter up until 12000 DPI. This is probably because the native resolution of the sensor is 12000cpi thus allowing the mouse to perform at its top performance at 12000 DPI.
A simple test via http://mouseaccuracy.com/ shows the real performance of the sensor and the overall of the mouse. After 3 runs, we were able to hit a total of 56 dots and missed 3 dots.
In terms of comfort, its ergonomic design does provide a comfortable use. The body and cover perfectly fit my palm. It's one of the most comfortable mice I have ever used. I think it's due to its high back design. Which is a good thing but the size might be an issue for those with big hands because the mouse fits just right for me with a not so big hand.
Software
The software driver of the HAVIT HV-MS735 MMO Gaming Mouse can be downloaded or installed via the included CD. This software allows you to customize the mouse to your preference such as setting macros, dpi settings, changing the LED modes, and more.
The software UI is quite user-friendly and easy to use. At the home UI, you can pretty much understand everything. You can change the DPI under DPI Setting, the light mode under Lighting, the polling rate under USB Report Rate, and more.
Though you might be wondering about the Angle Snap and the Gesture Correction. Basically, the angle snap is an option when enabled allows the mouse to predict your movements to make lines straighter.
It "snaps" into a straight line as you flicker your wrist. As a result, your lines are straighter. On the other hand, the gesture correction simply adjusts the mouse pointer angle. Though personally, I prefer both options disabled. Playing a game like Overwatch when these are enabled makes my aim go in a weird direction. It just doesn't feel right.
LED Light Effects/Modes
The lightning mode of this mouse is limited to 3 modes. Namely standard, respiration, and neon.
Standard means the LED lights will remain in one colour and constant.
Respiration sets the LED to go breathing mode.
Lastly, the neon mode sets the LED to cycle into different colours.
You can then customize the lighting speed and brightness via the driver software. Below shows the mouse in standard mode set in colour blue.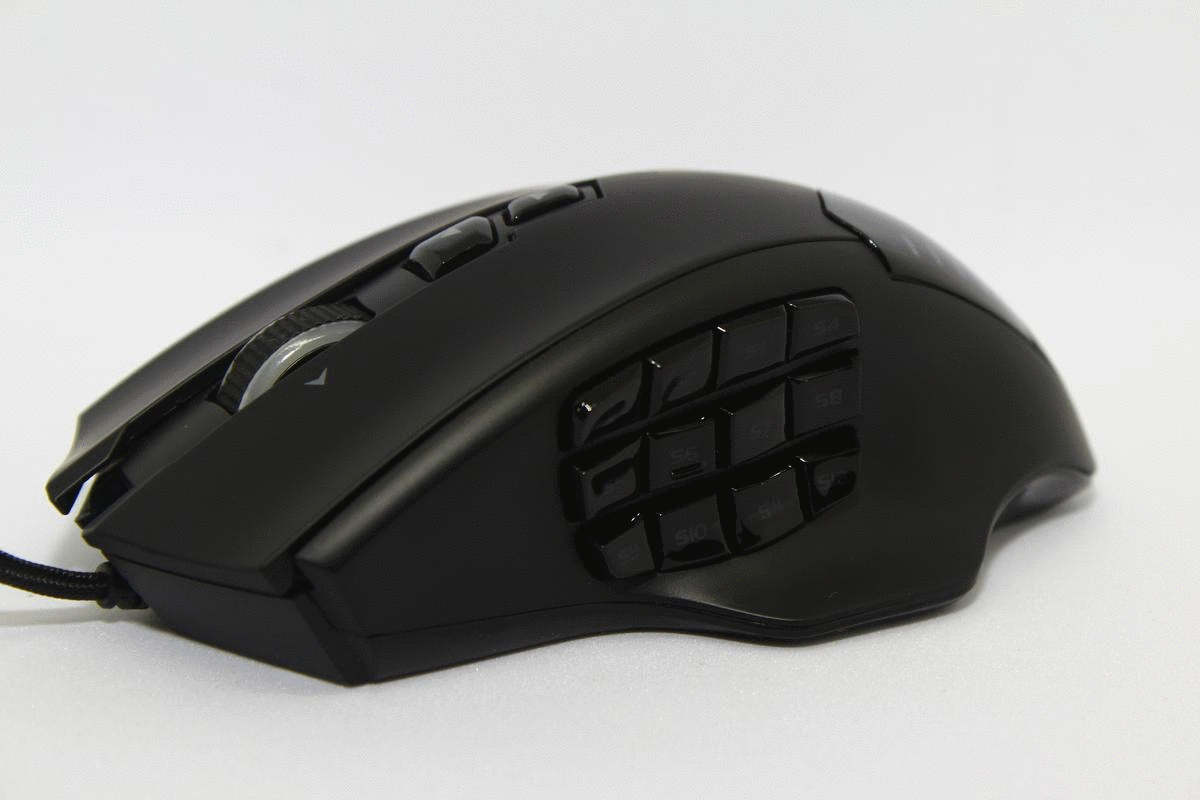 Final Thoughts…
The HAVIT HV-MS735 MMO Gaming Mouse is a kind of mouse that's aimed at certain individuals or have a specific preference. If you're into MMO and want a gaming mouse but on a budget, then this mouse is definitely a strong option. Otherwise, if you want a dedicated mouse for FPS, then there are other better options out there.
Speaking of FPS, we did play Overwatch using the mouse. This mouse was able to satisfy our performance need, especially in tight times during gameplay. Although, its design can be bothersome when playing FPS games but it'll come down to personal preference. Specifically the 12 button side of the mouse.
With its performance and price, it's definitely one of the best mice in this range. With a local pricing of PHP1,800, it's definitely a great mouse. You get 19 programmable buttons, 12000 DPI support, gaming oriented Pixart 3360 optical sensor and a comfortable ergonomic design. The only drawback that I could think of after using this mouse for weeks is its annoying taskbar notification.