[section label="Introduction"]
Opening up the salvo of X99 reviews we give you the GIGABYTE X99-GAMING G1 WIFI. This is GIGABYTE's first outing of the refreshed G1 line for the high-end desktop (HEDT) featuring the new insignia and color scheme. GIGABYTE decks out the GA-X99-GAMING G1 WIFI with lots of goodies that you'll see in this motherboard review.
Intel's new high-end enthusiast platform has been released and beckons the advent of new chips codenamed Haswell-E which now sit atop Intel's HEDT portfolio. Haswell-E will come in 3 models with two 6-core models and one 8-core chip which are as follows:
i7-5960K – 8 cores, 16 threads, 3.0Ghz, Turbo up to 3.5Ghz, 20MB Cache, 140W TDP – $999
i7-5820K – 6 cores, 12 threads, 3.5Ghz, Turbo up to 3.7Ghz, 15MB Cache, 140W TDP – $583
i7-5820K – 6 cores, 12 threads, 3.3Ghz, Turbo up to 3.6Ghz, 15MB Cache, 140W TDP – $389
The new HEDT platform ushers in the arrival of socket LGA2011-V3, a revision of the LGA2011 socket used by the previous X79 HEDT platform but both sockets are not inter-operable with each other with LGA2011-V3 chips not compatible with LGA2011 sockets and vice versa.
Also new in the platform is support for DDR4. The new platform fully supports quad-channel DDR4 memory with the new DDR4 modules supporting higher default memory of 2133MHz at only 1.2v.
GIGABYTE has 4 motherboards available at launch with the GIGABYTE X99-GAMING G1 WIFI sitting atop the gaming product line featuring a laundry list of toys for gamers needing a new motherboard for their new high-end setup. The GIGABYTE X99-GAMING G1 WIFI features a built-in WIFI-BT module, support for M.2 SATA, SATA Express, eight DDR4 DIMM slots, a dedicated Creative SoundC ore3D audio solution with swappable OP-AMPs, LED-lit PCB and PCH heat sink, dual LAN with both Intel and Killer E2200 and an 8-phase VRM rounding out the feature set.
FEATURES
Supports New Intel® Core™ i7 Processor Extreme Edition
4 Channel DDR4,8 DIMMs
Genuine All Digital Power Design with IR Digital PWM & IR PowIRstage® ICs
4-Way Graphics with Premium PCIe Lane
Dual M.2 Technology with Onboard WIFI and SSD card
6x(30µ) Gold Plating for CPU socket, Memory DIMMs and PCIe slots
Onboard Creative Sound Core3Dâ"¢ quad-core audio processor
AMP-UP Audio technology with exclusive Upgradable OP-AMP
Independent Right and Left Audio Channel PCB Layers
LED lighting for the audio guard light path and the back panel LED
Dual DAC-UP USB ports
Gold plated audio ports
High end Nichicon audio capacitors
Killerâ"¢ E2200 and Intel gaming networking
SATA Express support for 10 Gb/s data transfer
Long lifespan Durable Blackâ"¢ Solid caps
APP Center including EasyTuneâ"¢ and Cloud Stationâ"¢ utilities
Thunderboltâ"¢ Ready
GIGABYTE UEFI DualBIOSâ"¢ with Q-Flash Plus USB port
Safer design around screw mounting holes
[section label="Intel X99 Chipset"]
The X99 Chipset
The accompanying chipset for the Haswell-E CPUs is the also a 9-series chipset, codenamed Wellsburg and official dubbed Intel X99. Much of the duties of the north bridge have been relegated and built-in to the CPU during the past couple of years and the X99 chipset is no difference. This means that Haswell-E CPUs will communicate directly with the chipset via DMI.
X99 will offer ten SATA3 connections, 8 USB2.0 and 6 USB3.0 ports, and depending on your CPU you can get up to 40 PCI Express 3.0 lanes.
Together with the X99 chipset is support for DDR4 memory. DDR4 will offer timings far higher than DDR3 but at a lower voltage which starts out 1.2v. Most DDR4 memory will be XMP2.0 ready and make setting and getting the rated speeds easy. Also, as mentioned, Haswell-E supports quad-channel memory which offers more bandwidth than its normal dual-channel configurations. Couple that with the higher speed ratings of DDR4 and you get more memory bandwidth at lower voltages.
[section label="Packaging & Contents"]
Packaging & Contents
GIGABYTE has been using this new black packaging type since the Z87 era. GIGABYTE has changed it since by using a more cost-effective matte printing method but retains the old style of having the large model type in the front and a glamor shot of the product in the center. In this case though, GIGABYTE is pushing its new GAMING logo adopted from the GIGABYTE VGA products as the insignia of its GAMING series. The back of the box features a laundry list of specs and features along with main highlights that GIGABYTE has included in the X99-GAMING G1 WIFI.
The front of the box is a flip-out flap that has a clear-view window of the product inside. That missing glamour shot is actually here so no reason to panic. Take note of the orientation of the G1 Gaming logo on the PCH heatsink. Its properly-oriented this way but picture it mounted on the case… ok now we have a problem. I'll get back on that later.
Included in package are the usual suspects: driver discs, manuals, SATA cables, hard SLI bridges, PCI-e power cables, an antenna for the built-in WIFI/BT module and a pair of stickers.
Take note of the sleeved SATA cables that is included in the new G1 series. This is a nice touch from GIGABYTE and that should be standard for most high-end packages.
Compared to normal boards, you get a pair of foil stickers for the X99-GAMING G1.
When installing the I/O shield, make sure you install the wire to the board behind the audio and antenna ports because…
Its a party when its on.
[section label="Closer Look"]
Closer Look – GIGABYTE X99-GAMING G1 WIFI
GIGABYTE has been pushing their new design of GAMING series products since the launch of the Z97 series. As mentioned earlier GIGABYTE has adopted the GB VGA insignia and tailored it to their GAMING series. The board has a busy look to it but has a clean feel and when held really exudes that GIGABYTE premium build that they are proud of.

One of the signature board layout characteristics of X99 boards is the quad-channel DIMM slots. In the GIGABYTE X99-GAMING G1 WIFI, we have a total of 8 slots and will take in DDR4 modules.
A total of four PCIe x16 slots are available for multi-GPU systems capable of full x16 speeds on both 1st and 3rd slot, the 2nd and 4th slot are wired to x8 lanes. Do not that you will be unable to run quad-SLI when using only a i7-5820K due to the limitations stated above in the introduction.

Power user controls are located above right corner of the board including a debug LED, power and reset buttons, voltage checkpoints and and BIOS switches.
Internal I/O include a single SATA-Express array with a total of 10 SATAIII ports available. The four lower SATA ports are not capable of RAID configurations so it is highly recommended to use the primary gray ports for RAID usage. All ports are wired to the chipset.

The rear I/O ports include a PS/2 legacy connector for whatever reason someone who can afford this board still has a PS/2 keyboard or mouse. The yellow colored USB2.0 ports are DAC-UP ports, optimized for audio enthusiasts who use DAC setups to output their audio. The buttons next to these are the instant OC buttons, Flash boot button and CMOS reset button. Tons of USB3.0 ports line the rear I/O with a lone white USB port used for BIOS flashing without the CPU. The GIGABYTE X99-GAMING G1 WIFI is dual-LAN enabled with both KillerNetworks E2201. Five audio ports with an optical out is present powered off the Creative SoundCore3D chip. A pair of antenna ports are in the back which screw-in the included antenna for the internal WIFI/BI module.
Here's a shot of the new LGA2011-3 socket.
[section label="BIOS Walkthrough"]
BIOS Screenshots
The GIGABYTE X99-GAMING G1 WIFI features a refined UEFI with smoother graphics for the advanced view. More or less though the HD views are still similar to the previous versions used on the Z97 and Z87 series with the introduction of the Welcome screen present on the 9-series.
All hooked up, the motherboard PCH heatsink is LED-lit adding a really awesome feel to the system when viewed from a sidepanel or just lying down on the test bench.
[section label="Test System & Overclocking"]
Test Setup
Processor: Intel Core i7 5930K
Motherboard:Â GIGABYTE X99-GAMING G1 WIFI (GA-X99-GAMING-G1-WIFI)
Memory:Â Corsair Vengeance LPX DDR4 16GB (JEDEC-2133 CL15)
Storage: Kingston HyperX 3K SSD 120GB
PSU: Corsair AX860i
Cooling: Custom loop (XSPC Raystorm block, XSPC D5 Dual Bayres (set to medium), BlackIce Stealth GT 360Â rad)
Monitor: LG E2350V
VGA: Palit Jetstream GTX 780Ti
As this is a new system, we will be adapting it to the more relative data we have on our database. For best relative information, we are including test data for our i7-4770K and i7-3770K systems. We will also be deferring gaming tests until we can establish a definitive benchmark for the X99 platform. Note that these are for informative purposes only and not for direct comparison.
We will be using an i7-5930K in our system also instead of the i7-5960X. We'll cover that chip in a later review.
[section label="Performance Testing – Synthetic"]
Performance Testing – Synthetic
[section label="Performance Testing – Real World"]
Performance Testing – Real World
[section label="Performance Testing – 3D Benchmarks"]
Performance Testing – 3D Benchmarks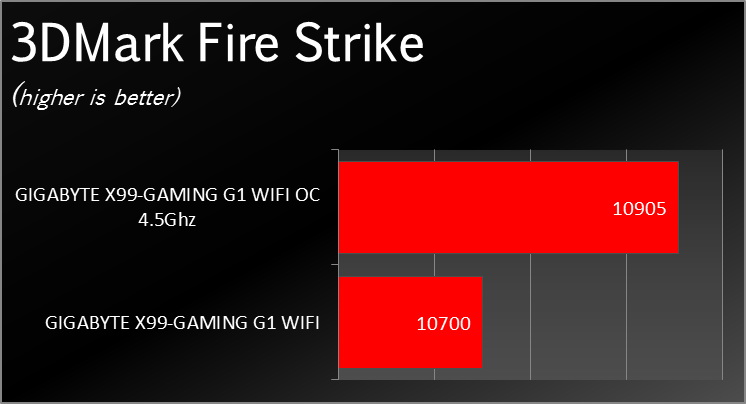 [section label="Power & Temperatures"]
Power & Temperatures
We check to see how motherboard makers tune their default BIOS settings and see how it impacts temperatures and power consumption. The system is left to idle for 30 minutes before readings are taken and load data is taken 30 minutes while Prime95 blend test is running. Power readings are taken for the entire system from the socket.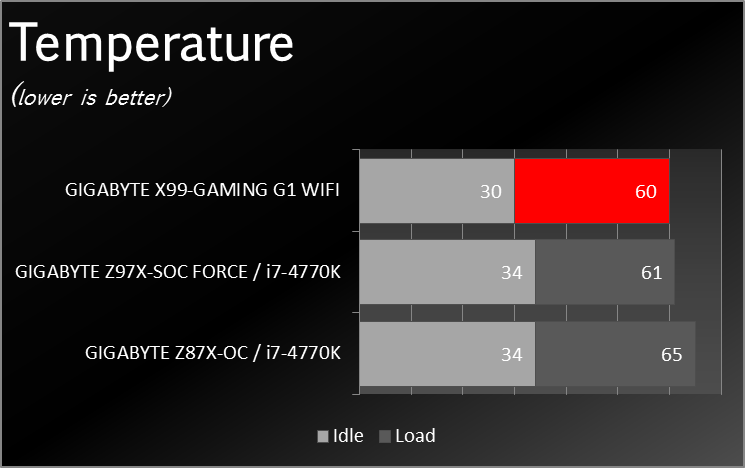 At a glance:Â Take note that we're using a hefty liquid cooling setup for all of these tests. Still we can see the difference between thermals between the IHS-laden 4770K and 3770K and the soldered 5930K.
We include the 4960X powered Rampage IV Black Edition for power comparison and we can see large improvement of the Haswell-E architechture over the 5930K which is its spiritual successor bearing the same core count, etc.
[section label="Overclocking"]
Overclocking
Overclocking on the X99 platform with the new Haswell-E chips should be very familiar with owners of 4770K and 3770K processors. Overclocking can be done either by multipliers or BCLK or by gear ratio. When loading XMP profiles higher than 2800, we found that the system would change gear ratio so you're basically overclocking the system along with your RAM.
In our GIGABYTE X99-GAMING G1 system, we managed to overclock the system at a stable 4.51Ghz at 1.25v. This is a farcry from our i7-4960X sample in the past that could barely do 4.4Ghz without ramping it up to 1.4v.
We don't have much OC data for now but here the CPU-Z validation of our stable OC with our 5930K which we have used for some HWBOT submissions:
We do feel our chip can go further but with heat reaching past 95*C on just 1.3v, we just had to throttle back.
[section label="Conclusion"]
Conclusion
Let's break down our score so we can focus on the board more rather than the CPU.
Performance. Whilst we don't see anything spectacular about the performance on the board itself since we've already expected that on the CPU itself, overclocking is very solid on the GIGABYTE X99-GAMING G1 WIFI. There is plenty of options to fine-tune your CPU enough for maximum performance for gaming and it doesn't limit itself nor the CPU, GPU, or DDR4 RAM by hiding options. Anything you can expect from a top-of-the-line board for performance tuning is in this board.
[signoff icon="quote-circled"]
They've already jumped in the RED and BLACK bandwagon, why not get it right… right?
[/signoff]
Build Quality. GIGABYTE doesn't disappoint when it comes to build quality but design is another thing altogether. Whilst the board itself is solidly built, well laid-out and overall simply awesome there is just something about the sideways eye logo that irritates me to no end. GIGABYTE's design team or approving executives needs some lesson about uniformity and fluid design that it seems like they're just taking what's on stock and cramming it in place. First up, the eye logo is sideways. Second, the green chokes are break-up the otherwise neutral color palette of the board. Third, the gray DIMM slots also does the former. The WIFI module would've been easily implemented as a chip on the I/O port hooked directly to the board. I can feel GIGABYTE trying to keep costs down here but they should learn from MSI about keeping the board palette neutral and sticking to that. They've already jumped in the RED and BLACK bandwagon, why not get it right… right?
Functionality. This is where the GIGABYTE X99-GAMING G1 WIFI does it right. Barring everything we've said on the previous paragraph, if you are after function over form then there is no going wrong with this board. Its decked out with everything you need for a well-built system and more. You got a dedicated audio solution with swappable OP-AMPs for a highly flexible listening experience. Couple that with tweaking options and other usability options and you have a champion setup that is easy to use and has plenty of value-adding features.
Bundle. Despite the fat bundle, the included items are quite pedestrian and don't do add much bonus to the board. The sleeved SATA cables are nice but nothing to write home about. Some extra swag like a large logo sticker, a poster like the one included in the G1 Sniper 3/M3 with the Skull and bulletholes that says G1 Killer. Dafuq happened to all of those?
Value. Recommending this board based on price would be simple: it is the cheapest high-end board compared to MSI and ASUS' respective X99 gaming boards. At around $350, it packs a lot of features you'd want that both competitor may have but you don't need. This doesn't include the complete platform cost though as DDR4 modules are currently priced at a premium and the new Haswell-E procs start at almost $400. You also need a GPU because hello… no IGP! In the end, you'll be forking out more though for the other components and if you actually value gaming more than board features, then the GIGABYTE X99-GAMING G1 WIFI is a good choice.
Despite its loaded feature set, the GIGABYTE X99 GAMING G1 WIFI regardless of its position in the X99 GAMING stack is still quite pedestrian, taking what made the GIGABYTE Z97-GAMING G1 WIFI BK and slapping a new chipset into the mix and adding in a bit of lighting. Its everything a simple X99 board should be, the sound chip, LAN and lighting/design are just bonuses you're going to pay a premium for to be a "gamer".
While we do like the board, we feel that GIGABYTE has been lazing off in the gaming space focusing more into pumping features in the audio department rather than expanding the feature set of the lineup. Focusing more on the GIGABYTE X99-GAMING G1 WIFI board, it has plenty of bells and whistles that a high-end board should have but arrives at a more reasonable price than the competing flagship "gaming" X99 boards.
[signoff icon="quote-circled"]
It squeezes out everything from the X99 and puts in a bit of gamer goodness all wrapped in a raging black and red coating.
[/signoff]
The GIGABYTE X99-GAMING G1 has an extensive feature set, a proven formula from past successes, now finds its way to the latest and greatest chipset for extreme gamers. If you're looking for an X99 board that has everything the X99 chipset can offer put to use while getting some good extra features like enhanced audio and LAN all for a reasonable price, then the GIGABYTE X99-GAMING G1 WIFI should be your top choice. It squeezes out everything from the X99 and puts in a bit of gamer goodness all wrapped in a raging black and red coating.
GIGABYTE backs the X99-GAMING G1 with a 3-year warranty. We give the GIGABYTE X99-GAMING G1 with our B2G Recommended Award.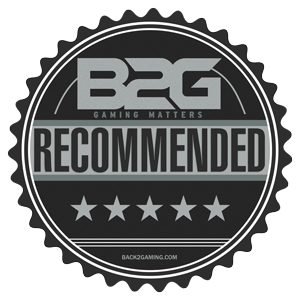 ---
[signoff icon="alert"]
LOGO – the way its meant to be placed.
[/signoff]