Price / Where to Buy
Amazon (US): $275 -ZOTAC GTX 1060 AMP
Philippines: Php 13480 (PCHUB)
With the immense success of the GTX 1080 and GTX 1070 Pascal GPUs from NVIDIA, it seemed they would hold on to their midrange cards a bit longer but in a relatively bold move, they've announced their GTX 1060 midrange GPU hot off the heels of their high-end launch. The GTX 1060 is squarely placed in the center of the mainstream market and is directly being compared to the GTX 980 but with greater efficiency, temperatures and overall performance. That being said, NVIDIA does cut this card back a bit and we'll take a look at a couple of the cards that came out fresh off GTX 1060 announcement.
ABOUT THE NVIDIA GTX 1060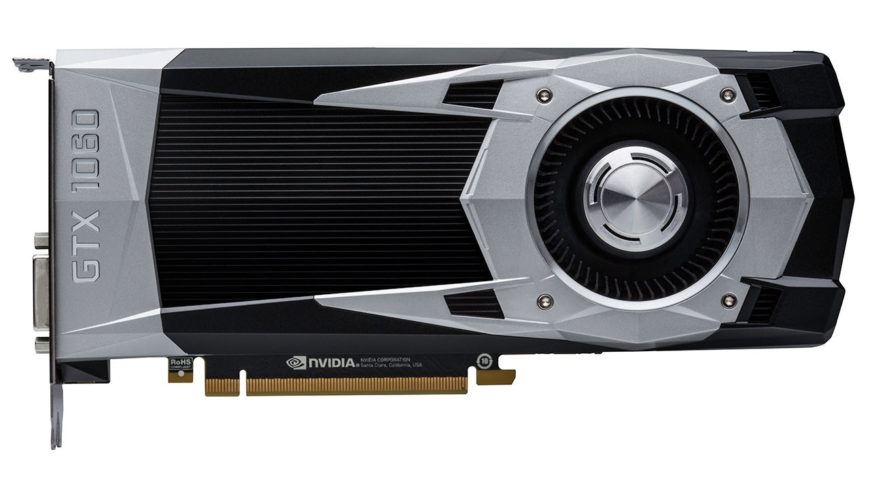 The GTX 1060 is based on the same Pascal architecture as the GTX 1080 and GTX 1070 but utilizes a newer GP106 GPU on the same 16nm FinFET process. All the Pascal features are also in this card with the GTX 1060 utilizing 1280 CUDA cores running with a base clock of 1506Mhz and can boost up to 1708Mhz. Memory runs at 8Ghz and is wired to a 192-bit bus with a total of 6GB. A 3GB variant is also available but that is a different specsheet altogether.
The GTX 1060 6GB requires a single 6-pin power connector and has no SLI support.
ABOUT THE ZOTAC GTX 1060 AMP! EDITION
ZOTAC has been redefining their mainstream AMP! cards and have been refining the designing since recent releases. The latest 10-series cards from ZOTAC also receive a new treatment and for this review we'll focus on the AMP! Edition dual-fan cooler. There is also a AMP! Edition Mini which features a single fan.
The ZOTAC GTX 1060 AMP! Edition comes with 1556Mhz base clock and a 1771Mhz boost clock. This is a factory OC of 50Mhz base from the reference clock. Memory frequencies are untouched. The card also requires a single 6-pin PCI-e power connector.
Product Gallery -ZOTAC GTX 1060 AMP! EDITION
The new ZOTAC GTX 1060 AMP Edition dual-fan cooler features a short PCB design with the heatsink expanding outwards of the card's actual length. ZOTAC integrates a special metal contact to improve thermal conductivity with the dual fans cooling the card under load. The fans do not spin when idle. There is also no backplate.
PERFORMANCE
Test Setup
Processor: Intel Core i7 6700K
Motherboard: ASUS ROG Maximus VIII Ranger
Memory: Kingston HyperX SAVAGE DDR4-3000 16GB
Storage: Intel SSD 750 NVME U.2 SSD
PSU: Thermaltake ToughPower Grand 1000w Gold
Cooling: Thermaltake Water 3.0 Riings 360mm
Monitor: ASUS PG27AQ UHD Monitor
VGA: ZOTAC GTX 1060 AMP! EDITION
For a full-hardware workout, visit http://www.futuremark.com for our benchmarks of choice.
For benchmarking methodology please see our game benchmark method guide.
Frame rates and frame times of a 60-second game play were recorded using FRAPS v3.5.99. The test results are the average of 3 benchmark runs. Since this is a GPU review, we benchmarked the area of the games that put heavy load on the GPU.
All our test runs are repeatable, click the links below for area and details. Read our benchmarking methodology.
Crysis 3 – Post Human
Grand Theft Auto V – Palomino Highlands
The Witcher 3 – Woesong Bridge
Rise of the Tomb Raider – Valley Farmstead
DOTA2 – Shanghai Major Finals, Game 2, Team Secret vs Team Liquid (23:45 – 24:45)
See our Youtube playlist for benchmark sequences.
The games and corresponding image quality settings used are shown below:
Crysis 3
Resolution: 1920 x 1080
Texture Resolution: Very High
Anti-aliasing: SMAA 2Tx
System Spec: Very High
Anisotropic Filtering: 16x
Motion Blur: Disabled
Grand Theft Auto V
Resolution: 1920 x 1080
FXAA Off
MSAA 4x
TXAA Off
Very High settings
Anisotropic Filtering: 16x
Motion Blur disabled
Advanced Graphics enabled
The Witcher 3
Resolution: 1920 x 1080
Frame Rate: Unlimited
Nvidia HairWorks: Off
Ultra Settings
Motion Blur: Off
Blur: Off
Anti-aliasing: On
Bloom: On
Sharpening: High
Ambient Occlusion: SSAO
Depth of Field: On
Chromatic Aberration: Off
Vignetting: On
Light Shafts: On
Rise of the Tomb Raider
DirectX11
Resolution: 1920 x 1080
Anti-aliasing: FXAA
Very High settings
Ambient Occlusion: On
Pure Hair: On
Vignette Blur: Off
Motion Blur: Off
Bloom: On
Tessellation: On
Screen Space Reflections: On
Lens Flares: On
Film Grain: Off
DOTA2
DirectX9 (default)
Resolution: 1920×1080
Best-Looking slider setting (non-Ultra)
FPS_MAX 240
Vsync OFF
Note: Some proprietary technologies of NVIDIA like PCSS, HBAO+, and HairWorks work on AMD GPU's but we decided not to use them.
For comparison with the AMD RX 480, see our comparison of the 1080p performance of the AMD RX 480 against a GeForce GTX 1060.
More GTX 1060 vs RX 480 comparison in our previous GTX 1060 review.
TEMPERATURE & POWER CONSUMPTION
To measure both power consumption and heat, we stress the video card and record the peak values for heat and wattage. We use default values on the cards and stress test them using 3DMark FireStrike Ultra in 20 loops to simulate gaming loads and this is where we also base our power draw. System power draw is measured from the socket.
As with most Pascal cards, the GTX 1060 has a very high efficiency rating making it cooler than most cards and draws less power in general. With the relatively lighter cooler solution, its expected the card performs just around the same class of products with a peak temp of just above 70*C. The fans don't stop spinning even in idle hence the lower temps during zero-loading. Power consumption is definitely great with this card peaking at just below 140W at load.
CONCLUSION
Let's break down the verdict:
Performance. The GTX 1060 is a mid-range card and offers the performance that NVIDIA thinks sits well within the current mainstream market. It delivers very decent 1080p performance and if you could settle for lower graphic details, it looks like it can do 1440p easily as well in some lighter games. The GTX 1060 does lack the ability to scale its performance having no support for SLI.
Build Quality. ZOTAC sits in a really good spot here offering a very decent performing card, an factory OCd one at that, at a very attractive price point but still manages to really show to the world what kind of brand they are in terms of quality which is really decent for this card. Its not as packed as their AMP Extreme line but ZOTAC did a really good job maintaining a really small footprint for this GPU not to mention managing to keep it cool even with such compact cooling. One thing to note is that the first release of this card has a quality issue with the cooler retention system and ZOTAC has issued replacements for these products to their distributors.
Functionality. The GTX 1060 is squarely aimed at 1080p gaming and while it can also do VR or higher resolutions, its lack of SLI support means its meant to be a single card solution for people that want a high-performance GPU for relatively mainstream gaming: eSport titles as well as MMORPGs, etc. should sit right with the GTX 1060 together with the obviously decent performance in modern games at 1080p.
Bundle. Check with the brand regularly during purchase to see what promotion they are running. NVIDIA also may have promos ongoing. As of this moment, no promotion is active.
Value. The ZOTAC GTX 1060 AMP! Edition is one of the more affordable factory OC'd GTX 1060s available right now at around $275 or around Php13500 which makes it a direct competitor to the bigger brother of the GALAX GTX 1060 OC we reviewed earlier which is the EXOC variant. The ZOTAC has its charm of course and the brand's growing strength makes it a favorite amongst enthusiasts right now for good reason.
The NVIDIA GTX 1060 is intended to be the successor of the GTX 980. NVIDIA intently markets it as such but with only a 120w power draw. That kind of efficiency as well performance and price make it a no-brainer for anyone still thinking about getting a GTX 970 or GTX 980 when prices drop to reconsider as the GTX 1060 will easily squash those cards, not to mention possible heavily overclocked models. As with most Pascal cards right now though, prices vary heavily per region and that could still sway some users to opt for other options.
The ZOTAC GTX 1060 AMP! Edition continues the tradition of the lightweight mainstream cards that ZOTAC has been offering recently, though not as beefed up as its predecessor, the power of the GTX 1060 is not held back with ZOTAC's implementation. If you're looking for a compact GTX 1060 for a reasonable price, the ZOTAC GTX 1060 AMP! Edition combines decent performance with excellent price to offer the most reasonable upgrade this season.
Price / Where to Buy
Amazon (US): $275 -ZOTAC GTX 1060 AMP
Philippines: Php 13480 (PCHUB)
We give the ZOTAC GTX 1060 AMP! Edition our B2G Best Value Award and B2G Recommended Award!