Price / Where to SRP: US$464.99 – ZOTAC GTX 1070 AMP EXTREME
PH – Approx. Php25,000
NVIDIA is in under no circumstance pressured to release a new GPU this year. AMD has pretty much served no competition to what is arguably the most fierce competition in the component industry with previous coinciding releases help serve as the foundation of healthy and thriving PC gaming economy. Nowadays, its not the same fierce close releases we saw in the past but NVIDIA is still advancing GPU technology further and with the company advancing VR technology heavily, they needed a GPU for the consumer that could help do the job. Enter the GeForce GTX 1080. With future applications in mind, NVIDIA released the GTX 1080 with the intention of fueling the current trend for VR content. It makes sense as its a potential new revenue stream for their company and this release hits two birds with one stone: a GPU that can handle higher resolution and more demanding applications while also delivering performance required for creating much richer VR experiences.
While NVIDIA are encouraging the sales of the Founders Edition until the end of the product life cycle, AIB partners will still have full control on what they do provided they follow NVIDIA's guidelines but cooling, tweaks and everything else they can do to squeeze out performance an improve cooling within specs, they're free to do so. During our trip to Computex 2016, we've seen many of the GTX 1080 and GTX 1070 custom cards to be released and many of them are focusing on improved cooling and aesthetics.
ABOUT THE NVIDIA GTX 1070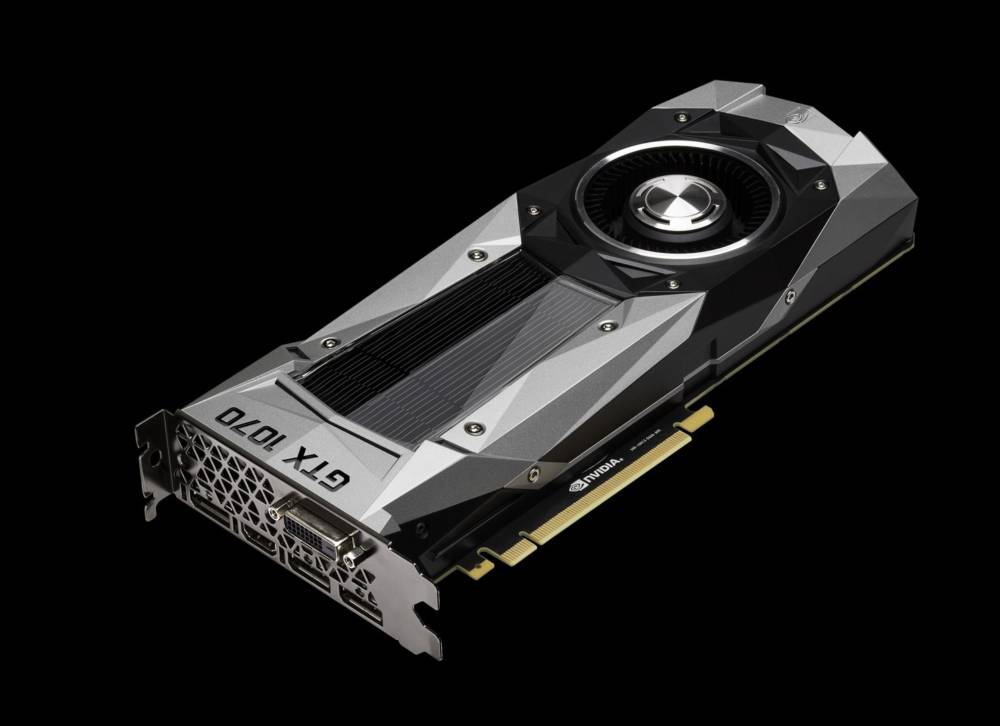 NVIDIA's new Pascal architecture is a remarkable engineering feat and something which has enabled the company to roll-out numerous technologies for various industries like deep-learning and super-computing but as a GPU company, NVIDIA is still regarded as a gaming company and the release of the much anticipated GTX 1000-series graphics cards is something that drives the industry further as it presents new possibilities for gaming content. That said, NVIDIA announced the new GeForce GTX 1080 and GTX 1070 on May 5th, 2016 putting to rest numerous rumors on naming and specifications on their new GPU series. Starting off with the new GPU, the Pascal based GP104 GTX 1080, sports 2560 CUDA cores running 1607Mhz and has a Boost clock of 1733Mhz. The card will come with 8GB of GDDR5X memory clocked in at 2500Mhz. The GTX 1080 boasts the highest clock rates ever seen on a GPU to date in comparison to last-generation's models which came in around 1000Mhz.
The GTX 1070 on the other hand will be sit below the high-end card and will also have 8GB of video memory but will be using GDDR5 rather than GDDR5X and will have a reference memory clock speed of 8Ghz wired to a 256-bit bus. No more split memory here, this is pure 8GB. On to core clocks, the GTX 1070 will have a reduced number of CUDA cores at 1920 total and will have a core clock clock of 1506MHz with a boost clock of 1683MHz.
The new Pascal GPUs will natively support DirectX 12 (12_1), OpenGL 4.5. Display options include three DisplayPort 1.4, one HDMI 2.0b, and one Dual-Link DVI connector. The reference GTX 1080 is powered off a single PCI-e power connector and is rated for 180W. NVIDIA designs a new SLI connector dubbed SLI HB (high-bandwidth) which uses both SLI fingers for maximum bandwidth utilization.
SRP for the GTX 1080 is $699 for the Founder's Edition and will have an MSRP from most AIB starting at $599. The GTX 1070 Founder's Edition will have an MSRP of $449 and AIB custom designs will start at $379.
Simultaneous Multi-Projection
This technology has been around since Maxwell but NVIDIA has refined the technology further to increase performance and offer a more efficient way of handling more complex display scenarios. Traditionally, surround displays are rendered as flat planes and are display onscreen as such which gives us a rather unnatural field of view. The same can be said for curved displays. NVIDIA corrects this via the new Pascal GPUs by allowing a better method of adjusting the output image display via simultaneous multi-projection. Another use of the technology is to save up on processing power wherein developers can opt to render images outside of the visual focus area of the user to increase performance.
Ansel
User-generated content is one of the growing trends in gaming right now but streaming and game footage aside, in-game photography and movies created using gameplay footage have been reserved for professionals and specialists who have access and skills in the tools required in this artform. NVIDIA wants to change that by allowing end-users and gamers to create highly-personalized images and footage from games using Ansel: a tool and API coming soon to games featuring the following key capabilities to help you capture in-game moments like never before:
Free Camera – Compose your shot anywhere, from any angle.
Post-Process Filters – Adjust the look and mood of your favorite games.
EXR Capture – Capture in the highest color spectrum for HDR images.
Super Resolution – Capture every detail with the highest-resolution images.
360 Capture – Snap 360-degree panorama images in mono or stereo.
Ansel's feature set lets players capture image in-game freely without being limited to the current player view. With Ansel, players can rotate the camera and focus on any detail of the current scene to allow maximum creativity in creating that perfect in-game capture. Filters are also available just to set the mood basically allowing you to create Instagram-ish posts straight from any game at the best quality possible. Ansel allows EXR capture for maximum color spectrum for use in Photoshop or other photo-editing software that support the format.
Basically Ansel gives end-users and content creators a level of control unlike anything we've had before. Free control over perspective, resolution and quality to provide you with the image to create stunning in-game photography and motion videos from games that support it.
Ansel enables amazing in-game screenshot captures by providing game developers with new NVIDIA driver APIs using GeForce® GTX GPUs. Game support for Ansel is coming soon, and will include titles such as The Witcher 3, No Man's Sky, The Witness, and more. Ansel will also be supported by all GTX 600 cards onwards.
ABOUT THE ZOTAC GTX 1070 AMP EXTREME
The ZOTAC AMP! Series is the company's series of custom cards that exude the best that the company can offer. The AMP! Extreme sits at the very top of this stack and its most defining signature is its incredibly beefy cooler designed to bring out the best that every GPU has. In the case of the GTX 1070, we receive a factory overclocking of 1835Mhz out of the box with a core clock of 1635Mhz. That's a steep boost over the reference and memory gets a kick in the proverbial nuts as well with 8.2Ghz effective clock rate.
The most notable feature here is the redesigned cooler, all 2 1/2 slot of it. This card is designed for widely spaced motherboards or single GPU applications so if you're considering putting these in SLI, take note of the space requirements. ZOTAC also adds 2 distinct additions to the AMP! series with the addition of the Power Boost which is a power delivery enhancement designed to aid in more stable power to the GPU and Spectra, ZOTAC's own RGB lighting feature allowing various effects to be configured to the integrated lighting.
Product Gallery – ZOTAC GTX 1070 AMP EXTREME
LED LIGHTING
ZOTAC's FireStorm utility features the control for the Spectra lighting and it has options for static, breathing, strobe and color cycle which we'll take a look below. You can see the various effects in action and no they are not music reactive at the moment.
Overclocking the ZOTAC GTX 1070 AMP EXTREME
Overclock the GTX 1080 is a bit more challenging thanks to GPU Boost 3.0 but that's just because the card runs further than we want to set it. That said, we'll be doing things a bit differently we settle for a final overclocking methodology. For now we'll be manually adjust clocks and capturing the maximum clocks we get under 3DMark stress test.
Overclocking the ZOTAC GTX 1070 AMP EXTREME is a lovely proposition thanks to its beefy cooler, we feel like we have plenty of headroom. We use the FireStorm overclocking interface from Zotac to dial up the settings bumping up core clocks to 1770Mhz giving us a good 1973Mhz boost clock. We dial up memory as well jacking it to 8.8Ghz effective.
PERFORMANCE
Test Setup
Processor: Intel Core i7 6700K
Motherboard: ASUS ROG Maximus VIII FORMULA
Memory: Kingston HyperX SAVAGE DDR4-3000 16GB
Storage: Intel SSD 750 NVME U.2 SSD
PSU: Thermaltake ToughPower Grand 1000w Gold
Cooling: Thermaltake Water 3.0 Riings 360mm
Monitor: LG 42UB820T UltraHD TV
VGA: ZOTAC GTX 1070 AMP EXTREME
For a full-hardware workout, visit http://www.futuremark.com for our benchmarks of choice.
For benchmarking methodology please see our game benchmark method guide.
Driver: NVIDIA GeForce 372.54, AMD Crimson 16.7.3
Operating System: Windows 10 64-bit
Frame rates and frame times of a 60-second game play were recorded using FRAPS v3.5.99. The test results are the average of 3 benchmark runs. Since this is a GPU review, we benchmarked the area of the games that put heavy load on the GPU.
All our test runs are repeatable, click the links below for area and details. Read our benchmarking methodology.
The games and corresponding image quality settings used are shown below:
Crysis 3
Resolution: 1920 x 1080
Texture Resolution: Very High
Anti-aliasing: SMAA 2Tx
System Spec: Very High
Anisotropic Filtering: 16x
Motion Blur: Disabled
Grand Theft Auto V
Resolution: 1920 x 1080
FXAA Off
MSAA 4x
TXAA Off
Very High settings
Anisotropic Filtering: 16x
Motion Blur disabled
Advanced Graphics enabled
The Witcher 3
Resolution: 1920 x 1080
Frame Rate: Unlimited
Nvidia HairWorks: Off
Ultra Settings
Motion Blur: Off
Blur: Off
Anti-aliasing: On
Bloom: On
Sharpening: High
Ambient Occlusion: SSAO
Depth of Field: On
Chromatic Aberration: Off
Vignetting: On
Light Shafts: On
Rise of the Tomb Raider
DirectX11
Resolution: 1920 x 1080
Anti-aliasing: FXAA
Very High settings
Ambient Occlusion: On
Pure Hair: On
Vignette Blur: Off
Motion Blur: Off
Bloom: On
Tessellation: On
Screen Space Reflections: On
Lens Flares: On
Film Grain: Off
DOTA2
DirectX9 (default)
Resolution: 1920×1080
Best-Looking slider setting (non-Ultra)
FPS_MAX 240
Vsync OFF
Note: Some proprietary technologies of NVIDIA like PCSS, HBAO+, and HairWorks work on AMD GPU's but we decided not to use them.
Rise of the Tomb Raider
The reboot of the gaming phenomenon Tomb Raider puts players in Lara Croft's hiking boots as we pick-up from the last game. Featuring upgraded graphics, DX12 support and new image quality improvements, this game challenges new hardware with its graphical offering.
The Witcher 3
CD Projekt Red's latest installment in the Witcher saga features one of the most graphically intense offering the company has to date. As Geralt of Rivia, slay monsters, beasts and men as you unravel the mysteries of your past. Vast worlds and lush sceneries make this game a visual feast and promises to make any system crawl at its highest settings.
DOTA 2
The most popular game on Steam and the biggest competition in eSports; DOTA 2 is powered by the Source 2 engine. The game is fairly light on low to medium settings but maxed out with heavy action on screen especially during clashes can really stress most systems especially with Reborn update. This is a game where frame times matter as responsiveness is very important in high-stakes competition.




Grand Theft Auto V
The fifth and most successful installment to date in the highly controversial Grand Theft Auto series brings a graphical overhaul to the PC version of GTA V which many have lauded as a superior approach in porting a console game to PC. Featuring large areas and detailing, GTA V is a highly challenging application in terms of scene complexity.
Crysis 3
The most visually intense game to have ever been made during its time. Prophet is back to take on the Ceph and Cell after a long sleep and the world isn't what it was when before he got frozen. CryEngine 3 is behind this beautiful beast that will put a lot of systems to their knees. The opening level shows off the exquisite particle and water rendering of the engine capable of still giving modern GPUs a workout to this day.
TEMPERATURE & POWER CONSUMPTION
To measure both power consumption and heat, we stress the video card and record the peak values for heat and wattage. We use default values on the cards and stress test them using 3DMark FireStrike Ultra in 20 loops to simulate gaming loads and this is where we also base our power draw. System power draw is measured from the socket.
With a gigantic cooler like the one on the ZOTAC GTX 1070 AMP! EXTREME, we'd expect some high performance cooling and thanks 3DMark's new stress test we can see a visual graph of the frame rate stability side-by-side with thermal performance on predetermined load and how they affect each other over time. Thanks to the powerful cooling, we didn't see a frame rate drop due to lower GPU boost frequencies here.
As with the other Pascal GPU, power usage on the ZOTAC GTX 1070 is remarkable thanks to the efficiency focus that NVIDIA wanted for their new GPUs.
Thermal Images
CONCLUSION
Let's break down the verdict:
Performance. Performance on the ZOTAC GTX 1070 AMP EXTREME! is simply remarkable thanks to a couple of things mostly owing due to the great cooling performance that the card has. Thanks to NVIDIA's GPU Boost 3.0 and Pascal inherent advantage of running cooler than previous generation, ZOTAC leverages all this to create a more powerful rendition of the GTX 1070 easily dethroning the GTX 980 Ti from last-generation in its current price bracket. Overall performance should be decent throughout 1080p and 1440p should also be quite playable.
Build Quality. ZOTAC is enjoying a lofty position right now in terms of value-proposition and its
Functionality. NVIDIA has improved on many of its current feature set but what it does really well is improve performance in 4K and VR allowing the GTX 1070 to let players enjoy games at an unprecedented quality. This together with the new improvements like Ansel and SMP make the GTX 1070 a feature-rich card made for the modern gaming scenario.
Bundle. No game bundle as of this moment but its an eventuality in the future.
Value. At around Php25,000 street price, the ZOTAC GTX 1070 AMP! Extreme is easily one of the more expensive GTX 1070 right now but its not without reason. We'll go over this in the conclusion.
Competing heavily with ASUS's main offering and MSI, ZOTAC has found themselves competing heavily in both mainstream to high-end, in this particular case, the latter situation. Performance will be for another article but ZOTAC's GTX 1070 AMP! EXTREME delivers a premium, powerhouse of a GTX 1070 that elevates its game away from the reference and mainstream cards. While ZOTAC doesn't cherry pick GPUs, from our experience with them, there's always a reasonable amount of headroom offering plenty of performance for those that wish to tweak further thanks to ZOTAC's massive cooler that keeps the card below 80*C under load.
One thing to consider is the size and at nearly 2 1/2 slot size, there's bound to be compatibility issues if you have more than one card and its length will also give issues to those that can't accommodate long cards. That said though, its a fair trade-off for a cooling solution that's quiet and very capable. Add the little details like lighting and its a solid solution to those that prefer single cards.
Overall, the GTX 1070 is a good choice for those looking to jump from 1080p to 1440p or VR but is looking at a sub-25K PHP ($500) budget. The relative cooling and performance enhancement of the ZOTAC GTX 1070 AMP EXTREME make it an ideal entry-level replacement to a cheaper GTX 1080 and thanks to its build quality, you're looking at a more reliable product. ZOTAC sweetens the deal with an extended warranty giving you further peace of mind with the ZOTAC GTX 1070 AMP EXTREME.
Price / Where to SRP: US$464.99 – ZOTAC GTX 1070 AMP EXTREME
PH – Approx. Php25,000
We give the ZOTAC GTX 1070 AMP EXTREME our B2G Gold Award and B2G Performance Award!