ASUS recently revealed its latest entry in the ROG gaming notebook lineup with its new flagship model, the ROG GX700 gaming laptop. Announced simultaneously with its more traditional brother the G752, the ASUS GX700 takes things to the extreme with its single stand-out feature of including a watercooling dock. While this may go against the traditional notion that people have of the compact form factor that laptops are intended for, there are still some folks (plenty in fact) that want something non-stationary.
As we've seen in the past with MSI GT80 Titan, there's a market for high-performance laptop or what I come to call "desktop replacement" notebooks wherein they perform relatively well against mainstream desktop but still offer a level of portability that desktops don't have. In the case of the ROG GX700, ASUS decided to go for a full performance build and to do that they specifically implemented an unlocked Core i7-6820HK processor together with a GTX980 desktop-class GPU in this model. Together, this configuration brings desktop-class performance in a compact form factor and while this doesn't seem impressive as other competitors clearly have their own flagship model, as we've mentioned earlier the GX700 is watercooled.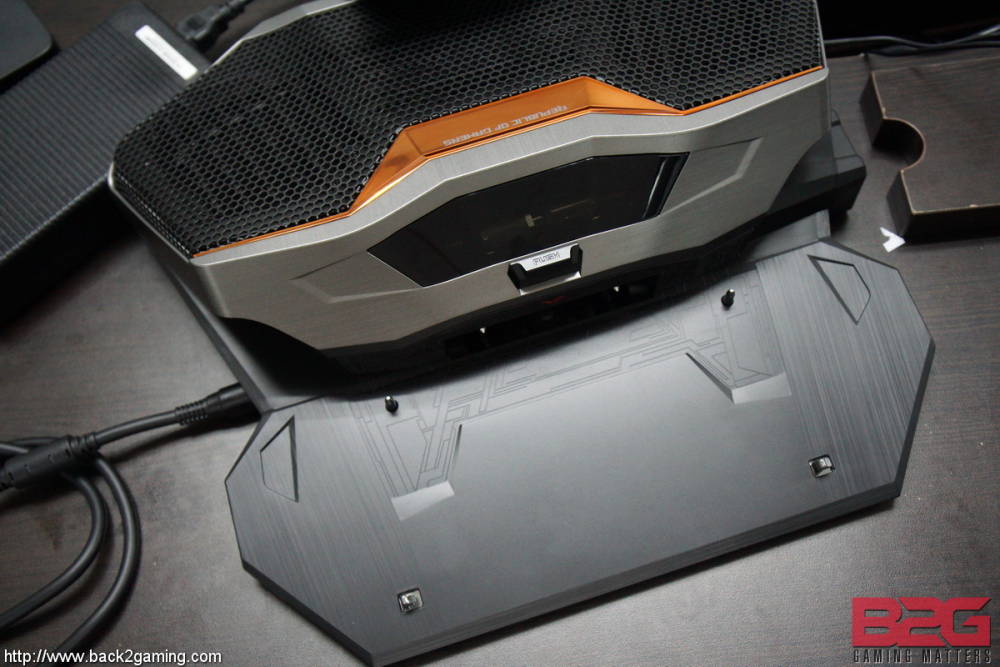 Included in the package is a dock, which packs two 120mm radiators with push-config fans dumping hot air outside the dock. The dock connects to the integrated waterblock on the GX700 via proprietary quick-disconnect fittings. The GX700 can be docked in real-time with no need to shutdown the notebook so you can immediately go back and forth from docked to mobile with a single button press to lock or release the GX700 from its dock.
During the recent launching of the ASUS GX700 last March 4 which I was happy to be part of, I was asked to demonstrate the overclocking potential as well as the out of box configuration performance of the GX700. During the event, the GX700's build quality, performance and premium perks of ownership were discussed wherein there will only be 20 units of the GX700 that will be sold. Those who avail of this product will be given limited edition items as part of the prestigious group of ASUS ROG GX700 owners dubbed the LEGENDARY20. Perks include VIP access to events, as well as other benefits including bragging rights and of course, the gaming benefits of the GX700. Also on show during the event were the other ROG gaming systems including the G752 gaming notebook.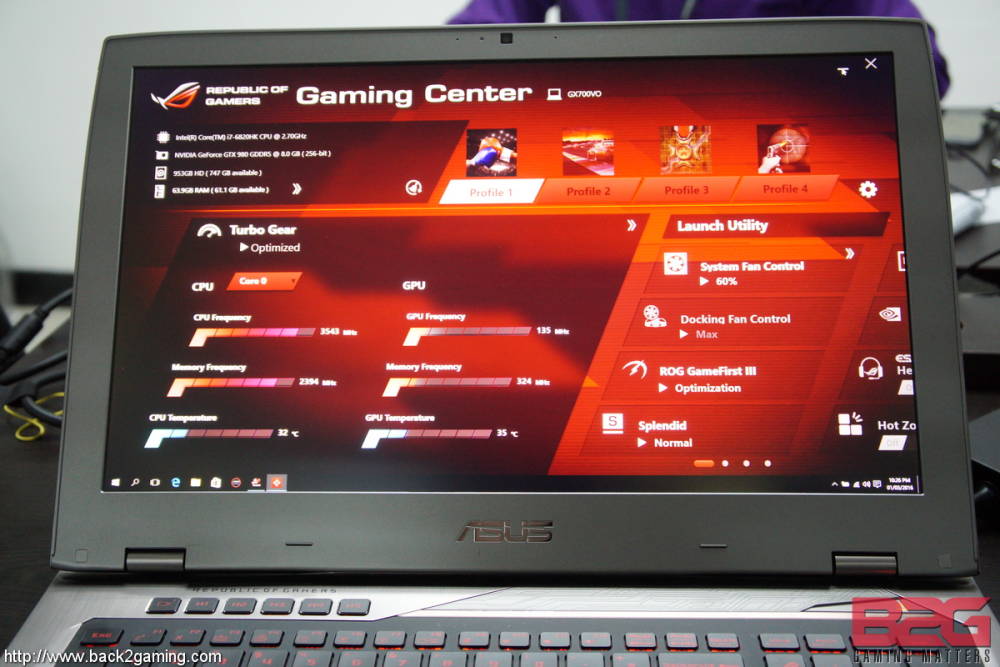 Priced at Php249,995 the ASUS GX700 competes directly with the MSI GT80 Titan SLI; a similarly priced gaming notebook featuring integrated mechanical keyboard and SLI GTX980M. On performance scale, the GT80 Titan SLI outperforms the GX700 out of the box but given that its running an SLI configuration, the 30% performance gain is also equal to an over 50% gain in size/weight and over 100% power draw meaning less battery life. The GX700 can run on battery mode for an estimated 1 hour on gaming loads while the GT80 Titan SLI would suck up its battery in just under 40-30mins.
Going back to performance, the ASUS GX700 features a i7-6820HK unlocked mobile processors. It's a 6th-generation Intel quad-core part with HyperThreading support giving us a maximum of 8 threads running at a maximum Turbo clock of 3.4Ghz on quad-core loads. Docked, the CPU clocks itself to 4.0Ghz. Given the thermal benefit of watercooling, the GX700 also gives plenty of headroom for GPU overclocking as the ROG profiles included do not touch the GPU frequencies. While docked, the GX700 jumps from an average of 9000 3DMarks in Fire Strike to 12,000 in the same benchmark. This gives the GT80 Titan SLI plenty to be scared about as its thermal solution doesn't really allow its CPU/GPU to scale as well as the GX700.
Feature-wise, the GX700 features a G-sync screen and with the GTX980 inside there's plenty of game you can run butter smooth at the rated 75hz refresh rate of this panel. This is a 1080p panel with a 4K model also in the pipe. 32GB of DDR4 RAM is inside with a rating of DDR4-2800. On storage are a pair of NVMe SSDs for high-performance storage. The body is encased in a titanium finish body with LED highlights on the top shell and a clear-panel on the bottom. There is no removable battery in this model, FYI.
Performance-wise, we're going to scrub the ASUS ROG GX700 further as we have it right now in the lab for review. Despite what other pussy-ass reviewers will tell you, laptops aren't judged by performance figures alone and given that at 1080p, the GTX980 will eat just about any game thrown at it and still spit out 60FPS especially with Gsync doing extra buttering on the visual fidelity of the screen. Its definitely another case of niche applications. A "10th of a 10th" market if you will. At this point alone, we do feel that the ASUS GX700 is still more portable than the MSI GT80 Titan and other similar units like those from Clevo with the clear competitor being the Gigabyte Aorus X7 DT which on a notebook-only performance showdown, the Gigabyte Aorus ties the GX700 but offers everything in a slimmer frame.
On a general-note, $5000 is too much for a laptop and as mentioned there is a relatively small market for it but it does meet a requirement and its up to these people if what they need is definitely worth the price. As of this moment, only the MSI GT80 Titan and ASUS ROG GX700 compete in this price range in the PH with Clevo and Gigabyte Aorus not available locally so its safe to say its a 1v1 showdown in this price range… the decision is ultimately yours. Stay tuned for our full review and we'll help you decide. But again, do note that ASUS GX700 is limited to 20 units only in PH. Oh the pressure.