Price / Where to Buy:
US – Approx. US$45.99- Luxa2 Lavi S
We take a break from gaming gear and check out something for those looking for a more versatile headphones for travel purposes and entertainment purposes. In today's society, a lot of us like to enjoy music on the go and with the trend in portable speakers making portable music entertainment more accessible and mobile without draining your smartphone. But for those that really enjoy music be it private or with speakers blazing, they have to lug around multiple devices to do all that. But what if you can have all of those in one simple body? LUXA2 has just that and today we're going to take a look at their top-end wireless headphone featuring multiple functions which include being a wireless headphone with microphone and a portable speaker itself; in the lab today is the Luxa2 Lavi S Wireless Headphones. Read on!
Luxa2 is an offshoot brand of Thermaltake and its product line cates mostly to lifestyle products specifically peripherals, gadgets and accessories. Luxa2 has been around for a good while now and with Thermaltake's obvious revitalization as a company, that energy
[table style="table-striped"]
Product Name
Lavi S Over-ear wireless headphones
Dimension

| | |
| --- | --- |
| Length: | 200mm |
| Width: | 190mm |
| Height: | 80mm |

P/N
AD-HDP-PCLSBK-00
Bluetooth
Bluetooth 3.0
Wireless range
360°, <=10m
Others
Headset speaker:
Speaker driver: Φ40mm
Impedance: 32Ω
Frequency response: 20Hz~20KHz
Sound press level: 109dB±3dBExternal speaker:
Speaker driver: Φ40mm
Impedance: 4Ω
Output: 3W
Frequency response: 160Hz~20KHz
Sound press level: 81dB±3dB
Microphone: Φ4.0*1.5mm, -42±3dB
Power Source: 1000mAh/3.7V (Li-polymer)
Playing time
Up to 30 hours (Headset)/Up to 3 hours(Speaker)
Input
DC 5V/500mA, Micro-USB
Charging time
2 hours
LED indicator
Low power: Red (flashing)
Charging: Red (solid), Power full: Blue (solid)
Pairing: Blue & Red (flashing)
Bluetooth connected: Blue (slow flash)
Bluetooth unpaired: Blue (rapid flash)
Weight
225g
[/table]
Closer Look
For those expecting something similar to Thermaltake's packaging style, Luxa2 has its own style. The Lavi-S is packaged in a black box with a product shot upfront with a bold TRIPLE MODE print highlighted at the bottom noting the multi-function capabilities of this product. At the back are the detailed features of the Lavi-S headphone along with package contents.
Inside the package are bare essentials including the Lavi-S wireless headphones, audio jack, USB cable and manual. The audio cable is used if you want to use the headset in wired mode and works for both headphone and speaker mode. Notice that the Lavi-S is foldable, making it
The Luxa2 Lavi-S is a traditional headset design with simple head band and earcups. While the overall design is minimal, the Lavi S earcups boast most of the styling of the headphones.
The earcups are lined with a leatherette cushions which are decent but not as comfy as some high-end models. The leatherette is of good quality, both comfort-wise and in texture making them less likely to itch or heat-up. Sweaty folks won't need to worry also as from my experience they don't flake easily either.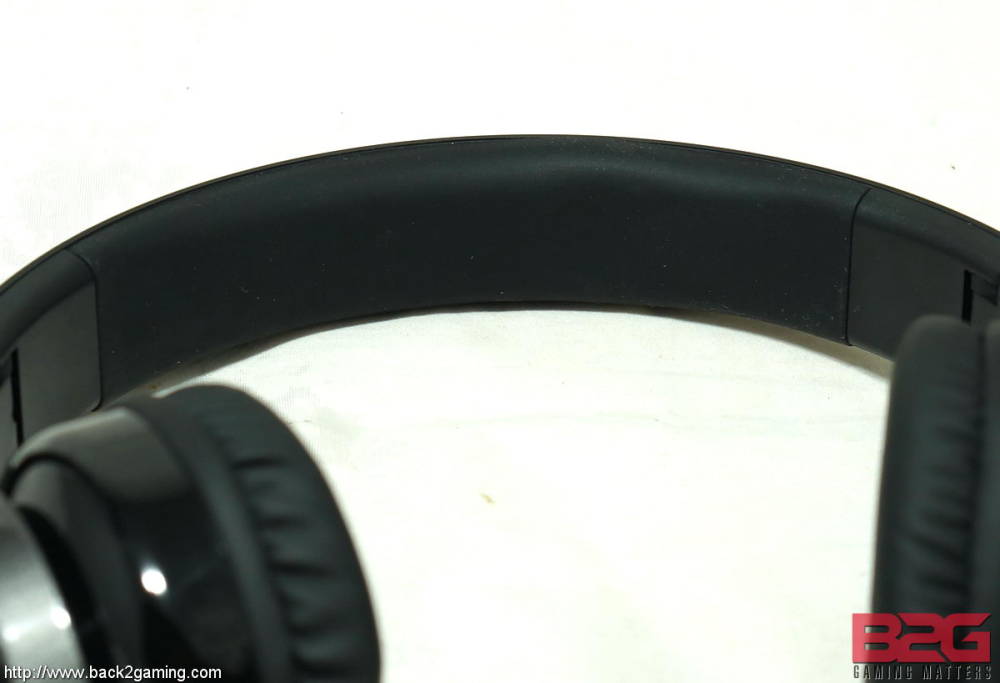 The headband has minimal cushioning but given the weight of the Lavi-S which is pretty light, its understandable. Still, there's plenty of support here for a comfortable wearing experience.
The headband fold inwards for compact storage. Not as compact as we want it though but close enough.
From the side, the Lavi S looks like an open-back headphone but this side of the earcup is actually the external speaker and there's one on each up.
The controls are found on the left earcup with buttons for increasing/decreasing volume and power as well as a toggle switch for speaker and headphone mode. A LED indicated light shows the status of the Lavi S.
User Experience & Conclusion
Headset stand not included. Read full review of Luxa2 E-One aluminum headset holder.
We break in the Lavi S for 100 hours before judging the sound quality. We use an LG G3 as the primary audio source of this device.
Getting started with the Luxa 2 is easy but be sure to read the manual on how to pair it properly with your phone. To do so, hold the Power button until the LED blinks red and blue, find the device Lavi-S in your device and pair it. Once paired, the LED indicator will glow blue and you're ready to use the Lavi-S. Once in this mode, you can actively switch between headphone and speaker mode. The Lavi-S features a built-in microphone also, so you can use it to answer calls.
Going over sound quality, let's start with headphones. Given its wireless nature, the Lavi S' headphone mode isn't as powerful as we've wanted. Audio quality is something you'd compare to sub-20$ headphones; practically absent bass, underpowered mids and tinny highs. Still, Luxa2 manages to hold it down and keep the Lavi S from having any annoying audio characteristics although if you're really keen on details, there's really nothing impressive about this headphone. Mic quality is alright but due to the distance of the microphone to your mouth, its gonna be a real airy experience for the other party and it tends to pick-up sounds from around you also. External speaker mode is what basically saves the Lavi-S in terms of audio quality with the speaker being quite powerful and detailed for their size. With two of them rocking at the same time, the audio experience is really defined and gives the Lavi-S a hidden punch despite its size.
Build quality is decent with the Lavi-S while being light, still feels sturdy. The headband extensions are solid plastic and feel sturdy enough to endure continued usage. The earcups are comfortable and haven't flaked on me yet despite my really sweaty tendencies. Battery life lasts a solid 10+/- hours of non-stop use and speaker mode lasts around 2 hours which is really good.
The Luxa2 Lavi-S wireless headphones offers a great solution for those looking for a highly flexible audio and entertainment solution while on the go in a very compact package. While the headphone audio quality may not be as thrilling as other mainstream brands, the external speaker is powerful and sound good enough to make this a solid get-up and go party machine. If you're the kind of person that love to quickly burst into a place and rock it with music or you need a presentation device that can also handle private calls for business, the Luxa2 Lavi-S wireless headphone is everything you need.
Price / Where to Buy:
US – Approx. US$45.99- Luxa2 Lavi S
Luxa2 backs the Lavi-S wireless headphones with a 1-year warranty. We give it our B2G Recommend Award.