Price / Where to Buy:
US – US$99 – ADATA HD650X 2TB
PH – N/A
One of the good features of the XBOX One is that it allows the usage of USB3.0 drives to house your game data, something terribly lacking in the PS4. That said, there are plenty of options out there and there aren't much marketed for use with such. ADATA took the initiative and decided to dedicate one of their drives for such a purpose with the announcement of the ADATA HD650X USB3.0 external hard drive designed for XBOX One.
We take a closer look at the ADATA HD650X in this review and let's see how it stacks up. Read on!
Specifications
Capacity
2TB
Color
green
Dimensions (L x W x H)
121 .0 x 81.0 x 21.0 mm
4.8 x 3.2 x 0.8 in
Weight
201g(7.1oz)
Interface
USB3.0, backward compatible with USB 2.0
System requirements
Windows XP/Vista/7/8/8.1/10
Mac OS X 10.6 or later
Linux Kernel 2.6 or later
Accessories
USB3.0 cable; Quick Start Guide
Texture
Plastic/Rubber
Operating temp
5°C(41°F) to 50°C(121°F)
Operating Voltage
USB DC 5V
Warranty
3 years
Closer Look
The ADATA HD650X is packaged in a full-colored print box with the noticeably-themed green and white packaging. The capacity is denoted on the upper left corner with a "compatible for Xbox seal" in the side. At the back are the specifications of this drive. It doesn't state the rated performance of the drive though.
Inside the package is a humble bundle of the ADATA HD650X drive, a USB3.0 cable and a manual.
The ADATA HD650X is part of the HD650 family of durable hard drive. While they don't bear the MIL-STD rating as their bigger brother the ADATA DashDrive Durable HD710, the HD650 series of USB3.0 are enclosed in a tough external armor and a shock-proof internal carriage. That said, this drive can take a bump or two. The drive also comes in color variations. The HD650X is green to denote its intended application.
PERFORMANCE TESTING
Test Setup
Processor: Intel Core i7 4790K 4.6Ghz
Motherboard:  ASUS Maximus VII GENE
Memory: Kingston HyperX Beast DDR3-2133 32GB
Storage: ADATA HD650X
PSU: BitFenix FURY 650G
Potential Performance
ATTO Disk Benchmark benchmarks a drive's read and write speeds with increasing file sizes and graphs them.
Potential Write Performance
For potential write testing, HD Tune was used to measure the drive's write performance. Again, we focus on the average results for real-world relevance.
Crystal DiskMark
Crystal Disk Mark is storage benchmarking software was developed by "hiyohiyo" of Japan, and is available for free. Crystal Disk Mark measures sequential, and random read/write speeds of storage devices.
Real-World Transfer
Instead of our normal file collection for this test, we tested out the ADATA HD650X by copying an existing XBOX One HDD.
As you can see we're averaging around 100MB/s write speed on this drive. Our source was also an external USB3.0 portable HDD.
Conclusion
As with most hard drives, the performance on the ADATA HD650X is limited and that's not a bad thing. We really don't expect breakneck speeds with this drive but given its relatively decent 130MB/s average drive speeds, we can say its good enough for most instances as the drive will easily perform the same on a USB3.0 interface or a SATAIII interface.
While its hard to gauge the actual performance gains here from a console perspective, its easy to see the benefit of a larger hard drive. Thanks to the XBOX One's support for external storage, you don't need to open up your XBOX One to upgrade your drive. If you have an existing drive you can copy your data to your new ADATA HD650X with this method.
The ADATA HD650X retails for $99 and is only available in 2TB capacities. This puts it against most 2TB drives in the market with the same configuration so it ultimately boils down to how specific you want to be, like for color and relative performance. Most drives in this segment will perform around a few MB/s between each other so we really don't have a specific vote here other than personal preference.
That said, the ADATA HD650X does have the advantage of being a rugged drive. Its hard case can take a few bumps and if you have kids playing on the console, that's something nice to have regardless of how safe you think you have it placed. With decent performance and an excellent build quality, the ADATA HD650X is a good choice if you're looking for a dedicated XBOX One external drive but will also serve you well as an all-around storage drive.
Price / Where to Buy:
US – US$99 – ADATA HD650X 2TB
PH – N/A
ADATA backs the HD650X with a solid 3-year warranty. We give it our B2G Recommend Seal!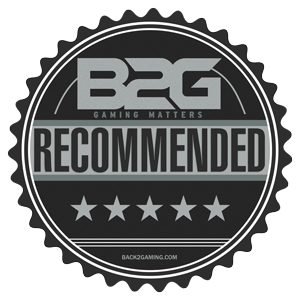 ---
Win Your Own ADATA HD650X 2TB USB3.0 External HDD
We're giving you the chance to take home a brand new ADATA HD650X 2TB drive. Joining is simple, just follow the app below:
a Rafflecopter giveaway

Share this giveaway with the caption "Thanks for the chance ADATA and Back2Gaming! I want to win an ADATA USB3.0 external hard drive!" Make sure to set the post to public and tag Back2Gaming.
Follow Back2Gaming on Twitter
Tweet "I want to win an ADATA 2TB USB3.0 external hard drive from @back2gaming!"
Technical Stuff
By joining this promo, you agree to the following terms and conditions:
Promo will run from time of posting, July 11, 2016 to 11:59PM July 22, 2016
Winners will be announced via B2G Facebook, Twitter and this post. B2G employs a 24-hour rule after announcement of winners. Failure to confirm within this time period will result in forfeiture.
This giveaway is open to permanent residents of the Philippines, 13 years old and above.
One(1) winner of ADATA HD650X 2TB USB3.0 external drive.
Prizes cannot be exchanged or sold for cash.