Mobile games are as straightforward as any games can get and this very simple premise has made some of the most memorable games of recent times. Competition is fierce and a lot of games get churned out daily. Some of the developers of these games range from garage coders to seasoned, corporate veterans, some of which having worked on many AAA titles prior. For this review we focus on MilkCap Studios first game as their own dev studio: Tiki Monkeys.
Tiki Monkeys is an action strategy game in which players must chase down some cheeky apes who have stolen the pirate's treasure. Plain and simple. In development for the past 6 months, the game is inspired by arcade classics, and provides players with a fresh and fun experience. Tiki Monkeys also features Facebook and platform social connectivity, allowing players to compete against their friends around the world.
About MilkCap
MilkCap is a small independent developer of mobile video games. Based in London, United Kingdom, MilkCap was founded in early 2013, and has a team of highly experienced developers with backgrounds in Disney, EA, Playfish, Acclaim, Playdom and BBC.
"Our team comes from a strong background of AAA titles such as The Sims, SimCity, Need for Speed, Harry Potter, Burnout, Pet Society, and Restaurant City." —Flavia Ceccarelli, one of 3 Co-Founders at MilkCap.
Tiki Monkeys is a game for smartphones and available for Android and iOS. We will be reviewing the Android version for this feature.
FEATURES:
FREE TO PLAY !
Colorful and polished HD graphics
Easy to learn, hard to master
Explore the island and meet all the different enemies
Pick a strategy to get the maximum score out of each area
Play against your friends on Facebook and Google Play Game Services
Lots of adorable characters to choose from
Incredible Power-ups to collect and upgrade
Android
Content Rating: Low Maturity
Size: 36mb
Android Version: 2.3.3 and up.
iOS
Content Rating: Low Maturity
Size:
iOS Version:
Tiki Monkeys utilizes Unity engine, this is a unique engine that enables deployment of full range of major current mobile ecosystems: iOS, Android, Windows Phone 8 and BlackBerry 10. It's powerful rendering engine fully integrated with a complete set of intuitive tools and rapid workflows to create interactive 3D and 2D content; easy multiplatform publishing; thousands of quality, ready-made assets in the Asset Store and a knowledge-sharing community.
Installation was smooth and presented no problem, even on an aging Nexus 7. Starting up, the game greeted us with the "Unity" logo then followed by the MilkCap logo which went by quickly and unobtrusively. That proves EA's habit of long-ass intros isn't contagious.
The start screen provides option for various settings and one thing that really caught my attention was about the option to toggle tutorial on and off again which is great for those who accidentally skipped the tutorial phase… like tap-happy kids. Under settings we can change the language, turn off audio and SFX, and the option to sync your account via Facebook Connect. Settings also provides "Help and Support" which redirect the user to the in-game FAQ upon tapping.
Upon pressing the Start, you will be redirected again to another screen. lol I thought the game will start for a moment there.
But this time, your default character is displayed. What we can see in this Play screen is pretty common in casual mobile games. We have the store, power-ups. and the ability to customize your character via pirates and swords. Suddenly having flashes of this being a another game. Is this a fighting game? Nope, not really.
Let's see what these options has to offer.
The power-ups store mostly offers single use and permanent items for the cost of in-game gold or real money. Well the only thing that the power ups offer that cost real money is the "Coin Booster" which doubles the coins you get from playing. Other than that, everything else is the usual power ups that helps the player clear stages easier.
The Store offers rubies which you can use to continue playing through if your character gets hit by a banana or a coconut or incase you tapped something that ends the game. You'll pretty much learn everything during the tutorial. However, everything that they offer at the store costs real money. You need to have a google account ot itunes account to be able to purchase store items.
The Pirate and Sword allows you the customize your pirate's look. The pirate changes the actual look of your pirate while the sword changes the wooden sword. The sword is used to slice fruits that are headed towards you. If you fail to slice them up before they hit you it's game over. Good thing that most of the swords and pirate looks can be bought for in-game gold but it seems that the last ones like the Bamboo and Legend will cost you real money.
Now the actual game starts and I have to say it's really fun. Each stage gives you different options and ways to clear the stage. You can finish stages just by sliding your finger on all available monkeys, box, treasure chest, and explosive to make great combos to clear the stage. Doing so also increases the points you get per stage. This is where my biggest gripe of the game comes in.
Doing a perfect combo nets you a larger bonus for swiping off all targets on-scree. The problem is that with all the coins you get, your character starts running to the next screen too fast leaving you not getting all those much needed coins you worked so hard for.
Although trying to make a perfect combo on each stage, you should never forget to be cautious of flying banana or coconut canon. Once you get hit by these things, it's game over although you can still continue playing by spending one ruby. By default, you get 5 rubies for free and 3 auto slice power up. That power up slices flying objects that are headed towards you automatically without the hustle of it when trying to make a perfect combo.
There are some bugs that I found if you're gonna smoke test everything and actually try to break the game but it's not common bugs that you can experience when playing normally. We encountered graphics issues and some crashes that were not reproducible in other devices so we believe these are isolated and device-related.
The game's presentation in terms of visual and audio quality isn't anything revolutionary yet the simple design, colorful palettes and rich environments give plenty of eye candy for anyone especially kids. The audio in-game isn't what you'd consider Mozart pieces but its alright and isn't as annoying as Candy Crush's whining BGM so props to the audio department over at MilkCap for that.
Tiki Monkeys at first glance seems like a mash-up of Fruit Ninja and The Legend of Zelda from the original NES (you'll know what I'm talking about if you're familiar with those boss castles) with a twist of Assassin's Creed 4: Black Flag just for that sweet pirate taste. Fortunately, the game pulls through and presents an entirely different concept and gameplay that will provide bursts of enjoyment for everyone. Tiki Monkeys is easy enough for everyone to grasp but ultimately gets more challenging providing thrill-seeking players a worthy game experience.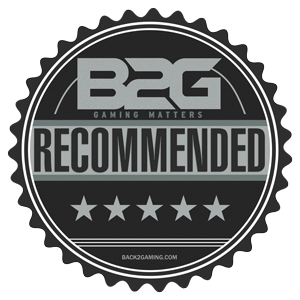 We give the game our B2G Recommended Award! It's free, check out the link below:
Tiki Monkeys App Downloads:
App Store download: http://www.AppStore.com/tikimonkeys
Google Play download: https://play.google.com/store/apps/details?id=com.milkcapstudios.tikimonkeys