Nintendo is one of the greatest companies to ever exist for us gamers. Their creation and innovation for gaming have brought us devices that gave us a different level of gaming experience. From the DS to 3DS XL handheld gaming console to more updated ones like the Nintendo Switch. It is truly a remarkable day to be alive to enjoy gaming on these devices. However, they are far from perfect. For one, these devices lack support for audio wireless connection.
With that in mind, we are taking a closer look at the UGREEN Bluetooth V5.0 Dongle for supported Nintendo consoles such as Switch, Lite, 3DS, and more. This audio dongle enables these consoles to connect to wireless audio devices such as wireless headphones, earphones, speakers, or earbuds. It also features the latest version of Bluetooth connection, a built-in battery of 120mAh, support for aptX codec, CSR8670 chip, and a connection of up to 2 devices simultaneously.
Specification
Below is the specification of the UGREEN Bluetooth Transmitter Adapter for Switch.
Where to buy
| | |
| --- | --- |
| Check Pricing on Shopee | Check Pricing on Lazada |
Unboxing – UGREEN Bluetooth V5.0 Dongle Adaptor for Switch
The packaging of the UGREEN Bluetooth adaptor for the switch comes in a white color carton that feels premium overall. The front highlights the main function and feature of the product while the back shows more specifications about the product and the manufacturer. Each side highlights more product features and company info.
Taking the content out reveals that the package includes the product itself, a USB Type cable for charging the device and the multi-language manual.
Other than that, there isn't much else to see.
Functionality and Controls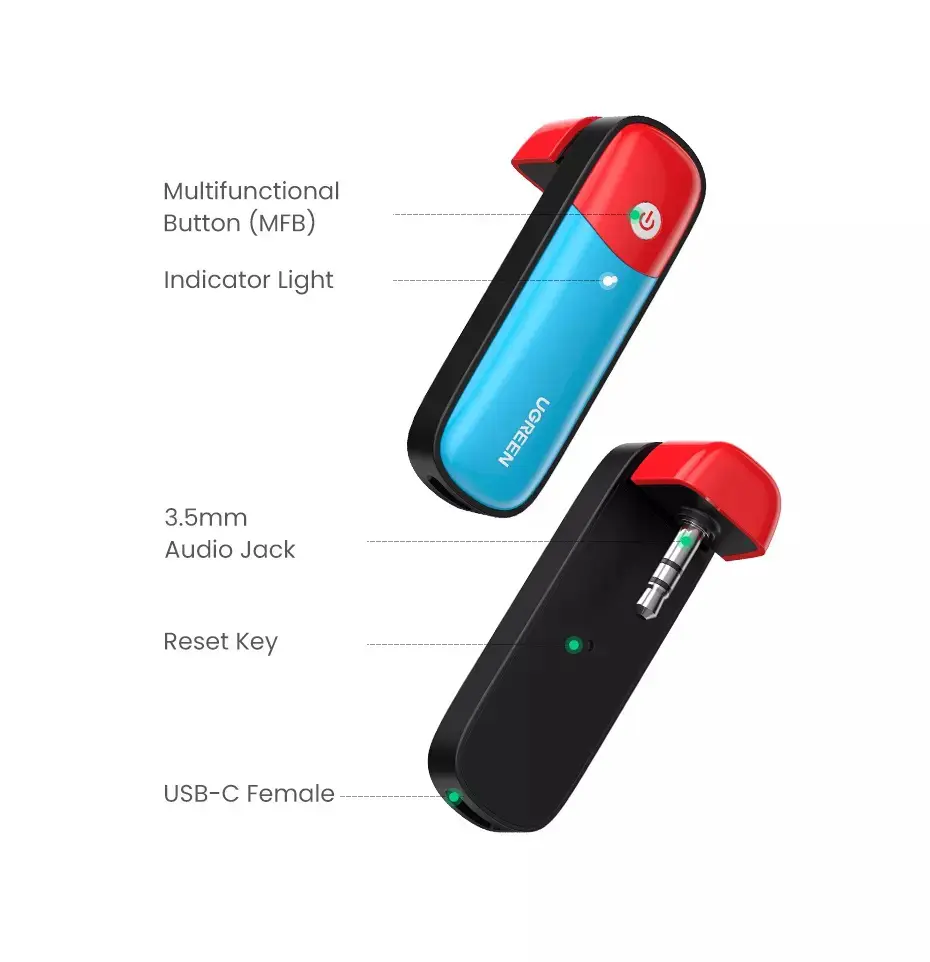 | Device Status | LED Indicator | Action |
| --- | --- | --- |
| Device Power On | Glows solid white. | Press and hold the button for 3 seconds. |
| Device Power Off | No LED lights. | Press and hold the button for 3 seconds. |
| Pairing | Blinks blue and red. | Press twice. |
| Connected | Blinks white every 5 seconds. | – |
| Reconnection | Blinks white every 5 seconds. | – |
| Pair second audio | Blinks blue and red. | Press twice. |
Performance – UGREEN Bluetooth V5.0 Dongle Adaptor for Switch
In this section, we tested the overall performance of the adaptor. We tested its range, longevity, charging time, and device support.
The UGREEN Bluetooth 3.5mm audio adaptor for Switch is one of the best ones on the market. Other than the lack of microphone support, meaning you can't use it to voice chat through the game, the use of a 3.5mm port is phenomenal. This actually gives the device more compatibility support than what is stated in the box. We'll get to that later on.
The use of Bluetooth 5.0 provides stability of the wireless connection, lowest power consumption, and a faster data transfer speed rate of up to 2Mbit/s. Furthermore, this also enables any device to play audio on two separate connected devices simultaneously. In other words, you can listen to two pairs of wireless headphones connected to your phone, and then stream audio to both of them at once, all via standard Bluetooth.
Using it on a Nintendo Switch, we were able to fully enjoy any game while using a headset and earbuds to listen to it. To further enhance the experience, the support for aptX made it even better. The aptX enables any supported devices to transfer sound in a way that permits better sound quality overall.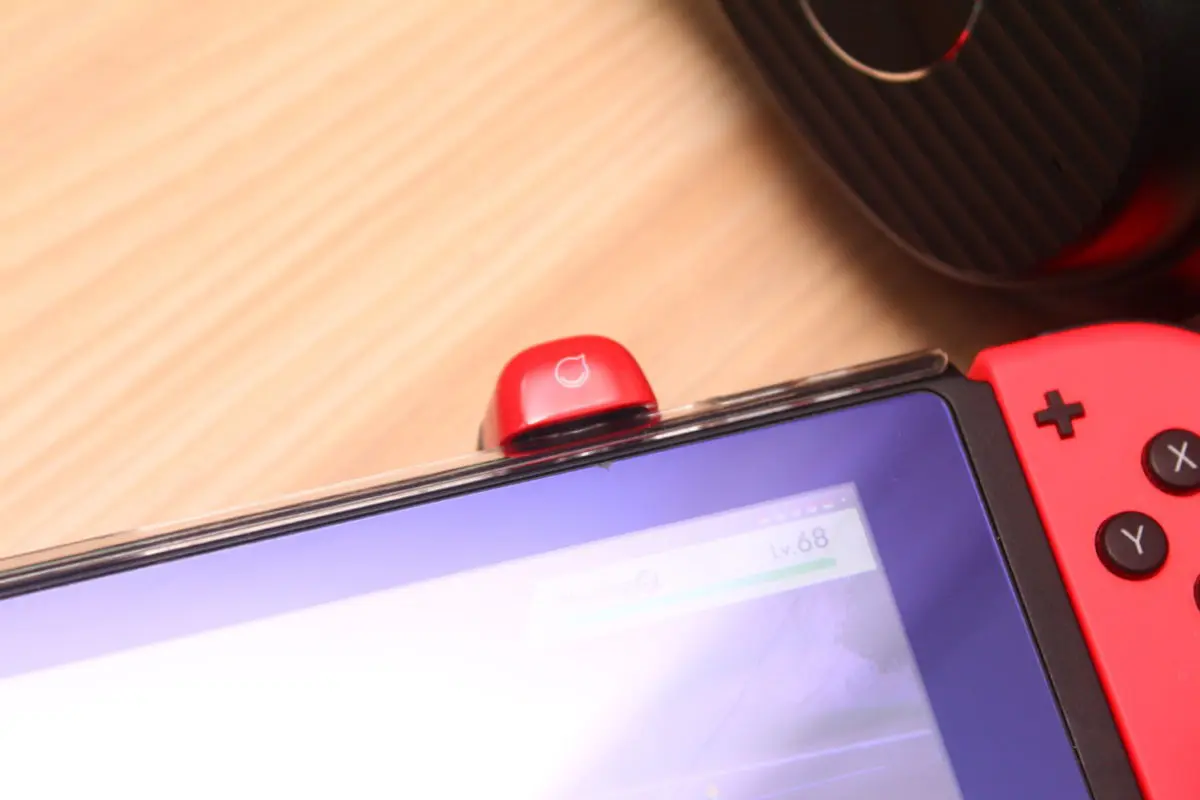 Weirdly enough, we tried to use the adaptor on other devices such as a smartphone, laptop, TV, and radio. Apparently, they work. We were able to pair a Bluetooth soundbar to a TV that doesn't have any wireless connection support. Furthermore, we were able to watch a couple of Netflix shows on our smartphone while listening to it on 2 different audio devices. Good thing that it's a plug-and-play device and doesn't require any form of driver.
Battery
In one full charge, the transmitter lasted us about 9 hours and 12 minutes which is way more than what it is rated for. We suspect that this is due to having the transmitter near to our headset 90% of the time while playing. Which, ultimately, resulted in much lower power consumption. The only time that the headset gets moved afar from the transmitter is if we either grab something to eat or a bathroom break.
Charging on the other hand was longer than expected. The transmitter is rated to achieve maximum charge capacity at 2 hours of charging. However, it almost took us 2 hours and 21 minutes before the transmitter indicates that the battery is full. It could be our charger but
UGREEN Bluetooth Adapter VS GuliKit Route+ Pro
In this section, we compare the UGREEN Bluetooth transmitter adaptor to one of the most popular transceivers for the Nintendo Switch, the GuliKite Route+ Pro. Here's a quick comparison table between these 2 devices.
| Device Status | UGREEN | GuliKit |
| --- | --- | --- |
| Bluetooth | 5 | 3 |
| Protocols | aptX, aptX LL, SBC | aptX, aptX LL, SBC, A2DP, AFH, HFP, HSP |
| Range | 10m | 10m |
| Transmitter | Yes | Yes |
| Receiver | No | Yes |
| Multiple Connection | Up to 2 | 1 |
| Battery | 120mAh | None |
| Port | USB Type C, 3.5mm | USB Type C, 3.5mm |
| Price | ₱950 | ₱1595 |
The UGREEN transmitter comes with a more stable and faster version of Bluetooth and is more device friendly since it has its own battery, uses less power, compatible with most devices, and can connect two headphones at the same time. On the other hand, the GuliKit Route+ Pro supports voice chat since it also functions as a receiver, comes with an extension cable, and the receiver is separate in a form of a 3.5mm audio portable device.
In terms of design, the UGREEN transmitter follows the Nintendo Switch theme of red and blue which is nice but the GuliKit Route+ Pro is designed to be hidden in plain sight which is cool. In terms of performance, the only thing that we find Gulikit has over the UGREEN transmitter is the ability to support voice chat and the extension cable. On the other hand, the UGREEN transmitter uses the latest standard of Bluetooth, lower power consumption, faster data transmission, and anesthetics that make any Nintendo Switch look cooler.
| | |
| --- | --- |
| Check Pricing on Shopee | Check Pricing on Lazada |
Final Thoughts…
Overall, the UGREEN Bluetooth 5 Transmitter Dongle for Nintendo Switch is an excellent device to make any Switch support wireless audio connection. It uses the latest Bluetooth standard and it comes with its own battery so it won't use the battery of the Nintendo Switch. If you're looking for a device that will let your Nintendo Switch connect to your wireless headphone, earphones, Bluetooth speakers, or earbuds, then we highly recommend checking out the UGREEN Bluetooth transmitter for Nintendo Switch. The nifty thing about this transmitter is that it also works with other Nintendo devices such as 2DS, 3DS XL, and more. It's a plug-and-play device so it comes with a worry-free design.