QLC drives have popped up in droves and aims to address the needs of those looking for cheaper, fast storage via SSDs than mainstream TLCs. But perhaps the true value of a QLC SSD is not in the savings you get, but the capacity you receive should you purchase a similarly-priced TLC one. Regardless, for those looking for purely archival storage or just plain old game drive, TEAMGROUP is offering the T-FORCE VULCAN Z QLC SSD. With capacities up to 4TB, it is a compelling option for systems limited to 2.5″ SATA storage but could use better storage than mechanical hard drive.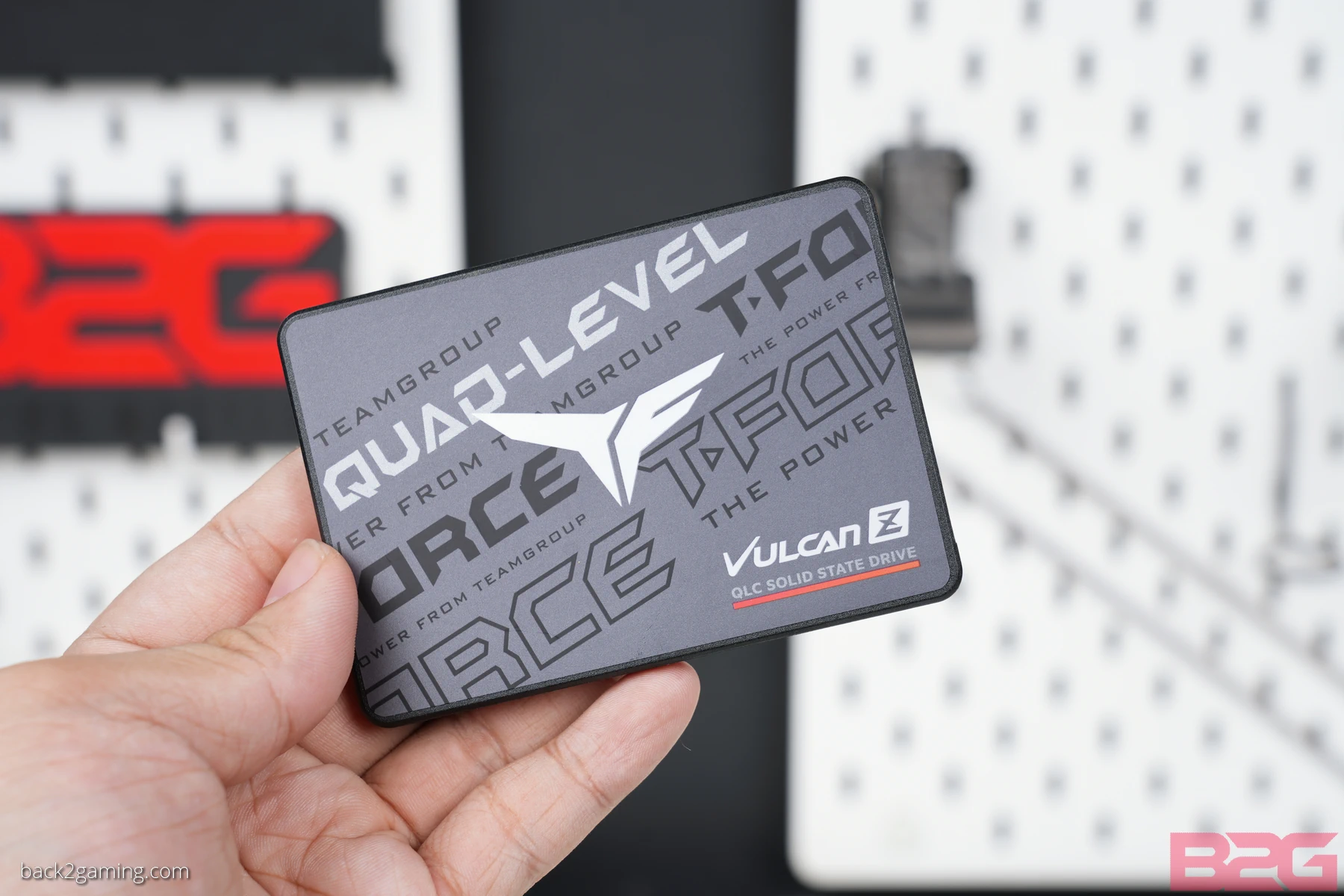 I've recently started using DRAM-less as well as QLC SSDs in my NAS for purely read-only use e.g. ISO storage, music, and even clean drive images for my test benches. While my needs are completely niche, those of you that only use your PC for games but don't have an M.2 slot can certainly benefit from a 2.5″ SATA SSD upgrade.
In this review, we'll check out how the TEAMGROUP T-Force Vulcan Z QLC SSD performs in our benchmark suite and see how it stacks up. Also releasing alongside this review is our coverage of the TEAMGROUP T-Force Vulcan Z  SSD, as reviewed here. Check it out once you're done with this one, for now: read on!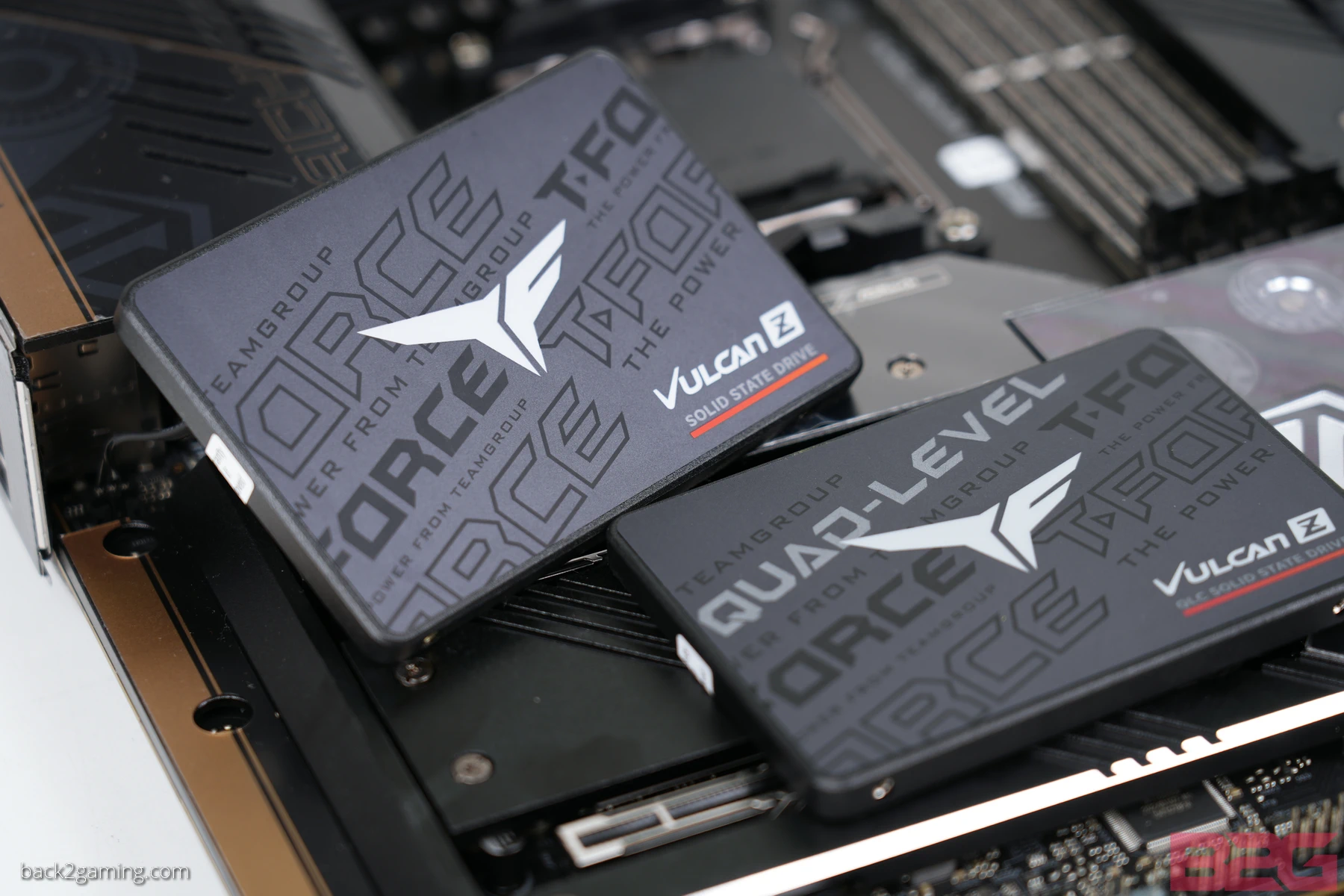 Features & Specification
A prime choice for professional gaming upgrades
Performance enhanced by fourfold, ready to start a game anytime
TB-level large capacity for worry-free gaming storage
Exceptional performance and durability
Optimized operational performance with reliability and improved lifespan
Intelligent health monitoring
Eco-friendly product contributing to conserving Earth
Model
VULCAN Z QLC SSD
Interface
SATA Rev. 3.0 (6Gb/s)
Capacity
2TB / 4TB
Color
Black
Voltage
DC +5.0V
DRAM Cache
NO
Terabyte Written
2TB-600TBW
4TB-900TBW
Operation
Temperature
0˚C ~ 70˚C
Performance
Crystal Disk Mark:
2TB Read: 550MB/s ; Write: 500MB/s
4TB Read: 550MB/s ; Write: 510MB/s
Weight
45g
Dimensions
100(L) x 69.9(W) x 6.8 (H) mm
Humidity
0°C (32°F) ~ 70°C (158°F)
Vibration
20G (non-operating)
Shock
1500G
MTBF
1,000,000 hours
Operating System

Windows 11 / 10 / 8 / 7
Linux Kernel 2.6.31 or later

Warranty
3-year limited warranty
Closer Look – T-Force Vulcan Z QLC SSD
TEAMGROUP packages the T-FORCE VULCAN Z QLC SSD in a full-colored box featuring a colored hero photo of the product up front. At the back is the product details but not much feature is listed.
Inside the packaging we have the SSD: the T-FORCE VULCAN Z QLC SSD is a standard 7mm thick 2.5″ drive which features a plastic housing. Due to the relatively lower heat output, a metal casing is not necessary.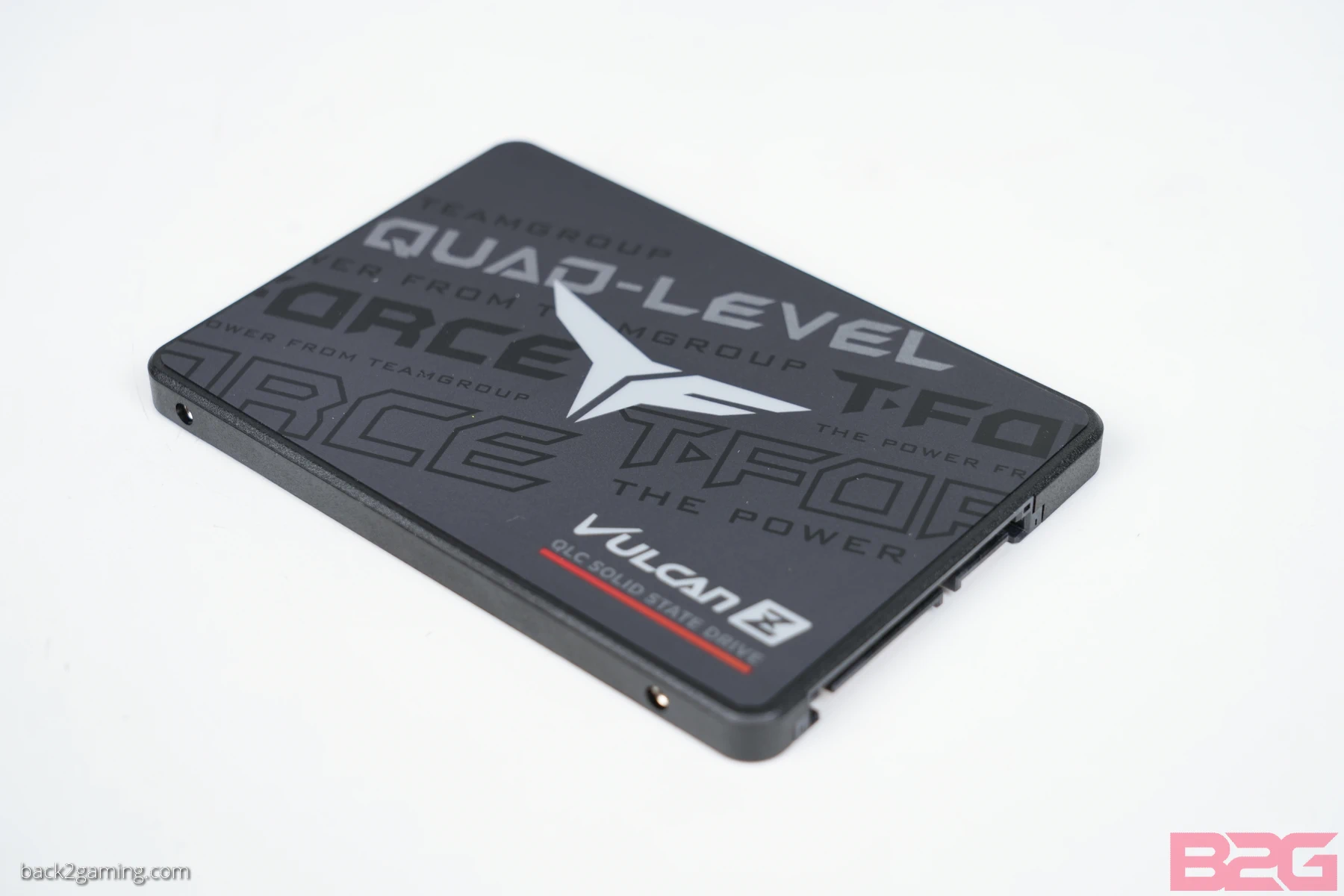 The drive requires a SATA cable and SATA power to operate and will fit compliant 2.5″ drive bays and caddies. Mounting screws are provided via your case.
Performance Testing – T-Force Vulcan Z SSD
Test Setup
Processor: Intel Core i9-13900K
Motherboard: ROG Maximus Z690 EXTREME
Memory: Kingston FURY Renegade DDR5-6400 32GB (2×16)
Storage: Kingston FURY Renegade SSD (OS), tested drive as listed
PSU: FSP Hydro GT Pro 1000W
Cooling: NZXT Kraken X72 RGB
Monitor: ROG PG27UQ
VGA: MSI RTX 3050 Gaming X
Our sample for this test is the TEAMGROUP T-FORCE Vulcan Z 2TB and the T-FORCE Vulcan Z QLC 4TB
Crystal DiskMark
CrystalDIskMark has been the most actively updated disk benchmark amongst all the ones we use and is effectively the most reliable. Unfortunately, version to version results are not comparable which limits the ability to extrapolate comparative data. Still its a reliable and direct benchmark. Like the previous, it allows control over test data pattern, the test data size, amount of passes and individual benchmark control.
PCMark 10 Storage Benchmark
PCMark 10 introduces a set of four storage benchmarks that use relevant real-world traces from popular applications and common tasks to fully test the performance of the latest modern drives.
3DMark Storage Benchmark
The 3DMark Storage Benchmark uses traces recorded from popular games and gaming-related activities to measure real-world gaming performance, such as:
Loading Battlefield V from launch to the main menu.
Loading Call of Duty: Black Ops 4 from launch to the main menu.
Loading Overwatch® from launch to the main menu.
Recording a 1080p gameplay video at 60 FPS with OBS (Open Broadcaster Software) while playing Overwatch.
Installing The Outer Worlds from the Epic Games Launcher.
Saving game progress in The Outer Worlds.
Copying the Steam folder for Counter-Strike: Global Offensive from an external SSD to the system drive.
Final Fantasy XIV Benchmark
Final Fantasy XIV has a standalone benchmark application for PC, always updated to the latest game expansion with the latest Endwalker benchmark delivering some very nice graphical updates. A long-standing feature of the Final Fantasy XIV standalone benchmark is the loading data is captures which is a summary of all the load times between scenes in the benchmark.
Conclusion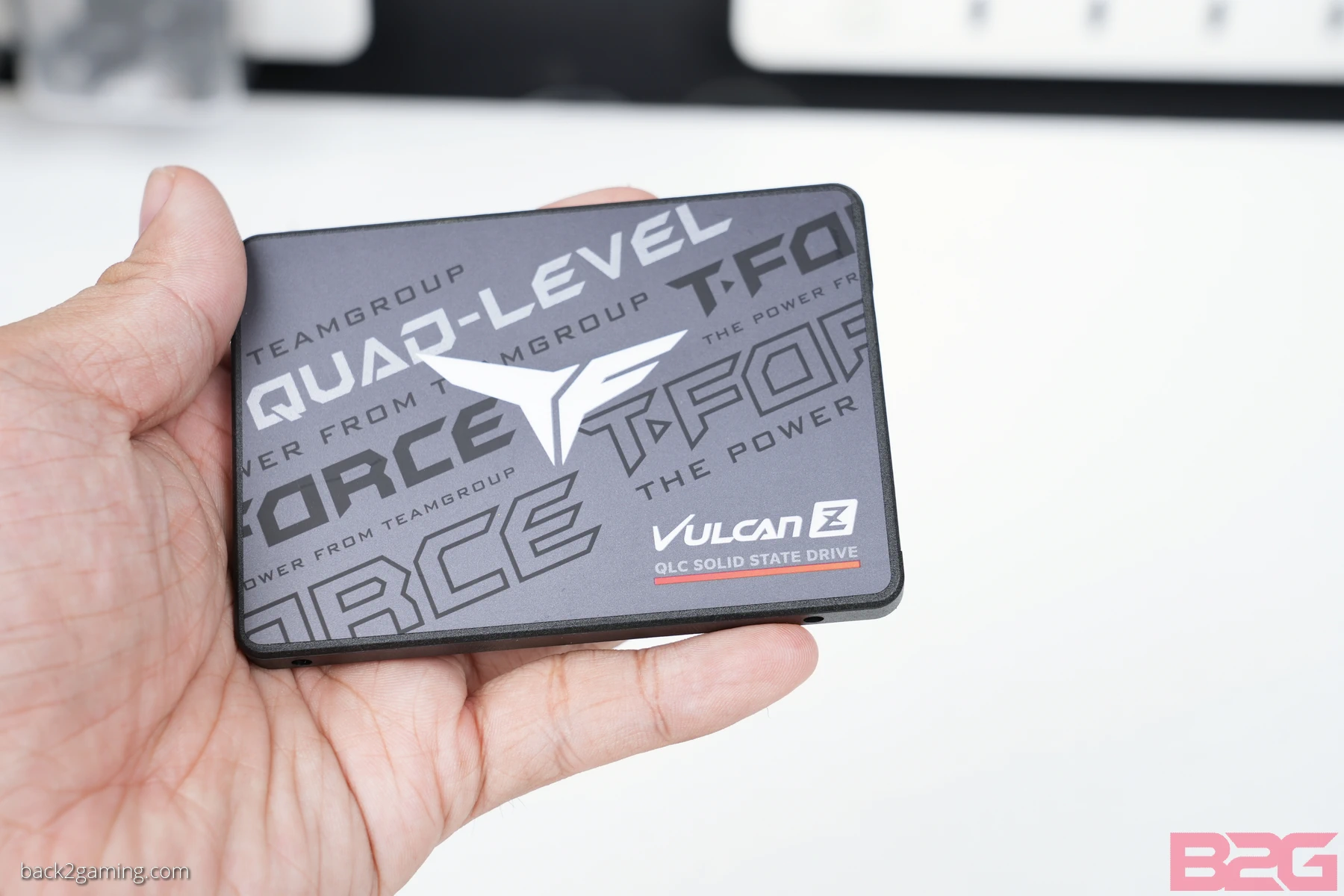 Coming in at $170 for the 4TB capacity, and around half of that for the 2TB capacity model, the T-Force Vulcan Z QLC SSD is a capacity-first product line as evident by the option of only having 4TB and 2TB capacities. While there are technicalities in their production for the capacity choices, from a consumer's perspective there's also no point chosing a 1TB QLC SSD vs. a 1TB TLC SSD if both are 2.5″ drives as the base price will essentially bottom out to nearly the same for either one.
That said, listings for this drive is still sparse despite me receiving this unit during May of 2023. My primary concern here is longevity and as I've already mentioned in the beginning of this review, I'm conscious of only using this drive for read-only use, but for general consumers who may not be as aware in what they're needs are, the 4TB model's 900TBW rating should suffice as its highly unlikely that a casual user will be able to do 1 full DPWD in a day to saturate this drive.
Regardless, in gaming scenarios where loading is key, the drive excels and even exceeds its TLC brother, the T-FORCE VULCAN Z SSD (Non-QLC) so there's really no arguing which one you should go for if you require capacity. Again, this goes hand-in-hand in knowing the drives endurance so the this QLC SSD is probably better fit for cases like your non-tech savvy uncle or granma that keeps savings pictures to the desktop and their old Windows 7 laptop needs a little fixing. If you are more aware but just want the capacity for games., this is certainly a decent OS/Steam drive. For video editors, I highly suggest an SSD with DRAM cache as moving data to and from this drive would quickly eat-up your endurance rating.
All of that said, much like the T-Force Vulcan Z SSD, the T-Force Vulcan Z ***QLC*** SSD is a more situational soluition for the scenario: should you need an upgrade for a SATA-only device like an older laptop or motherboard but it is in your best interest to get a large capacity drive. The system may possibly be a Core i7 3770 system with a SATA-only board but a very beefy card that you want to see get more life despite being relegated as a Steam machine. All in all, the TEAMGROUP T-Force Vulcan Z QLC is a compelling option if you know where it excels at and that large-capacity storage which will see mostly read usage.
The T-Force Vulcan Z QLC SSD is available now and comes with a 3-year manufacturer's warranty. I give it my B2G Value Award.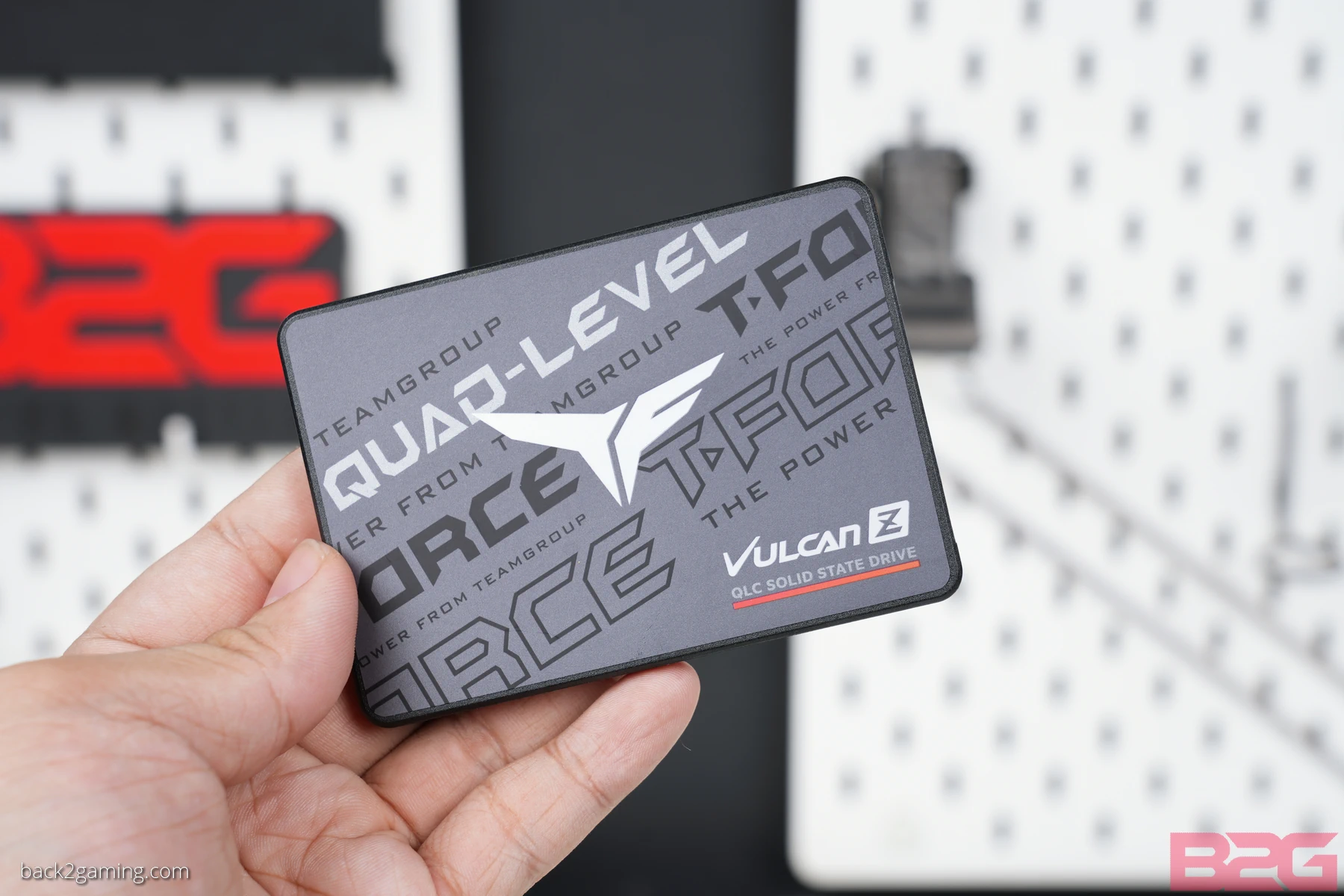 TEAMGROUP T-Force Vulcan Z QLC SSD Review
Final Thoughts
All in all, the TEAMGROUP T-Force Vulcan Z QLC is a compelling option if you know where it excels at and that large-capacity storage which will see mostly read usage.
Pros
Large capacity
Decent price
Cons
Low overall endurance