Wow– I just got home and I'm still totally swept away with what happened at today's Philippine Blog Awards ceremony. Just to cap things off, Back2gaming.com (yes this site) won on two separate categories of the PBA! Yes that's right! B2G earned the Best Gaming Blog and the Best Hobby & Recreation blog for this year's 2010 Phil. blog awards.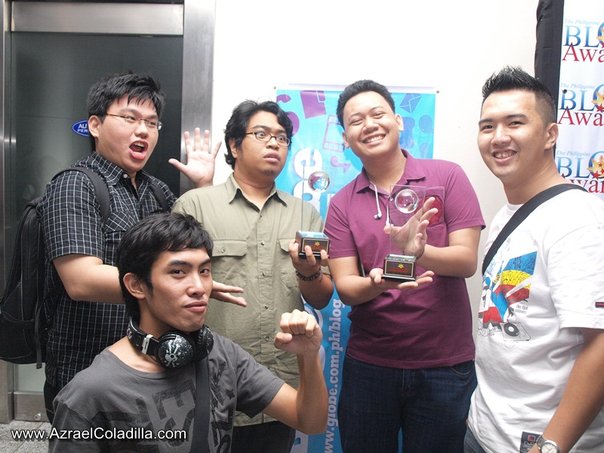 So with that said, I wanted to be self-serving on this post (and since I totally effe'd up the speech) I'd like to thank God first above anything else. It was Him who gave me the opportunity to meet such fine and dedicated people who has helped me fill out the blog. It was because of their help (Billy, Nicole, Cher, Edward and Azzy) that the blog had more than just one perspective in the gaming scene.
I'd also would want to thank my buddies Drew and Mac2x because they were the one's who handled the site's design and back-end (respectively) which I myself am very estranged to. It's because through their efforts the site turned out the way it did.
Winning the 2010 Phil. Blog Awards was my primary goal for the blog ever since I started it late last year. It was solely a one-man job before and if I was able to take part last year and win, well, let's just say I would be seriously singing a different tune then. However, the blog which is my brain-child and which was used to be MY blog is now populated by great minds, great gamers and great writers who fast became more than just my "writers" to real friends.
With this win, I would not promise anything, I would not even say that we will do our best to continue bringing out the latest news, updates and whatnot in the gaming scene because I believe it goes without saying. Also we're doing all this not just for you guys. It's our own way of trying to support an industry that we all as people who play games love.
Back2Gaming is not perfect, it is far from it. However it will continue to evolve similarly to the industry it covers which is also continuously evolving.
I'd like to thank the Phil. Blog Awards judges for choosing us. I also thank you guys, our readers who spend time reading our posts (because honestly, who would not appreciate readers right?). 2010 is just the start of something new (yeah I had to do that) while this may be the first win of the blog– we will make sure this isn't the last.
*I think I can cry now*