With recent trends in PC accessories particularly cooling being all about quiet operation without compromising performance, a lot of companies were met with a challenge of delivering such products. Add to that the troubles of making sure the product is also stylish to cater to the eye-candy requirements of enthusiasts. With Corsair starting a trend in such designs, many took notice and worked on their own designs. Enter Cougar and its line of Vortex and Dual-X/CFD case fans. With a distinctive design, the Cougar Vortex and Dual-X/CFD (also LED illuminated) have an appeal all to themselves but will performance be up to the task.
With 140mm fans becoming more norm, we've gotten a pair of the new Cougar fans to test in our bench. Let's make this showy!
We've seen Cougar through the years starting with their early bid in the PSU market and now that they've matured as a company and have gained plenty of customers and fanbase, the company is making large strides in innovating their products. This year marks a special time for Cougar as they unleash a barrage of new products including cooling fans. Today we have two 140mm case fans from Cougar, the Dual-X (a LED illuminated high-CFM fan) and the Vortex HDB (a vortex fan with a long lifespan) both of which employing a modern design and noise-cancelling technologies. Read on and see what these fans offer.
SPECIFICATIONS
Vortex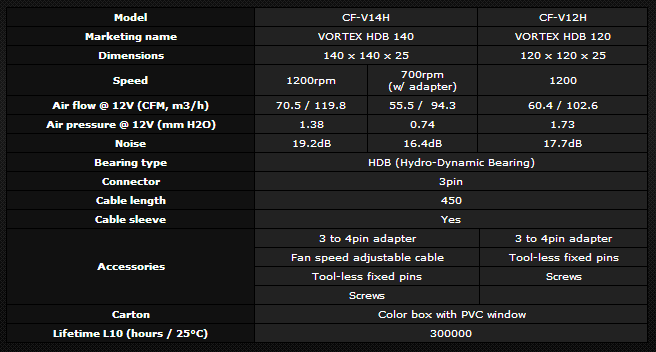 Dual-X


CLOSER LOOK
Vortex
Packaging is quite good with a technical drawing of the Vortex leading to a window showing the product inside. Â The primary details are well displayed in the front with the model code indicated as well as dimensions and quick specs. Turning the packaging around we see detailed marketing fluff in multiple languages. Worth noting on the back is the depiction of the airflow on which the Vortex is named after. The Cougar Vortex HDB is a aptly-named as it employs channeling air in a vortex to create a pillar of air to focus air in one spot.
Included in the are screws, rubber retention bolts, MOLEX-to-3pin fan connector and a fan-speed control cable to reduce the fan speed to 700RPM.
The Cougar Vortex HDB takes a lot of design cues from the AF/SP line but with totally has a style of its own. The 4 corners are lined with rubber pads for vibration and noise reductions which when coupled with the rubber retention bolts should offer an dead quiet combo. The blades are designed to channel air in the center to push air further in a single direction.
And here's the fan in action. That orange haze is really doing doing it for me. Looks great. The Vortex comes in other colors also.
Dual-X
Similar to the Vortex, the LED Dual-X features a clear-front packaging with details highlighted in the front. As mentioned already, the back is the same with marketing bullets and diagrams.
Since the Dual-X is the quieter solution, the package only includes retention screws and a MOLEX adapter.
Contrary to the Vortex which has carved ridges on the blades, the Dual X features raised ridges which Cougar states to counter turbulence reducing noise. To complement the illumination, the body is smoke black with color variation on the blades and rubbers corner pads.
PERFORMANCE
For this test we will be putting the fans in a match against other 140mm fans. Our test will be conducted using a 4.6ghz 1.35v AMD FX-8350 processor *hot* cooled by a Phanteks PH-TC14PE. All fans will be tested placed in the center space for the PH-TC14PE. Room temperate is 24*C and we are testing in an open-bench. The system is left to idle for 30 minutes and then loaded with Prime 95 Small FFT for 30 minutes. Temperatures displayed will be both extremes, lowest and highest, average temps of all cores.
It's pretty much an even match-up across the board for all the contenders in this match-up but the Dual-X stands out amongst the pack leading greatly in idle temps and just inching a hair lower in load temps.
FINAL THOUGHTS & CONCLUSION
Choosing a case fan isn't really rocket science, it usually boils down to looks for most people. In the case of the Vortex and Dual-X, Cougar delivers nicely in the visuals department managing to create and produce that is certainly unique, aggressive, stylish and attractive all at the same time. Let's break down the score shall we:
Performance. Performance gets an excellent score for both fans. Both the Vortex and Dual-X showcase excellent figures especially the latter proving it can be an effective choice for both case cooling and heatsink duties.
Build Quality. There is really nothing to fault in terms of craftsmanship for Cougar's fans so we'll really, really have to look for any. We're particularly not too fond of the plastic quality. It feels solid yes, but for both the Vortex and Dual X, the look is just cheap. This is downright nitpicking but we feel like we have to point it out. Other than that though, nothing really pops out at you and all is well. Excellent.
Functionality. Cougar scores high for both fans with the Vortex proving to be an excellent spot cooler great for exhaust duties and such while the dead-silent and lively Dual-X can serve up radiator, cooler and exhaust whilst still being quiet. Plus points for the ability to dampen the RPM on the Vortex. Another excellent.
Bundle. Both products include the necessary accessories for installation but the Vortex goes a bit further including a speed reduction adapter and rubber bolts. Other than though, nothing particularly special. Average.
Value. This is where it all boils down and I think its already clear-cut that whatever function you require for the Vortex and Dual X, Cougar is sure to deliver at the most attractive price. At ₱460 for the Dual-X 140mm and ₱530 for the Vortex HDB, these are simply the best bang-for-the-buck 140mm fans out right now in the local market mixing looks and performance. Simple as that. Perfect.
it pokes fun at the premium other companies are charging for their product
In closing, these new fans from Cougar are sure to impress a lot of people and are already doing so. With so much attention now shifting to quiet computing as well as stylish builds, Cougar has managed to kill two birds with one stone with their line of cooling fans. With a rock-bottom price, it pokes fun at the premium other companies are charging for their products which should put Cougar in the list of companies for casemod solutions.
Both the Cougar Vortex HDB and Dual-X are backed by a 1 year warranty. We award both fans with our Value and Silver Award.