Price / Where to Buy:
US – Approx. US$49.99 – Luxa2 S100 on Amazon
PH – Approx. PHP2499
While some may swear by only one mobile device of choice, all of us still need to charge our devices and for those that work with at least two devices it's really a hassle to lug around a ton of cables and while some of us have dealt with that by using some sort of hydra-spawn multi-headed charger cable, it's just too cluttered to look at. Basically its always just either an Android or an iPhone with us and having both at the same time is probably common for working professionals. That said, we have another accessory here in the labs from Luxa2 aimed specifically for people

Specifications
Product Name
S100 Wireless Charging Pad and Receiver Kit
P/N
PO-WPC-PCS1BK-00
Dimension
58 x 58 x 7.5 mm (wireless receiver)
71.5×71.5×12 mm (wireless charging pad)
Compatibility
Android/IOS Smartphone devices and other micro-USB compatible devices
Content of delivery
Wireless receiver, wireless charging pad, user manual
Micro-USB 5p output
DC5V0.7~1A
Lightning output
DC5V0.7~1A
Charging Pad Input
DC5V1.5A
Charging Pad Output
DC5V1A
Receiving distance
3-7mm
Working efficiency
>72%
Working frequency
110-205KHz
Certifications
CCC/CE/FCC/RoHS
Material
Plastic (wireless receiver)
Rubber (wireless charging pad)
Weight
24g (wireless receiver)
89g (wireless charging pad)
Warranty
1 year
Closer Look
Luxa2 ships the S100 charging kit in a modern-style black packaging, with line arts of gadgets in front. A clear view of the charging pad and receiver is displayed via the plastic window in the box. In the back are the specifications and dimensions of the kit components.
The S100 bundle includes the base charging pad, the receiver and a quick-start guide. That little coaster is just there to cover the charging pad.
Luxa2 uses a relatively thick USB cable for its charging pad with an included velcro strap to manage the cables when not in use. The cable is flexible yet firm so it will tend to retain its form when bent for a long time.
The Wireless charging pad is a square base around 3×3″ in size. Its fully matte and feels really premium with the base retaining the uniform feel and look of the top. The surface coating is anti-slip so anything you put into doesn't slide around with a subtle bump.
The receiver is circular disc and has a pair of cables: a Lightning connector for newer Apple devices and a microUSB cable for other devices. The cables tuck away neatly inside the main receiver disc body.
When plugged in, the charging base has a LED display to show the status of charging. When the receiver disc is placed on the hotzone, the display changes to green signifying that connection has been established.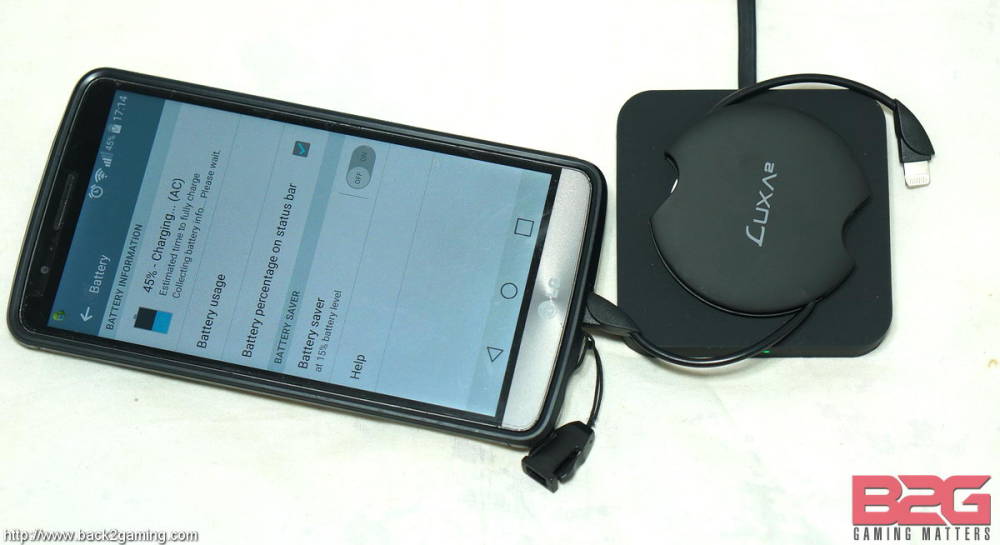 Some devices like the LG G3 have the microUSB connector inverse so you have to twist a bit to get the disc to line up properly. This makes it wobble a bit. For Lightning connectors, its mostly uniform so it should have no problem like this.
User Experience & Conclusion
For devices like the LG G3 which supports wireless charging, you can actually just place the device directly on top of the charging base to charge it. It takes a bit of practice to properly center the hotzone to the back of the G3 but once you figure it out, its easy. Sadly though you won't be able to charge wirelessly if you're using a thick protective shell for your phone.
Overall, the experience is somewhat different but like most on-the-go person, performance is what matters more than convenience and in the case of the Luxa2 S100, convenience takes center-stage. Charging rate is 20% for 30 minutes with the LG G3 via wireless both directly and with the receiver disc so its not as fast as some may like. Still, the convenience of charging two different devices for some will far outweigh the need for rapid charging so in these scenarios, the Luxa2 S100 wireless charging and receiver kit is beneficial.
Price / Where to Buy:
US – Approx. US$49.99 – Luxa2 S100 on Amazon
PH – Approx. PHP2499
If you're looking for a convenient charging solution for an Apple and Android device at the same time, the Luxa2 S100 wireless charging and receiver kit is a fresh take on the concept instead of tying you up with an octopus cable. Its got decent charging rate and doubles as a Qi wireless charger for any device that support it.