Price / Where to Buy
USD: $499 – GIGABYTE Z270X GAMING 9
PHP: Php27500 – PCHUB
It's that time once again where we see the new waves of motherboard come in droves to usher in the new era of processors and its going to be a heated a year for AMD and Intel as they both set the stage for their new products. Ultimately, AMD is set to release a new product altogether but for Intel, they will be focusing on refining and optimizing their process this time around with the introduction of the new 14nm processor. While the processors have been known for a good while now, the desktop offerings have just been announced today and coinciding with that launch is the Intel 200-series chipset that will support the full-range of new 7th-generation Kaby (rhymes with baby) Lake processors.
GIGABYTE joins the fray with their motherboards under the Aorus brand first seen on their high-end notebooks. The new GIGABYTE Aorus motherboards will sit as the gaming brand for this generation for GB and we have the flagship of the series in the lab right here with the new GIGABYTE Z270X GAMING 9 motherboard. Read on to find out more!
Note: This is an early review with performance tests redacted due to last minute additions and requests from our brand partners. To maintain integrity, we will be focusing on the features of the motherboard first.
Intel 7th-Generation Processors
Intel's Kaby Lake processors were already announced last year and introduced us to Intel's new 14nm+ manufacturing technology which is said to improve on efficiency and performance on the existing 14nm process. The earlier Kaby Lake processors which came out were intended for low-powered applications which saw notebooks and other mobile platforms inheriting the new processors first. Today we get to see the products aimed for desktop consumers with the launch of Intel's 200-series chipset and the new Kaby Lake desktop processors don't distance themselves from their initial launch counterparts as they are still built on the same 14nm+ process. Intel's touted improved fine profile and transistor channel strain are capable of providing a more stable platform to deliver more performance via the higher clock rates that the Kaby Lake processors tout than their previous Skylake counterpart.
One of the more important addition to Kaby Lake is support for Intel Optane technology which is essentially technology which allows systems that support it to utilize high-density memory that offers superior improvements over NAND. The 3D Xpoint deseign also utilizes 10 times DRAM capacity in the same surface area which is made possible by slicing submicroscopic layers of materials into columns containing memory cells. The layers are then inter-connected in a cross-point weave via perpendicular wires. Intel Optane offers superior low latency (measured in nanoseconds) and also is capable of retrieving data in a power outage.
Another heavily advertised feature is the updated integrated graphics processors (IGP) which offers faster native encode/decode of 4K content (4K HEVC 10-bit).
Below are a list of known Intel Kaby Lake processors to be launched with the most noteworthy being the flagship i7-7700K featuring 4 cores / 8 threads with a 4.2Ghz base frequency and has a maximum boost of 4.5Ghz. The processors has 8MB of L3 cache with a rated TDP of 91W. The estimated SRP for the i7-7700K is $349 retail. Next up is the Core i5-7600K which is a quad-core processor featuring a 3.6Ghz core frequency and a turbo frequency of 4.2Ghz. It also has 6MB of L3 cache and is rated for 91W TDP. The Core i5-7600K is expected to retail for $239.
The most unique of the known SKUs is the Core i3-7350K. Yes, you read that right, there will be a unlocked Core i3 processor in the desktop Kaby Lake stack. This particular processor is a dual-core part with Hyperthreading support. It runs with a 4.0Ghz core clock and has a turbo frequency of 4.2Ghz. It features 4MB L3 cache and is rated for 60W TDP. Its expected to launch after the initial wave of Kaby Lake desktop parts. The SRP is expected to be $177 retail. This processor has an unlocked multiplier which should really entice performance seekers and overclockers looking to get more from a less costly part.
| | | | | | | | |
| --- | --- | --- | --- | --- | --- | --- | --- |
| SKU | Cores/Threads | Core Clock | Boost Clock | L3 Cache | TDP | Socket | Price |
| Core i7-7700K | 4/8 | 4.2 GHz | 4.5 GHz | 8 MB | 91W | LGA1151 | $349 |
| Core i7-7700 | 4/8 | 3.6 GHz | 4.2 GHz | 8 MB | 65W | LGA1151 | $309 |
| Core i5-7600K | 4/4 | 3.8 GHz | 4.2 GHz | 6 MB | 91W | LGA1151 | $239 |
| Core i5-7600 | 4/4 | 3.5 GHz | 4.1 GHz | 6 MB | 65W | LGA1151 | $219 |
| Core i5-7500 | 4/4 | 3.4 GHz | 3.8 GHz | 6 MB | 65W | LGA1151 | $189 |
| Core i5-7400 | 4/4 | 3.0 GHz | 3.5 GHz | 6 MB | 65W | LGA1151 | $189 |
| Core i3-7350K | 2/4 | 4.2 GHz | N/A | 4 MB | 60W | LGA 1151 | $177 |
| Core i3-7320 | 2/4 | 3.9 GHz | 4.1 GHz | 4 MB | TBD | LGA 1151 | $166 |
| Core i3-7300 | 2/4 | 4.0 GHz | TBD | 4 MB | 51W | LGA1151 | $153 |
| Core i3-7100 | 2/2 | 3.9 GHz | TBD | 3 MB | 35W | LGA 1151 | $122 |
| Pentium G4620 | 2/4 | 3.7 GHz | N/A | 3 MB | 51W | LGA1151 | $98 |
| Pentium G4600 | 2/4 | 3.6 GHz | N/A | 3 MB | 51W | LGA 1151 | $87 |
| Pentium G4560 | 2/2 | 3.5 GHz | N/A | 2 MB | 35W | LGA 1151 | $68 |
| Pentium G3950 | 2/2 | 3.0 GHz | N/A | 2 MB | 35W | LGA1151 | $56 |
| Pentium G3930 | 2/2 | 2.9 GHz | N/A | 2 MB | 35W | LGA1151 | $45 |
Intel 200-Series Chipset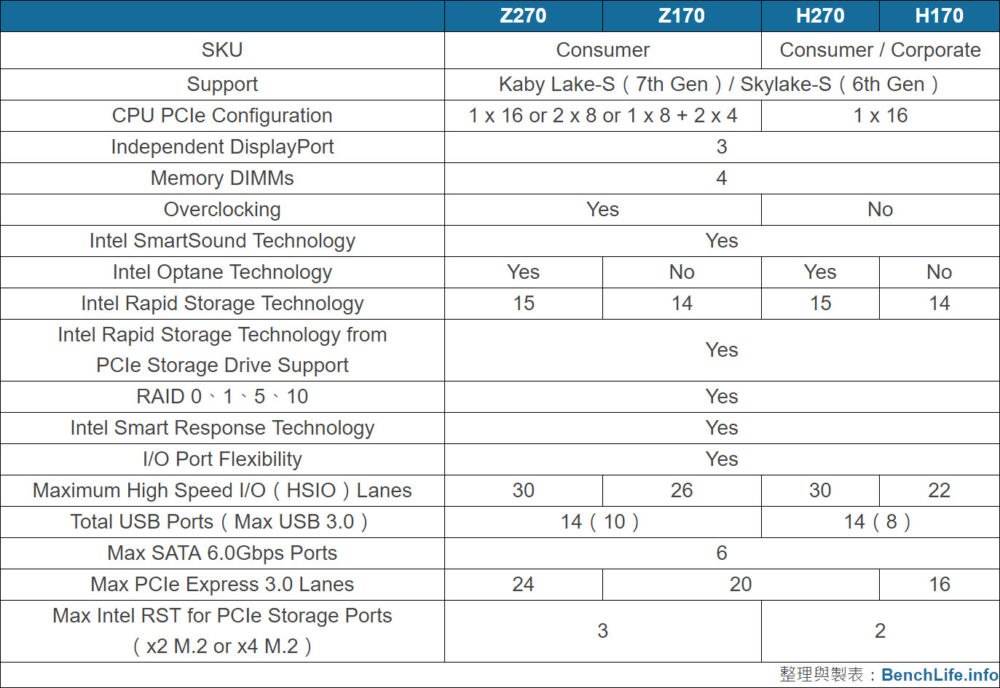 Complimenting the complete line-up of the Intel Kaby Lake processor family is the launch of Intel's new 200-Series chipset family. The Intel Z270 is identical to the previous Z170 chipset in terms of PCIe configuration meaning they allow 1×16, 2×8, or 1×8+2×4 configurations with the H270 and H170 offering a single x16 config. Support for dual-channel memory is still present with up to 4 DIMMs available. As always, the high-end Z270 chipset will support multiplier overclocking on unlocked processors.
Noteworthy changes include support for Intel Optane as discussed above as well as increased high-speed I/O lanes, which sees the Z170 and H270 having 30 HSIO lanes compared to the 26 on the Z170 and 22 on the H170. USB ports have remained the same with 14 total with the Z270 having 10 USB3.0 and 8 for the H270. A total of 24 PCI-e lanes will be available to the Z270 and the H270 will have 20 PCI-e lanes which sees an increase to the 20 of the Z170 and 16 on the H170.
Unboxing
Product Gallery
The new GIGABYTE AORUS branding is now the new sub-brand for the motherboard division and while its not present in the model name, the logo and name will be used to define the new 200-series gaming boards from GIGABYTE. The Z270X GAMING 9 is packaged in a large box which features the Aorus logo and model name on front along with marketing icons. This is in contrast to their more flamboyant Designare series and previos Gaming series box art which used more colorful styling. On the back of the box is a rich array of details regarding the various features of this board.
And boy this is one hefty package with a separate compartment for the extras for this board. The normal inclusions are here including the I/O shield, sleeved SATA cables, and documentation but together with that GIGABYTE also bundles a rich loadout of extras including a unified WIFI-BT magnetic antenna, SLI bridge, Crossfire cable, RGB extension cable, an SLI HB bridge, port covers, velcro straps, cable labels, front panel connector, and a couple of thermistors for temp-monitor via onboard sensors.
The GIGABYTE AORUS Z270X GAMING 9 features a white on black theme with really no noticeable visual feature aside from the white shroud and accents on the PCH heatsink. The board is primarily black with grey silkscreen prints to add accents to the board. The back shows off clean solder work and has nothing much in terms of added features.
GIGABYTE showcases the largest VRM we've seen on any of the new 200-series boards with a total of 22-phase. With most boards sticking to 10-12, GIGABYTE seems to be looking at some serious OC applications and the EKWB G-Frost VRM heatsink/waterblock sits on top of those MOSFETs for more cooling when needed.
GIGABYTE uses metal-reinforced DIMM slots on its DRAM slots and comes ready DDR4-4000+ support.
On the upper right corner we see the onboard buttons with the main buttons for OC mode, Eco mode and power switch on nice illuminated buttons while the reset and clear BIOS button are on small tack buttons. There are two debug LED readouts here which I am still figuring out.
On the bottom edge of the board are a rich array of headers and switches and also fan headers.
The GIGABYTE Z270X GAMING 9 features four full-length PCI-e slots that run on an x16/x8/x16/x8 configuration. The main slots are reinforced with metal braces which add not only to the look of the board but the overall integrity of the slots themselves. The RGBW headers can also be seen on the lower-end of this board which lets you connect RGBW connectors for external lighting which can be controlled by the board software.
M.2 x4 slots which support NVME devices and can run in RAID 0 for more performance.
An external clock-gen for precision BCLK tuning.
Front panel headers for USB3.0 which also features the USB DAC-UP2 voltage stabilization from GIGABYTE.
The latest iteration of GIGABYTE's audio solution for their gaming boards now uses the new Creative ZxRi solution and maintain the same high-standard seen on their previous high-end boards with gold Nichicon caps and WIMA caps for superior audio quality and this works in tandem with a per-channel replaceable OP-AMP for the rear output and another replaceable OP-AMP for the front panel audio. The stock OP-AMPs used are two JRC NJM2114 and a single TI Burr Brown OPA2134 for the front.
At the back we have the I/O ports including a legacy PS/2 connector, USB3.0 featuring USB-DAC UP2 voltage stabilization, the built-in WIFI-BT card, output for DisplayPort and HDMI, another pair of USB3.0 ports, a pair of KillerLAN ethernet ports, a Thunderbolt 3 Type-C port which is also cross-compatible with USB Type-C. USB3.1 Type-A ports are also present along with optical SPDIF and 5 ports for audio.
SATA Express… you're still alive? Well apparently it is and GIGABYTE still places them here, 3 arrays in fact for a total of 8 SATAIII ports. Two U.2 connectors are also present onboard.
Here is a closer shot of the G-Frost waterblock VRM heatsink made in tandem with EK Waterblocks. This implementation features a true water channel in contact with the heatsink which is a step-up the previous implementations. The G-Frost supports G1/4 threaded fittings or connectors for inclusion into your loop.
LED Lighting
Stepping away from the Ambient LED of the past is the new GIGABYTE RGB Fusion which controls all of the lighting feature of the new Aorus motherboards. In this app, we can control the lights individually, including the RGBW headers, and customize them as we please. There are also plenty of presets which can be used to achieve some traditional effects. Watch the video below to also showcase the first attempt of GIGABYTE to have unified lighting for their systems.
As we can see in the video above, the lighting does sync and its controlled mainly from the RGB Fusion app. The colors don't sync that well and the transition aren't as fluid on the Xtreme Gaming GPU than the Aorus board but still shows that there is some of manner of cooperation between the two sub-departments of GIGABYTE. Curiously though, the GIGABYTE Xtreme Utility (VGA) does override lighting settings when used so its a tussle with the two when you have both installed in your system. As this is just the initial stage we can expect GIGABYTE to hopefully update their software soon.
RGB Fusion App Overview
BIOS Walkthrough
GIGABYTE has always been reluctant to update the layout of their Advanced BIOS screen and while there have been changes in its UEFI screen, the more familiar Advanced screen has remained unchanged for many generations and it continues that tradition with the Aorus Z270X GAMING 9. Controls for the motherboard clocks and memory clocks as well voltages are still under the MIT screen with options to change most common features present. GIGABYTE is obviously saving their more specialized features for performance tweaking on their Super OC series boards but those have yet to be unveiled. Overall, the launch BIOS for the GIGABYTE Z270X GAMING 9 covers all the basics nicely and is stable based on our extended use. We will note some key info later in our power section.
Software Package
GIGABYTE has grown a farm of miniature apps to control certain facets of its motherboard and they have grown so large that they have to make a hub for all the software they made. The GIGABYTE APP center makes a comeback and houses both old and new apps from GIGABYTE and there's really plenty here to mention with each one controlling mainly one or two features of the board or a single extension function.
Software utilities that came with the drivers are the KillerCenter and the SoundBlaster panel which allow some in-depth control over their respective hardware functionality.
Performance Testing
Test Setup
Processor: Intel Core i7-7700K
Motherboard: GIGABYTE AORUS Z270X GAMING 9
RAM: G.Skill Trident Z DDR4-3200 16GB (8GBx)
Storage: Intel SSD 750 400GB
Power Supply: Seasonic Platinum 1000W
Graphics Card: ASUS ROG Strix GTX 1080 OC
Display: ASUS ROG PG27A UHD Monitor
For a full-hardware workout, visit http://www.futuremark.com for our benchmarks of choice.
Performance Testing – Synthetic
Power & Temperature
We check to see how motherboard makers tune their default BIOS settings and see how it impacts temperatures and power consumption. The system is left to idle for 30 minutes before readings are taken and load data is taken 30 minutes while AIDA64 stress test is running. Power readings are taken for the entire system from the socket. Power draw for the entire system is captured for this test via an outlet wattmeter and temperatures via the brand software and confirmed with AIDA64 and Intel Extreme Tuning.
Out of the box, the GIGABYTE Z270X GAMING 9 F3m BIOS on default settings uses up to 1.45v voltage for our chip at 4.5Ghz. This really heats up the chip and increases power draw by a good amount as we can see in the AIDA64 test above. All our tests were ran using this setting to show the default performance out-of-the-box from the motherboard. To be fair to GIGABYTE we did tweak the voltage to run at a lower voltage as seen below:
Lowering our voltage to 1.19v-1.20v keeps us at very good temperature ranges and gives a good reduction in power draw which we'll see in our wattage charts.
Also a thing worth noticing is the relatively small profile of our VRM heatsink for a 22-phase design. We checked the temps with our thermal camera:
The heat is mostly concentrated on the lower area and the chokes themselves look like they are hovering around the 40*C range. The heatsink is peaking around 55*C which is relatively cool for such a large power system being cooled by a relatively compact heatsink.
Conclusion
It all about features in this impending battle of motherboards and with the new Kaby Lake processors promising no noticeable gains in terms of overall performance, motherboard makers are pressed to compete by including features and add-ons they feel serve the best for their targeted product segment.
With GIGABYTE's new change comes some great new features like the G-Frost heatsink and the RGB fusion lighting but overall we really don't see much innovation in this motherboard despite its position as being the flagship for GIGABYTE. Truth be told, it has indeed become very hard for motherboard makers to evolve in any way as of the last few generations of releases as we've seen technology really mature.
While it doesn't have any sort of revolution going on, the GIGABYTE Z270X GAMING 9 however does improve on the many strong points of its predecessors. GIGABYTE has done away with crazy accents on its shroud and has kept it quite minimal this time and the heatsinks aren't outlandish nor are there any over-the-top decoration on the board making it a more aesthetically mature and professional product to look at. In terms of build quality, GIGABYTE ticks all the right boxes with a greatly laid out board with a premium feel and a sense of significance to its design. Its a bit more subdued than most of its competitions but it does stand out in its own simple way.
In a contest of looks and features, GIGABYTE once again does its own thing and veers mostly away from directly competing with its primary rival in terms of aesthetics and feature. The GIGABYTE Z270X GAMING 9 is a robust motherboard with an excellent feature set and once the BIOS has matured, we can see it as a well-rounded flagship that offers both gamers and professional an excellent foundation in creating a system for both work and play thanks to its expansive and high-speed connectivity.
At $499, its quite obvious this is aimed at really high-end users and as mentioned, the board lends itself nicely to professionals and barring the RGB lighting, it has a very subdued look compared to its Designare counterparts. That said, there is an overlap in this board between the other professional series and GIGABYTE is obviously intending for that and if you're a rockstar designer, content creator and gamer, this motherboard serves as great platform that marries the features we want for both work and play.
| | |
| --- | --- |
| Model | Price |
| Z270-X Gaming-9 | $499.90 |
| Z270X Gaming-8 | $389.90 |
| Z270X Gaming-7 | $239.90 |
| Z270X Gaming K7 | $199.90 |
| Z270X Gaming-5 | $194.90 |
| Z270X Gaming K5 | $179.90 |
GIGABYTE backs the AORUS Z270X GAMING 9 with a 3-year warranty. We give it our B2G Gold Award!