Price / Where to Buy
USD: $229 – ASUS Maximus IX Hero in Amazon
PHP: Php18540 – PCHUB
It's that time once again where we see the new waves of motherboard come in droves to usher in the new era of processors and its going to be a heated a year for AMD and Intel as they both set the stage for their new products. Ultimately, AMD is set to release a new product altogether but for Intel, they will be focusing on refining and optimizing their process this time around with the introduction of the new 14nm processor. While the processors have been known for a good while now, the desktop offerings have just been announced today and coinciding with that launch is the Intel 200-series chipset that will support the full-range of new 7th-generation Kaby (rhymes with baby) Lake processors.
First off the gates we have the latest entry in the ASUS ROG motherboard lineup for the Intel 200-series, they upper mainstream offering ASUS ROG MAXIMUS IX HERO motherboard. With a completely new theme to work with, ASUS has once again reworked their motherboards to feature a new board theme whilst incorporating the latest technology and features that they created.
Read on and find out more the ASUS ROG MAXIMUS IX HERO motherboard!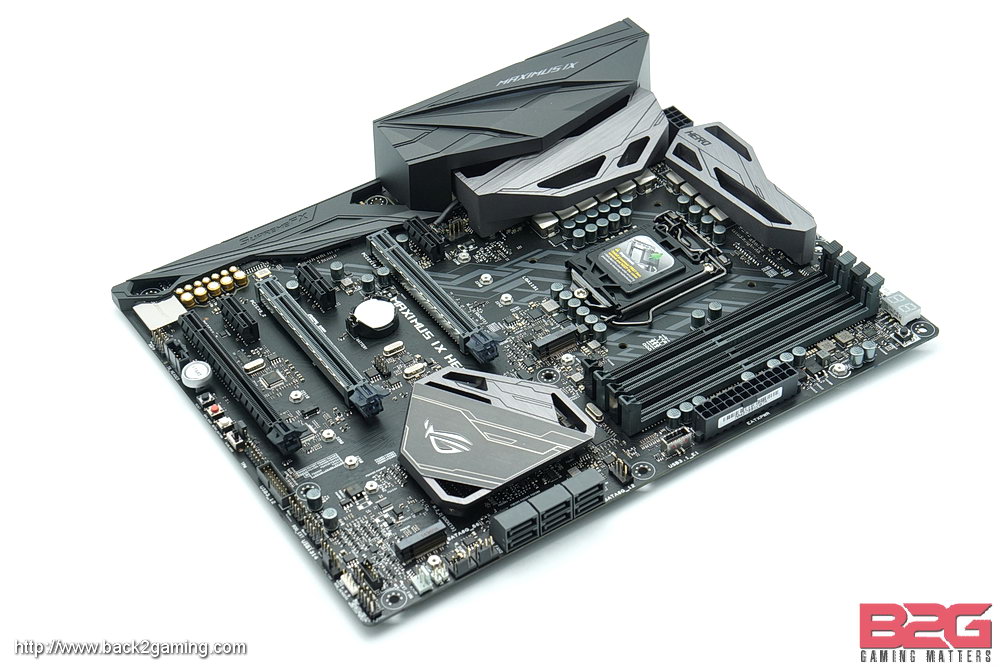 ASUS ROG MAXIMUS IX Hero Motherboard Review
Intel 7th-Generation Processors
Intel's Kaby Lake processors were already announced last year and introduced us to Intel's new 14nm+ manufacturing technology which is said to improve on efficiency and performance on the existing 14nm process. The earlier Kaby Lake processors which came out were intended for low-powered applications which saw notebooks and other mobile platforms inheriting the new processors first. Today we get to see the products aimed for desktop consumers with the launch of Intel's 200-series chipset and the new Kaby Lake desktop processors don't distance themselves from their initial launch counterparts as they are still built on the same 14nm+ process. Intel's touted improved fine profile and transistor channel strain are capable of providing a more stable platform to deliver more performance via the higher clock rates that the Kaby Lake processors tout than their previous Skylake counterpart.
One of the more important addition to Kaby Lake is support for Intel Optane technology which is essentially technology which allows systems that support it to utilize high-density memory that offers superior improvements over NAND. The 3D Xpoint deseign also utilizes 10 times DRAM capacity in the same surface area which is made possible by slicing submicroscopic layers of materials into columns containing memory cells. The layers are then inter-connected in a cross-point weave via perpendicular wires. Intel Optane offers superior low latency (measured in nanoseconds) and also is capable of retrieving data in a power outage.
Another heavily advertised feature is the updated integrated graphics processors (IGP) which offers faster native encode/decode of 4K content (4K HEVC 10-bit).
Below are a list of known Intel Kaby Lake processors to be launched with the most noteworthy being the flagship i7-7700K featuring 4 cores / 8 threads with a 4.2Ghz base frequency and has a maximum boost of 4.5Ghz. The processors has 8MB of L3 cache with a rated TDP of 91W. The estimated SRP for the i7-7700K is $349 retail. Next up is the Core i5-7600K which is a quad-core processor featuring a 3.6Ghz core frequency and a turbo frequency of 4.2Ghz. It also has 6MB of L3 cache and is rated for 91W TDP. The Core i5-7600K is expected to retail for $239.
The most unique of the known SKUs is the Core i3-7350K. Yes, you read that right, there will be a unlocked Core i3 processor in the desktop Kaby Lake stack. This particular processor is a dual-core part with Hyperthreading support. It runs with a 4.0Ghz core clock and has a turbo frequency of 4.2Ghz. It features 4MB L3 cache and is rated for 60W TDP. Its expected to launch after the initial wave of Kaby Lake desktop parts. The SRP is expected to be $177 retail. This processor has an unlocked multiplier which should really entice performance seekers and overclockers looking to get more from a less costly part.
| | | | | | | | |
| --- | --- | --- | --- | --- | --- | --- | --- |
| SKU | Cores/Threads | Core Clock | Boost Clock | L3 Cache | TDP | Socket | Price |
| Core i7-7700K | 4/8 | 4.2 GHz | 4.5 GHz | 8 MB | 91W | LGA1151 | $349 |
| Core i7-7700 | 4/8 | 3.6 GHz | 4.2 GHz | 8 MB | 65W | LGA1151 | $309 |
| Core i5-7600K | 4/4 | 3.8 GHz | 4.2 GHz | 6 MB | 91W | LGA1151 | $239 |
| Core i5-7600 | 4/4 | 3.5 GHz | 4.1 GHz | 6 MB | 65W | LGA1151 | $219 |
| Core i5-7500 | 4/4 | 3.4 GHz | 3.8 GHz | 6 MB | 65W | LGA1151 | $189 |
| Core i5-7400 | 4/4 | 3.0 GHz | 3.5 GHz | 6 MB | 65W | LGA1151 | $189 |
| Core i3-7350K | 2/4 | 4.2 GHz | N/A | 4 MB | 60W | LGA 1151 | $177 |
| Core i3-7320 | 2/4 | 3.9 GHz | 4.1 GHz | 4 MB | TBD | LGA 1151 | $166 |
| Core i3-7300 | 2/4 | 4.0 GHz | TBD | 4 MB | 51W | LGA1151 | $153 |
| Core i3-7100 | 2/2 | 3.9 GHz | TBD | 3 MB | 35W | LGA 1151 | $122 |
| Pentium G4620 | 2/4 | 3.7 GHz | N/A | 3 MB | 51W | LGA1151 | $98 |
| Pentium G4600 | 2/4 | 3.6 GHz | N/A | 3 MB | 51W | LGA 1151 | $87 |
| Pentium G4560 | 2/2 | 3.5 GHz | N/A | 2 MB | 35W | LGA 1151 | $68 |
| Pentium G3950 | 2/2 | 3.0 GHz | N/A | 2 MB | 35W | LGA1151 | $56 |
| Pentium G3930 | 2/2 | 2.9 GHz | N/A | 2 MB | 35W | LGA1151 | $45 |
Intel 200-Series Chipset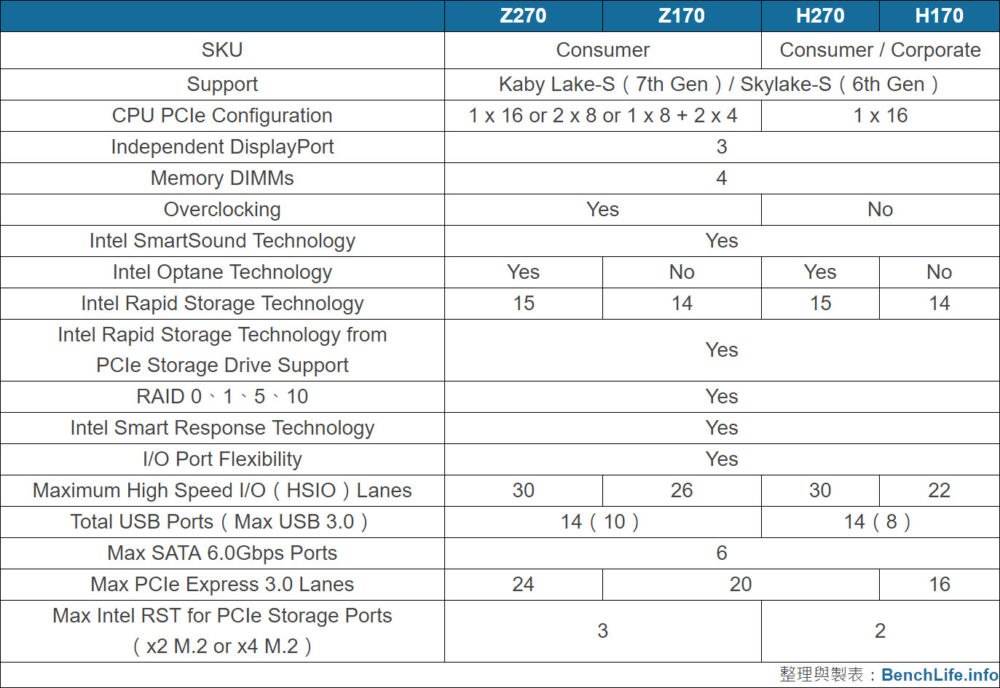 Complimenting the complete line-up of the Intel Kaby Lake processor family is the launch of Intel's new 200-Series chipset family. The Intel Z270 is identical to the previous Z170 chipset in terms of PCIe configuration meaning they allow 1×16, 2×8, or 1×8+2×4 configurations with the H270 and H170 offering a single x16 config. Support for dual-channel memory is still present with up to 4 DIMMs available. As always, the high-end Z270 chipset will support multiplier overclocking on unlocked processors.
Noteworthy changes include support for Intel Optane as discussed above as well as increased high-speed I/O lanes, which sees the Z170 and H270 having 30 HSIO lanes compared to the 26 on the Z170 and 22 on the H170. USB ports have remained the same with 14 total with the Z270 having 10 USB3.0 and 8 for the H270. A total of 24 PCI-e lanes will be available to the Z270 and the H270 will have 20 PCI-e lanes which sees an increase to the 20 of the Z170 and 16 on the H170.
Unboxing
Product Gallery
New packaging style for the latest Republic of Gamers board featuring a new red theme and box styling.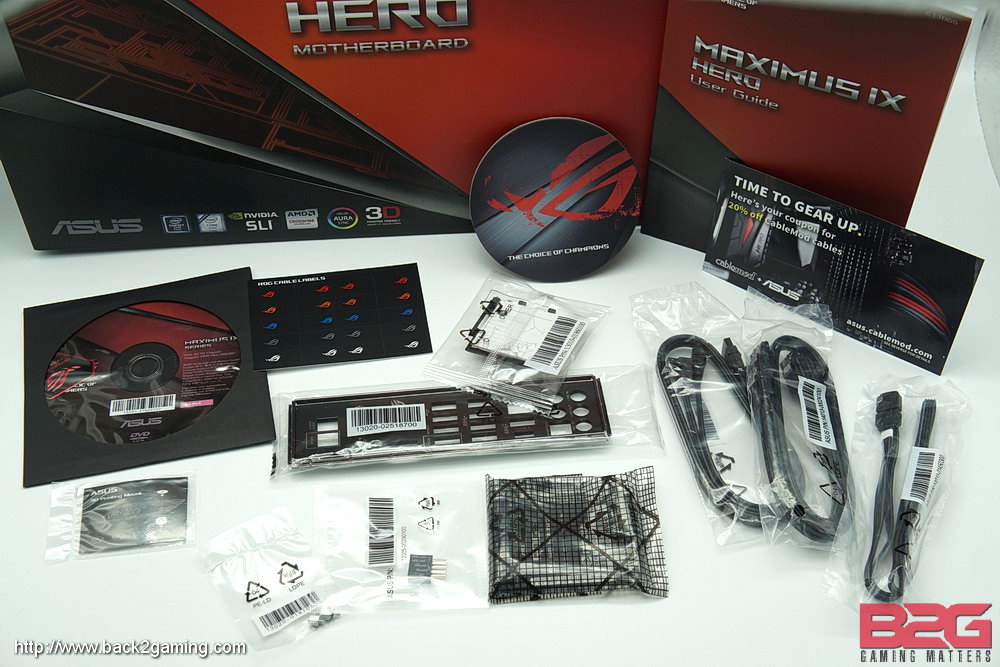 Inside the package we have documentation, sticker labels, SATA cables, RGB cable extension, Q-connector, CPU installation tool, 3D kit mounting screws, I/O shield, a coaster and a coupon code for CableMod cables.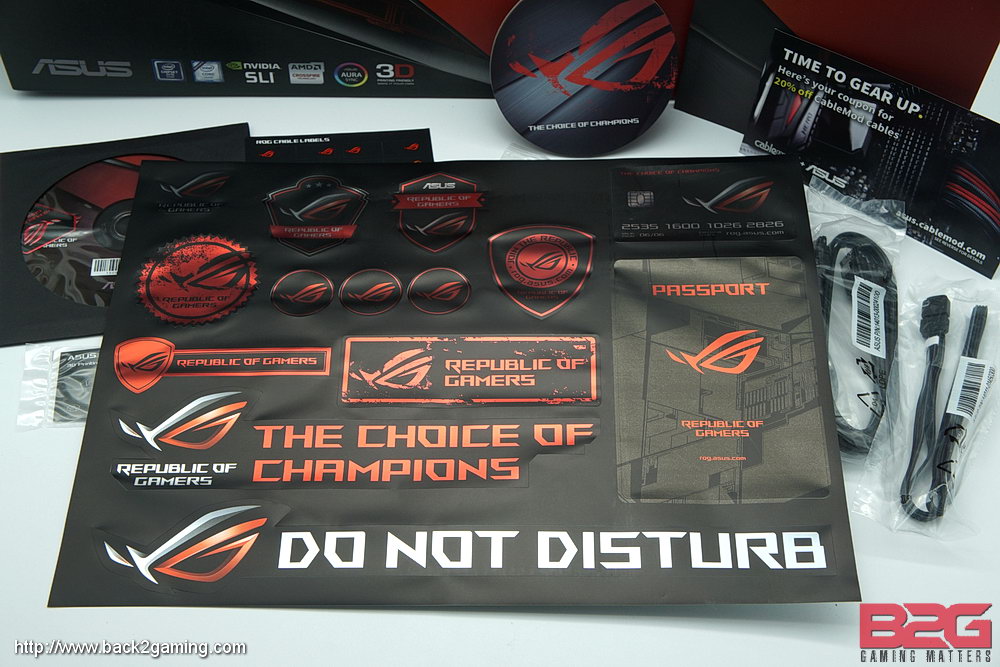 Oh and a giant sticker sheet.
Here is the ASUS MAXIMUS IX Hero motherboard. The overall board look is a metallic grey on black theme with the abstract lines serving as the motiff for this new ROG series. ASUS seems to be going with a unique theme per board and the MAXIMUS IX HERO has cutouts on its heatsinks which add a really cool visual touch to the motherboard. We have a shot of the VRM later to confirm thermal performance because they may just be cost-saving measures.
The ASUS ROG MAXIMUS IX Hero has a 10-phase power design and features ASUS latest high-endurance components for greater stability and durability.
On the right corner of the motherboard we have the DIMM slots with the debug code readout and MemOK button. A 3D screw mount is also here although as we've mentioned, there's no design out yet so its up to ASUS to provide what to do for now with these mounts. A USB 3.1 header is also present here but we're still waiting for mass adoption of this header.
The ASUS ROG MAXIMUS IX Hero features three full-length x16 PCI-E slots, two of which run at x8 when used and the bottom one at x4. The board is meant for more mainstream consumers and dual card configurations, with the blessing of NVIDIA, are more common now due to their enforcement of 2-card configurations. AMD seems to be going that route as well but new cards will confirm their direction in the future. Two of the PCI-e slots are reinforced with metal bracing.
The new ASUS SupremeFX audio solution is powered off a new solution which features the new ALC S1220 audio chip in-tandem with a ESS® ES9023P High Definition DAC.
Here is one of the two M.2 slots on this motherboard.
And the other M.2 slot is at the bottom right edge. In this corner we also see the array of headers for this motherboard including a RGB header. The other one is on the top of the DIMM slots.
LED Lighting
RGB seems to be trend today and nobody hates to be late to the party more than ASUS. The new motherboards in this generation will feature AURA sync on all ASUS AURA-capable components and will be capable of custom effects. As seen in the product overview, there are also RGBW headers for your own custom LED strips that you can add to your system to create your own lighting configuration.
BIOS Walkthrough
The interface for ASUS ROG UEFI BIOS has remain unchanged still showcasing the richest interface amongst all brands with tons of tweaking options for overclockers and enthusiasts. Most settings are very open and allow tweaking of the finest features. Moving over to the general board features itself, there are plenty to tweak around like fan speed etc. The BIOS also allows options to save profiles and allow customizations to the bootscreen etc. As this is a new product, there's bound to be updates but as it right now, its very rock solid.
Software Package
ASUS is one the brands that really packs in a lot of software with their motherboards and in this generation. Included in the driver disc are the driver software for the SupremeFX audio solution as well as various utilities notably ASUS AI Suite 3, which has been ASUS' de facto board utility for years now. Its come a long way from its former design and includes a lot of informative displays as well as tools to maintain your PC. Specific to gamers and performance seekers are the ASUS Sonic Radar 3, a visual augmentation that overlays on your game and shows you the direction on which sound is coming from. This is intended for FPS gamers where positional audio is highly advantageous in identifying enemy locations. There is also ASUS' MemTweakIt for memory customization, KeyBot II which allows built-in macro customization on any keyboard regardless of make and brand.
Performance Testing
Test Setup
Processor: Intel Core i7-7700K
Motherboard: ASUS ROG MAXIMUS IX HERO
RAM: G.Skill Trident Z DDR4-3200 16GB (8GBx)
Storage: Intel SSD 750 400GB
Power Supply: Seasonic Platinum 1000W
Graphics Card: ASUS ROG Strix GTX 1080 OC
Display: ASUS ROG PG27A UHD Monitor
For a full-hardware workout, visit http://www.futuremark.com for our benchmarks of choice.
Performance Testing – Synthetic
Power & Temperature
We check to see how motherboard makers tune their default BIOS settings and see how it impacts temperatures and power consumption. The system is left to idle for 30 minutes before readings are taken and load data is taken 30 minutes while AIDA64 stress test is running. Power readings are taken for the entire system from the socket. Power draw for the entire system is captured for this test via an outlet wattmeter and temperatures via the brand software and confirmed with AIDA64 and Intel Extreme Tuning.
With all the styling on the heatsink, we we're a bit concerned on the VRM thermals and here we have the motherboard on load (stock) with the VRM area peaking at 54.2*C on our ambient 25*C room.
Conclusion
It all about features in this impending battle of motherboards and with the new Kaby Lake processors promising no noticeable gains in terms of overall performance, motherboard makers are pressed to compete by including features and add-ons they feel serve the best for their targeted product segment.
In the case of the ASUS ROG MAXIMUS IX HERO motherboard, its feature set isn't limited by its position and serves as a good foundation for a solid mainstream build with support for dual-GPUs, high-speed memory and plenty of options for overclocking. Personalization options go way further with extensive AURA support and while the software itself lacks more effects, if you prefer just simple transitions, there's plenty right here.
Build quality is the name of the game and both ASUS scores highly in this department and while looks may be subjective, its hard to argue that the MAXIMUS IX HERO is hard to look at: its simple color scheme and creative heatsink styling as well as board theme goes well to make-up for its minimal shroud which really makes the PCB pop.
Pricing info is not released yet but we expect the board to retail at around $230 making it sit in the lower-high-end of ASUS ROG stack. The rich bundle does make it seem like a bit more extravagant but both software and goodie inclusions do add-up as a good value-added feature.
As it is, the ASUS ROG MAXIMUS IX HERO is a great motherboard and features a lot of the new feature trends that some builders want but makes it more accessible to newcomers to the platform who want a solid motherboard with an excellent feature set without going too extravagant nor too loaded with unneeded ones. The ASUS ROG MAXIMUS IX HERO features the essentials for a stylish gaming rig and if you're looking to upgrade to a more high-end motherboard but don't need the exotic niceties of the higher-end ROG products, the ASUS ROG MAXIMUS IX HERO is a top solution.
ASUS backs the ROG MAXIMUS IX HERO with a 3-year warranty. We give it our B2G Recommend Award and B2G Silver Award!