We're back with another power supply in the test labs, this time its another Platinum-rated unit from Corsair. We've noted how incredible Corsair's knack for quality is we're looking forward to seeing that put to action in their power-supply units. In this review, we're taking a look at the Corsair AX860i power supply. One of the latest PSUs from the company that boasts a Platinum rating as well as an excellent digital monitoring and control system for improved performance.
Abour Corsair
Corsair is a brand well known for their memory products but has expanded their expertise to include highly successful lines of flash storage, cases, power supplies and gaming peripherals. Corsair has is highly-acclaimed for their quality and excellent support and this has put the company in a great position as a respected manufacturer amongst the DIY PC enthusiast community.
The Corsair AXi Series
The Corsair AXi series introduces a new DSP control system along with Corsair Link in their power supplies. This combination of control and monitoring tools enhances the capacity of Corsair PSUs to regulate voltage giving them much more tighter voltage regulation and control. This leads to cleaner power for a more stable system.
The 80 PLUS Certification
80 PLUS is a certification program intended to promote energy efficiency in computer power supplies. The certification requires a product to have more than 80% efficiency in 20%, 50%, and 100% of the rated load. This guarantees that any certified product will only expend 20% of power consumed as heat at the specified load levels which leads to reduced electrical consumption and thus result in savings compared to less-efficient PSUs.

Note: The 80 PLUS certification is voluntary and a company MAY CHOOSE NOT TO undergo certification even if their product meets 80% +/- efficiency.
Packaging and Contents
Corsair packages the AX860i in their signature black packaging. The AX860i notation is boldly highlighted on the packaging all over with details written in the back of the packaging. Details like rating tables and cable inclusions are also listed in the packaging.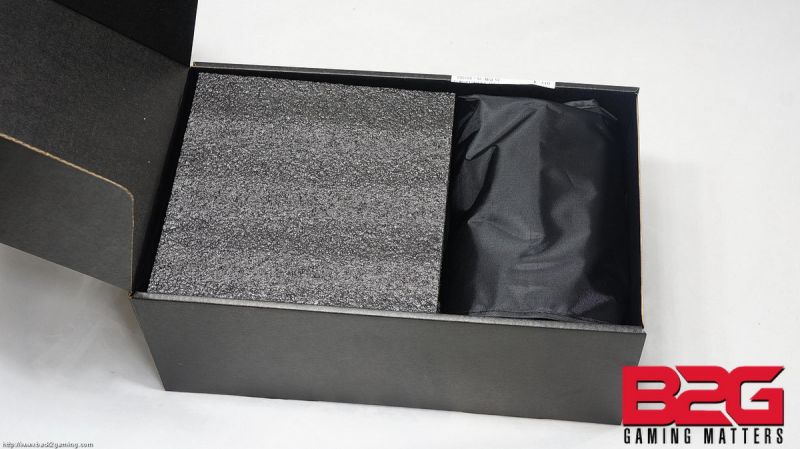 Inside the packaging, the power supply is protected from bumps and scratches by a foam lining and is enclosed in a Corsair-emblazoned velvet pouch. The connector cables are kept in a black bag sealed by velcro.
The Corsair AX860i includes a user manual, a warranty card, screws, straps for cable management and a Corsair sticker.
The PSU is shipped inside a velvet string pouch with the Corsair branding.
The other bag included in the package holds all the cables for the unit. Again, the Corsair AX860i is a fully modular unit meaning all of its power connectors are removable and used as needed.
Included in the package are a total of 12 cables, noting the inclusion of 6x PCIe power connectors which is good enough for high-end triple-GPU configurations. There are also 2 MOLEX to FDD power connector included… for whatever reason you may still be holding on to a floppy drive.
Connector type:
Corsair AX860i

Cables
ATX connector (610mm)
20+4 pin
4+4 pin EPS12V (650mm)
2
6+2 pin PCIe (600mm + 150mm)
4
6+2 pin PCIe (600mm)
2
SATA (400mm+100mm+100mm+100mm)
8
SATA (550mm+100mm+100mm+100mm)
4
4 pin Molex (450mm+100mm+100mm+100mm)
8
FDD (+100mm)
2
Corsair Link cable (800mm)
1
Also included in the package is the Corsair Link module which connects to the power supply and an available USB header on the motherboard.
The Corsair AX860i manages to fit into a compact 160mm x 150mm x 86mm (WxDxH) housing. The unit housing is encased in a matte black paint job and has a discrete, functional look.
The Corsair AX860i features built-in fanless mode which leaves the fan idle at low usage scenarios like an idle desktop. The fan is protected by grills and is designed to match with the visual styling on the lower part of the housing with the fan vent.
The Corsair AX860i, as stated above, includes 12 connectors but the main unit itself has 13.
Fully populated, the Corsair AX860i looks solid with all the black cables giving the power supply a clean look.
Testing & Methodology
Test System
Processor: Intel Core i7 3770K 4.6Ghz
Motherboard: MSI Z77 Mpower
Memory: Kingston HyperX Beast DDR3-2400 16GB
Storage: Kingston HyperX SSD 120GB, WD Black 2TB (FZEX)
PSU: Corsair AX860i
Cooling: Custom loop (XSPC Raystorm block, XSPC D5 Dual Bayres (set to medium), BlackIce Stealth GT 240 rad)
VGA: ASUS ROG Radeon R9 290X Matrix Platinum, MSI R9 290X GAMING 4G
This is a real-world test scenario where we will test for the following criteria:
Capacity
Stability
Endurance
The test PSU must operate and meet its advertised capacity while maintaining voltage stability within allowable margins as specified by the 80 PLUS standard testing protocol. The test PSU must also operate within allowable margins under normal and heightened ambient temperatures.
Method summary:
The PSU is installed inside our system, airflow and ambient temps are maintained within controlled levels for load and voltage reads. Voltage read-outs via motherboard sensors are also provided for relative comparison.
The system is loaded in steps with Prime95 (In-place Large FFT) and Kombustor (GPU Burn-in – Torus, 1080p, MSAAx8). (Refer to test system setup for components used:

Idle Load: System left in Windows desktop to idle.
50-60%: Prime95 + R9 290X Crossfire Burn-in Load
80-100%: R9 290X, R9 290, Individual GPU Burn-in Load
GPUs are loaded individually, not in SLI/Crossfire.
For endurance testing, the test system is put in a low airflow state and the the ambient temp raised to 50*C and the voltage readings captured.
The system is loaded for 20 minutes before readings are taken.
Tests are conducted at 220V
Test Results
Voltage Readings – 30*C
| | | | |
| --- | --- | --- | --- |
| IDLE (140W) | 50% Load (610W) | 80%-100% Load (730W) | Variance |
| 12.11v | 12.10v | 12.09v | 0.17% |
| 5.05V | 5.04v | 5.01v | 0.79% |
| 3.34V | 3.34v | 3.32v | 0.59% |
| | | Avg. | 0.52% |
Voltage Readings – 50*C
| | | | |
| --- | --- | --- | --- |
| IDLE (140W) | 50% Load (610W) | 80%-100% Load (730W) | Variance |
| 12.09v | 12.06v | 12.03v | 0.49% |
| 5.04v | 5.03v | 5.03v | 0.19% |
| 3.33v | 3.33v | 3.32v | 0.30% |
| | | Avg. | 0.33% |
Conclusion
Now our test method may not be as sophisticated as I'd want but at the end of the day, its quality that we strive for and breaking down these units by putting them in an oven may not representative of everyone's setup but it does give us a good look at how well Corsair's AX860i is built to endure the most demanding applications. Let's break down the score before we head to our conclusion:
Performance. The Corsair AX860i posted good results under our cold test and going past 50*C we can see it is still doing its work managing the voltages. Under heat, the PSU still delivered nicely and managed to deliver its rated capacity in our tri-GPU setup.
Build Quality. There is no going around it, Corsair makes everything top notch and the Corsair AX860i is no exception. Its obvious this is based on the highly-acclaimed AX1200i and its good to know we're getting top-end quality for people that don't need such capacities of PSU. 860w is just about the right spot for a high-end gaming rig with a pair of top-of-the-line GPUs. The fanless mode is a good touch and the self-test feature is also great. We'll talk about that in the later section.
Functionality. Corsair brings some fresh new features to the PSU table with the AXi series its really gonna be tough for any of the competition to rival the gears included with the Corsair units and not be branded as copies. Starting off the with the Corsair Link features which allows us real-time monitoring of the status of the unit, fanless mode for dead quiet operation during low-load scenarios, fully modular cables as well as a self-test feature which allows basically anyone to verify the condition of their PSU which can easily be a lifesaver when troubleshooting your PC. PC ain't booting? Removed all components? No need to get all technical with the Corsair AX860i, just press the self-test button and when you get a green light then all is well. But what if it goes red or doesn't light up at all? Chec the value segment for more on that.
Bundle. Corsair has some extra goodies in this package. Opening up the box you get a velvet pouch, a utility bag, cable straps and that's plenty rich enough for a PSU.
Value. The Corsair AX860i is listed $229.99USD in the Corsair store. This puts it in a very high place in the PSU premium list especially for an 860w unit. Also, at the price range it competes directly with the Seasonic Platinum 1000w which is a very tough product to beat. What Corsair does offer though is an industry-leading feature of set of practically exclusive capabilities such as those we've mentioned in the earlier section. A 7-year warranty also gives you a lengthy coverage period and add to that the self-test option, which shows you you have a working PSU. If something goes wrong, just follow the RMA procedure in the warranty slip included in the package and you're all good. Personal experience as well as those from our readers have proven that Corsair has excellent after-sales support and that is something worth keeping in mind when you are considering a long-term investment in a power supply.
Of course a Platinum-rated PSU would not be without its high efficiency and in the chart below we show you a comparative graph of energy used and its cost we've presented numerous times in the past for usage cost comparisons:
Figure 1.a – Here we present an annual cost/savings comparison of the Platinum-1000 versus lower 80 PLUS ratings. Since power supplies are most efficient at around 50% loading we used the consumption of our system with a single R9 290X on full load. We compute the system consumption rate based on Meralco's most recent rates based on a household consumption total of +200KW/h using this formula.
If you want to really maximize the efficiency of your PSU, get a model with that is twice the capacity of your typical system load. For example, if you play a lot of Watch_Dogs which loads our system to 490W – 565W with a single R9 290X, then a 1000W/1200W model would be the best choice.
The Corsair AX860i is easily one of the most premium sub-1000w PSUs in the market today and if you really don't need a 1KW unit but still want the best of the best, then the Corsair AX860i delivers a premium feature set along with some excellent features while giving you peace of mind for a long time with a lengthy 7-year warranty.
Corsair backs the AX860i with a lengthy 7-Year warranty. We award the Corsair AX860i 80 PLUS Platinum power supply our B2G Silver Award.