Introduction
DDR5 has now reached its technicaly second-generation with its formal consumer debut met with supply issues that limited adoption. Many first adopters of DDR5 were left with, should we say, first generation products as the first wave of DDR5 for consumers left some questioning the decision of not refining the technology first. A year or so onwards and now supplies have loosened up and has also allowed DIMM manufacturers to work on more mature chips.
With the latest generation of CPUs from AMD and Intel both supporting DDR5, we're ready to see what this most refined batch is able to do. This also allows some of the latecomers to the DDR5 scene to push out more enthusiast oriented products as we slowly bid DDR4 its farewell. Kingston was in their post-HyperX era and we didn't see the company pushing out their high-end DDR5 kits for Alder Lake but that changes this generation as we now get to see Kingston's new iteration of performance DDR5 memories with their new flagship, the Kingston FURY Renegade DDR5.
The Kingston FURY Renegade DDR5 comes in two variants: the FURY Renegade DDR5 and the FURY Renegade DDR5 RGB. As the name implies, the difference is the inclusion of RGB. Both kits will be practically the same with the RGB being only different in physical terms.
In this review, we'll check out how they perform. The FURY Renegade will be available in both DDR5-6000 and DDR5-6400 options and we're including both in this review. Read on to find out more!
Kingston Campaign Giveaway!
For Philippine reader: We're working with Kingston to celebrate this new product with a small giveaway! Find out more at the end of this review how you can join!
Features and Specifications
Dynamic customizable RGB lighting effects

Patented Kingston FURY Infrared Sync Technology

Engineered to maximize performance

Tap into extreme overclocking potential

Intel XMP 3.0 Certified

Total Capacity: Single stick 16GB and 2x16GB
Memory Profile: 6000MT/s 30-38-38 1.35v, 6400MT/s 32-39-39 1.4V
Closer Look
Kingston's FURY packaging style actually parallels their previous gaming line but Kingston is the one sticking with this motiff with clean whites throughout. A hero shot of the product is in the front with minimal featurettes at the back.
The FURY Renegade DDR5 memory sticks are protected with a plastic clamshell. A product leaflet and foil sticker is included inside.
If you were in fence for either black or white RAM kits, Kingston FURY Renegade DDR5 RGB sticks will be on their own as they feature a black and silver heatspreader with the silver armor trim serving as the main upper layer of on a gloss black base. Its a somewhat busy theme, and Kingston may have an alternative clean design coming soon but for now the FURY Renegade DDR5 is one of the busier designs out there.
This will ultimately be up to the user how you take it in but in most cases, you'll only be staring at the RGB lightbar. The heatspreader on the FURY Renegade gives it a bit of a height and thickness increase over the non-RGB FURY Renegade DDR5 but for a reason. Kingston's RGB light bars are the fattest we've seen on DDR5 right now.
That fat RGB bar means that the FURY Renegade DDR5 has some very good lighting spread and 2 sticks alone really brighten up the RAM area. Four sticks is really where it shines with a beautiful fade that doesn't have any flicker or creeping when it moves.
FURY CTRL Software – RGB Control
Unlike previous kits from the HyperX era, Kingston's FURY memories can now uses dedicated RGB control software. Kingston's own FURY CTRL app allow fine control over the RGB lightning of the FURY Renegade DDR5 RGB and has plenty of animation  presets as well as custom lighting options.
There's a total of 16 built-in presets with the independent option allowing more customization options for the lighting that allows changing both colors and which specific are uses which color. Its a very precise option but if you need that kind precision, Kingston allow uses to do so via the FURY CTRL software.
I mentioned the light bars on the FURY Renegade DDR5 RGB are quite bright. There is a brightness slide on the upper part of the FURY CTRL software so you can reduce brightness. Users can also tweak animation speed and delay as well as overall finetune brightness with the app. Some of the possible animation are below:
Note: they're not reacting to the sound. 
Test Setup
Test System Configuration (Intel 12th-Gen)
CPU
Intel Core i9-12900K
Motherboard
ASUS ROG MAXIMUS Z690 EXTREME
Cooling
ASUS ROG Ryujin II 360 AIO
Graphics Card
ZOTAC GeForce RTX 3080 Ti AMP EXTREME
Storage
KLEVV CRAS C920 2TB
Power Supply
FSP Hydro G Pro 1000W
Case
OpenBench Table Community Edition
We normally test memory on both AMD and Intel systems but since AMD does not currently have a DDR5 platform, only the Intel results will be presented here. I'm also updating my test platform to accommodate modern platforms. With DDR4 presumably lasting another generation for AMD and DDR5 seemingly aiming at higher speeds, I'm adjusting the tests as well as the hardware itself.
One thing to note is that since DDR5 uses two memory channels, its reporting to the system that a dual-channel configuration is quad-channel. As of now, only dual-channel DDR5 is out on Z690 motherboards and the readings have yet to be remedied on CPU-Z readings.
Performance Results – Intel
Memory Bandwidth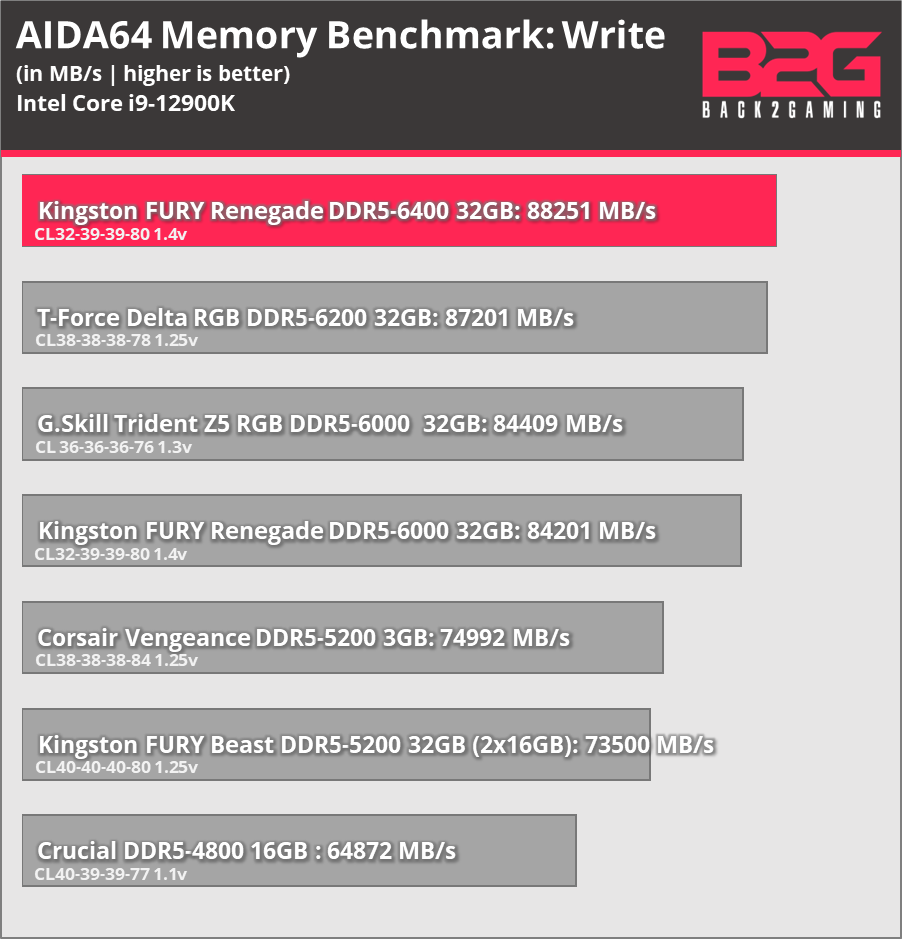 Gaming Performance
Conclusion
Its nice to finally see our memory bandwidth break the 100,000MB/s mark on stock with the FURY Renegade. You can see that our previous DDR5-6400 kit was just a few MB/s shy of 6 digit and this is what further refining those timings can do with DDR5. Memory intensive tasks should really benefit with these improved numbers especially multimedia applications and RAM preview hungry NLEs and VFX programs. For the most of us, this should only see a marginal improvement in gaming but if you're coming off DDR5-4800 or even a DDR4-3200 system, you should see a bit of an improvement.
Kingston prices its FURY Renegade DDR5 with a bit of a premium, coming in at $329 for the DDR5-6400 32GB kits. This should come down in price over time but they are a far cry from the DDR5-supply crunch of Q4 2021. As mentioned, if you're particularly focusing on applications, I would recommend the DDR5-6000 kits more as from my personal testing, 4 sticks on most Z690 boards is still a challenge. If you're just after gaming bling, the DDR5-6400 kits do have options of having the 6000MT/s and 6400MT/s XMP profiles for you to choose. With around $50 separating either speeds, one offers flexibility with the one a bit more savings. All in alll though, both offer good performance.
For the most part, Kingston's largest value offer for the Asian market is their impeccable quality. With such a competitive market right now for high-end DDR5 with only a few perks to speak of, premium DDR5 is more a fashion show than anything else, but its also about endurance. Most RAM sticks will go thru multiple system upgrades throughout their lives and customers prefer brands that have very low reports of failing as well very fast after-sales support. Kingston's limited lifetime warranty usually means if you have a failed memory stick, Kingston would more or less replace it for you.
Ultimately, the Kingston FURY Renegade DDR5 RGB memory kit enter the scene at a time where DDR5 is in a state of setting the benchmark. Those who make premium DDR5 kits should show why their premium lest they want customers to veer away to more mainstream offering in the future. In the case of the Kingston FURY Renegade DDR5 RGB, its premium heatsink, bright RGB and decent timings pushes Kingston to contend in the elite class of next-gen memory.
Kingston backs the FURY Renegade DDR5 RGB with a limited lifetime warranty. I give it my B2G Recommeneded Seal!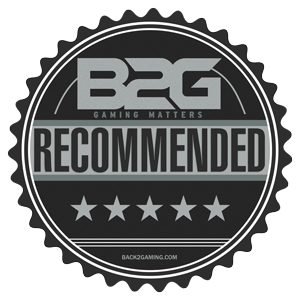 ---
Giveaway
In cooperation with Kingston, we're giving away Php1,500.xx Lazada Shopee vouchers plus a Kingston goodie bag and Php1,000 Steam wallet code to one (1) lucky winner plus consolation prizes of Php1,000.xx Steam Wallet codes for 2 more winners.
To join, just show off your gaming setup and share this review on Facebook to earn entries into our raffle. Full mechanics are below:
Use the app below to submit your entries.
Raffle is open for entries until 11:59pm of November 30, 2022 December 2, 2022. We are extending the deadline due to a Facebook bug in the original announcement. Lazada Shopee voucher and Kingston goodie bag will be provided by Kingston APAC. Steam Wallet codes are provided by Back2Gaming.
Open for permanent Philippine residents only ages 13 and above.
Kingston FURY Renegade DDR5 RGB Memory Review
Final Thoughts
The Kingston FURY Renegade DDR5 RGB brings with it a premium heatsink, bright RGB and decent timings which pushes Kingston to contend in the elite class of next-gen memory. 
Pros
Decent overall performance
Good vertical clearance
Excellent 4-stick looks
Premium feel on heatspreader
Limited lifetime warranty