Introduction – Kingston NV1 1TB Review
Kingston's A2000 line of budget SSD's has helped the company contend with no-name brands and help keep them in the minds of many consumers. Kingston achieves this by using a mixed-hardware strategy that helps them keep costs down while still offering competitive performance at given use-cases. Demoed earlier this year, Kingston is expanding on that same strategy for their M.2 lineup with the Kingston NV1 M.2 NVMe SSD.
The Kingston NV1 will feature a mixed specs sheet with capacities ranging from 500GB up to 2TB. The majority of reviews for this SSD are from Asia with most of us from the media receiving review samples from Kingston featuring a Phison E13T controller. Specs aside, the main goal for these drives seem to be the ultra-budget segment for M.2 PCIe NVMe SSDs that can benefit from an SSD but won't hurt using a DRAM-less one.
This means laptop owners of 3-year old machines or models that support M.2 should be able to get a slight boost. Mommy and daddy laptops that don't see a lot of file movements would work well with the NV1 and as such, this is expectedly where Kingston seems to be headed.
That said, if you're in the market for a laptop or PC upgrade to improve the responsiveness of your system, this might just be the drive for you. In this review, we'll take a closer look at the performance aspect of the Kingston NV1. Read on!
NV1 Features and Specifications
NVMe PCIe Performance: NV1 offers read/write speeds up to 2,100/1,700MB/s (all capacities).
Ideal for systems with limited space: Easily integrate into designs with M.2 connectors. Perfect for thin laptops and small form factor PCs.
Multiple Capacities: Available in a range of capacities up to 2TB to meet your data storage requirements.
Form Factor: M.2 2280
Interface: NVMe PCIe Gen 3.0 x 4 Lanes
Capacities: 500GB, 1TB, 2TB
Endurance:                                    

500GB – 120TBW
1000GB – 240TBW
2000GB – 480TBW

Power Consumption:                   

500GB: 5mW Idle / 205mW Avg / 1.1W (MAX) Read / 3.3W (MAX) Write
1000GB: 5mW Idle / 220mW Avg / 1.1W (MAX) Read / 3.3W (MAX) Write
2000GB:  5mW Idle / 340mW Avg / 1.1W (MAX) Read / 3.3W (MAX) Write

Storage Temperature: -40°C~85°C
Operating Temperature: 0°C~70°C
Dimensions: 22mm x 80mm x 2.1mm
Weight: 7g (All capacities)                   
Warranty/Support4: Limited 3-year warranty with free technical support
Closer Look – Kingston NV1 1TB Review
Kingston packages the NV1 in a traditional packaging style for Kingston products: simply full color white cardboard with black trims. Some marketing highlights are denoted on front. Given that M.2  is really small, the amount of white space is expected. The package does list a the model name (NV1), capacity (1TB) and a see-through cover for the drive. Take note that just above the drive there is a label containing a copy of Acronis True Image which you can use to clone or prepare your drive.
Kingston has been the victim of numerous frauds and bootleg copies of its products. If you want full peace of mind, you contact Kingston with your serial # and confirm it thru their customer support line.
The Kingston NV1 1TB is a single-sided M.2 PCIe NVMe SSD. It features Kingston's own-brand FH25608UCN1-40 similar to their other budget SSDs of this capacity. The controller is a Phison E13T. As a single-sided M.2-2280 drive, if you have an ultra slim application like a laptop, this should work well with that.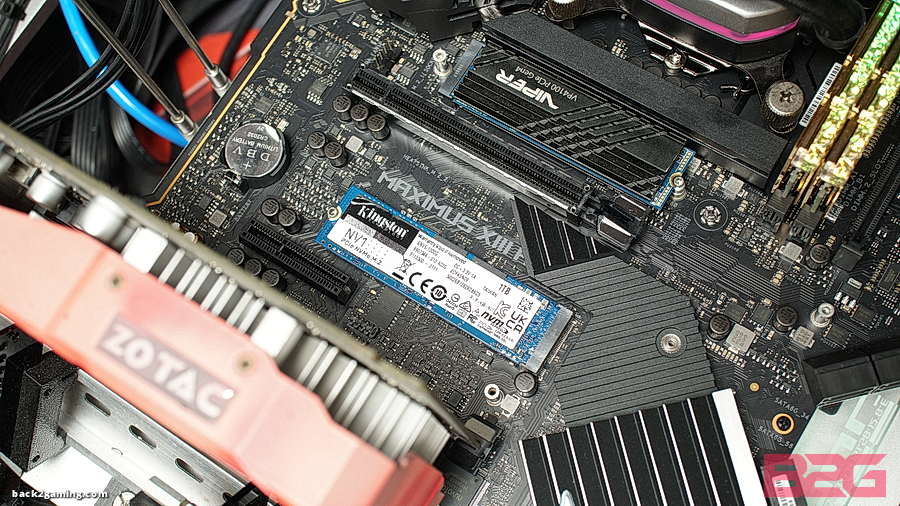 Since its an uncovered drive, you can use it on most M.2 slots without worrying about board compatibility. The Kingston NV1 is a Gen3 drive as well so for boards that are finicky about Gen3 vs Gen4 slots.
Performance Testing – KINGSTON NV1 SSD
Test Setup
Processor: Intel Core i9-11900K
Motherboard: ROG Maximus XIII APEX
Memory: G.Skill TridentZ Royale DDR4-4000 CL14 16GBx2 (32GB)
Storage: Patriot Viper VP4100 1TB (OS), Kingston NV1
PSU: Seasonic Platinum 1050w
Cooling: Corsair H150i 360mm AIO
Monitor: ROG PG27UQ
VGA: ZOTAC GTX 1050 Ti
Potential Performance (ATTO Disk Benchmark)
ATTO Disk Benchmark benchmarks a drive's read and write speeds with increasing file sizes and graphs them. This benchmark shows a good range of how fast an SSD is at a particular size and should give a good image of what to expect from the storage device.
AIDA64 Disk Benchmark
AIDA64 features an internal storage benchmarking tool. It has a large suite of read and write tests that will measure both linear (sequential) and random disk performance in both transfer rate and access times. AIDA64's write tests are destructive and will destroy all drive data. Linear write testing in AIDA64 is what I use as a stress for our thermal capture. The random read benchmark here shows us how consistent the read performance is in varying sizes and location on the disk the data is written.
Linear Write
Filling the drive took 270 minutes to complete as the drives drops to 36MB/s write speed after 250GB+ of writes. The drive does 1300MB/s for the initial writes but once it hits that 250GB mark, it drops to less than USB speed. For those that intended to use this for large single file storage, take note of the drive's potential limit before it starts hitting the drive speed penalty.
A screenshot would've been included here but while the drive is finishing up its linear write, AIDA64 conks out and closes before I can take a screenshot.
Anvil's Storage Utilities
This benchmark features a dedicated SSD benchmark which measures disk transfer rate as well as IO speed. The benchmark serves to compliment the other sequential tests in this review to show consistency.
AS SSD
Another SSD benchmark oriented towards sequential and 4K transfer performance. This benchmark also features a compression and file copy benchmark for more specific testing.
CrystalDiskMark
CrystalDIskMark has been the most actively updated disk benchmark amongst all the ones we use and is effectively the most reliable. Unfortunately, version to version results are not comparable which limits the ability to extrapolate comparative data. Still its a reliable and direct benchmark. Like the previous, it allows control over test data pattern, the test data size, amount of passes and individual benchmark control.
User Experience & Conclusion
The Kingston NV1 is perhaps the most affordable M.2 NVMe drive you can find right now from any namebrand. The reason I included some SATA drives in our benchmark is to show that high-performance SATA drives are still top dollar but with the Kingston NV1 1TB just north of $100, it still flexes what an SSD can do on a M.2 PCIe interface has over the aging SATA interface. The bigger subject of importance here is more the value of this drive rather than its outright performance. Despite performing substantially better, its DRAMless nature will see it losing its luster when used in write intensive applications. As mentioned, the drive can do average of 1300MB/s write and tops out at 1500MB/s at the best possible scenario. This shows us situations where massive file writes would show the major limitation this drive. As a Gen3 device as well, it also pales in comparison would newer Gen4 but the price difference alone with Gen4 drives will easily push many people away.
And that's puts us to the target market that Kingston is obviously going for. Much like a standard hard drive upgrade, any device that can take-in an M.2 PCIe device would get a good boost in system responsiveness. How responsive will depend on the state of the OS but in most cases, its almost always felt. With COVID singlehandedly lifting PC sales during to lockdowns and work-from-home arrangements as well as remote learning, there are many machines out there that may already have SSDs but for those that were bought before the pandemic and are looking to extend their usability, the upgrades would almost always include a GPU, RAM and an SSD.
Family laptops and desktop PCs would normally be the most ideal installbase for the Kingston NV1 where most of the action would be focused around just opening the system and never really doing any file operations aside from OS operations and small document downloads. With that said, this is where the Kingston NV1 shines the most. For our gaming sisters and brothers checking this SSD out, you can get away with gaming on it but if your game utilizes a gigantic asset file like Warzone, you will definitely feel the bite of a DRAMless drive.
Kingston backs the NV1 SSD with a 3-year warranty and for the 1TB model, its also rated for 240TB total bytes written which is smaller than the other drives we tested (600TB for 1TB). In most cases, its nearly impossible to wear this drive down during that time if your maximum daily write is less than a gigabyte.
In conclusion, this is an easy recommendation for your granmomma's or grampapi's PC that don't see much write action and just want an upgrade for their systems but any device that won't see much action aside from loading the OS and some apps, the Kingston NV1 is definitely a nice recommendation and should be the easiest go-to brand for  the best value and customer support as most of the competing options in this price point would be from unfamiliar brands from China. Not saying their bad, but Kingston has made a living contending with these brands. It does have competitors from Team Group and PNY, other Taiwanese brands and while I have not tested these drives, I would put them in the same bin as Kingston in both configuration and performance. They do put up a good fight with the Kingston NV1 and there are also older SATA SSDs in this 1TB price range for $10 less so its going to fall on what exactly you need so you know which is right for you. In cases where you can take advantage of an M.2 PCIe NVMe drive, then its definitely between Kingston and the rest. The main advantage for Kingston is their brand identity and existing customer support network.
If you need an absolute deal for a new SSD to give any older system a storage upgrade, the Kingston NV1 1TB SSD is a great choice.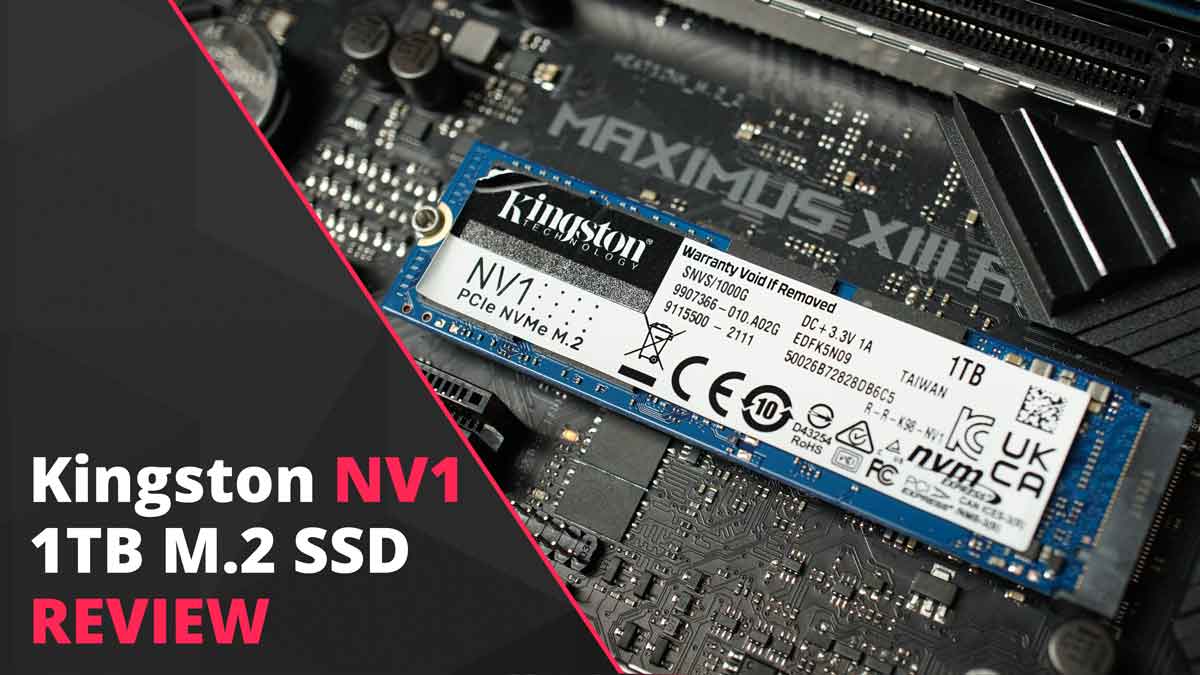 Kingston NV1 1TB Review: Good Value and Competitive SSD
Final Thoughts
If you need an absolute deal for a new SSD to give any older system a storage upgrade, the Kingston NV1 1TB SSD is a great choice.
Pros
Great price
Good burst speeds
Cons
Drops speeds on very large writes