The Patriot Viper VP4100 was one of the fastest Gen4 drives we've tested when it was released. PCIe Gen4 SSDs much like many computer components typically follow a prescribed design. The original line of Gen4 PCIe NVMe SSDs were powered by the Phison E16. For its time, it left Gen3 SSDs in the dust but as an emerging technology it allowed plenty of development. This week we have a couple of new SSDs using the latest controllers that take advantage of the PCIe Gen4 interface using Phison E18 as well as a new name in this space, InnoGrit.
In this review we'll be looking at the Patriot Viper VP4300, particularly the 2TB model, the largest capacity available. This SSD is rated for 7400MB/s reads and 6800MB/s writes, numbers many of the other newer Gen4 SSDs we have will be sporting as well whether their using Phison E18 or the InnoGrit controller used in the Viper VP4300. Read on to find out more!
Specifications
| Product | Viper VP4300 1TB | Viper VP4300 2TB |
| --- | --- | --- |
| Pricing | $                           254.99 | $                           499.99 |
| Capacity (User / Raw) | 1024GB / 1024GB | 2048GB / 2048GB |
| Form Factor | M.2 2280 | M.2 2280 |
| Interface / Protocol | PCIe 4.0 x4 / NVMe 1.4 | PCIe 4.0 x4 / NVMe 1.4 |
| Controller | InnoGrit IG5236 | InnoGrit IG5236 |
| DRAM | DDR4 | DDR4 |
| Memory | Micron 96L TLC | Micron 96L TLC |
| Sequential Read | 7,400 MBps | 7,400 MBps |
| Sequential Write | 6,800 MBps | 6,800 MBps |
| Random Read | 800,000 IOPS | 800,000 IOPS |
| Random Write | 800,000 IOPS | 800,000 IOPS |
| Security | AES 256-bit encryption | AES 256-bit encryption |
| Endurance (TBW) | 1,000 TB | 2,000 TB |
| Part Number | VP4300-1TBM28H | VP4300-2TBM28H |
| Warranty | 5-Years | 5-Years |
Specs table from Tom's Hardware
Closer Look
Much like their other Patriot Viper SSDs, the Viper VP4300 comes in a compact box. A glamour shot of the product in front and some details and then we have the back which shows us some ratings in multiple languages.
One thing unique about Viper's SSD packaging is this flip-out cover and see through portion. I guess they feel its something that makes their kit feel more premium and it does somewhat as most SSDs will probably have just a clamshell inside a slip cover. Good touch but I say needless versus the packaging expense. Patriot doesn't waste that extra cardboard and puts a descriptive narrative about this product.
I believe this is a retail sample from Viper's partner store here, PCHUB, so the contents are pretty much final. Inside you will receive the bare Patriot Viper VP4300 M.2 PCIe NVMe SSD, a graphene heat shield, a heatsink and a quick start guide. The quick start guide details much of the heatsink installation as Patriot suggests using both if you will be mounting the heatsink.
The included graphene heat shield acts as a heatspreader for the business side of the Viper VP4300 and serves to improve thermal transfer in motherboards that have their own M.2 heatsink covers. For boards that don't, its advised that you use the heatsink on top of the graphene.
The graphene heatspreader included has a protective film cover the mounting surface. Patriot warns that this is a 1-time application and its recommended to orient it carefully before apply full contact for the final mount. You can orient it in any direction but take note of the screw notch on the SSD so it doesn't black the mounting screw.
Here's a look at the heatsink mounted on top of the graphene. Our tests will be done on this setup.
Performance Testing – Viper VP4300
Test Setup
Processor: Intel Core i9-11900K
Motherboard: ROG Maximus XIII APEX
Memory: G.Skill TridentZ Royale DDR4-4000 CL14 16GBx2 (32GB)
Storage: Patriot Viper VP4100 1TB (OS), Patriot Viper VP4300 2TB
PSU: Seasonic Platinum 1050w
Cooling: Corsair H150i 360mm AIO
Monitor: ROG PG27UQ
VGA: ZOTAC GTX 1050 Ti
Potential Performance (ATTO Disk Benchmark)
ATTO Disk Benchmark benchmarks a drive's read and write speeds with increasing file sizes and graphs them. This benchmark shows a good range of how fast an SSD is at a particular size and should give a good image of what to expect from the storage device.
AIDA64 Disk Benchmark
AIDA64 features an internal storage benchmarking tool. It has a large suite of read and write tests that will measure both linear (sequential) and random disk performance in both transfer rate and access times. AIDA64's write tests are destructive and will destroy all drive data. Linear write testing in AIDA64 is what I use as a stress for our thermal capture. The random read benchmark here shows us how consistent the read performance is in varying sizes and location on the disk the data is written.
Linear Write
Here's a shot of the drive writing over its entire area. We see write speeds diminish after 9% which is around 200GB and then recover sporadically over the sequence. The drive does fall to around 1800MB/s after and then drops off to 600MB/s around the 50% mark.
Anvil's Storage Utilities
This benchmark features a dedicated SSD benchmark which measures disk transfer rate as well as IO speed. The benchmark serves to compliment the other sequential tests in this review to show consistency.
AS SSD
Another SSD benchmark oriented towards sequential and 4K transfer performance. This benchmark also features a compression and file copy benchmark for more specific testing.
CrystalDiskMark
CrystalDIskMark has been the most actively updated disk benchmark amongst all the ones we use and is effectively the most reliable. Unfortunately, version to version results are not comparable which limits the ability to extrapolate comparative data. Still its a reliable and direct benchmark. Like the previous, it allows control over test data pattern, the test data size, amount of passes and individual benchmark control.
Note: The sequential write results are showing the Viper VP4300's results in reverse versus the Gammix S70.
User Experience & Conclusion
There's no arguing that Patriot's Viper lineup has been one of the most aggressive and best-looking in the aesthetics department for high-end SSDs and although subjective, the point is that they do trade-off functionality as the heatsinks of their M.2 SSDs before have all had their heatsinks glued on.
The Viper VP4300 changes that and offers a highly-compatible version of their Viper VP4300 complete with option to go heatsink or heatspreader.
Using the heatsink itself with no airflow over it in our linear write testing, the Viper VP4300 sees temps around 65*C. The ambient temp is 28*C.
Speaking about performance, its definitely a responsive and fast drive. Its rating is achievable and IOPS are decent. I do feel that the write performance of this drive is exemplified at its worst in our linear write test and while the drive does recover, it does dip to an eventual crawl which should show itself when tasked in heavy write scenarios.
On the upside, valuation for the 2TB VP4300 is currently going Php27,270 from PCHUB here in the Philippines. This is curious because in foreign markets, particularly the US where Patriot sells directly on Newegg, Samsung sells the 980 Pro lower than the VP4300. In the Philippines, the Samsung 980 Pro costs more than the VP4300, at close to $600. That said, Patriot's out-of-box rating is bolder than Samsung and in real-world use, specially in game, its going to be hard to tell them apart performance-wise. Samsung uses their own controllers much like WD, the WD_Black SN850 coming in for around close to $600 as well in local PH pricing. Majority of the direct competitors for Patriot are coming from Taiwan with XPG but their recent debacle with bait-and-switching has left the industry on notice regarding the brand. This is why companies like Patriot should be wary of the market frustration right now due to availability and while it may hurt business, fully disclosing spec changes on revision rather than keeping them from customs should save any company from the same international scalding.
Patriot backs the VP4300 with a 5-year warranty and is a good improvement over the VP4100 from Patriot. While the need for 7Gbps SSDs may all just about pure luxury, there are some valid situations where its just makes sense. If you just need very fast storage and is torn between the top models right now, you'll only see a few brands up there and the choice would very much fall to your personal preference but if you just need one for gaming, the Patriot Viper VP4300 provides a compelling option versus Samsung's high-end option.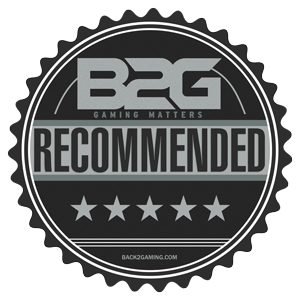 Patriot Viper VP4300 2TB PCI-E m.2 Gen4 x4 SSD Review
Final Thoughts
If you just need very fast storage and is torn between the top models right now, you'll only see a few brands up there and the choice would very much fall to your personal preference but if you just need one for gaming, the Patriot Viper VP4300 provides a compelling option versus Samsung's high-end option.
Pros
Good overall performance
Good write endurance
Visually-pleasing heatsink
Included graphene heatshield
5-year warranty
Cons
No software tool
Priced too close to Samsung