Introduction
Sabrent has been making a good name for themselves in recent years with very good reviews coming from major publications from the west and interest has certainly gone up for brand. Their high-end offering proving to be very competitive, they've since made a good lineup to cover the major price points. This includes the high-end performance market and the mainstream market. In that line we have the PCIe Gen4 offering from Sabrent: their Rocket NVMe 4.0 line.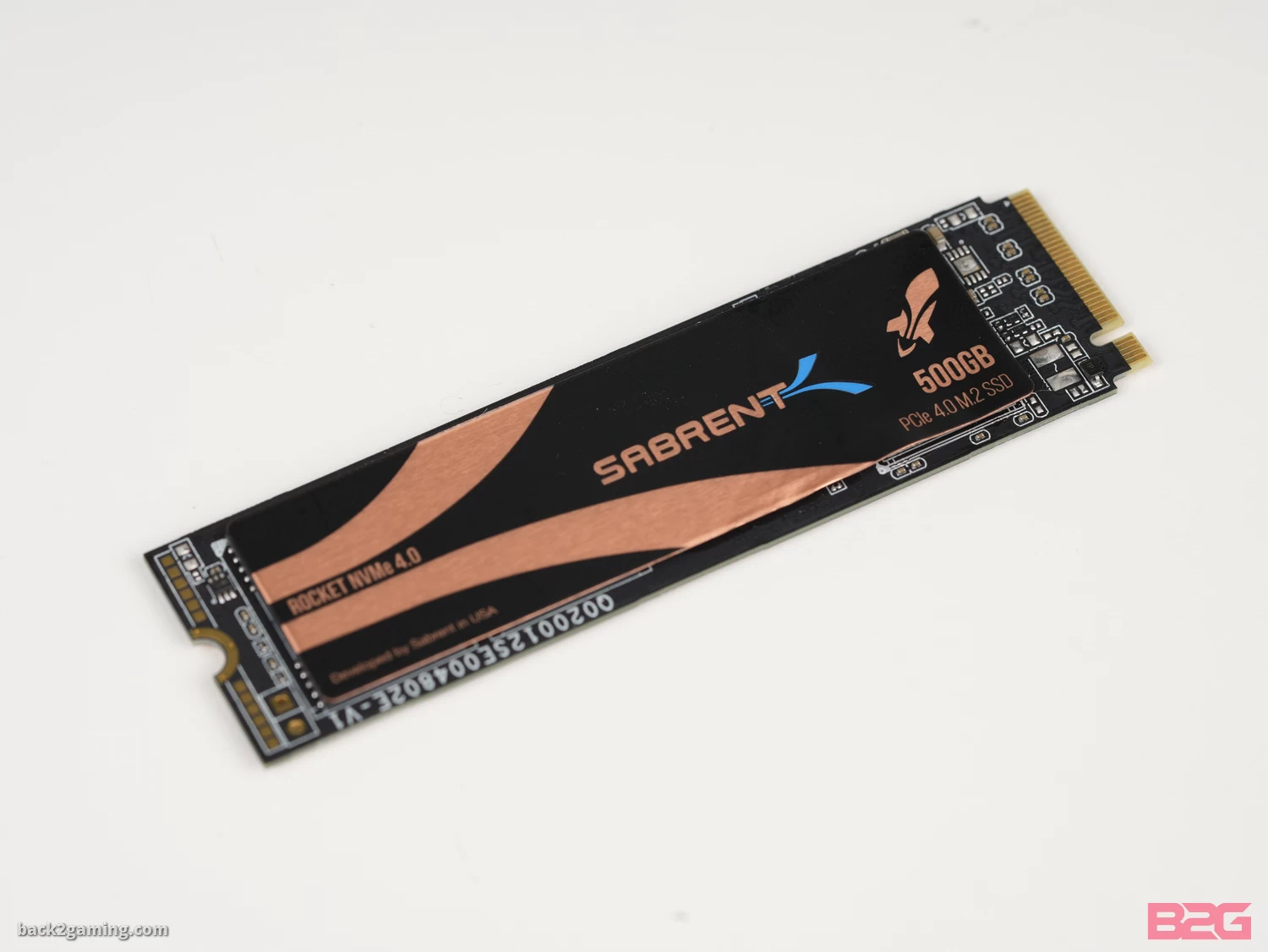 Not to be confused with the rest of the Sabrent Rocket products which includes the Rocket NVMe (PCIe Gen 3) and the faster Rocket 4 Plus amongst others, the Sabrent Rocket NVMe 4.0 sits as the mainstream go-to for Sabrent products. They've recently arrived in the Philippines and we have the 500GB model for review. Read on to find out more!
Features & Specification
PCIe 4.0 x4 interface, NVMe 1.3 compliant. APST/ASPM/L1.2 support.
Supports SMART and TRIM functions. Works in an enclosure.
Wide flash compatibility. Uses TLC with DRAM.
Advanced endurance features for a long drive lifespan.
Upgradeable firmware and software support.
4.0-capable motherboard and M.2 heatsink are recommended, but the drive is backward compatible with PCIe 3.0 and 2.0 M.2 sockets.
Closer Look – Sabrent Rocket NVMe 4.0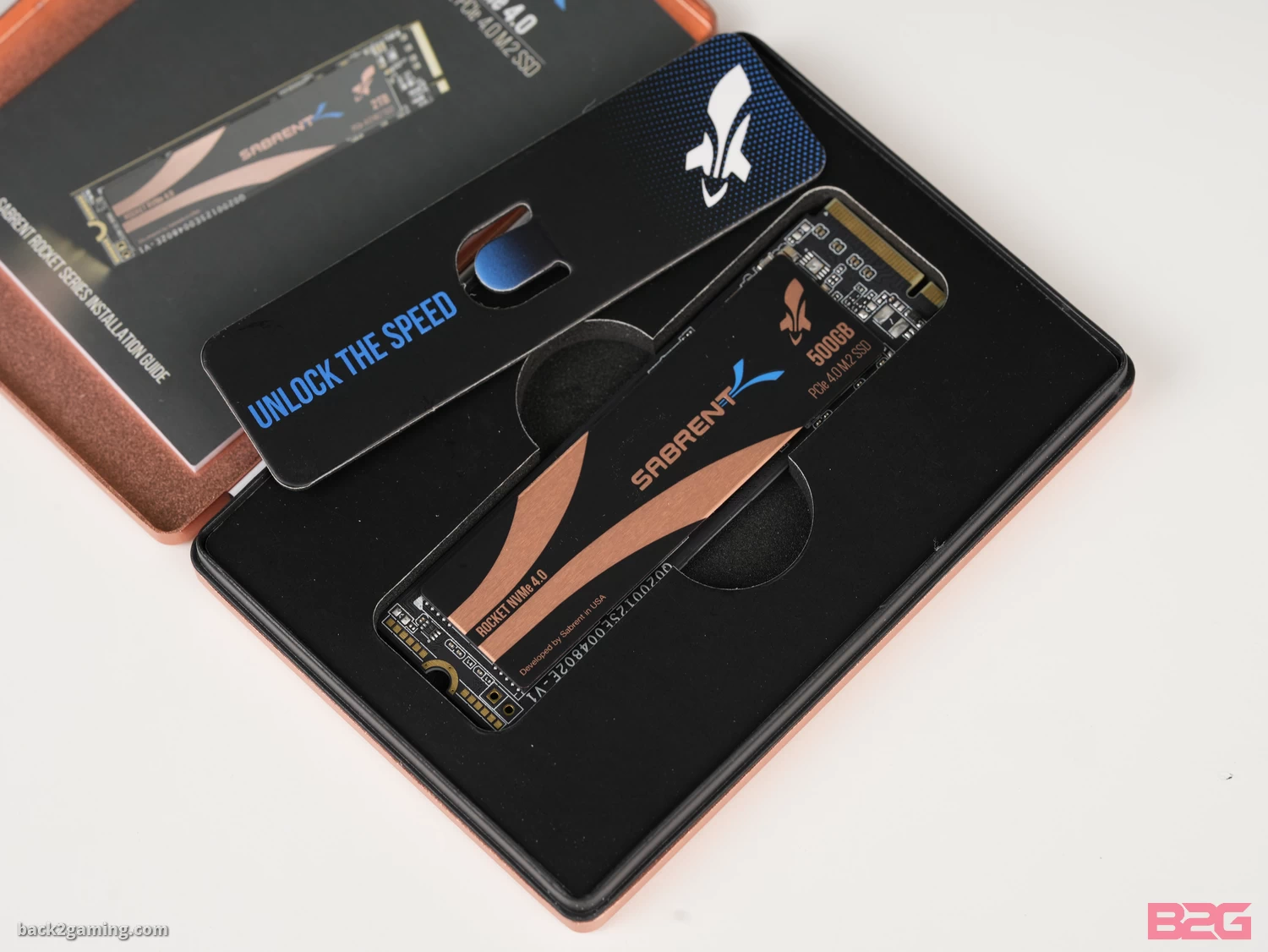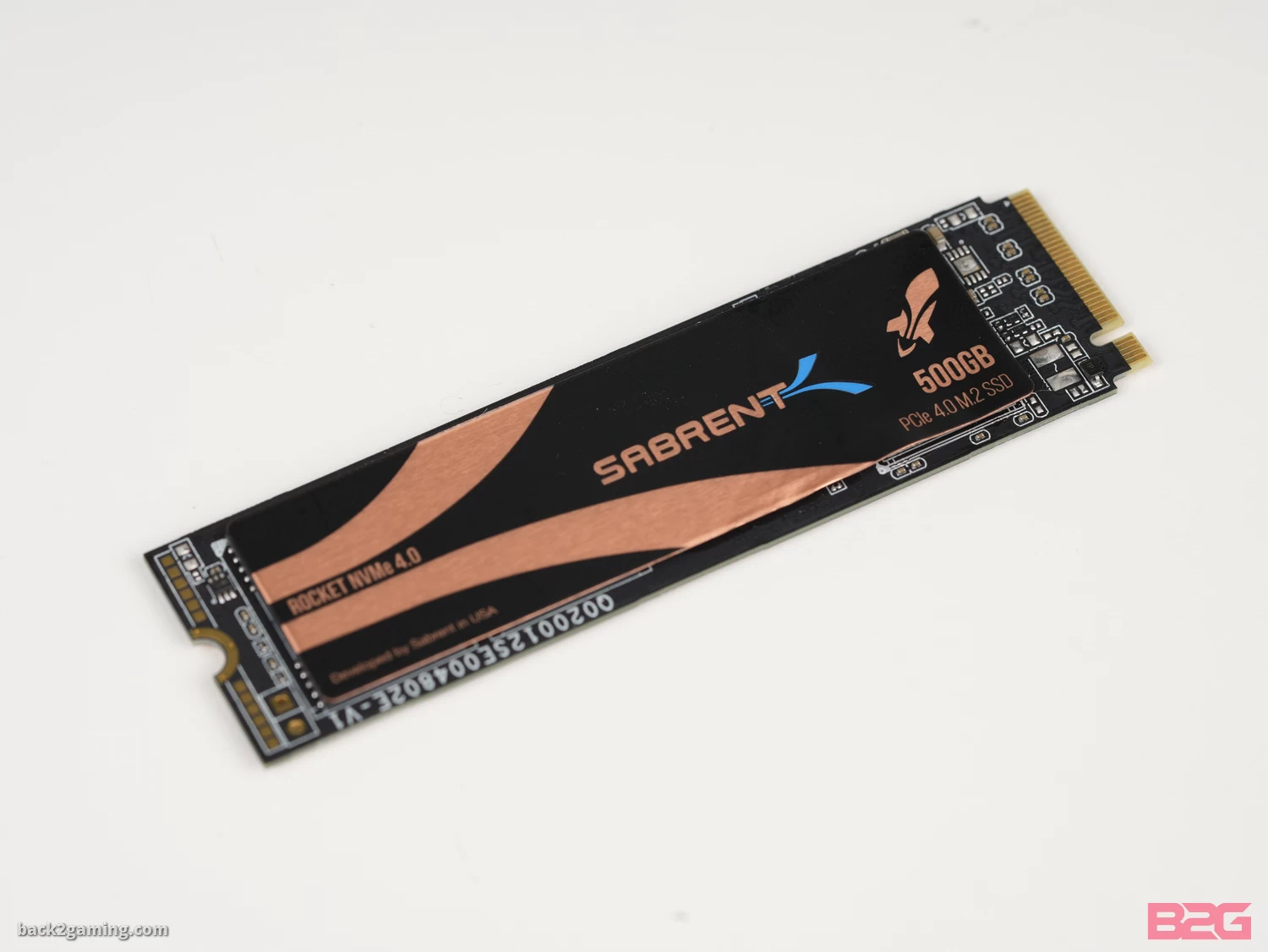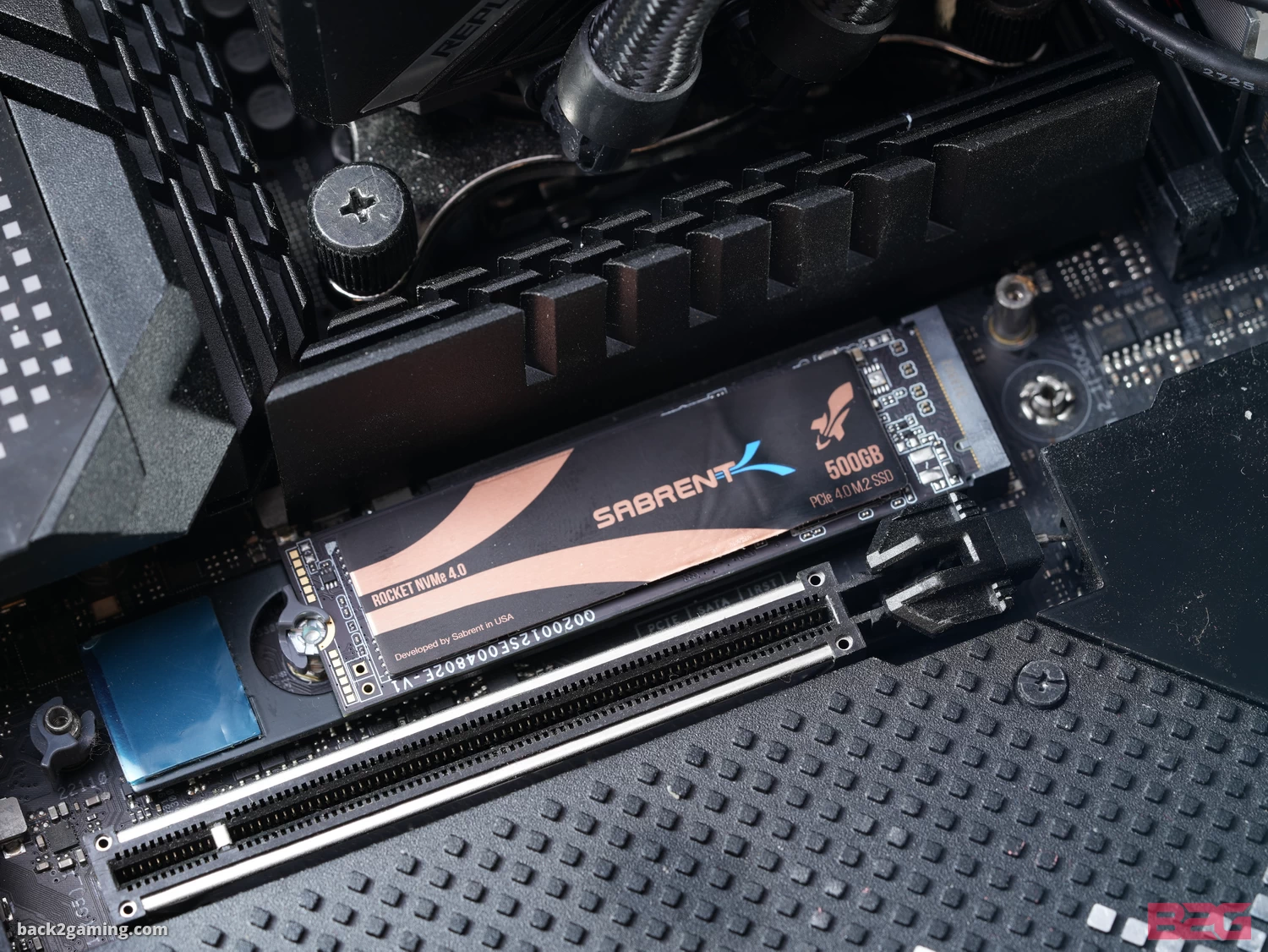 Performance Testing – Sabrent Rocket 4.0
Test Setup
Processor: Intel Core i9-12900K
Motherboard: ROG Maximus Z690 EXTREME
Memory: Kingston FURY Beast DDR5-5200 16GBx2
Storage: Kingston FURY Renegade 2TB (OS), tested drive as listed
PSU: Seasonic Platinum 1050w
Cooling: Corsair H150i 360mm AIO
Monitor: ROG PG27UQ
VGA: ZOTAC GTX 1050 Ti
Our sample for this test is the Sabrent Rocket NVMe 4.0 500GB capacity model
Potential Performance (ATTO Disk Benchmark)
ATTO Disk Benchmark benchmarks a drive's read and write speeds with increasing file sizes and graphs them. The results shows us a good idea of how the drive performs on file sizes, showing us read and write speeds and how consistent they are. The higher the better of course and the the more consistent the numbers, the better. This also shows us if bottlenecks exist for either the controller or the device itself.
AIDA64 Disk Benchmark
AIDA64 features an internal storage benchmarking tool. It has a large suite of read and write tests that will measure both linear (sequential) and random disk performance in both transfer rate and access times. AIDA64's write tests are destructive and will destroy all drive data. Linear write testing in AIDA64 is what I use as a stress for our thermal capture. The random read benchmark here shows us how consistent the read performance is in varying sizes and location on the disk the data is written.
Linear Write
At around 150GB written, we see the drive falling to just above SATA speeds at around 600MB/s write speed. Once we near 250GB written, the drive wobbles flushing its write data but ultimately oscillates at 300MB/s to 600MB/s by  around 400GB written.
Anvil's Storage Utilities
This benchmark features a dedicated SSD benchmark which measures disk transfer rate as well as IO speed. The benchmark serves to compliment the other sequential tests in this review to show consistency.
AS SSD
Another SSD benchmark oriented towards sequential and 4K transfer performance. This benchmark also features a compression and file copy benchmark for more specific testing.
CrystalDiskMark
CrystalDIskMark has been the most actively updated disk benchmark amongst all the ones we use and is effectively the most reliable. Unfortunately, version to version results are not comparable which limits the ability to extrapolate comparative data. Still its a reliable and direct benchmark. Like the previous, it allows control over test data pattern, the test data size, amount of passes and individual benchmark control.
3DMark Storage Benchmark
The 3DMark Storage Benchmark uses traces recorded from popular games and gaming-related activities to measure real-world gaming performance, such as:
Loading Battlefield V from launch to the main menu.
Loading Call of Duty: Black Ops 4 from launch to the main menu.
Loading Overwatch® from launch to the main menu.
Recording a 1080p gameplay video at 60 FPS with OBS (Open Broadcaster Software) while playing Overwatch.
Installing The Outer Worlds from the Epic Games Launcher.
Saving game progress in The Outer Worlds.
Copying the Steam folder for Counter-Strike: Global Offensive from an external SSD to the system drive.
Final Fantasy XIV Benchmark
Final Fantasy XIV has a standalone benchmark application for PC, always updated to the latest game expansion with the latest Endwalker benchmark delivering some very nice graphical updates. A long-standing feature of the Final Fantasy XIV standalone benchmark is the loading data is captures which is a summary of all the load times between scenes in the benchmark.
Playstation 5 Testing
The Sony Playstation 5 supports storage expansion thru M.2 devices and many SSD makers are advertising their drives as supporting the Playstation 5. That said, we've included PS5 bandwidth testing in our reviews. We use the Playstation 5's internal read speed test for the primary initialization. Due to how Sony designed this benchmark, our testing averages at least 5 reads with the drive formatted after a rest period for best thermal results.
User Experience & Conclusion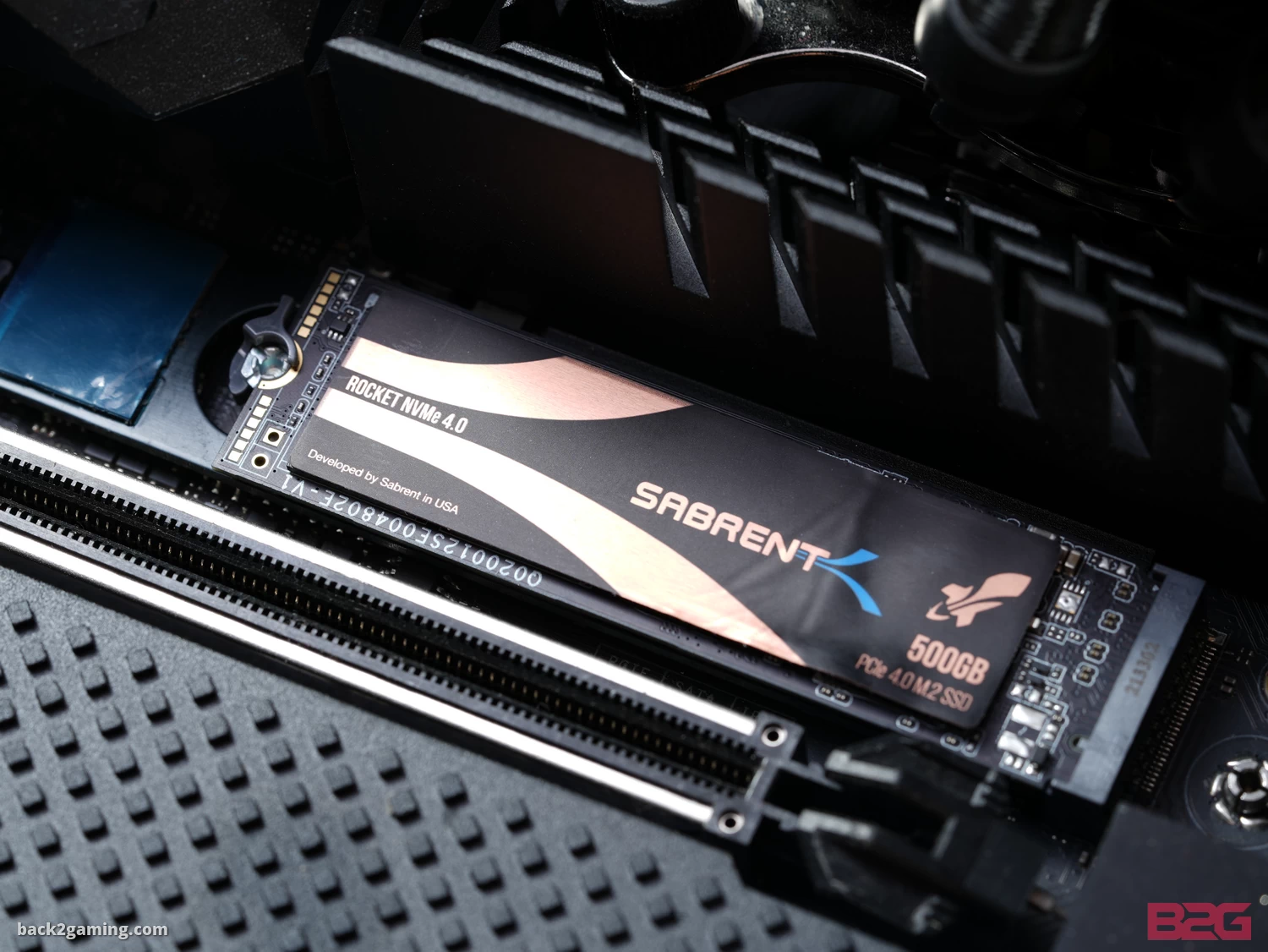 As a 500GB model, the Sabrent Rocket NVMe 4.0 will suffer a performance hit versus 1TB and larger capacities but putting this in context, the Sabrent Rocket NVMe 4.0 performs within its rated speeds which puts it very close to our fastest Gen4 5000 MB/s drives. The higher 1TB model should be a good starting point for most average users but for those that just want an OS drive, the 500GB is a great upgrade if you already have a dedicated performance SSD for your games.
Performance is strong for its bracket as it holds fairly well within its class. As we test mostly 1TB and 2TB models, please read the charts above with this in mind as by design 500GB models will always have a lower speed rating due to having less flash to write on versus larger capacities which have more space they can utilize to not hold up their write speed.
Sabrent includes a heatspreader label with the Rocket NVMe 4.0 which is best used on motherboards with integrated M.2 heatsinks. For those that don't, Sabrent does offer a heatsink as a standalone purchase or already included but that drive up the cost. Sabrent also includes a free copy of Acronis True Image for cloning your old drives to your new Sabrent Rocket NVMe 4.0 SSD. Lastly, Sabrent does offer a 5-year warranty with all of their SSDs but users MUST REGISTER their product to avail of the full warranty as all their drives will only have a 1-year otherwise. If there's a big point against Sabrent, this is definitely one big sore point. If there's any other nitpick it would be the higher price-per-GB that Sabrent currently sits in.
With all of that said, there is an underdog clout surrounding Sabrent and this has gone well for the company as they further expand onto other market. The Sabrent Rocket NVMe 4.0 is a strong performer for its class and product quality also backs that up. For those looking for an OS drive that would double as an application drive as well, the Sabrent Rocket NVMe 4.0 is a good upgrade or expansion should you want to use it as a big game drive/hot drive. Rated for 850TB TBW for the 500GB capacity and 1800TB/3600TB write endurance for the 1TB and 2TB options respectively, the Sabrent Rocket NVMe 4.0 also has good endurance so I remind everyone to register your product to get the full warranty.
Sabrent's Rocket NVMe 4.0 is a decent option if you're looking for a performance drive but want something outside of the standard fare of Samsungs or the flag-bearers of storage like Kingston, WD or Seagate.
The Sabrent Rocket NVMe 4.0 SSD receives our B2G Recommended Seal!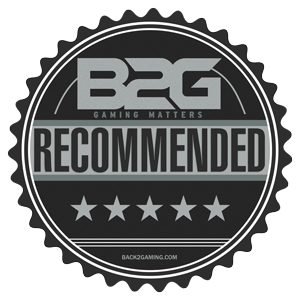 Sabrent is now available in the Philippines via authorized dealers.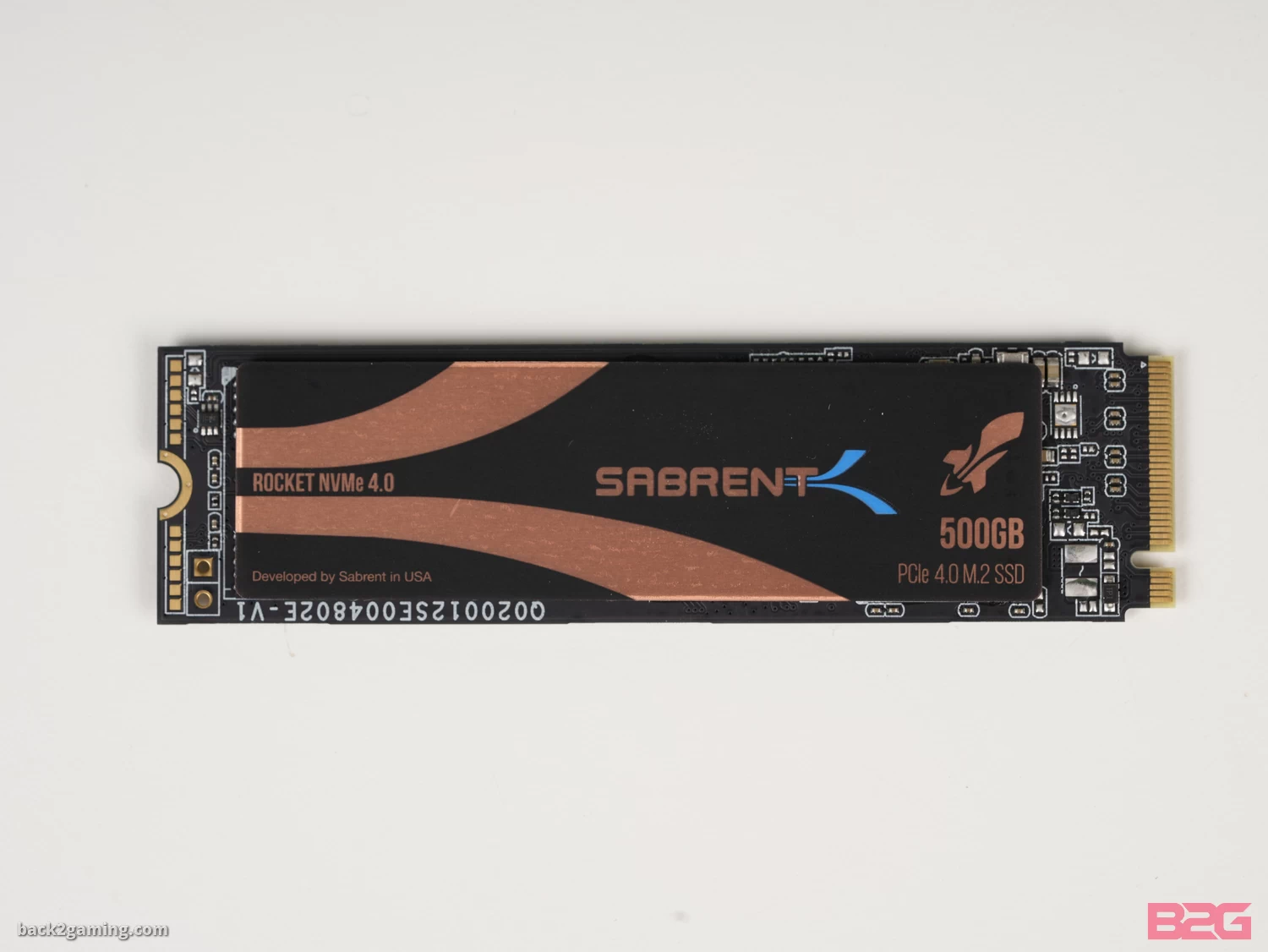 Sabrent Rocket NVMe 4.0 M.2 SSD Review
Final Thoughts
Decent upgrade choice for those that like the Sabrent brand but its fairly higher price-per-GB may put it on the list of those who have the buying power but satisfies when it comes to performance.
Pros
Good performance
5-year warranty (if registered)
Free Acronics True Image for cloning
Good packaging
Cons
Warranty requirement isn't communicated well enough