Kingston is a very widely known storage brand and they have a very rich port folio of SSDs and USB flash drive. It is with that knowledge that you'd be surprised that Kingston only has a few external SSDs under their product stack. This stack comprises of the Kingston IronKey Vault and the Kingston XS2000, both revealed in 2022. Up until 2023, these were the only active Kingston external SSDs in the market and during COMPUTEX 2023, Kingston updates that family with the new Kingston XS1000.
The 29-gram XS1000 aims for the title of the smallest external SSD, aiming squarely at Samsung's T7 and T5 line-up which carved a sizable niche for themselves especially with those looking for speed-focused portable storage. With price significantly coming down, Kingston played their hand safe with the initial launch of the XS2000 which was a USB3.2 Gen2x2 device capable of 20gbps transfer. Although faster, not a lot of devices had this port and a more common port would be the standard USB3.2 Gen2 10Gbps port used by the new XS1000 that we will be reviewing today. Read on to find out more!
Features & Specification – Kingston XS1000
Includes USB-C to USB-A cable
USB 3.2 Gen 2
Speeds up to 1,050MB/s read, 1,000MB/s write
Part Number: SXS1000/1000G
XS2000
XS1000
Interface
USB 3.2 Gen 2×2
USB 3.2 Gen 2
Speed
2,000MB/s read, 2,000MB/s write
Up to 1,050MB/s read, 1,000MB/s write
Capacities
500GB, 1TB, 2TB, 4TB
1TB, 2TB
Dimensions
69.54 x 32.58 x 13.5mm
69.54 x 32.58 x 13.5mm
Weight
28.9g
28.7g
Casing Material
Metal + Plastic
Operating temperature
0°C~40°C
Storage temperature
-20°C~85°C
Warranty/Support
Limited 5-year warranty with free technical support
Official product page: XS1000 | XS2000
Closer Look – Kingston XS1000
Kinston ships the XS1000 in their standard colored box featuring a hero shot of the product in the front. Curiously, in this exact packaging the product image on the box is the exact size as the actual product. The back of the box contains some details but nothing of importance.  The package contains the actaul SSD and a USB-A to USB-C cable.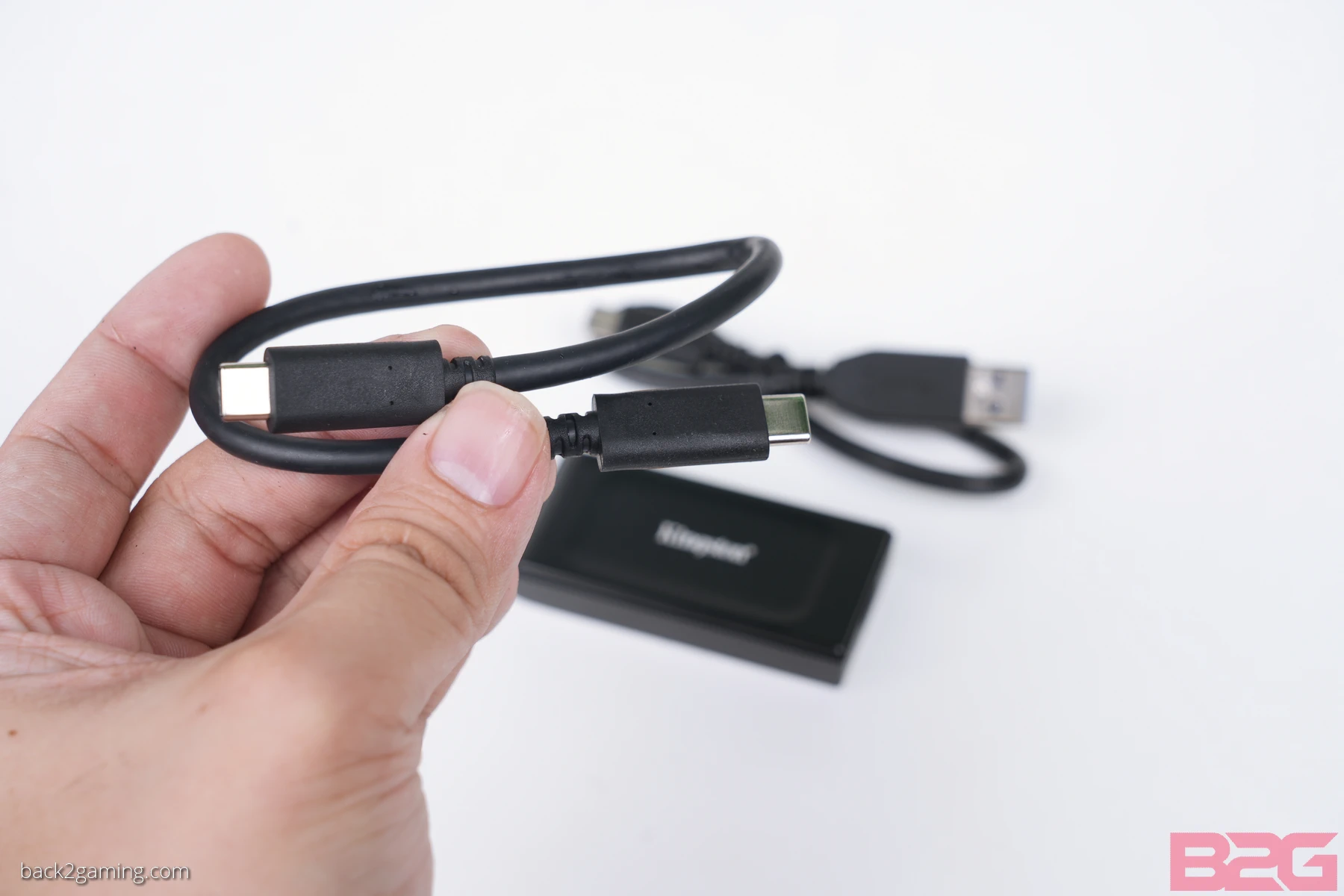 Our sample was sent with a USB-C to USB-C cable separately. I'm unsure if this is the same for retail copies of the product but please contact Kingston to confirm. Otherwise, the Kingston XS1000 works regardless of cable as long as it is a compliant USB-C data cable.
By itself, its surprisingly hard to gauge the scale of the XS1000. Kingston uses the same housing on the XS1000 and the XS2000: an aluminum top and bottom houses the internals of the SSD which is comprised of a custom PCB. Before we look at the internals, the rest of the housing features a simply housing design.
The Kingston XS1000 is available in plain black while the XS2000 is offered with a rubber bumper that wraps around the silver body and is completely removable.
There are plenty of external SSDs on the market right now but Samsung predominantly holds a distinct position in terms of adoption. That said, Samsung's T7 is currently their smallest offering and here's a couple of comparative shots of the Kingston XS1000 versus the T7.
Further size comparison versus various currencies.
The Kingston XS1000 is powerd by a Silicon Motion SM2320G which is capable of handling both TLC and QLC NAND as well as integrating the SSD and USB controller duties on this device. As mentioned, Kingston uses a custom PCB that maximizes board space for only the NAND and controller.
This is a thermal shot of the XS1000 during a linear write test which generates signficant heat in the majority of our tests. The Kingston XS1000 is a passively cooled device but since the actual heatload is fairly low. In a 28*C room, the case holds to around 41*C feels just a touch like a slight fever on the hand but nothing that feels it should be concerning.
User Experience and Conclusion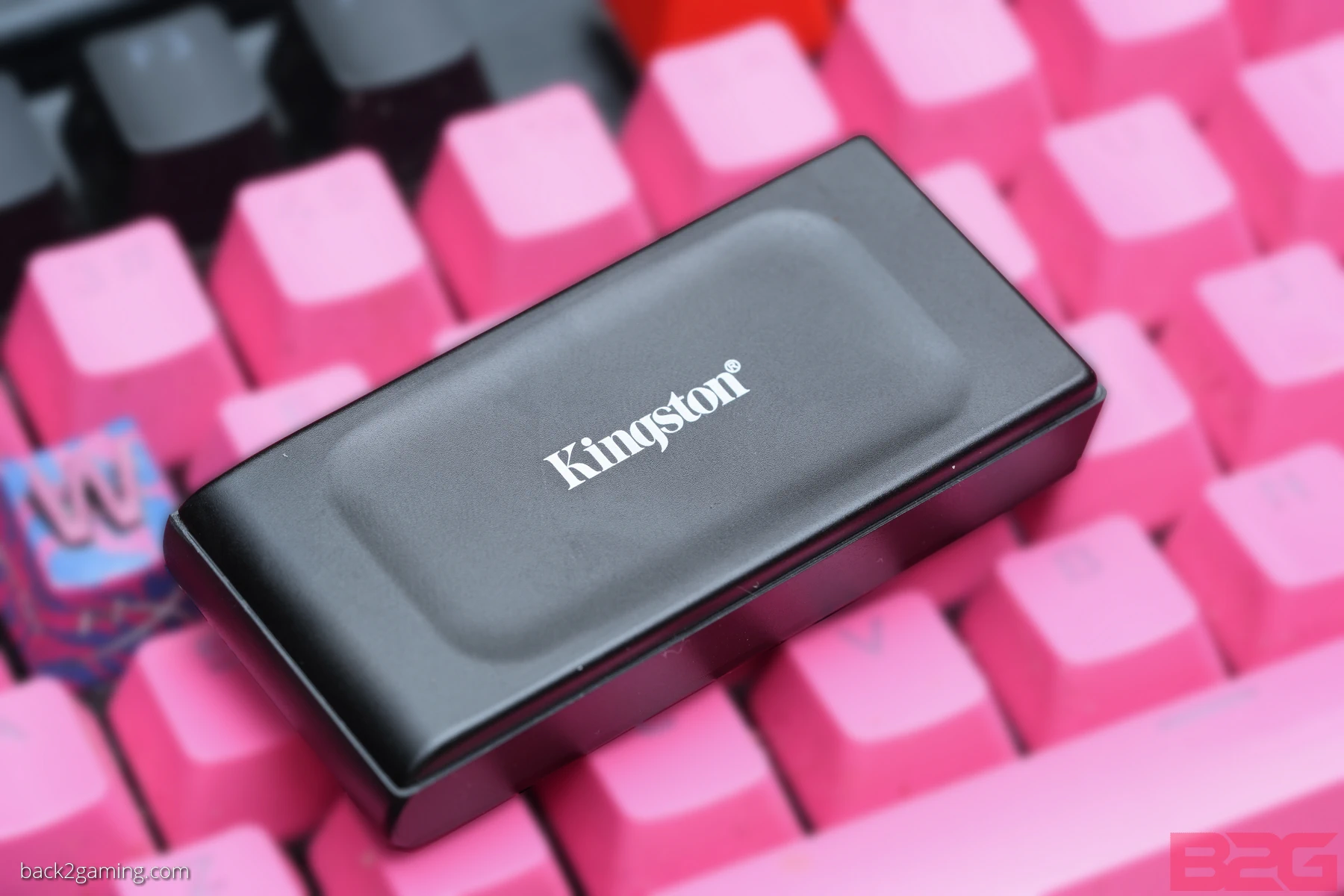 Kingston officially lists the XS1000 for US$65 (1TB) / $110 (2TB) . Philippine pricing is around PHP4350 (1TB) / PHP6950 (2TB)
I usually skip performance testing for external SSDs but I felt its nice to see how fast the Kingston XS1000 especially with the focus on size. Typically, external SSDs are M.2 boards modified to have an onboard USB controller or a complete converter board.
A quick benchmark in Crystal DiskMark confirms our throughput which is the key number here. Most transfers that external SSDs would see are large sequential transfers and bulk folders.
As with every other SSDs, the XS1000 has a certain amount of buffer that sustains writes. Unfortunately for very large files, the ~180GB of write cache is quite small for large backups.
It also doesn't help in large single file writes that's used for applications like Atomos recorders or Blackmagic cameras. The benchmark above does show the XS1000 passes the speed requirements for the respective resolutions and encoding types. It is still importante to note that after a certain file size, the speed will drop to 200MB/s which may not be not enought for high-definition direct-write recording and may lead to skipping.
Ultimately the Kingston XS1000 is an essentials-first storage. It loses the 20gbps speed of the XS2000 as well as its rubber bumper which grants IP55 rating for the XS2000 but those were just accoutrements to bump up the higher tier than the XS1000. The XS1000 itself is the base design that focuses on the job at hand and while it doesn't excel on any specific usecase, it is a very flexible storage solution and is an absolutely very compact storage option.
It doesn't directly dethrone Samsung in pricing but Kingston leads in terms of size. Still, Blackmagic users have embraced Samsung drives as makers have made it quite clear their form factor allows better support in cages. Still, with Kingston's size advantage, I don't mind sticking a velcro tape on one side of this drive and using a slimmer cable to mount it on a BMPCC.
For more daily use, a pocket would be just fine but there is the thing with the cable and not a lot of companies address this but it would be great to have a a way to stow the cable easier together with the drive. Kingston does no such thing but so does the 98% of the industry so I won't dock any points for it as Kingston's tiny foot print still makes it the most compact drive we've tested.
In closing, the Kingston XS1000 is a very snappy drive and large file transfers will definitely saturate your USB3.2 Gen2 10Gbps channel but for the most part, so will a USB3.2 Gen2 flash drive. Kingston's own DataTraveler line has very competitive options in this space and its only a matter of application where you should place your money. If you need to only transfer smaller files then a flash drive would but if you need to travel with a larger set of files then the Kingston XS1000 is the better option.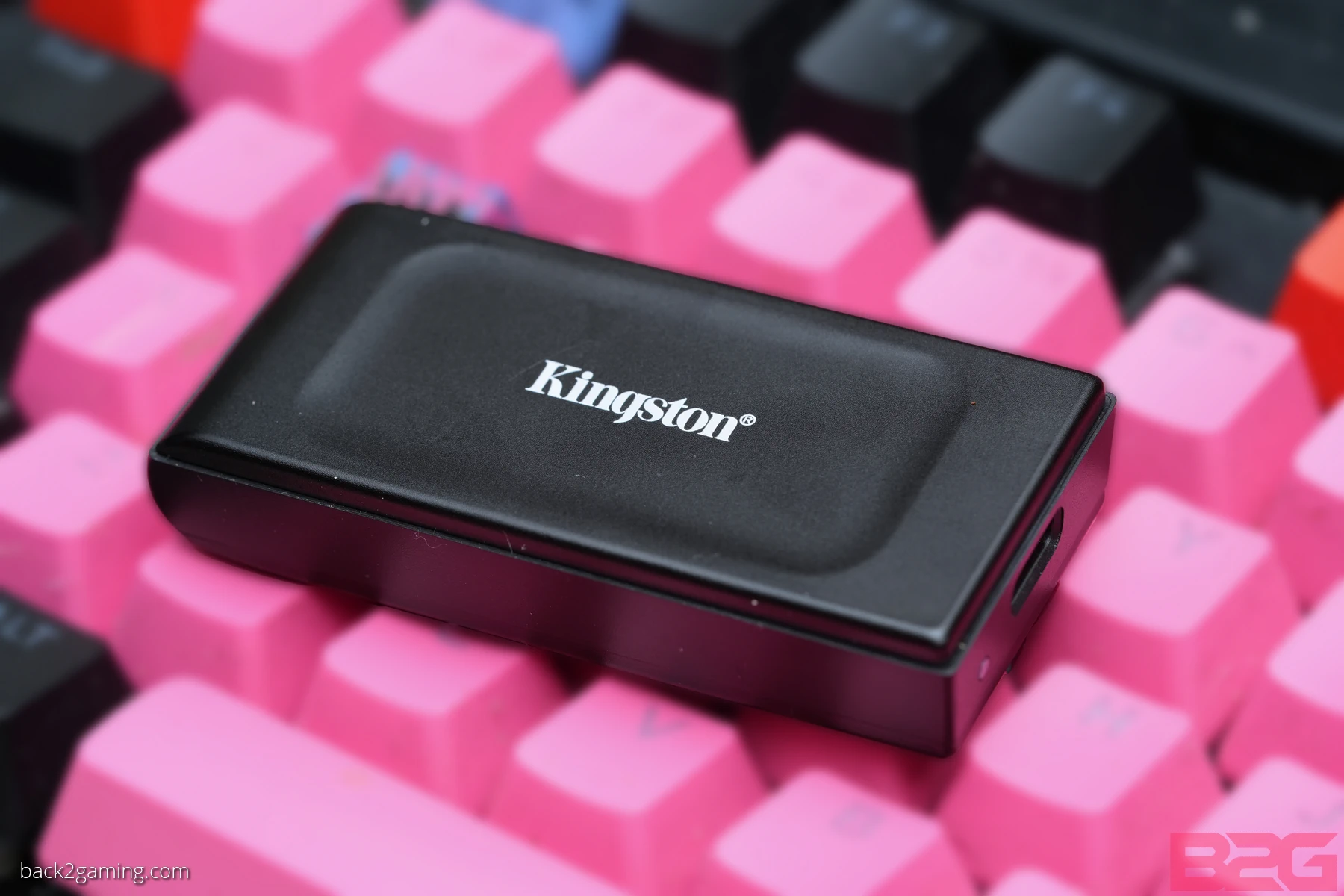 The drop in pricing in the global SSD pricing has seen solutions like this become more affordable. It has also opened up the market for SSD makers to make more creative solutions. Kingston opted to go smaller and that decision is definitely a welcome one. Comprising of the same specs as the higher-tier XS2000, the Kingston XS1000 is every bit as performant as its 20gbps brother.
The Kingston XS1000 external SSD comes with a 5-year warranty. It earns a B2G Value badge.
Kingston XS1000 External SSD Review
Final Thoughts
Kingston opted to go smaller and that decision is definitely a welcome one. Comprising of the same specs as the higher-tier XS2000, the Kingston XS1000 is every bit as performant as its 20gbps brother.
Pros
Excellent performance
Extremely portable
Compatible with consoles
Decent price
5-year warranty