Spoiler warning: God of War Ragnarok (PS4/PS5) occurs after the events of God of War 2018 (PS4/PC) and will reference events in that game. This review is spoiler-free for God of War Ragnarok.
God of War on the PS4 kickstarted a new story for Kratos, who at this point is now 4 games into the God of War franchise which dates all the way back to the Playstation 2. With such a storied legacy, God of War 2018 was a risky move that paid off bigtime and has attracted a new generation to Kratos' story, this time around also bringing his son, Atreus, as well as new character into the mix for us the care about. God of War Ragnarok pushes this new story further as the continuation of Kratos' and Atreus' adventure continues.
Picking up after the event of God of War 2018, God of War Ragnarok can stand on its own as a game but does require players to at least have a summary understanding of what has happened before in the 2018 game as that is partly what is driving many of the character in the game namely Atreus, Freya and Odin. Kratos, despite his protagonist status, is just in it for the ride as he struggles to understand his son Atreus' goals.
God of War Ragnarok is available for PlayStation 4 and PlayStation 5 on November 9, 2022.
Plot
The game gets you up to speed witht the events in game via a summary recap of God of War (2018). For those who are new to this game but have some knowledge of Kratos, the former Greek God of War has now moved to a new land, leaving behind his Olympus massacre-ing days as the Ghost of Sparta behind. He has since started a new family with a woman named Faye which gave them a son, Atreus. Faye has since passed but wished for her ashes to be brought to the highest peak of the Norse myth's nine realms. This is what kicks off their adventure in God of War (2018) and what makes them cross paths with many characters that are pivotal in Ragnarok's story.
In God of War Ragnarok, Atreus is growing up and his puberty-charged quest for independence sees him at odds with a struggling parent in Kratos. His self-admitted uncles of sorts, Mimir, Brok and Sindri pepper his life with wisdom and support (albeit some of which may not be to Kratos' liking, especially Sindri's) all of which gives varying angle as Atreus tries to seek out answers to his quest to fulfill his prophecized role in Ragnarok.
Its here that the game really struggles to keep it together in terms of narrative as Atreus drives most of the game's in-game narrative direction. He switches from fully well thought-of goals to emotionally charged quests at a drop of a hat and Kratos, is just in it to protect him as he wants to keep Atreus safe. Just like a kid in a mall, Kratos eventually loses his patience in following Atreus around part-way into the game as one of the new characters, Tyr joins in.
Story plays a major role in what attracts folks to this new God of War arc and its vital that God of War Ragnarok pulls it off, leaving a healthy memory to those both new and old to the game and despite its misses, is predominantly likable thanks to a rich play on modern cues that give the script a more livelier vibe despite its mythological setting. All of this gives characters like Atreus, Thor and Odin himself more memorable scenes in the game Thor and Odin act like their mafia muscle and mafia boss, amongst others. Characters like Kratos and Freya are still more traditional, driven more by excellent mocap acting and strong writing to set their character apart.
All of this culminates in a satisfying wrap-up to God of War Ragnarok which I won't spoil but to give it a brief description, is just as satisfying as God of War (2018) was and for many fans, its definitely going to be one of the most memorable stories for the Playstation so far.
Gameplay
God of War's gameplay is a more polished approach to the revised gameplay of God of War (2018). For those missing the 2018 game but have played the classic God of War of the Playstation 2, Kratos has lost most of his Olympus powers as the game moves to an action RPG format. Many classic God of War franchise tropes are still present like button press quick-time events (QTE) or the R3 finish but the hack-n-slash game of yore has now been replaced with a deeper RPG system that allows players to create builds.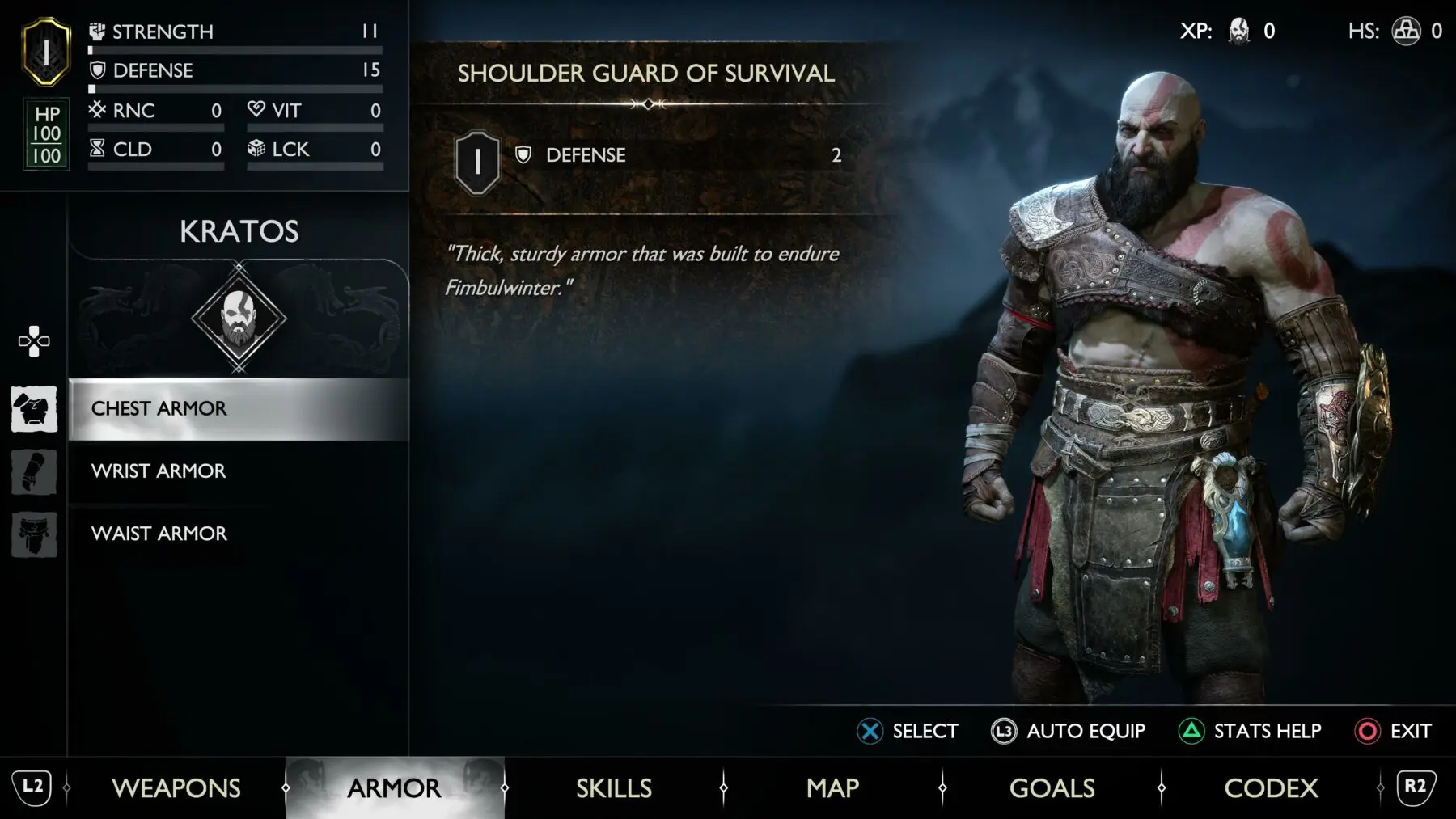 That said, much of what makes Ragnarok a fresh game is the feeling of combat and the game now embraces Kratos' weapon variety by giving a more fleshed out move set for both the Leviathan Axe and the Blades of Chaos. Ragnarok still infuses weapon levelling as well as armor crafting to bolster your loadout and still compliments the new build system which allows players to create a Kratos for their own playstyle. Kratos can now be a critical-counter master or a brute tank depending on your loadout which adds in a greater sense of variety in combat.
Part-way into the game, we'll be introduced with Atreus' new combat style. Mixing his arrows with melee combat is a welcome evolution from his support role. The game also introduces a new support character for Atreus which adds works great with his gameplay. I will admit Atreus section in the game feel a bit more forgiving and if you feel strongly that Atreus should be more hardened by this point, I would agree. The plot handholds Atreus very much and the game's segment which brings him to centerstage doesn't do much to help improve that. Atreus is still Kratos' child and Kratos is here to protect him, and that remains true for this game.
The lack of open-world exploration will feel like a detriment to this game as its rich combat experience will feel like a seasoning in a puzzle-laden world. New puzzle mechanics are added in but they're mostly there specifically for that purpose to serve as a segment in what will feel like a linear path. The game flows from the start of a mission to visiting a new realm, solving puzzles and fighting goes in-between ultimately culminating in either a boss fight or a mini-boss fight. And the game repeats this formula allthroughout. The glue that keeps the game together is its strong resolve to see our characters thru and to see what's on the other side so if you're the kind of player that rushes games just to either refund them the same day or sell them off after a few hours of rushing thru the game, it'd feel really repetitive just to be rewarded with scenes of Aesir gods in combat.
Visuals and Audio
My favorite aspect of modern games and something I've always loved talking about is mocap and voice acting. With real actors now working behind the game's CG, there's now more nuance and depth to characters than ever before and it really feels like a vital part of many narrative-driven titles now more than ever. This is never more true than in God of War Ragnarok as Christopher Judge, Sunny Suljic, Danielle Bisutti and the rest of the cast deliver a stellar performance delivering emotions captured in more detail thanks to modern hardware opening up higher resolution in game that gives the CG more depth. Its going to be fun watching the behind-the-scenes of the mocap sessions.
If you're only in it for the story, then allow the actors to immerse you in it. Skipping lines and dialogs will miss much of what makes the game an excellent experience.
Speaking of resolution, the game does get a graphical improvement with more detailed textures. Still, as a Playstation 4 release is present, this limits the game's full graphical potential as it skips next-gen features for the PS5 that exclusives like Horizon Forbiddent West take full advantage of. It might sound elitist, but its a sad reality as Sony still aims to push more PS5 units out to market so to offset potentially missed sales, their offering their major title a PS4 version to satisfy their install base while they try to push upgraders into opting for a PS5 despite being a 2-year old console. There is a God of War Ragnarok PS5 bundle for new owners if you're looking to get into that train.
God of War on the PS5 supports Quality mode and Performance mode, which sees a full 4K resolution 30FPS experience while performance drives framerate to a solid 60FPS in the game while driving at a lowered resolution. The game is a much smarter implementation of quality settings, as the game doesn't drop texture much but relies on disabling some graphical features like shadows in objects to provide improved framerates. The graphical difference is very minimal, so for most, I suggest sticking to Performance mode. High Framerate mode is also present giving the game a smoother feel on both modes, but with this implementation following a similar approach to Forbidden West where resolution  is dropped to realize the higher frame rate. A VRR monitor is highly recommended for this but not recommended although the game does feel its not locking out at 120FPS so stuttering may be an issue for some.
Moving over to audio, as I've already mentioned the game's voice acting is impeccable and a huge part of what makes God of War such a great experience. I've never been a fan of God of War 2018's score and that doesn't change in Ragnarok. As masterful as they are, they lack the oomph that the original Playstation 2 titles had. The power of brass instruments blaring in the background while classic Kratos, voiced by TC Carson, grunts and roars as he poinds the gods of Olympus is as memorable as they get. While I do get that scenes inspire the energy of the score, it remains flat throughout the game and only serves as backing audio for scenes that may have done well with a more infused score.
Ultimately, God of War Ragnarok's set pieces are exquisite and the voice acting is ripe with emotions, peppered with scenes of light humor to keep the familial harmony of the game together.
Conclusion
I have very high hopes for God of War Ragnarok, both in gameplay and graphics. That is a personal choice. While the game didn't live up to my expectation, it has reached the same heights as God of War (2018) as a gaming experience, and its simply one of the most memorable games of 2022 and easily contends for the current top Playstation game of the PS4/PS5 era. With Sony fighting to keep itself in contention as the top console of this generation as it faces a rising threat from Microsoft, it desperately needs a title to bolster its presence while keeping both PS4 and PS5 owners happy. God of War Ragnarok is on a trajectory to just that as it provides a cinematic gameplay experience rivalled by its own technical masterclass platform brother, Ghost of Tsushima.
But while Ghost of Tsushima remains partly a gaming culture classic, God of War is bound to break into mainstream and Sony is intent in helping it achieve godlike status. Truth be told it doesn't need it as it can stand on its own two feet but God of War Ragnarok is facing the holiday season surge of gamers who may have their first gaming experience with God of War Ragnarok and I believe its definitely going to hold up for gamers of all ages (strong language aside).
As a $70 game, the main question here is if its worth it? As a fan of cinematic gaming titles, the answer is an unequivocal yes. Perhaps the Norse parallel will make it an easier comparison, but God of War Ragnarok is a far better experience than the MCU's Thor Ragnarok but despite their large difference, both in media and depiction, both held up well to critic scrutiny that will range from "just right" to "stellar".
God of War Ragnarok is not genre-defining title but for the Playstation, its a resoundingly good sequel to its predescessor that effectively distills that age-old adage of "if it ain't broke, don't fix it" effectively improving on the new God of War formula while improving on what it can.
---
A digital review copy of God of War Ragnarok for the Playstation 5 was provided by Sony Playstation for this review. Sony Playstation did not see this review before publishing.
God of War Ragnarok (PS5) Review
Final Thoughts
While the game didn't live up to my expectation, it has reached the same heights as God of War (2018) as a gaming experience, and its simply one of the most memorable games of 2022 and easily contends for the current top Playstation game of the PS4/PS5 era