We've recently covered the WD UltraSlim and the drive is surely proof that WD is setting milestones when it comes to physical size reduction in its products. This isn't limited to the UltraSlim line, as we will see today with the WD MyPassport Air. This 2.5″ portable USB3.0 hard drive features a slimmer profile making it more pocketable than previous version of the MyPassport. We'll take a look at how the drive performs and see if it maintains or outperforms the competition.
WD is progressively making noise in the storage market with their relentless chain of product releases. We've recently seen WD step into the networking market and update their storage port folio with 4TB drives, now we'll be looking at their new drive the WD My Passport Air.
SPECIFICATIONS

CLOSER LOOK
Looking at the packaging, its quite clear that WD is marketing to Mac users. Coincidentally, this is the first WD packaging I have seen (except for their routers) that have yellow packaging. The sample we have for today is the 500GB variant and right now, it is the only model in the line-up.
The front of the box flips open revealing a peek of the drive protected by blister packaging. Opening up the box we have a humble bundle of the My Passport Air, a USB3.0 cable and some documentation.
The packaging doesn't really do much justice to show-off the metallic casing of the MyPassport Air, even though the box says it is encased in metal and there's see-through window, it is only when you hold the drive in your hands that the MyPassport Air really give you that feel of absolute quality. The top shell is semi-gloss black with sandblasted look. Like other WD MyPassports the top shell is clear from prints except the WD logo and model name.
Flipping the drive, we see the same sandblasted effect on the chassis this time in silver.
And here's what WD is bragging about. If you need an idea on how thin 11mm is, look at that USB3.0 port. We've already have seen drives this thin before though so it's not that spectacular for us. One thing that distinguishes WD drives from others is the fact that Western Digital use custom PCBs that bypass the SATA ports and instead outputs the signal straight to USB3.0. This saves almost an inch of of length because no conversion plug is between the SATA and USB3.0 interface and this is what sets WD apart.
USER EXPERIENCE & CONCLUSION
We'll forego the usual benchmark suite for now as we're rebuilding it at the moment. For now we'll go straight to what we think of the drive but that's after we check out some key performance figures.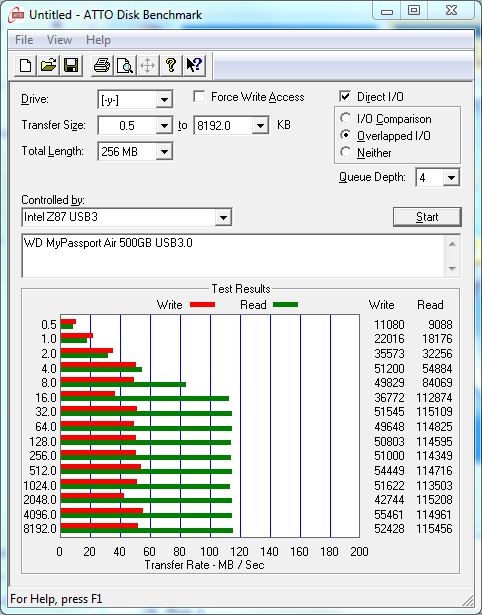 Looking at the results we got above, the WD MyPassport Air showcases read potentials in the ranks of most modern drives even desktop ones but these are already good. What's not looking so hot is the write performance which at 54MB/s is a bit behind what we see from USB3.0 drives. Anyways, let's  see some actual testing to really feel what the drive offers.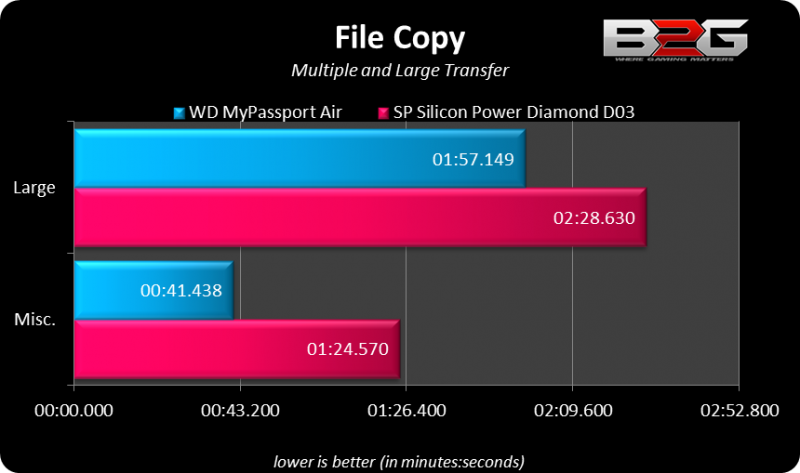 We pit the WD MyPassport Air with the equally thin SP Diamond D03 and the chart above shows that despite what ATTO shows us earlier, the WD MyPassport Air in real-world applications is still a very fast portable drive. Our Misc. file transfer test consists of files ranging from 1KB-10MB, a total of more than 3.1GB while our large file test is a single 12GB video file, all of which are what we think are representative of real-world applications of this drive.
The WD MyPassport Air has a launch price of US$95 but as of this writing the price has come down significantly and can be seen in e-tailers for around US$79. That is for the 500GB model only. Some documents may lead us to believe that there is a 1TB MyPassport Air but there is no confirmation of that. Given that scenario, the MyPassport Air is in a market dominated by price:capacity and despite its Mac loyalist appeal, people with more reason than cash will certainly opt for other options particularly the WD MyPassport for Mac, Edge or just the vanilla product line.
By itself, the WD MyPassport Air is a significant performer and has a premium feel to it. The solid construction is true to what we've expect from Western Digital but as it stands, the price is the main detractor here and we just have a very hard time recommending the WD MyPassport Air for just anyone. In closing, the WD MyPassport Air is a good 500GB portable drive that costs more because of its metal body and slimmer profile. If the looks and feel is a must-have for you, then by all means.
The WD MyPassport Air is backed by a 3-year warranty.