As we've posted earlier, November 14 would be the day that more than 100 modded gaming and overclocked PCs will makes their way to the Palladium World Shopping Mall in Bangkok, Thailand for the biggest enthusiast showcase in Asia: the ASIA LAN PARTY 2015.
With 103 entries, 650 guests and 21 brand partners ASIA LAN PARTY 2015 is undeniably one of the largest culmination of PC enthusiasts in the region.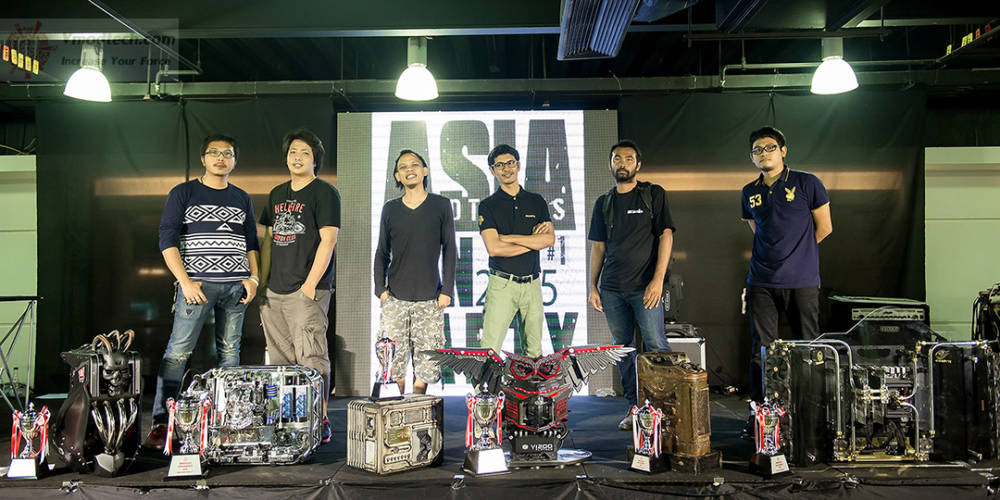 Headlining the event is the PC Modding competition with Scratch Build and Tower categories being won by the following people:
Scratch Build Category
PRIZE
Position
Name
Case Name
Scratch Build Prize
1st Winner
Mr. Suchao
Strix Soar Sky
2nd Winner
Mr. Chaiyapoj
Golden Dimension
3rd Winner
Mr. Nirut
U.S.ARMY Pawaii Paratroops
Tower Category
PRIZE
Position
Name
Case Name
Top Three Tower Mods
1st Prize -(Baht 10,000)
Mr. Kittanon
Terminator T800
2nd prize -(Baht 5,000)
Mr. Siwasak
Ghost Rider 2029
3rd Prize -(Baht 2,000)
Mr. Pakawat
Steel Body
Congratulations to all the winners!
Also gracing Asia LAN Party 2015 are the brand partners from across the industry making this event possible. The brands showcased their latest products during the event and flaunted their latest and greatest products as seen in the gallery below:
One of the notable brand present is ECS because of their unique display on show during the event. We've reviewed the ECS LIVA and LIVA X in the past and we've noted how practical this little device is but as many of our readers know, ECS has put a daring spin with their LIVA promotions and went on to hold a Design Your Own LIVA competition.
During the ASIA LAN PARTY 2015, some modded LIVAs were also on display. During Computex 2015, some of the new LIVA models were also unveiled featuring newer designs and features to cater to a wider audience namely the LIVA ONE, LIVA X2 and LIVA CORE.
As we've said, there were 103 modded PCs on display during the ASIA LAN PARTY 2015 and is by far the largest collection of customized rigs we've seen in one place, so large in fact we can't fit them all here so here are JUST SOME of the PCs on display during the event:
We'd like to extend our sincerest congratulations to the event organizers, participants and brand partners that made ASIA LAN PARTY 2015. We look forward to another year of the event and hopefully have some of our local PH representatives become part of the event or even host the next one.
Read more from the official website: http://asialanparty.com/2015/11/17/asia-lan-party-2015/