Introduction
ASUS' ROG MAXIMUS Formula class motherboards have been one of the most beautiful motherboards designed ever since ASUS started putting a full shroud, front and back, on these motherboards. While EXTREME class boards, are now wearing shrouds as well, there's just no denying that FORMULA boards are just simply cleaner. With such refined aesthethics, it's quite hard to really evolve the look or change it entirely. Take a look at last year Formula-class from the Maximus XI line:
And below we have the Maximus XII Formula. The big difference here is ASUS ditched the abstract lineart on the shroud and replaced it with straight lines. This also means that the RGB has been lost in those parts as well. Overall though, they'e the spitting image of one another. It's an effective style and one that we agree with but ASUS has not sat on their butt and has improved some details about the board including the power delivery as well as some of the new inclusions that this generation entails.
Read on to find out more abut the Maximus XII Formula in this review. Let's begin!
Intel 400 series Chipset – Z490
Let's be honest Intel, I'd usually do a full breakdown of the chipset for this generation but truth be told, it's pretty much the Z390 with WIFI6 and LGA1200 socket. Intel cites that the new motherboards required a new power configuration hence the new socket but then again, that's for the socket, the chipset itself is left with just WIFI6. Intel could've released second-gen Z390 but it wouldn't make motherboard makers happy, would it? For motherboard makers though, they have full freedom to explore newer power implementations. With experience from AMD's high core-count chips, the Z490 should inherit a lot from the X570 of last-generation in the power delivery side and have some space to play around with the features.
Intel Z390, B460, Z370 and Z270 Chipset Comparison
Feature
Z490
B460
Z390
Z370
Max PCH PCIe 3.0 Lanes
24
24
24
24
Max USB 3.1 (Gen2/Gen1)
6/10
?
6/10
0/10
Total USB
?
?
14
14
Max SATA Ports
6
6
6
6
PCIe Config
x16
x8/x8
x8/x8/+4
x16
x8/x8
x8/x8/+4
x16
x8/x8
x8/x4/+4
x16
x8/x8
x8/x4/+4
Memory Channels (Dual)
2/2
2/2
2/2
2/2
Intel Optane Memory Support
Y
?
Y
Y
Intel Rapid Storage Technology (RST)
Y
?
Y
Y
Max Rapid Storage Technology Ports
3
?
3
3
Integrated WiFi MAC
Wi-Fi 6
Wi-Fi 6
Wi-Fi 5
N
Intel Smart Sound
Y
?
Y
Y
Integrated SDXC (SDA 3.0) Support
?
?
Y
N
DMI
3.0
3.0
3.0
3.0
Overclocking Support
Y
N
Y
Y
Intel vPro
?
?
N
N
Max HSIO Lanes
30
?
30
30
Intel Smart Sound
?
?
Y
Y
ME Firmware
14
14
12
11
Table courtesy of Anandtech
ROG MAXIMUS XII FORMULA – PACKAGING AND CONTENT
Unboxing
This part of the review is lifted from our unboxing article of the Maximus XII Formula
I'm not sure if I have not seen a Formula board for a long time or ASUS is really slimming down the bundle on these board. The Maximus XII Formula has, aside from the standard RGB cable, SATA cables, WIFI antenna and manuals, you get a hang-tag. AND A CD. In 2020. You get a compact disc. In the year 2020. Seriously ASUS? For a Formula board? A CD?
ROG MAXIMUS XII FORMULA – Closer Look
There's a whole lot of shroud in this board and pretty much 90% of the surface area is covered in that shroud. the M12F also has a large backplate at the back and a M.2 slot as well. As mentioned, this board hide's a lot behind a shroud but surprisingly, majority of the headers are all accessible without the need to remove the shroud. Also notice the mirror gloss on the shroud which is a nice touch but being a fingerprint magnet, I'm not really too keen on that.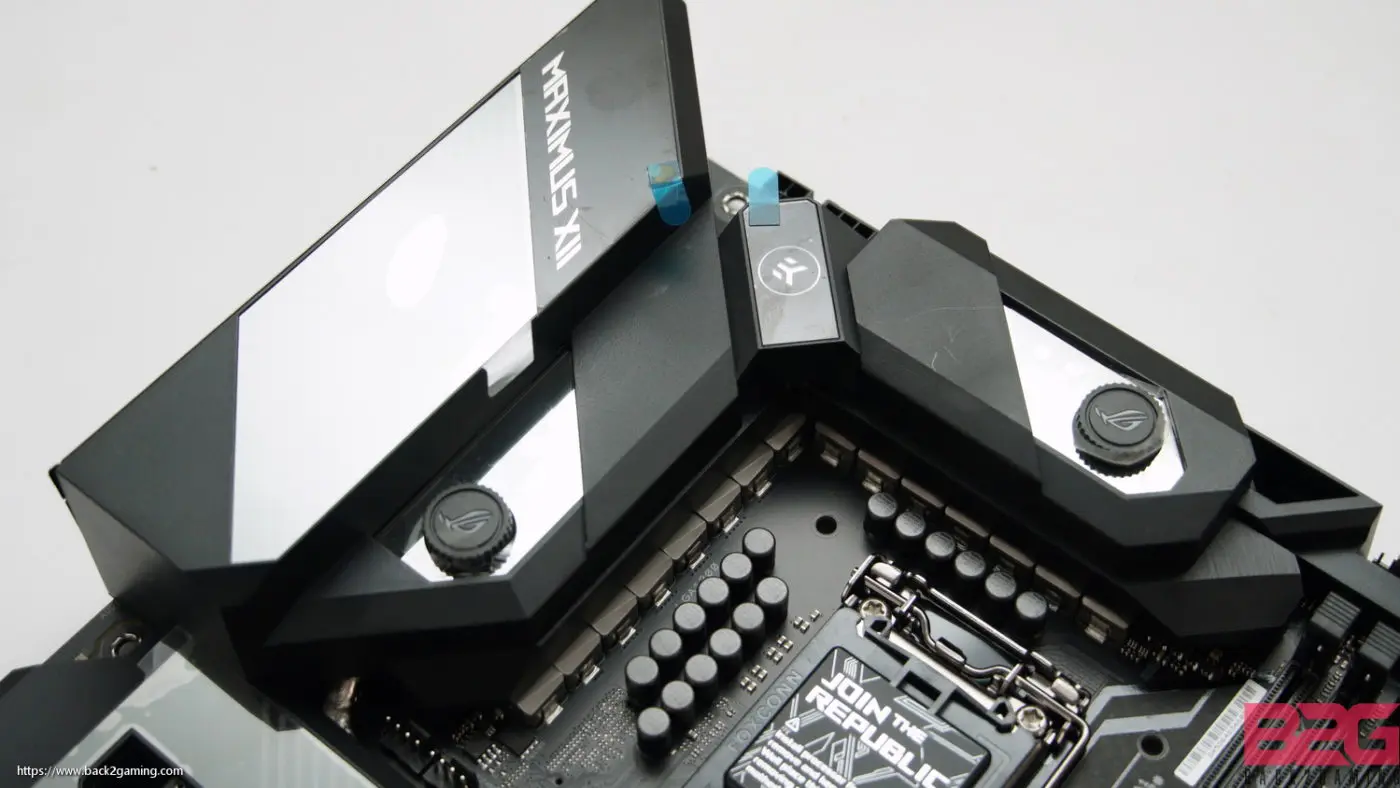 The Maximus XII Formula shares the same 16-phase power delivery design like the Maximus XII Extreme, making them much more alike. This 16-phase is built on the same teaming principle that ASUS used on the Maximus XI but was met with confusion as to what it really is. Dr. Albert Chang from ASUS explained this in-detail during COMPUTEX 2019 and sheds a lot of light what ASUS is going down that path despite the marketing challenges it creates.
This VRM is cooled by a EKWB water-channel/heatsink block which has always been a signature and welcome touch.
The board supports up to DDR4-4800 and should handle double-density modules on all four slots on higher frequencies.
The bottom area of the shroud hides two M.2 slots which is perfectly-placed.
Lights on the board are a bit more subdued with the OLED LiveDash being the most visible light on this board.
BIOS Walkthrough
ASUS is still retaining the same look and feel from their BIOS from the past 3-4 years and its a nice layout and feel. There's nothing new added here except for some unique features of this board as well as minor details like the return of SP under the overclocking prediction which we are sure stands for Silicon Points, and older predictive scoring system from ASUS that intends to grade your CPU but has no real world nor Intel-certified counterpart and is just ASUS doing they're AI thing.
Software
ASUS is heavily investing in their software ecosystem in recent times and most of their enthusiast products will be accompanied by the Armoury Crate app. A unified control center for controlling your devices as well as RGB and fans, etc. ASUS builds a lot of things into Armoury Crate and is nice enough now to ask before installing it. It's a nice little software suite that has improved over time and some people sleep on it, but ASUS has a nice little promotion tab on this thing where you can score some sweet deals and freebies.
AI Suite III is still ASUS's go-to performance and power control software that is yet to be integrated into Armoury Crate. AI Suite III allows you control over memory timings, CPU clocks, voltages and all of those things straight from Windows and you can overclock straight from Windows as well. You can tell a different team handles AI Suite development and Armoury. They just feel different and with regards to AI Suite III, it's been stale for so long with no development on it that its just a piece of novelty that average-joes install without second thought. Nobody loves you AI Suite III.
Much of the newer features are in audio and network, albeit GameFirst is quite mature at this point, ASUS's implementation of "AI" into the software makes it a more dynamic tool for network management. Integration of ASUS router pairing makes it so that your router knows which devices needs the most priority while your device handles internal outgoing and incoming traffic.
Sonic Radar and Sonic Studio are still with us in this release. Sonic Studio now includes a virtual mixer tool which allows some nifty audio control intended for streamers to handle their audio. Sonic Radar is a visual augmentation for converting 3D and directional audio into spatial guides by showing you where sound is coming from which ASUS intends to be an "advantage" for gamers who can maximize the tool in their gameplay.
Test Setup & Methodology
Test Setup: Intel "10th-Gen"
Processor
Intel Core i9-10900K, Intel Core i7-10700K (both engineering samples)
Motherboard
ASUS ROG MAXIMUS XII FORMULA
RAM
Gskill TridentZ RGB DDR4-3600 32GB (8GB)x4 CL16
VGA
NVIDIA GeForce RTX 2080 Ti Founders Edition
Storage
Seagate FireCuda 510 1TB
Power Supply
Seasonic Platinum 1050w
Test Setup: Intel "9th-Gen"
Processor
Intel Core i9-9900K, Intel Core i7-9700K
Motherboard
ASUS ROG MAXIMUS XI EXTREME
RAM
Gskill TridentZ RGB DDR4-3600 32GB (8GB)x4 CL16
VGA
NVIDIA GeForce RTX 2080 Ti Founders Edition
Storage
Seagate FireCuda 510 1TB
Power Supply
Seasonic Platinum 1050w
Test Setup: AMD
Processor
AMD Ryzen 9 3900X, AMD Ryzen 7 3700X
Motherboard
ASUS PRIME X570
RAM
Gskill TridentZ RGB DDR4-3600 32GB (8GB)x4 CL16
VGA
NVIDIA GeForce RTX 2080 Ti Founders Edition
Storage
Seagate FireCuda 510 1TB
Power Supply
Seasonic P1000 Platinum 1000w
Cooler: ROG Ryujin 360mm AIO Cooler
Monitor: ROG PG27UQ 4K 144hz HDR10 Gsync Monitor
All tests are performed in an open bench with ambient room temperature kept at 35*C (Because its summer in the Philippines.)
Motherboards are updated to the latest BIOS during time of testing kept at their out-of-box settings aside from XMP frequencies when running stock benchmarks.
As many already know, most motherboards will have varying frequency multipliers and this may affect performance overall. As this is part of their out of the box configuration we see it fit to use them as is. All data presented here in are with the default motherboard settings for stock performance. Overclocked performance will be indicated where needed. For non-Z series motherboards, all benchmarks are performed on DDR4-2133 default settings.
As always, we'll let the numbers do the talking.
Best Practices
Same thermal paste and same application method used on all cooler mounting. A pre-benchmark stress test is performed to let the TIM settle. We use Noctua NT-H1 for all our testing.
A fresh install of Windows 10 Pro is used for every sample testing. The OS image contains all benchmarks and games. Drivers are installed after image is installed.
An average of 3 benchmark runs is used for test sampling.
Benchmarks Used
Maxon Cinebench R20 – Multi-threaded CPU benchmark
Blender 3D – BMW 2.7 CPU Render benchmark
POV-Ray 3.7.1 – Multi-threaded Render benchmark
HWBot x265 – 4K x265 CPU encoding benchmark
7zip Benchmark – a compression benchmark
wPrime 1024M – multi-threaded prime benchmark
SuperPI 32M – single-threaded prime benchmark
PugetBench for Photoshop – an Adobe Photoshop benchmark developed by PugetSystems
Adobe Media Encoder – an encoding benchmark
Corona Bench 1.3 – a rendering benchmark
V-ray 4.10.07 – a raytracing benchmark
3DMark Time Spy – a DirectX12 gaming benchmark
3DMark Fire Strike – a DirectX 11 gaming benchmark
PCMark10 Extended – a complete system benchmark
PCMark10 Digital Content Creation – the content creator sub-score from the Extended test
Other Software
Latest LAN Speed Test via LST Server
Latest AIDA64 (Stress Test) -or-
Prime95 26.6 non-AVX version – Custom 12K (Stress Test)
Latest CPU-Z
Latest GPU-Z
Latest HWnfo 64-bit
Test OS Environment
Windows 10 Pro 1909
Latest NVIDIA GeForce Game-Ready drivers
Latest AMD Chipset/Radeon drivers (when applicable, AMD boards)
Latest DirectX end-user runtime
Measuring Equipment:
Flir One USB Thermal Camera via Thermal Imaging+ app
HP-9800 AC wattmeter with USB interface for app logging
Sound level meter
Network Hardware
ASUS ROG Rapture GT-AC5300 Router
We would like to thank the following for our reviews:
Thanks to UL Benchmarks for providing access to their benchmarks for our reviews.
Understanding Intel CPU Behavior Based on Motherboards
For the past couple of years, Intel has introduced Turbo Boost and Turbo Max and now we have Turbo Boost Velocity. While Intel sets a defined standard on how these values affect CPU performance and how long they stay active, motherboard makers were always given rights to comply with these standards. With quad-core CPUs, this wasn't much of a concern but with newer 6-cores and more-cores CPUs, this has exponentially added to the power draw of these CPUs.
You see, the way this works is that Intel sets the TDP or Thermal Design Power for CPUs at a certain level, in the case for the 10th-gen 10900K, 125W. With Turbo Boost 2.0 active, that will increase until a workload is finished or the CPU meets certain thresholds. On top of this, there is also Turbo Boost Max and Turbo Velocity Boost. These values are set by Intel for the CPU and will take advantage of lifting performance if certain conditions are met. In most cases, especially for gaming or enthusiast boards, companies assume that gamers will be using more exotic cooling that meets or exceeds the TDP rating of the CPU. This means,  gaming boards from ASUS, AORUS/GIGABYTE, ASRock, MSI, EVGA, and everyone else that markets themselves as a performance board, in assuming the user has good cooling, will set their own values for Turbo.
Now this has a direct effect on benchmark results, temperatures and power draw, of course. With the higher clocks, power drawn from the outlet increases as the TDP rating increases and so does temperatures. This are usually out-of-box settings for specific boards hence their default settings. While advanced overclockers used to tuning these timings and values can configure the boards to meet a satisfactory setting, most casual consumers will just set XMP and go. This means that in exchange power absolute performance, these boards are assuming users can meet the cooling standards that their settings induce.
Here in Back2Gaming, I test motherboard with out-of-box settings, noting in our conclusion if the BIOS is tuned right, etc. In reading these reviews, we highly urge readers to have an understanding of this behavior as they are not directly Intel's decision to make which may lead to misinformation about the power draw and temperatures of these CPUs. This, in turn, has its upside besides performance as it shows us a good balance of how much confidence a board maker has on its products if and they do implement an unrestrained Boost on motherboards that are relatively lighter on its VRM cooling, VRM design, lower price, etc. but we will be critical if board makers are just doing this to increase review scores
Arithmetic Test
SuperPI 32M (Single-threaded)
wPrime  1.55 1024M (Multi-threaded)
Encoding Test
HWBOT x265 Benchmark
7zip
Rendering Test
CineBench R20
POV-Ray 3.7.1
V-Ray Benchmark 4.10.07
Corona Renderer Benchmark 1.3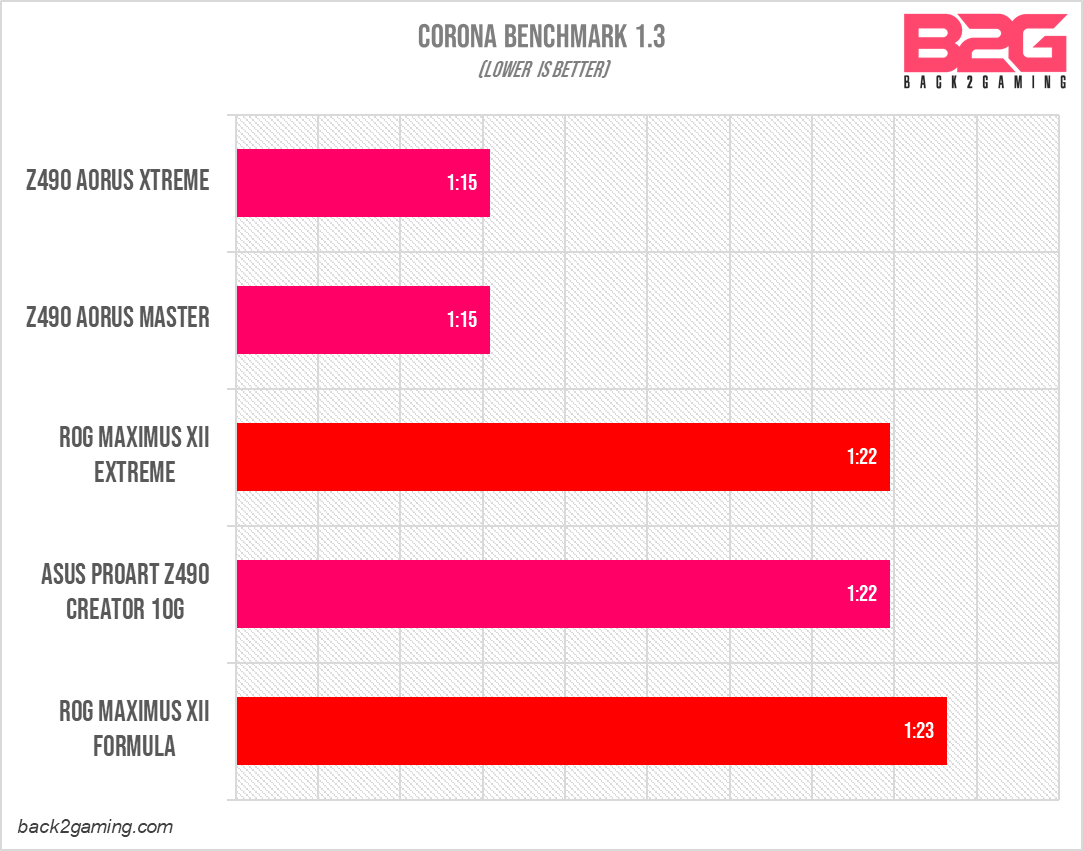 Blender 2.87 – BMW 2.7 CPU Benchmark
Content Creation Test
PugetBench for Photoshop
Adobe Media Encoder
Memory Performance
System Performance – PCMark 10
3DMark Benchmarks
Gaming Test – Rainbow Six: Siege
Power and Temperatures
To measure power draw, we hook-up our power meter on another system via USB. Our power meter is capable providing a chart of power the watts currently being consumed by the unit plug into it. We take the average of 15 minutes idle and 15 minutes load to show our power daw. Our load test is SuperPI 12K. A power virus scenario which you will never encounter on regular use. This is a worst-case scenario but is lighter on power than our previous AIDA64 stress test which is an AVX test, which draws more power than normal. The raw data from app is gathered and we get our results.  Temperatures are also captures during this time.
Various configurations will play a factor on how much you are consuming and the same applies to our test. We try to keep our test bench uniform at all times (same memory, graphics card, board if possible, etc). All tests are done with the motherboard or CPU on out-of-box settings as indicated in our Test Setup page with only XMP applied.
When tested on motherboards, this shows how motherboard companies tune their BIOS to affect performance which in turn affects power draw and temperatures.
The ROG Maximus XII Formula uses the same 16-phase VRM that the Maximus XII Extreme uses. Their design is identical hence the same behavior on CPU voltages that's both motherboard feel the same when handling MCE on or off. The heatsink cooling is slightly lighter but is by no means a slouch, the materials is still dense and the material used is a nice combination that can dissipate heat passively even without water flowing through the pipes or air blowing over them but of course, these blocks will work the best on a loop.  The slight power draw advantage I can chalk up to either the reduced lighting intensity as well as the Formula just on a bit more of an aggressive curve when the processor is on load but that's just my assumption.
Thermal Images
Here's thermal images of the MAXIMUS XII EXTREME VRM area under load with Prime95 12K stock settings.
Conclusion
From my unboxing video, I actually felt a little shorted by this board due to the package but after testing it for performance and experience our use-case scenario for this board, I'd have to say it's actually a very solid motherboard and is quite hard to find fault in especially after you've paid $550 for it. The official SRP is of course subject to market variance but our pricing here in the Philippines is Php27,600 ($550 +/-)  and for that price ASUS did not increase SRP cost much for this board despite the large VRM upgrade over the Maximus XI. That VRM along with most of the parts for this board makes this actually share the performance position with Maximus XII Extreme, this is elevated to the point of this board actually providing significantly more value due to its VRM water channel block which allows users to properly cool their CPU as well as the VRM. With the 10th-gen's improve cooling, watercooling should be fun on this generation especially for those chasing 5Ghz.
Speaking of 5Ghz, let's touch on overclocking here as well as we discuss performance. The ASUS ROG Maximus XII Formula shares the same power design as the Maximus XII Extreme and much of the ROG lineup, with its 16-phase power delivery, making it just as sturdy a platform as its bigger brother and more OC-oriented brother the APEX. It's actually the more traditional compromise of the two, integrating the overclocking genes of both while embracing watercooling as well. The board performs well in our tests even with multi-core enhance disabled and users are welcome to disable power limits to get full performance if they have a decent cooler.
As a more traditional board, ASUS also did not have to move PCIe slot allocations and the Formula retains multiple x16 slots for multi-GPU as awell as x1 slots for other things. The M.2 layout is well executed and is one of the most enduring designs we've seen and most practical as well.
In terms of build quality, there's just no beating a classic and this motherboard, even with its evolution, has maintain a signature look all its own throughout the years. Now wearing glass tops on is shroud, ASUS has improved its process to make glass on motherboards look cool and the transition from plastic to metal on this shroud is just seamless. A large backplate helps in dissipation as well as improving structural rigidity. I have to note though that the chose to go with the straight lines on the shroud is not my favorite change on this board, the abstract tech lines on the Maximus XI Formula was excellent and that was simply more stunning from a design perspective. The new glass lines also has a lighter RGB on them and this board actually doesn't shout RGB much and keeps it on the low. Whether you like RGB or not, this board has a softer touch of it and for me, that's something I can appreciate.
This is board is built extremely well as ASUS already knows the ins and outs of the design. You can call it a redo all you like but price didn't really move much and I rescind my initial reception of this board. I think I've done 3 of this Formula reviews already and the message was that this board is a classic and you don't need to fix what's not broke. That rings true still for the ASUS ROG MAXIMUS XII FORMULA but ASUS did install new niceties on this board like the teaming 16-phase power as well as a 10G LAN. ASUS has officially also come out stating their hardware is PCI-e gen4 ready and while its not on the packaging, these boards look to be ready to take on Rocket Lake as well.
As it is, the ROG MAXIMUS XII FORMULA is the same beautiful board we've seen for many years and it has not changed much except for the power design to support more powerful CPUs. That said, the aesthetic will have its audience and its got its audience but like it or hate it, there's no denying this board is clean and ASUS has done a good job reinforcing the looks with a capable platform that can deliver much of what you want from a modern system.
ASUS backs the ROG MAXIMUS XII FORMULA with a 3-year warranty. We give it our B2G Recommended Seal and B2G Gold Award!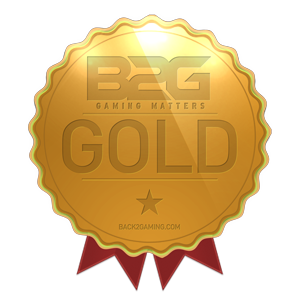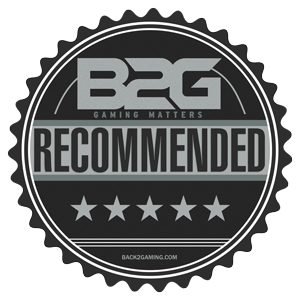 ROG MAXIMUS XII FORMULA LGA1200 Motherboard Review
Final Thoughts
Like it or hate it, there's no denying this board is clean and ASUS has done a good job reinforcing the looks with a capable platform that can deliver much of what you want from a modern system.
Pros
Excellent build quality
16-phase power delivery design
Hybrid water channel VRM block/heatsink
Less RGB on random places
LiveDash OLED screen
Cons
Premium pricing
Rather slim bundle
Should've made ROG Strix Arion M.2 enclosure as freebie instead of that hang-tag
Flimsy power/reset button on shroud