Introduction
And here we are: Kingston brands post-HyperX era. Many of us who have worked with Kingston have been very curious what direction the company would take following their sale of the HyperX brand. For those unaware, HyperX was the high-performance and gaming arm of Kingston that started with their HyperX DRAM products nearly a decade ago but have received tremendous success as a gaming peripheral brand with the HyperX Cloud kicking everything off. We've been with Kingston all throughout this time and have covered their first Kingston HyperX SSD, their commemorative Kingston HyperX 10th anniversary memory and of course, almost all the variations of their headset including the first Kingston HyperX Cloud. Today we're once again part of another first for Kingston as they progress to a new chapter of the brand: the birth of FURY.
As mentioned, HyperX has for a time been a separate brand from Kingston and has been promote as such to the extent that we were requested to present HyperX as a standalone brand and not as a Kingston subsidiary around 2 years ago. Almost a year ago, it was announced that HP will now own the HyperX brand and its gaming peripheral products. This leaves Kingston with all of their DRAM products but without a brand to market their high-end, high-performance part with. No problem, Kingston's got that part already. Taking the name of one of its most popular memory module, the Fury, Kingston is now turning that name into an entire brand with the Kingston FURY brand, and yes it is stylized as all-caps.
The Kingston FURY line will retain all NAND and DRAM products from Kingston from the HP turnover and will rename a couple products including the one we have for review for today: the Kingston FURY Renegade RGB DDR4-4600 memory kit. Read on!
Kingston FURY – New Memory Lineup
Kingston took this opportunity to also revise their thick port folio of memory. With the previous brand having many models under its umbrella, a more streamlined lineup would serve well to help keep the new branding easy to recall. That being said, Kingston has been advertising the Kingston FURY lineup which consists of the flagship Renegade RGB and is joined by the FURY Beast RGB and a FURY Impact SODIMMs. Under the Renegade and Beast banner are non-RGB variants which in the case of the Renegade, will have some of the higher-clocked kits that Kingston offers.
As of this moment, the FURY Beast and FURY Impact will have DDR3 offerings but the Renegade family is strictly DDR4.
The kits are offereed in singles and up to 256GB kits in speeds up to 5333. See actual product listing for exact capacity and configuration.
Features & Specifications – Kinston FURY Renegade
Capacities
Singles: 8GB, 16GB, 32GB
Kit of 2: 16GB, 32GB, 64GB
Kit of 4: 32GB, 64GB, 128GB
Kit of 8: 128GB, 256GB
Frequencies1
2666MHz, 3000MHz, 3200MHz, 3600MHz, 4000MHz, 4266MHz, 4600MHz, 4800MHz, 5000MHz, 5133MHz, 5333MHz
Latencies
CL13, CL15, CL16, CL18, CL19, CL20
Voltage
1.35V, 1.4V, 1.5V, 1.55V, 1.6V
Operating temperature
0°C to 85°C
Dimensions
133.35mm x 42.2mm x 8.3mm
Stunning RGB style

Patented Kingston FURY Infrared Sync technology

Fierce aluminum heat spreader complements the smooth RGB effects

High speeds, low latency DDR4 performance

Intel XMP Certified profiles optimized for Intel's latest chipsets

Ready for AMD Ryzen
Closer Look
With a new brand comes new packaging and I'm personally disappointed with Kingston choosing to go down this plain white route. The front design of the new FURY Renegade RGB's packaging features a simple thin cardboard cover on a thermorformed insert. This is more an observation of the branding design rather than an actual critique of the product but this box design still screams HyperX.
Taking out our product, we have the Fury RENEGADE featuring its ornate layed heatspreader. Kingston emblazones the FURY logo badge on one side and on the reverse side is the label sticker.
Here is a closer shot of the Kingston FURY Renegade RGB.
For those that recall the older design, Kingston adds the Renegade and Fury name on the RGB light bar and side of the heatsink. This distinguishes it from its previous form and adds branding as well.
The Kingston FURY Renegade is a relatively short memory kit and is one of the most compatible RGB memory kits thanks to its lower height.
For those unfamiliar, Kingston's FURY Renegade is the HyperX Predator RGB just with a different name. The heatspreader, tooling design and print layout is the same but with the FURY logo swapping out the HyperX logo as well as the print for the Predator swapped out for Renegade.
In a social media post, we were asked if the HyperX Predator and FURY Renegade RGB are compatible and the answer is yes. If you have an existing Predator DDR4 kit and you buy the revised FURY Renegade with the same config, you will be able to run them just fine.
Here are a couple more shots of the FURY Renegade RGB with the lights on. Kingston is offering their brand new FURY CTRL customization software, currently in beta to control the RGB on the FURY Renegade RGB but the kits also support native motherboard RGB customization software from all the top motherboard brands directly from their customization software.
Test Setup
Test System Configuration (Intel)
CPU
Intel Core i9-11900K
Motherboard
ASUS ROG MAXIMUS XIII APEX
Cooling
Corsair H150i RGB
Graphics Card
ZOTAC GeForce RTX 3080 Trinity OC
Storage
Corsair MP600 1TB
Power Supply
FSP Hydro G Pro 1000W
Case
OpenBench Table Community Edition
Test System Configuration (AMD)
CPU
AMD Ryzen 9 5950X
Motherboard
ASUS ROG Crosshair VIII FORMULA
Cooling
NZXT Kraken X73 RGB
Graphics Card
ZOTAC GeForce RTX 3080 Trinity OC
Storage
Corsair MP600 1TB
Power Supply
FSP Hydro G Pro 1000W
Case
OpenBench Table Retail Edition
Performance Results – Intel
Cinebench R20
Arithmetic Benchmarks
Blender
UL Procyon
AIDA64 Memory Benchmark
3DMark
Counter-Strike: Global Offensive
DOTA2
Shadow of the Tomb Raider
Rainbow Six Siege
Performance Results – AMD
Cinebench R20
Arithmetic Benchmarks
Blender
UL Procyon
AIDA64 Memory Benchmark
3DMark
Counter-Strike: Global Offensive
DOTA2
Shadow of the Tomb Raider
Rainbow Six Siege
Overclocking
In our Z590 system with an Intel Core i9-11900K, I managed to push the FURY Renegade DDR4-4600 2x8GB 16GB kit to a maximum DDR4-5333 stable without touching the voltage.  I was able to push the kit past DDR4-5600 but the performance drop just didn't make any warrant keeping just to change numbers as the timings weren't responding to the voltage bump past DDR4-5333 in a positive manner.
As these are higher-clocked sticks, I was afraid the Kingston FURY Renegade RGB kit were already at their peak rating so its nice to see that there's still some room there to eek out some performance. Still, depending on which side of the fence you sit on with regards to RAM overclocking, the kit itself can easily overclock just in case you want to stretch your money's worth.
Conclusion
Kingston's FURY lineup is new but these are classic design with a proven track record. My original Predator DDR4 RGBs were from 2018 and I had to take them of my 6950X system to show them off for this review. Kingston has come a long way from then with higher speeds and tighter timings but one thing's for sure, the now Kingston FURY Renegade RGB continues a legacy that just like Kingston's decades long stay in the industry, is something that's worth putting your trust in.
You'll probably see a bunch of reviews specifically with this kit from many other sites and that's because Kingston is drumming up the PR machine for their new FURY brand and what's the best way to showcase your flagship memory product than the fastest RGB stick you have. The Kingston FURY Renegade RGB line does top-out at pairs of 8GB DDR4-4600 sticks but the faster DDR4-5000 kits can be found on the non-RGB FURY Renegades. If you're after absolute peak, then the FURY Renegade basic are your go-to option with speeds up to DDR4-5333 on stock. If you want a good mix of RGB, performance and max compatibility, the FURY Renegade RGB sticks are limited to to pairs but if you're just building for a gaming PC, the 16GB are just enough especially for games that respond well to faster memory.
I praise Kingston for keeping the FURY Renegade RGB heatsink tooling and not ditching it for the sake of branding. Its one of the shortest RGB DIMM modules out there and if that's some thing you consider, that's already a plus for these kits whatever your reason is for wanting them.
In terms for performance, I do feel Kingston could've went a bit tighter on the timings on this one as I was able to drop them on stock XMPs but my biggest reservation is that at this range, many folks would might want to opt for a larger kit and that's probably something Kingston is working on, but again its a nitpick as you can scoop up two pairs of FURY Renegades.
The Kingston FURY Renegade RGB memory are classic Kingston quality and for those that are checking these memory out coming from their previous branding, you're still getting some of the best build quality out in the market right now.
Kingston backs the FURY Renegade RGB memory with a limited-lifetime warranty. I give it my B2G Recommended Seal!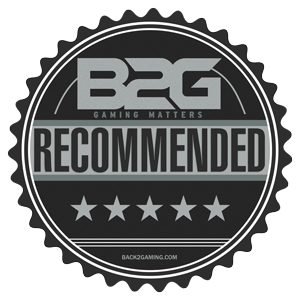 Kingston FURY Renegade RGB DDR4-4600 16GB Memory Kit Review
Final Thoughts
Kingston's new FURY gaming brand continues the legacy of their high-performance products and the FURY Renegade RGB is a good example of where the company is most comfortable with.
Pros
Decent performance out of the box
Highly-compatible heatsink height
Lifetime warranty
Widespread RGB support
Cons
DDR4-4600 kit only comes in pairs of 8GB