It has literally been nearly a decade since we covered our last GIGABYTE laptop and 5 years since I first encountered AORUS. Now we all know AORUS as the unified gaming brand of GIGABYTE. The once heavily fragmented business units of GIGABYTE used to go by varying names with the motherboard division using the G1 line and the VGA division going by the Windforce line, and then around 2015, the laptop division by AORUS. Various experimentation and internal movements later, GIGABYTE settled on tge AORUS brand as their soloe gaming brand for GIGABYTE and it now stands as the primary consumer branding for GIGABYTE, offering complete top to bottom products from across their large port folio for consumers.
AORUS laptops have been fairly elusive in our region simply because nobody's carrying them. That changes this late 2020 as AORUS laptops are now available in the Philippines.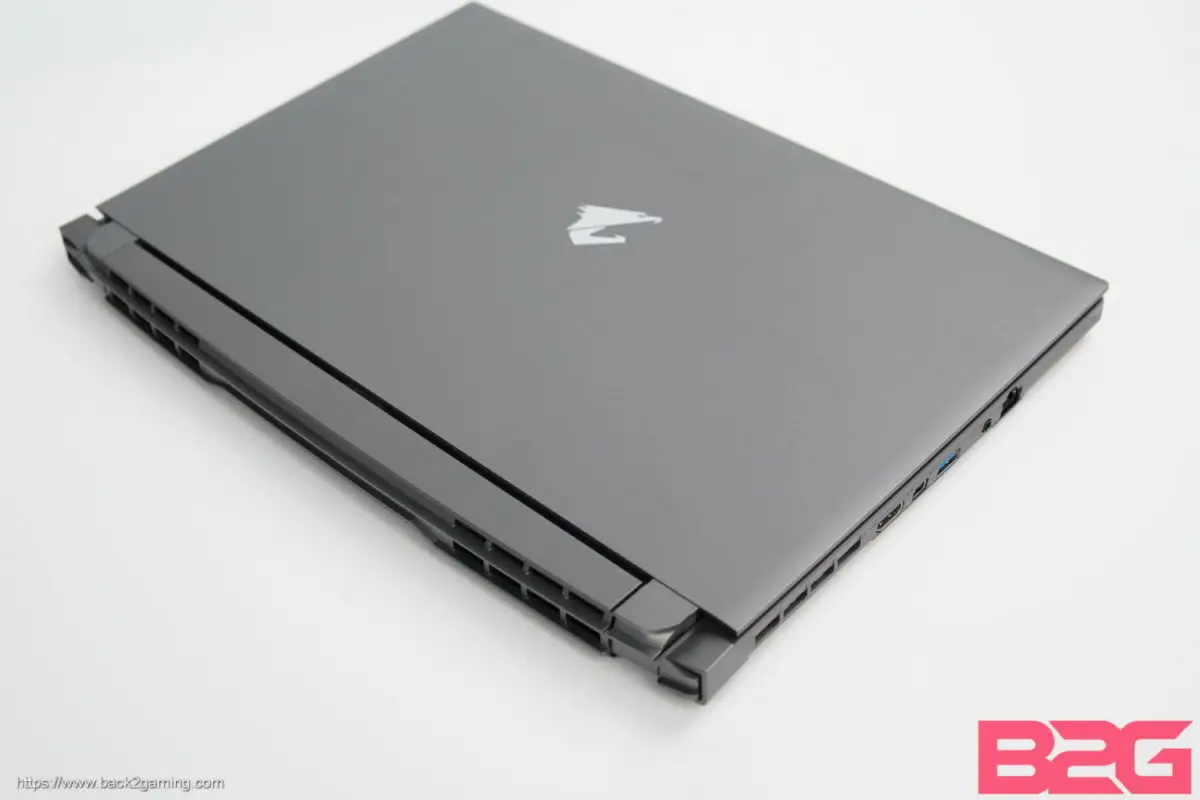 In this review we'll take a look at one of the debut models for AORUS laptops here in the Philippines, the AORUS 15. Our sample is the AORUS 15P WB model feature an Intel Core i7 10750H and an RTX 2070 Max-Q. The AORUS 15 lineup comprises of multiple models but regional availability varies. As of this moment you can the AORUS 15P WB (this model we're reviewing), the AORUS 15P KB (with an RTX 2060) and the flagship AORUS 15G XB with an RTX 2070 SUPER Max-Q as well as a mechanical keyboard. Check out more details about their ongoing promotion on the end of this review.
Specifications
Available in two variants, the AORUS 15P KB and WB are distinguished by their graphics card of choice. The WB we have is an  RTX 2070 Max-Q variant while the KB is an RTX 2060 option. Both will be similar all through out other than the GPU. The AORUS 15 features an Intel Core i7-10750H with memory sizes varying by region.  Storage configuration will have at least one M.2 NVMe storage.
Aside from that and the possible charger brick size (dependent on region), both SKUs will be the same physically and will feature the same IO arrangement as well as weight and dimensions.
Closer Look
The AORUS 15 comes in a silver grey color scheme. The top cover features a chrome AORUS logo with no visual styling whatsoever.
The bottom has a large intake vent shape in a large fan shape. This allows for a ton of airflow. GIGABYTE molds the rubber feet along the intake vents so these are custom shaped so if you manage to get loose on you over time, take note that you probably won't find replacements so make sure you don't loose them.
Going over the rear of the AORUS 15 we have the cooler exhaust. There's a total of 4 exhaust vents here: 2 on the back and 2 on the side. Intake is done purely on the bottom so I highly advise not choking the intakes by using these on sheets or on top of fabric.
AORUS has a unique hinge shape, designed more for looks but it does limit the monitor lid from opening up too far.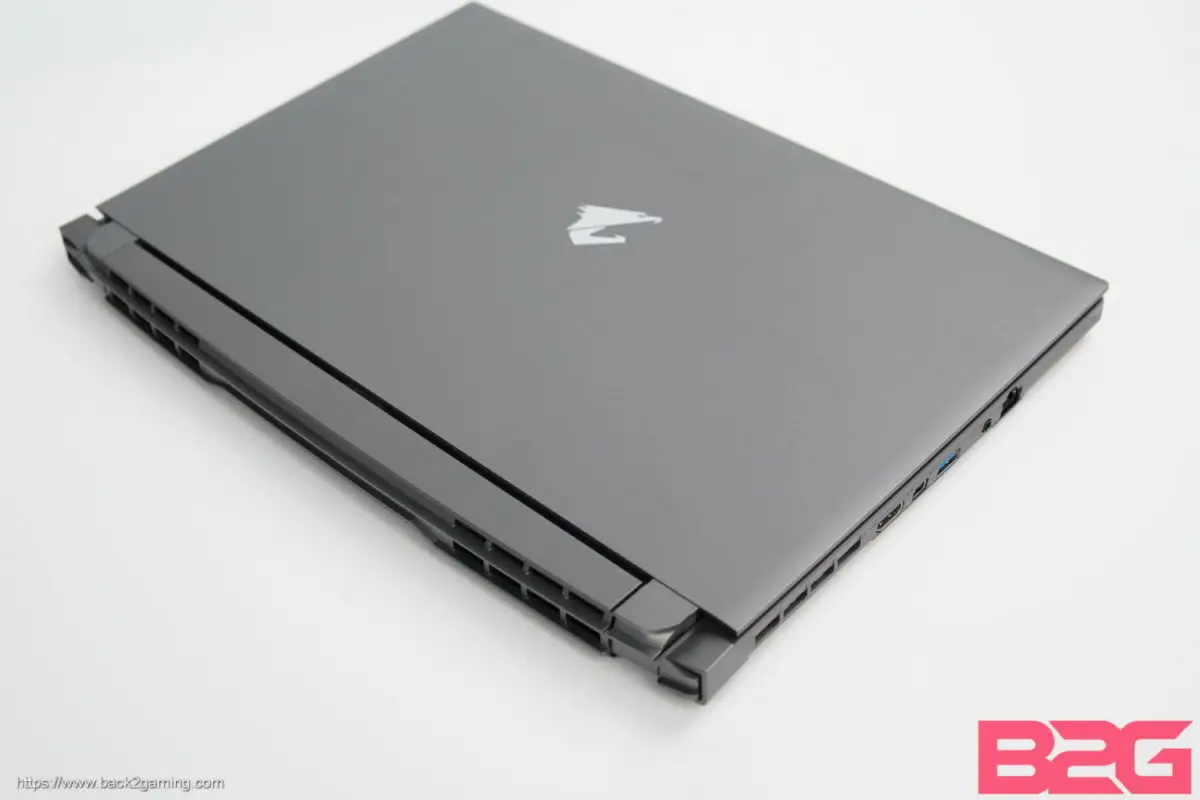 Speaking of design, the entire shape of the AORUS 15 is inspired by supercars with the smooth curves on the front that coalesce to a shape, exhaust on the rear with subtle wings on the hinge for that spoiler effect.
The sides of the AORUS 15 is where the IO options are placed. The AORUS 15 has a richer IO variation than most laptops we've seen featuring an SD card reader and a mini-DisplayPort. We also get an RJ45 LAN port as well as a Type-C port. This is rounded out by an audio port an a trio of USB3.x ports. We do miss a Thunderbolt port and I feel it could've been a vital addition to this laptop versus a card reader so mobile multimedia pros can easily edit directly on their portable drives.
Opening up the AORUS 15, you'll realize the screen is slightly raise. Much of the screen mechanics are on the bottom bezel which is the reason for its large lip. This is further exaggerated by the hinges which is then further visually extended by the bottom top lip as well which houses the webcam.
AORUS uses a very distinct chiclet-style keyboard, powered by GIGABYTE's Fusion RGB tech. Barring the RGB though, the main defining characteristic here is the boxy layout and distinct key etchings with large fonts. This 96% keyboard feels more condensed though than a standard 96 so spacing is something someone has to get you to first. There's no macro key so its going to be just a few days.  This also means that multimedia keys and shortcuts are done through a Fn+Key combo press.
The touchpad is a precision one featuring a singular body design with no hard buttons. The controls are intuitive like most trackpads and the surface itself is quite responsive. The spacing is good from the actual keyboard so not a lot of accidental presses here although I feel it could've either been a bit more narrow to or extended to the right to provide longer swipes for longer drags since there's space in there.
The RGB lighting on the keyboard is excellent and makes it stand out further. The keyboard is smart enough to adjust RGB lighting activity when in battery mode and when plugged in so unless you set it manually, the RGB lighting will actively go on and off in battery operation to save battery. I do advise just keep it off as its going to be a battery hog given how bright it is.
We'll share more details on the screen later. For now, here's some photos of  blackscreen from the EIZO screen test. At the settings above, there's no distinct IPS glow or bleed. Visually, there's no noticeable glow or bleed as well.
One thing to note is that AORUS discloses this monitor as an IPS-level display.  Viewing angles are decent and there's really nothing to worry about if you're thinking they're just BSing TN.
Here's a shot from the side to show the viewing angle of the AORUS 15P WB's display.
Closer Look – Internals
Popping off the bottom cover to see the laptop's internal, we get a good picture of how GIGABYTE lays out the cooler. GIGABYTE is one of the companies that actually openly shares their manufacturing process and if you search Youtube, the usual top hit is the Discovery Channel series episode of How It's Made: Laptops featuring GIGABYTE's Taiwan assembly plant.
The AORUS 15P layout is quite standard with the majority of the PCB occupying the space of the board. The lower side is for the battery and you can see the speaker flanking the battery. Notice also that there is no space for a 2.5mm drive. You'll be afforded two M.2 slots with the AORUS 15 which you can use for storage. For memory, you can go up to single 32GB SODIMM of up to DDR4-2933 making it possible to have a total of 64GB of memory on this kit.
Upgrading the memory and SSD is possible but this unit is not user-serviceable if your within warranty. If you want to swap out memory or upgrade the SSD, please contact the store where you bought this from to service the unit for you.
Webcam and Microphone
Obviously my biggest gripe with this laptop is the chin camera. While as you can hear from the video above that audio is acceptable, camera quality isn't so stellar. Not that built-in webcams are incredible, but for those who are particularly eyeing this as a primary work laptop for teleconferencing, this isn't something I have to stress.
One useful feature though is the webcam privacy shutter. As privacy concerns or just plain stupid mistakes caught on webcams left on become more prevalent, more brands are including a privacy shutter – a physical barrier on the webcam lens – physically obstruct the camera lens itself. This prevents scenarios where you don't want the webcam to be working when it shouldn't.
Performance Testing – Content Creation
We'll use PugetBench to gauge the performance of our system in content creation work. PugetBench for Premiere Pro uses multiple resolution assets and benchmarks the viewports performance as well as Premiere's rendering as well performance when effects are applied. Its a more wholistic benchmark vs. UL Benchmark's Procyon which only measures render performance. Still, the benchmark does not have mode selection for test  asset resolution and assumes a more general usage scenario using 4K and even 8K files in multiple formats when using the extended version. Still, its practical and shows you a nice ball park especially when comparing with various other similar systems.
In our PugetBench Premiere Pro Test, our system scores 507. Comparing it in the list above, we see our system scores in fairly ok. I feel that in these cases, the memory size impacts performance a lot as evident by the 32GB competing system. Another system also shows us that a higher card doesn't necessarily improve performance and its the larger memory configs that are scoring higher than the 16GB models which includes our AORUS 15. This means that if you plan to use this for serious Premiere Pro work, I highly suggest going for 32G or 64GB if and when you can.
After Effects is a very tough application to benchmark as there's no one set use case for this program. Like Premiere Pro though, it is heavily influence by VRAM performance but will still be subjective on the kind of work that you will do with the program. Graphics card should play a bigger role in this application.
Last up we have PugetBench for Photoshop. This benchmark is quite light as Adobe Photoshop isn't known to tax multi-core systems very well. It is still very reliant on faster and larger memory but will only benefit it to a certain limit. This benchmark focus on large format procedural application of effects and actions. Photography professionals who plan to use this laptop will probably do alright with the base configuration but if you work with large format print, a large memory set would help but as it is, our configuration is quite capable.
Screen Color
Despite the industry's obsession with sRGB, AORUS chooses to market the AORUS 15P with AdobeRGB rating. Regardless, our reading of the uncalibrated display yielded very decent result in term of color accuracy. With 144hz laptop panels becoming more color accurate and rich, its become an expectation and manufacturer are compelled to push colors as a standard not a feature. AORUS choice to stamp AdobeRGB does need to communicate the fact that versus the more alluring >90% numbers used in sRGB, more casual users may not appreciate having a >70% numerical on their monitor rating. This is despite the fact that AdobeRGB coverage is a different space.
Gaming Performance
The AORUS 15P WB comes with an RTX 2070 with Max-Q design. AORUS tunes this laptop to perform to the max when set to performance mode which is the profile we always use for gaming test and I have to say it does put out higher number versus its peers thanks to the GPU and CPU staying in higher clocks vs. the other RTX 2070 Max-Q models we've tested in the past. This is all and well but the fans will be largely overwhelming and despite while the fans aren't obnoxiously noisy, they are aggressively loud and anyone will probably want to game on with Azure enabled.
Azure is co-developed with Microsoft and GIGABYTE currently holds the sole right to this technology but Microsoft has approached them to allow it to be licensed but currently is still for consideration. Azure AI technology in AORUS laptops allows it learn user usage patterns to better optimize battery life and performance especially when in battery mode allowing it to conserve power whilst delivering maximum performance. It sits idly on your screen and can be right-clicked to select a profile. I advise to allow it to learn for a while and then give it a go after a week of natural use.
The technology itself isn't fully disclosed on the net and results aren't really tangible in terms of performance numbers. Battery life seems to be slightly affected as the battery life read-out does change when keeping it on after some time of usage versus Azure disabled but we're taking 5-8 minutes here so nothing dramatic.
To set-up a baseline, we use LDAT with Speed of Light, which uses the most minimum resource to output a click-to-photon reaction on screen. The LDAT system uses a Logitech G203 which is on average rated for 3.2 ms. So anything after that is the render and display latency. Knowing the latency of our mouse, we know the AORUS 15 is capable of at least 7ms latency. Lower is always better. Let's put that through a game.
System Latency
To test out system latency, we use NVIDIA LDAT. This allows us to see how responsive a system is certain games.
Above is the chart for Valorant at 1080p max settings where we average 227FPS. An RTX 3080 desktop will see around 20ms of performance with Valorant, the chart above shows us an average of 29.6ms of system latency in Valorant. This is actually quite decent at 1080p and dropping detail or resolution could improve it further but at 1080p max settings, these are acceptable but is nowhere near top system scores.
Conclusion
Much like many of this generation gaming laptops, the AORUS 15P sheds the stereotype look of a gaming laptop, instead opting for a techy-yet-elegant form. The color is subjective as most would probably prefer black but silver has its audience although any Mac-fan would probably not appreciate the cyber-edges of the AORUS 15. Form aside, the design works for me and it is obviously meant to stand-out; the bright keys, the silver color, the AORUS 15 is definitely a statement.
Intel's Core i7 paired with NVIDIA RTX 2070 Max-Q makes for a good combo here especially for gaming. Say what you want about AMD's offerings being this and that, until next-gen comes out, 10th-gen on laptops still offer the better battery life and is more plentiful. We'll talk about this more after a few paragraphs. Still, gaming performance is decent on the AORUS 15P WB but at the cost of a really audible gaming experience when cranking out the fans on max for utmost performance. I feel Azure does more to balance out the clock speeds but trails to control the fan speed so if you like to muffle the sound better, I recommend tweak sounds which suits you best and just taking the clock penalties, if any.
As mentioned, these systems are assembled in Taiwan. The AORUS 15 is not a mass-produced machine and AORUS' assembly line has a stringent test workflow for each device as they roll-off the assembly line. It isn't a marketing highlight but is worth noting that these laptops aren't build by for sheer numbers.
Screen quality is hard to convey on images but as mentioned above, they're good for a 144hz screen. Its quite basic with no HDR or G-Sync support but as it is, its a decent display for both work and play.
In terms of value, I'd have to share this promotion by AORUS Philippines first for my Philippines audience. Buyers of AORUS 15P WB (this review), AORUS 15P KB and the flagship AORUS 15G XB. The prices are listed above but here's a summary for the AORUS promotion:
AORUS 15G XB – Php129,995 – Get a Free GIGABYTE G27FC
AORUS 15P WB – Php99,995, Get a Free Corsair H550 Pro
AORUS 15P KB – Php89,995, Get a Free AORUS M5 Mouse
Amongst the choice, I highly recommend the AORUS 15P WB. In terms of specs and value, its the most balanced amongst the three and performance will be quite significantly better than the KB variant. Those who'd want to change the SSD and memory can opt for the KB model though. Anyone gunning for the AORUS 15G XB is a tough recommendation at this point but the GIGABYTE monitor does offset cost by a fair amount and having an RTX 2070 Super and a mechanical keyboard are not low-cost features as well. This is entail a weight increase for the AORUS 15G XB which returns me to the original choice of the AORUS 15P WB which we are reviewing today but before I close my review, if you're interested in any of these laptops, kindly check with your favorites dealer or check out the AORUS Philippines page and send them a message for availability in your area.
Its hard to peg whether I like the AORUS 15P as a video editing laptop or a gaming laptop. Its just that good of a balance. I have to admit, I was engaged in reviewing an OLED laptop as well during this review, so my eyes may be a biased towards hence while I'm a bit indifferent to the display on the AORUS 15P but the numbers presented in our SpyderX readings does show good numbers from the uncalibrated screen. Gaming performance itself is good and I have no complaints in that respect but again, its the particularly loud fans that will definitely be the difference maker for some folks. Again, its not irritatingly loud like a loose fan on max but more like a high-speed bike zooming nearby. Its something you can grow accustomed to but does muffle the speakers a good bit.
At 2kgs, its light but GIGABYTE's AERO line holds the distinction of ultracompact performance for their laptop lines. Still, that weight is well within tolerable and if it weren't for the charging brick, this laptop would be ultracompact by itself.
All in all, its an overall, well-rounded performer and if you're not particular about looks and weight, the AORUS 15 is a great laptop. It sits in a heavily contested configuration with the Lenovo Legion 7i and MSI GS66 both in the same spot, pricing right now does favor the AORUS 15 but promotions will be starting out soon for a lot of these laptops so let's stay tuned on how the pricing goes in the coming weeks.
So the last question is why should I bother buying an 10th-gen Intel-powered, RTX 20-series laptop in 2021? As CES draws near and news of potential new hard will be making the rounds, many of you may be having high hopes of just getting the new RTX-30 series laptops with AMD CPUs but I suggest to hold. Despite an attractive performance curve, it will ultimately boil down to price and availability and with RTX 30 cards and AMD CPUs on desktop so hard to come by, its not impossible to experience the same for laptops. This also means that pricing may spike upwards which also threatens potential buyers with already heightened retail prices to even go higher.
Admittedly, these are also theoretical and it will eventually come down to the next few weeks how things will turn out. That said, if you feel uneasy spending now, then you're already willing to wait so just continue to do so and we'll see how things will go. On the upside, those who need a laptop now can rest in the fact that like the RTX 20 price drops a few months back, these current-gen laptops may see their prices slashed further as we can see with the AORUS offerings so its currently the best time to take advantage of this offer.