In our launch review for Intel's 12th-gen CPUs on laptop, we talked about the Intel Core i9-12900H and hosting our CPU is this year's ROG Strix SCAR 15. Mind you, that was an ROG Strix model but so far leads our charts as our top performance laptop model featuring a modern CPU. But ROG features varying models with it and sharing the flagship spot is the ROG Zephyrus Duo 16 with the other flagship being the ROG Strix SCAR 17 SE. 
ROG distinguishes its laptops by a few things and the ROG Strix SCAR series is a traditional laptop design while the Zephyrus is more in-line with being ultra-compact. That may be up for debate but today we'll take a look at the 2022 refresh of ASUS' first dual-screen ROG laptop with the ROG Zephyrus Duo 16.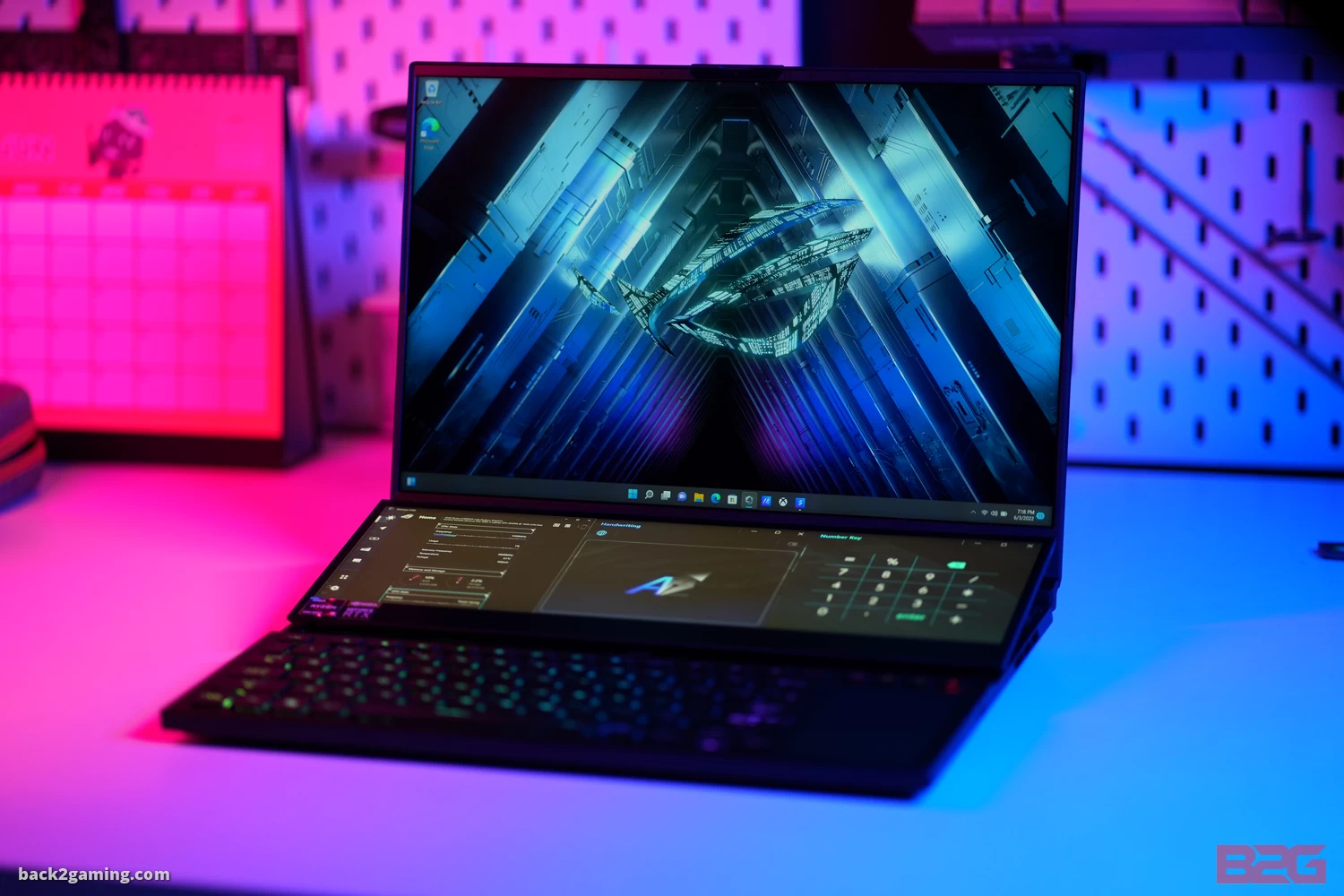 Debuting in 2020, the gaming dual-screen flagship represented ASUS' top-end ROG philosophy by developing new, daring designs that have never been tried before. After all, the ROG brand's slogan is "For those who dare" and like many before like the ROG Mothership or the original ROG Zephyrus, ROG Zephyrus Duo 16 follows in the same vein but unlike the Mothership, we're now back for the 3rd iteration which means there's a good amount of people that really like this model.
At 20.5mm, it barely scrapes past the minimum, following Intel's Ultrabook standard that set a 21mm envelope for 14″ models so it barely makes it by half-a-millimeter. Regardless, at 16″ wide, the ROG Zephyrus DUO 16 is a beast but the addition of the 2nd-screen really sets it apart by giving a larger look. The second screen is basically built on top of the unused space on the top of the keyboard previous seen on the original GX501 and the larger GX701 but is now maximized with a screen on top of the AAS vents.
To cap off the bit of history, the original Zephyrus DUO 16 was also an Intel platform but switched to AMD last year and still sticks to AMD this year with the newer Ryzen 6000 line of CPUs which introduces DDR5 to the mix. In turn, the Zephyrus DUO 16 2022 embodies the Ryzen flagship of the ROG lineup which is why I needed to point out that it shares this status with the ROG Strix SCAR 17 SE.
In this in-depth performance review we'll take a closer look at the ROG GX650R (2022), particularly model code GX650RX-LO163WS which features an AMD Ryzen 9 6900HX, a Geforce RTX 3080 Ti (165W TGP max, 150W dynamic), 64GB (32x2GB) DDR5-4800 memory and 2TB + 2TB  (RAID 0) Gen4 NVMe SSD. The rest of the available models for the Philippines are below:
GX650RX-LO163WS – Ryzen 9 6900HX / 64GB DDR5-4800 / RTX 3080 Ti (165W) / 2TB+2TB (RAID 0) Gen4 NVMe SSD. Priced at ₱319,995
GX650RW-LO113WS- Ryzen 9 6900HX / 32GB DDR5-4800 / RTX 3070 Ti (165W) / 1TB Gen4 NVMe SSD. Priced at ₱254,995
Your region configuration will vary. Read on to find out more.
Our review unit is the absolute top-most in ROG's line: the GX650RX-LO163WS featuring a maxed-out setup of an unlocked Ryzen 9 CPU, the RTX 3080 Ti, a large 64GB DDR5 RAM config and a 2TB+2TB RAID 0 (stripe).
For those buying for the 2022 Philippine school year, ASUS ROG is holding a special promotion for the ROG Zephyrus Duo 16 which will include a free ROG Claymore II mechanical keyboard, the upgraded ROG Chakram wireless gaming mouse and an ROG hoodie valued at Php23,315 combined. Find out more in ASUS ROG's Cool FOR SCHOOL 2022 promotion in this article.