As ROG expands into more and more lifestyle product line, its managing to find ways to get into certain niches much easier than before. The mobile market was relatively untapped by ROG during the Zenfone era but with the ROG Phone carving a significant portion of the enthusiast gaming phone market, it brought it with it the want for more ROG products.
The ROG Cetra released a few years ago was the first earphones for ROG and while it didn't make a big splash onto the scene, it was enough to cement ASUS' growing audio peripheral market. Our product for today, the ROG Cetra True Wireless is an evolution of the Cetra, now bringing with the popular true wireless system that has grown in popularity since the it first released.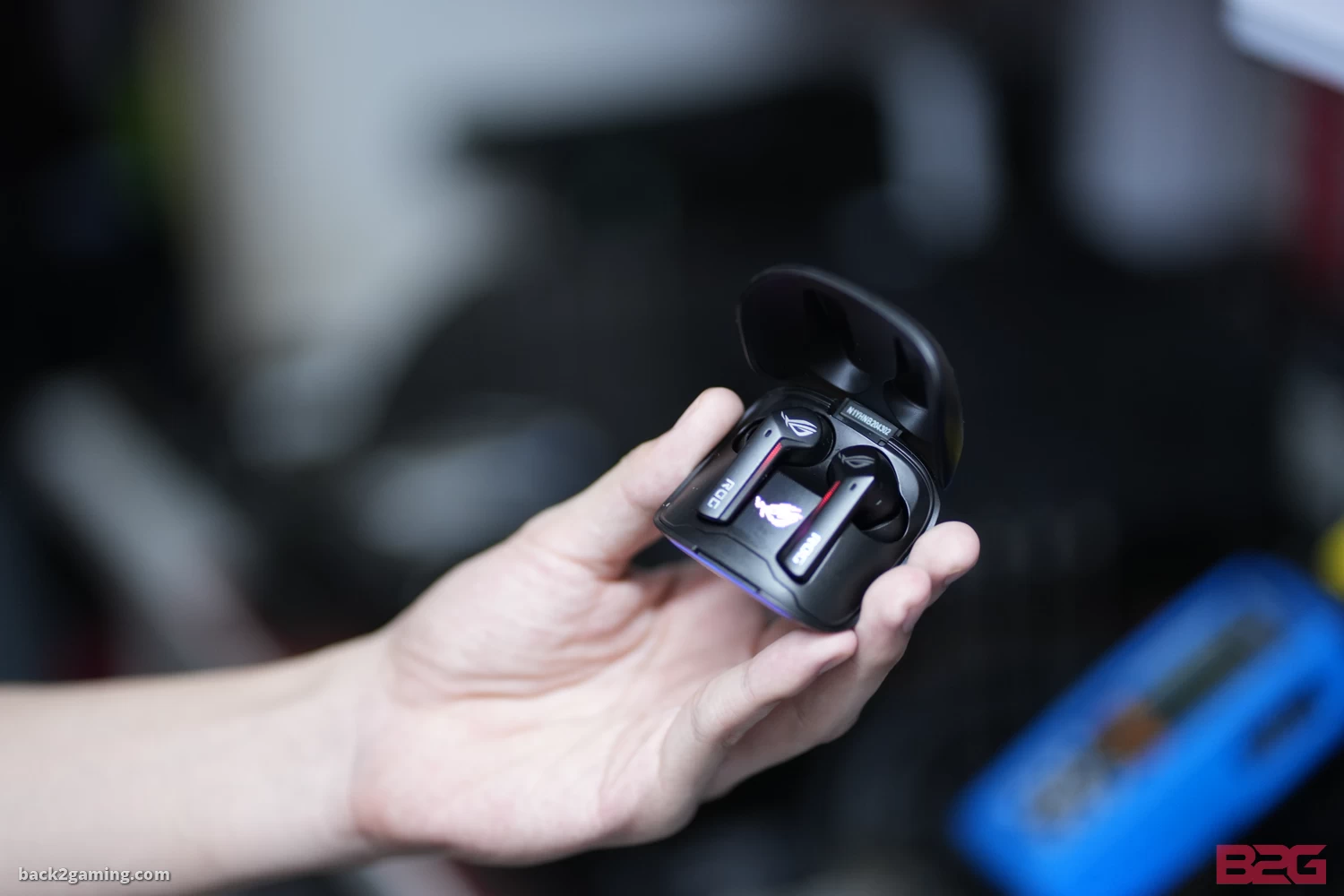 In this review I'll share with you my thoughts on the ROG Cetra True Wireless and why its made waves before it launched. Read on to find out more!
Features & Specifications
Drivers:
Impedance: 32 ohm
Frequency Response: 20Hz – 20KHz
Mic: Omnidirectional, 38 dB, 100Hz – 10KHz, not noise cancelling
Connectivity: Bluetooth
Supported devices: PC/Mac/Nintendo Switch/iOS/Android/Bluetooth
Design/Form-Factor:
Weight:
Battery: 4.8 hours single charge (ANC on), 5.5 hours single charge (ANC off) / +17 total ANC Off, +21.5 total ANC Off
Accessories: Charging case, USB Type-C cable
Color: Black
Warranty: 1 year
Features
Low-latency wireless audio: Gaming mode offers greater synchronization of audio with video for competitive gaming.
Active Noise Cancelation (ANC): Hybrid ANC technology detects and filters out noise coming from inside and outside the earbuds, enabling immersive audio experiences.
Extensive battery life: Features 27-hour battery life with quick-charge technology.
Wireless charging: Case can be charged conveniently via wireless charging.
Touch control: Simple quick-touch controls enable rapid in-game adjustments.
Water resistance: IPX4 splash-proof water resistance adds protect
Closer Look
The ROG Cetra TWS arrives in true ROG-style packaging: full colored print box with a shot of the earbuds on the front done in 2021 ROG packaging. At the back are some features we listed regarding the features of this ear buds.
The box packs a simple package of the ROG Cetra True Wireless charging case containing the earbuds, replacement eartips, USB-C cable and some documentation.
The ROG Cetra True Wireless' charging case is where its all at. This 42g case is the size is very small and the magnet cover does its job well of keeping the case closed. The design follows a stylish clamshell design with the ROG logo subtly stamped on the cover while the back and the rest of the case is done in semi-gloss black. A lighting indicator strip is on the edge where the cover and body meet as well as a small recess for opening the case. At the back edge is the USB charging port.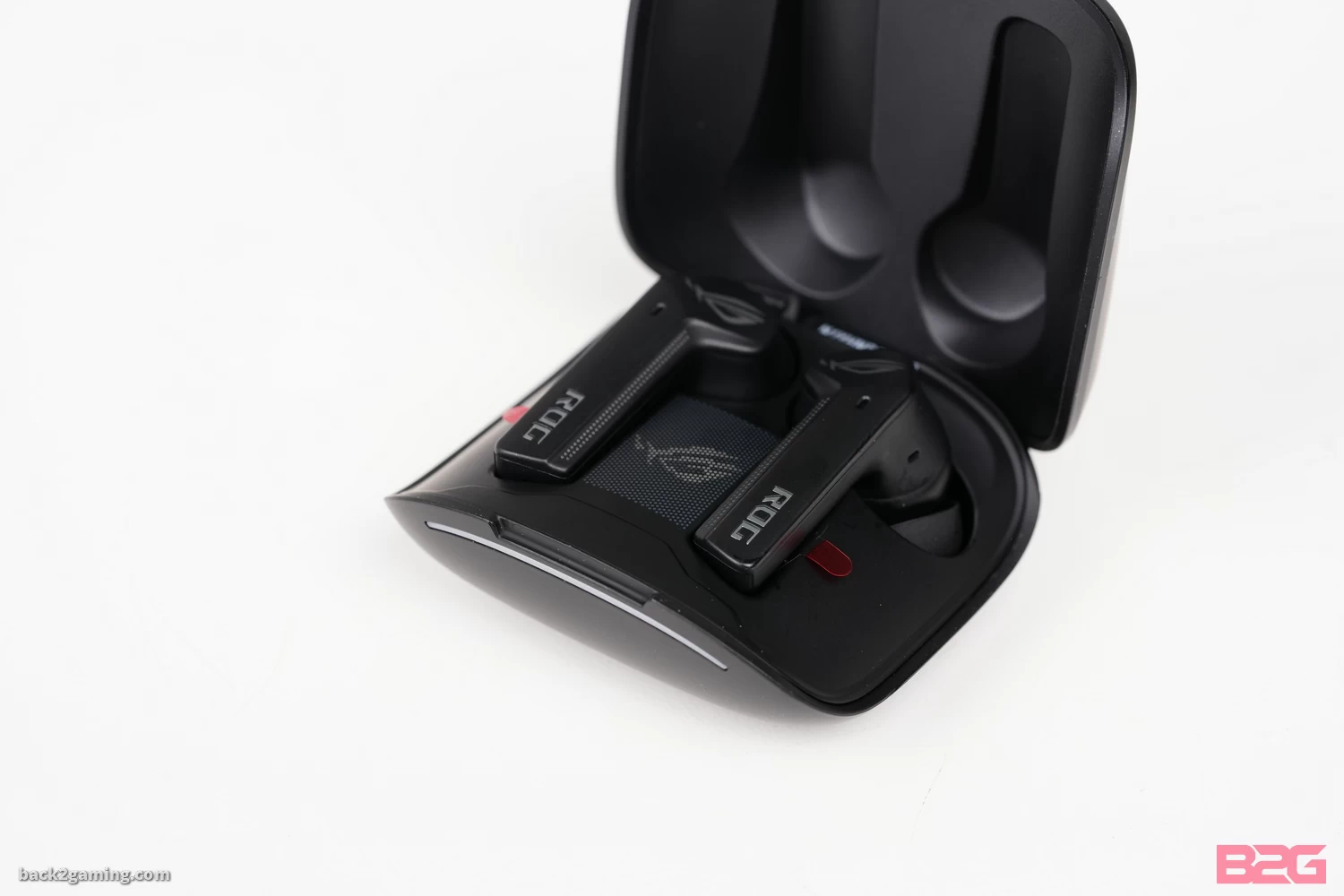 Opening the case gives us our look at the tightly formed fit of the ROG Cetra True Wireless. All the internals are smartly designed to maximize the space used by the rather large stem design rather than just simple, traditional buds.
The earbuds are formed to fit the case tightly. The stems have contact points which lines up perfectly with the case' charging pins. Both left and right buds are neatly set besides a glowing ROG logo which uses a dot-matrix lighting that ASUS is using heavily in recent products.
The earbuds follow the same design language as the wired Cetra. As it is a stem design ear buds, its quite easy to figure out ASUS was following this concept if they were to release a True Wireless version. That they did and it is pretty much that same.
The ear buds are stem-style wireless earbuds with the ROG logo stamped on the tip and stem. To conserve battery, these are not RGB-lit.
The lighting is simple and very conservative. Nothing that shines as bright as an ROG motherboard but understandably so. Despite its subtle lighting, it is quite the statement and is uniquely ROG.
When worn, the only lights will be the indicator lights which will rarely illuminate when paired. These are just for battery status wherein blue is full, red is draining and blinking is low battery.
The ROG Cetra True Wireless fit very well in my ear. I used the default stock tips wherein I normally swap out these out for the smaller ones with the ones on JBL and Sennheiser's TWS bds. The stem-style earbuds usually have better mics but in this case, its the fit the did well for me. With no protruding bump on the end, its flat side made it so that they really lay natural even when using the buds while lying down on one's ear.
Here's the ROG Cetra TWS in complete darkness.
User Experience & Conclusion
I have very low expectations of sub-Php5K earbuds. Having tested a bunch from mobile brands, I know when to keep my expectations low. As an owner of both Sony and Sennheiser TWS, I also know what the expect with high-end TWS. That said, ASUS PH dropped these earbuds during a sale which ended up bringing down the Php4,500 MSRP to around Php3,800. Owning a piece of ROG has become a dream for some folks especially gaming fans and with the Cetra TWS feeling like a premium pair of buds, a sale price like that was indeed to good to pass up.
ASUS ROG still needed to step as this is also their first ANC earbuds. ANC or active noise cancelling is a feature of audio devices to cancel out ambient noise. This hermetic effect can be done with a feedforward, feedbackward or hybrid ANC. The effectivity of the two prior techniques varies but ultimately hybrid is preferred. There is not a lot of hybrid ANC's in the budget market as of its release so seeing ASUS ROG drop a hybrid ANC earbud was a very pleasant surprise for its price.
Regardless, the audio quality was decent and there is no distortion even when pushing audio to max gain. Compared to high-end TWS, there is a lack of power here and that's understandable but I feel ASUS could've tuned the Cetra TWS to add a bit of power to the bass as it was really lacking. This means that the primary market of ASUS who may like shooters may feel that explosions lack that sense of rumble.
This is true with most earphones especially wireless ones which are not normally recommended for gaming. ASUS gets around this with its partner software for mobile, the app version of Armoury Crate. It features a Bass Boost and equalizer to tweak the audio as well as as a gaming mode toggle to decrease latency.
Overall though, the strong point of the ROG Cetra True Wireless is in its value. With its Php4490 SRP, it competes with JBL's just released TUNE 230NC at Php5999. While I haven't gotten around to writing my review of the TUNE 230ANC, acoustically it has a richer presence but ROG's ANC feels more superb thanks to its fit.
But focusing on the ROG Cetra True Wireless, it combines decent audio with an excellent battery life and a bit of extra with the software and users should feel really at home with the ROG Cetra True Wireless and those who may not like ANC can disable it and still enjoy the only TWS buds from ROG.
Whether you game or just taking it out for daily commute, the ROG Cetra True Wireless is a great pair of TWS buds for everyone.
ASUS backs the ROG Cetra True Wireless with a 1-year warranty. I give it my Best Value Award.
ROG Cetra True Wireless Gaming Earbuds Review
Pros
Decent audio
Good battery life
Hybrid ANC is great
Cons
Touch controls is meh
Armoury Crate mobile has a poorly designed UI