ThermalTake's partnership with BMW Designs has been for the most part met with mixed reactions ranging from the first ever Level10 chassis. ThermalTake knew they had a formula for both attention and class and didn't hold back expanding the Level10 branding and we've come a long way since then. One of the many expansions of the Level10 brand is within ThermalTake's peripheral lines, notably Tt eSports and what we have today: the Level10M Gaming Headset.
| | |
| --- | --- |
| COLOR | DIAMOND BLACK |
| CABLE LENGTH | 3.0 METERS |
| CONNECTOR | 3.5MM PLUG (CONNECT PC)MINI USB 8PIN (CONNECT HEADSET) |
| PLATFORM | PC/MOBILE |
| DRIVER UNIT (MM) | 40MM NEODYMIUM MAGNET |
| CHANNEL | STEREO |
| FREQUENCY RESPONSE | 10HZ ~ 22 KHZ |
| SENSITIVITY | 100DB AT 1K HZ |
| 3.5 MM GOLD PLUG | YES |
| PLUG&PLAY MICROPHONE | YES |
| EXTERNAL IN-LINE CONTROLLER | YES |
| MIC DIRECTIVITY | OMNI-DIRECTIONAL |
| MIC NOISE CANCELLING | YES |
| MIC SENSITIVITY | -35 ± 3DB |
| MIC FREQUENCY | 300HZ ~ 10 KHZ |
| MIC IMPEDANCE | 2.2K OHM |
| IMPEDANCE | 32Ω |
| ACCESSORIES | CARRY BAG X 11 METER MOBILE DEVICE CABLE X 1 |
Closer Look
Tt eSports really likes to tie their Level 10M packaging to a premium aura. Our Diamond Black sample is boxed in an all black box with a glamour shot of the product up front, concept ideas running down the sides and details and specs in the back.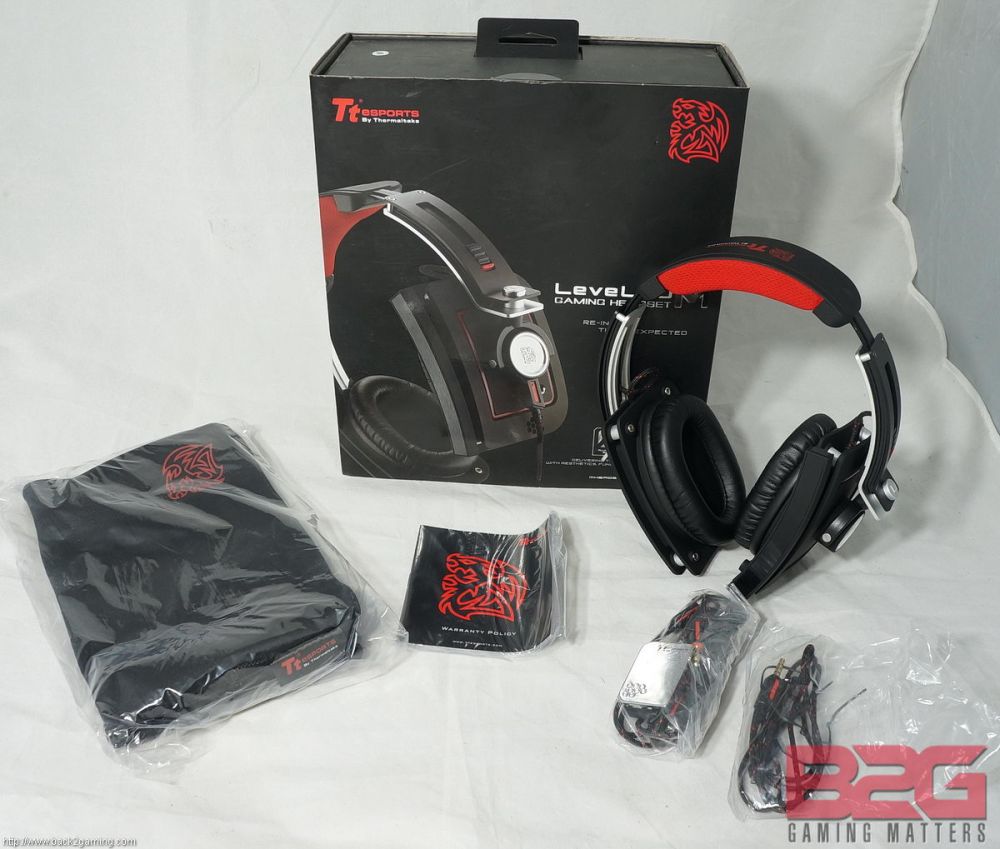 Inside the packaging are two pairs of cords, one with an inline controller and a straight one for mobile use. A carry bag is also included for easy travel.
The cables included are all sleeved with a black and red weave which really gives a subtle aggressive feel to the Level 10M Gaming Headset. The inline controller is squarish and feels bulky yet is small enough to not really be a bother.
The Level 10M Gaming Headset features a traditional-style headband. You don't really see the unique aesthetics of the Level 10M on this view until…
You check out the sides.
In-line with the BMW DesignWorks collaboration, Tt eSports sticks to the formula of the Level 10 series: unique looks. The headset features lines and curves that inspires elegance.
Leatherette pads line the ear cups on this headset.

The mic is dextrous but doesn't bend mid-body. Still, its very flexible enough to adjust to your preferred position.
User Experience & Conclusion
Thermaltake has a large variety of headset under the Tt eSports line and the Level 10M Gaming Headset is the flagship of that bunch. That said there is much to expect from a flagship product than just looks. We test the Level 10M Gaming Headset on a discrete audio card to really push the cans further than normal usage.
Starting off with sound quality, the Level 10M Gaming Headset has a V-profile to it. This is expected from a gaming headset and its bias towards bass is evident when listening to percussion-lined samples. The bass is powerful and controlled but doesn't really come off as overwhelming nor seismic. The midrange is pretty good and clear with voice coming out well-rendered. Some may feel the mid is a bit dark but for my tastes, its just alright. Like I said, just a bit. Upper higher-range can get a bit tinny with the Level 10M Gaming Headset. Nothing you would really be worried about should you strictly use this headset for gaming. Still, we do note that the price is already in the range where we expect premium audio especially with the entry-level offerings from legit audio brands offering great options if you are after quality.
Moving on to fit and comfort, the Level 10M Gaming Headset despite its unique aesthetics is very comfortable. With plenty of metal lining the frame, its surprisingly light and I'm quite positive I could go on longer than my usual 8 hour gaming sessions with these on. The leatherette earcups are good and feels comfortable and the headband cushion is just right even with its rather smaller design than most headsets.
All in all, at $99 you're getting quality-sounding headset with a unique design. True, you may get premium audio gear at this price but as we've always said, there is a gaming tax going on around in the industry and having BMW tagged in your marketing also helps bolster that cost. In all fairness, Tt eSports have stepped up their game with the Level 10M Gaming Headset and is nowhere near the tinny, plastic-made product that was Tt eSports Shock Spin.
We can't really fault anything with the Tt eSports Level 10M Gaming Headset. Its well-made and a very solid product. The sound quality may need improving but this is something that all gaming brand is subject to and still varies by what the listener finds acceptable. A price drop would really make the Level 10M Gaming Headset a very enticing offer, maybe around $69 which should put it against the mainstream competition.
If you're looking for a unique-looking pair of cans for your gaming rig, the Tt eSports Level 10M Gaming Headset by Thermaltake and co-designed by BMW DesignWorks is a good option if don't mind the price. Its build quality is superb and will really take a beating if you move around a lot.
Thermaltake backs the Tt eSports Level 10M Gaming Headset with a 2 year warranty. We give the Tt eSports Level 10M Gaming Headset our B2G Recommended Award.