During COMPUTEX this year, ADATA had a really wonderful booth which revealed a lot about how the company wanted to pursue their XPG line in the future and with their red jerseys flashing all throughout the booth, they made it known XPG was their way to go, going forward. This week we have a couple of products coming straight off that COMPUTEX tease with XPG's healthy lineup of gaming peripherals.
For this review, we'll cover their peripheral lineup with the XPG Battleground XL Prime. XPG has released an XL mouse pad before but has now updated it RGB but one of the key features is the CORDURA construction. Choices for mouse pads are usually dictated by a few things: performance and quality are usually the top considerations. The XPG Battleground XL PRIME offers a 90cm large surface that offers coverage that includes your keyboard as well and now features RGB to match with an RGB keyboard and mouse.
In this review, we'll take a look at the big daddy XPG Battleground XL Prime: a heavy-duty, extra large mousing surface designed to cover a sizable area of your desk and features RGB lighting as well as CORDURA material making is a very heavy-duty surface as well. Find out more in this review!
● Extra-large gaming surface
● Splash-proof, scratch-resistant CORDURA® fabric
● Two-zone RGB lighting
● Anti-slip rubber base
● Detachable braided cable
Closer Look – XPG BATTLEGROUND XL PRIME
The XPG Battleground XL Prime comes packaged in a relatively large box especially compared to most mouse pad packaging. The box is a full color print highlighting some details and specs of the products.
Inside the packaging we have the XPG Battleground XL Prime mouse pad rolled up and packed with a clear plastic to protect the surface with the manuals rolled in the surface space. A USB cable is also tucked in there.
The USB cable serves as the power source for the RGB lighting of the XPG Battleground XL Prime. The cable is 1.8m long and is braided giving it a firm feel to it.
The RGB lighting is handled by an RGB lighting element sewn along the edge of the mouse pad. The stitching nets the lighting element in place as well as keep the edge of the fabric free from rubbing during use to maintain its quality.
One of the highlights of this mouse pad is its Cordura fabric construction. Now there's plenty of Cordura products out there featuring varying degrees of how much Cordura is actually integrated into the material. XPG doesn't disclose which Cordura mix it is but to be honest, it still adds to the cost as Cordura is a proprietary fabric and just having it makes this a rather premium product with good quality. Cordura is a brand of fabrics based on nylon and is used for multiple applications with its main selling point focused on its durability and the material has seen usage in combat gear, footwear and other demanding utility application which makes it a sensible choice for use on a mouse pad.
The bottom of the XPG Battleground XL Prime features a non-slip material which increases traction and grip and with its large surface area, it's really hard to push this mouse pad around once its sits flat on a surface.
A 90cm wide and 42cm tall, most office desks will effectively be covered by the XPG Battleground XL Prime. Its a nice option for gamers that have older desks and want to cover them up or someone with a white Ikea Linnmon surface and want to protect that surface. The usage application goes on but its still a case of do you need the size or not. Some may appreciate, some may not. I do have instances of both as I will never use a large mouse pad on my main gaming desk as I prefer hard mats while my main testing and work bench for PC component reviews is covered by an XL mouse pad. It really boils down to your choice of usage.
Here's our photo table with the XPG Battleground XL Prime and XPG Summoner keyboard and a mouse for comparison. As you can see, there's plenty of space on both side if you prefer really large mousing surfaces. This is especially useful for FPS players that like to keep their sensitivity low for highly accurate shooting.
The material itself is very soft and pliable and while it does retain curves when fresh off the box, it does flatten out after a few days. The surface is a middle ground between speed and control, as the grit is quite fine for faster swipes but not that coarse. With the majority of gaming mice running on laser right now, the surface still handles well on older optical sensors.
There is a little module on the edge of the left side of the XPG Battleground XL which serves as the power and control block for the RGB lighting of this mouse pad. Its pretty much the same as most other RGB pads we've taken a look at recently. It features a port for the included cable and can be plugged from a PC port or a USB power port. A single button is on the block for changing colors and each color will have a breathing effect with the RGB breathing cycle being the most RGB-ish thing this mousepad can do. The photo above shows us the actual lighting that the XPG Battleground XL Prime does in regular lighting. Its a bit brighter on darker rooms but not really bright to be distracting.
These photos are exposed a bit longer and shows an exaggerated look at the lighting. The mousepad isn't as bright but you get the point.
User Experience & Conclusion
At $49, the XPG Battleground XL PRIME mouse pad is actually very fair. Given that ASUS has an XL mousepad as well with Cordura but lacks RGB at nearly the same price, XPG gets the vote easily here and experience-wise, both feel readily the same. I've always believed that skill matters more and that better peripherals just aid gamers in maintaining and improving their skills. In the case of the XL mousepads, it not only removes the need for large square pads in awkward positions, it actually gives your desk a nice look. Low DPI sensitivity gamers will appreciate not having to position their pads as nearly their entire surface is their mouse pad with the XPG Battleground XL PRIME.
The main take here is the quality and Cordura, while not heavily used in this industry does set this mouse pad up as a durable choice and that is definitely where the XPG Battleground XL Prime stands on: durability. We've had many mouse pads and I swear by hard mats for the past 10 years and that preference resides in the sole reason that I need something that will survive my use-case which would see me or my brother play FPS games nearly a day.
The gaming experience itself is quite decent and I appreciate XPG not going with thicker materials just to give it a softer feel. The Cordura feels great and is rigid enough for my liking. For people that don't really dabble on RGB, you don't need to plug the cable to keep it off or just stick with a single light which in my case, I just left on white which gives my area a subtle glow.
Overall, the XPG Battleground XL PRIME mouse pad is a great choice even if you don't like RGB. While we can't grade longevity, some light tests with sharp objects left our surface in tact and light spills can be wiped off with ease. If you're looking for a premium, extra large and extra wide mousepad with RGB, the XPG Battleground XL Prime is definitely a top choice.
ADATA backs the Battleground XL Prime with a 2-year warranty. We give it our B2G Recommended Seal!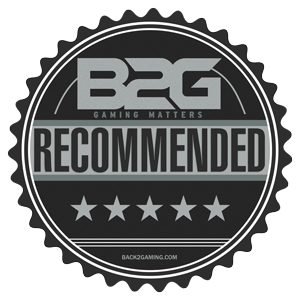 Price and Where to Buy – XPG Battleground XL PRIME
Philippines – Lazada
USA – Amazon