Rantopad MXX Gaming Mechanical Keyboard
Specification:
Blue Gateron Mechanical Switches with 55cN Clicky, Tactile movement
Mechanical switches with a lifespan of 50 million clicks per key
Monochrome LED Backlight
Space-grade Aluminum Cover in Gunmetal
Detachable, Gold-plated, Braided USB Keyboard Cable
87 Keys
N-Key Rollover
About Rantopad:
Rantopad was founded in 2004 when Ranto, a competitive gamer, set out with $15,000 and a goal to create the world's best mouse pad. Rantopad now has over 70 employees and annual revenues in excess of $20M. Visit their website at https://rantopadusa.com/.
Where To Buy:
Unboxing – Rantopad MXX Gaming Mechanical Keyboard
Packaging is one of the important parts of a product and this is basically true for most. For the Rantopad MXX Gaming Mechanical Keyboard, the packaging is definitely an eye candy. It can easily catch your attention. The colour combination of black and yellow makes the packaging pleasant to look at. Along with some lining of silver metallic design.
The box definitely feels premium. The overall package feels durable and very thick with an emboss feel from the outer surface.
Blue key switch is highlighted in this part of the packaging. Do note that the Rantopad MXX Gaming Mechanical Keyboard uses cherry MX switch and gateron switch. For this specific model that we have, it uses blue gateron key switches.
The backside of the package highlights the keyboard's specification, the layout and design, as well as some features and other important information.
After opening the package, you'll be greeted with the keyboard itself that has a hard plastic cover. This cover prevents any trivial damages that can occur along the keyboard's surface. This is nice because it gives off that premium feeling. However, for a keyboard that cost ₱ 3,999 on LAZADA, anyone should at least expect a quality product from the packaging, from the product itself, and then from to the accessories too.
The detachable USB chord is held inside this section of the package. It is highlighted in yellow with the word "Keyboard Cable".
Taking the keyboard out of its packaging, I noticed something unpleasant for me. The keyboard is not held or protected by any types of foam cushioning at all. Instead, it is held in place by these cartons folded to act as a cushioning and to hold the keyboard in place. For us, this is a very cheap approach to lessen the product cost.
There are other keyboard products out there that use black foam cushioning to protect the keyboard. Seeing a carton act as a cushioning makes the product feel cheap. This is something that you may want to keep in mind if you plan to buy Rantopad products. We have reviewed cheaper keyboards that uses foam cushioning and to see this type of cushioning for a keyboard that's being sold for ₱ 3,999 is disappointing.
Accessories – Rantopad MXX Gaming Mechanical Keyboard
The Rantopad MXX Gaming Mechanical Keyboard comes with a few accessories such as a keycap puller made from acrylic, manuals, and one cable tie.
The cable tie is a velcro type of cable tie and it is already strapped around the braided USB cable.
Like what we have already mentioned, the keyboard uses a detachable gold-plated USB cable that is also braided. Having a detachable cable is definitely a plus here. It gives you the option to organize the cables with ease. However, what's actually important here is the positioning of the cable from the keyboard.
The detachable cable makes this keyboard a travel-friendly. Lessening the hassle of carrying a keyboard with long annoying cables. The cable is about 1.75 meters long.
Closer Look – Rantopad MXX Gaming Mechanical Keyboard
A closer look at the Rantopad MXX Gaming Mechanical Keyboard reveals its overall quality build and design. The first thing that catches our attention is the design of the keyboard. The sides of the keyboard are slanted and that what makes this keyboard differ from the others. The design gives off that old school biker looks feeling. Which in a way, is very cool.
The tenkeyless layout design will surely be loved by most PC enthusiast, gamers, and as well as typers. The top surface is metallic and is made of 5000 series magnesium-aluminium alloy. Giving you that sense of mastery in craftsmanship and a higher level of durability as well as its build quality.
The keycaps of this keyboard are said to use organic coatings which are oil-proof, wear-resistant, and will not accumulate dust. After typing and using for a week, I can say that the keycaps have some slightly chalky feel. Oils and fingerprints can still be seen but can be easily wiped out.
In terms of key switches, the Rantopad MXX is available in either Gateron Switches or Cherry MX Switches. Our specific model uses blue Gateron switches and the Rantopad MXX also use the same switch stems as Cherry MX switches. Allowing users to get alternative keycap sets for the Rantopad MXX. Rantopad's keycaps are laser-etched but we feel that the plastic is a little thin.
Looking at the back side of the keyboard reveals that the Rantopad MXX doesn't have any angle adjustment feet. The angle feet or height adjustment is something that we usually see on the majority of the keyboard out there. So the lack of height adjustment here can be divisive. Some might say it's okay given that this keyboard is already inclined at an angle while some might find the need of it.
A small sticker that contains information about the keyboard such as the product name, certifications, origin, model number, serial number, etc… can be found at the back too.
You will also find a small rubber foot beneath the informative sticker.
The Rantopad MXX uses 3 rubber footings. One can be seen on each side and one on the middle. This is to prevent the keyboard from slippering while you're using it. Especially for those crucial moments that you cannot afford the keyboard to slip. Giving you that competitive edge during intense moments.
The detachable cable has its one end designed and intended for the keyboard. You will find that one of the male USB of the cable has a lining guide that perfectly fits the USB port found on the keyboard. Attaching and removing the USB from the keyboard can be done with ease.
LED Effects – Rantopad MXX Gaming Mechanical Keyboard
The Rantopad MXX features six different modes of lighting effects with one custom mode that lets you select keys that you would want to light up.
The Rantopad MXX Gaming Mechanical Keyboard has the following default custom-lighting modes:
Reactive: The key you press lights up and fades out
Wave: A wave effect runs the length of the keyboard
Breathing
Reactive Pulse: Sends a pulse out that starts from the key you've pressed.
Inverse Reactive: Same as Reactive mode, but the key you press goes dark.
Lighting mode and the speed can be controlled using the following FN keys below:
FN + page up or page down: Switch between the six default lighting effects
FN + up or down arrow key: Change the speed of a lighting effect
FN + DELETE: Choose which keys will glow in your specified custom lighting mode. Press the combination again to save your configuration.
Performance – Rantopad MXX Gaming Mechanical Keyboard
The overall performance of the Rantopad MXX Gaming Mechanical Keyboard can be divisive. The one we have here seems to be performing well but we have seen others having issues with their units. It is also important to note that this specific model we have uses blue Gateron switches.
Blue Gateron switches are types of key switch that is geared toward typing, thanks to their tactile feedback design. Compared to other models, the Rantopad MXX that we have here is a little louder than a regular key since the spacebar doesn't use wire stabilizer as well as other keys that have them.
Here in our labs, we have used and tested a magnitude of mechanical keyboards. So we're pretty much expecting a higher standard of performance. After testing and using the Rantopad MXX, we can attest that the feel of the keyboard is excellent and the typing speed was no issue at all.
As for gaming performance, I, the writer/reviewer, have always preferred tactile switches. It gives me that typing satisfaction and the pressure that I tend to give off per press is satisfying for this keyboard with 55cN Clicky, Tactile movement.
Another important thing to know about the Rantopad MXX Gaming Mechanical Keyboard is that it doesn't have any drivers at all. No software, no drivers, and no downloadable support from the website. Therefore, the keyboard does not offer any macro functionality. But fret not as macro functionality can be resolved with the use of 3rd party software.
The different lighting modes have benefits for both typing and gaming. Such as finding certain keys easier and seeing the keys inside a darker room.
The tenkeyless design is definitely a plus for me. With a dimension of 384mm x 120mm and a height of 46mm, the Rantopad MXX takes up very little space. Its portability design also benefits from the fact that it only weighs 650g. The only downside of having a tenkeyless keyboard is the lack of a numpad.
The Rantopad MXX Gaming Mechanical Keyboard features an N-Key Rollover design. N-key rollover means that each key is scanned completely and independently. Each keypress is correctly detected regardless of how many keys are being pressed or held down at the time.
Using Microsoft's keyboard tester, the Rantopad MXX proved to be a genuine N-Key Rollover keyboard.
Final Thoughts…
Overall, the Rantopad MXX Gaming Mechanical Keyboard (Blue Gateron Switch) is a solid gaming keyboard. The build quality is outstanding and it's probably thanks to its metallic panel that really adds to the overall durability of the keyboard. The use of Gateron switch enables Rantopad to offer this keyboard with performance similar to Cherry MX switches at a lower price point. However, the use of Gateron can be divisive for most keyboard and PC enthusiast.
Performance wise is excellent. Though for our specific model, the tactile is likeable. You will not feel the difference when compared to other keyboard models that cost more. Consistency can also be felt through all the keys.
Being driverless can also be divisive. It can be a plus for some but others might prefer to have one. Its portability and tenkeyless design is also a plus for us. It uses less space than a standard keyboard.
Despite being a great keyboard, there were a few things that we did not like. Such is the selling price of PHP3,999. With the wide selection of keyboard nowadays, one can get a decent mechanical keyboard with RGB lighting for less. The lack of USB hub – definitely, there are other keyboards out there that either cost the same or less that offers similar performance with a USB hub.
With its overall quality and performance. We give this keyboard a B2G Recommended Award!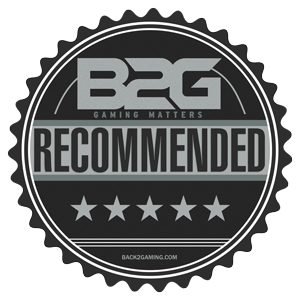 Where To Buy: