HAVIT G1 TWS True Wireless Earbuds
Model: HAVIT G1
Bluetooth V5.0
10M Wireless Working Range (Without Interference or Obstacles)
Speaker: Φ5.8MM, Titanium diaphragm
Speaker sensitivity: 90±3dB 1kHz/1mW
Impedance: 16Ω±15% 1kHz
Speaker frequency: 20Hz~20KHz
Profiles supported: HSP, HFP, A2DP, AVRCP, TWS, AAC
Input voltage / current: DC 5V/1A
Earbud Battery: 60mAh*2(Fully charged in 1.5H)
Charging case battery: 720mAh
Playtime (without charging case): 3.5H (medium volume)
Talk time(without charging case): 4.5H
Standby time(without charging case): 80H
Support Siri and Google Assistant.
Colour: Black, Black + Red, White, White + Red
What's in the box:
1*G1 earbuds
1*user manual
3*earhook
3*earcaps
1*USB Cable
Dimension
Charging case dimension: 38*60*60mm
Earbud dimensions: 22*28*29mm*2
Net weight: 6g*2(Earbuds)/59g(Charging case)
---
Where to Buy:
---
Unboxing – HAVIT G1 TWS True Wireless Earbuds
The HAVIT G1 Wireless Earbuds features a sturdy packaging with a simple yet stylish design overall. The front part highlights the product and its charging case. It also highlights a few notable things about this product such as the IPX5, 18 hours of use, the brand logo, and a brief description of the product.
The back of the box features a model wearing the earbuds. It also highlights a few features of the product and a brief explanation of their 18 hours use time.
Both sides of the box highlight the brand name and logo. The packaging is sturdy and the box is covered with plastic.
Once held, first thing comes to mind is the quality and premium feel of the product.
The top doesn't feature or highlight anything other than the red ribbon attached to it. The bottom part highlights the specification, country of origin, certifications, and some quotes. On the image above, we intentionally covered the barcode and serial number for reasons.
Taking out the front part was fairly easy. Underneath it is a black box that contains the manual and some other paper works.
Taking out the second box reveals the included accessories. It comes with an additional two silicon earhook and earcaps.
The HAVIT G1 also comes with one USB cable. The length of the cable is about 26 cm from end to end and it's a stylish flat cable.
Last but not least, it comes with one user's manual, one leaflet that contains the contact information of HAVIT as well as their social media accounts, and one user's guide.
Closer Look – HAVIT G1 TWS True Wireless Earbuds
A closer look at the HAVIT G1 shows the simplicity of the earbuds yet stylish in a way. A design that seems to give off a statement of "how to make a premium quality product". The market is quite filled with wireless earbuds similar to the ones offered by big brands. So it's refreshing to see something that can be considered as "a league of its own".
HAVIT G1 Charging Case
The case is simple and small. It has an oblong form factor with a silicon-like attachment that holds the case together and acts a bridge for charging. Its outer part is made of hard plastic with a matte finish like feeling. The top features the brand's H series logo with LED while the bottom part highlights the specification and certification of the case.
Case LED Indicator
Flashing: Battery Low
Breathing: Charging
LED Off: Fully Charged Battery
The top and bottom part of the case is held together by means of magnets. This is to keep both sides attached together when closed. So opening the case is fairly easy. Simply pull the top and bottom part of the case.
The inner part of the case is moulded to perfectly fit the G1 earbuds. Each side has two gold pins that bridge a connection for charging.
The case itself is a power bank for the earbuds. It has a built-in 720mAh battery which is enough to charge both earbuds six times from 0 to 100%.
For charging, the charging port is hidden at the silicon attachment part of the case. It uses a micro USB Type-B port for charging.
Havit G1 Earbuds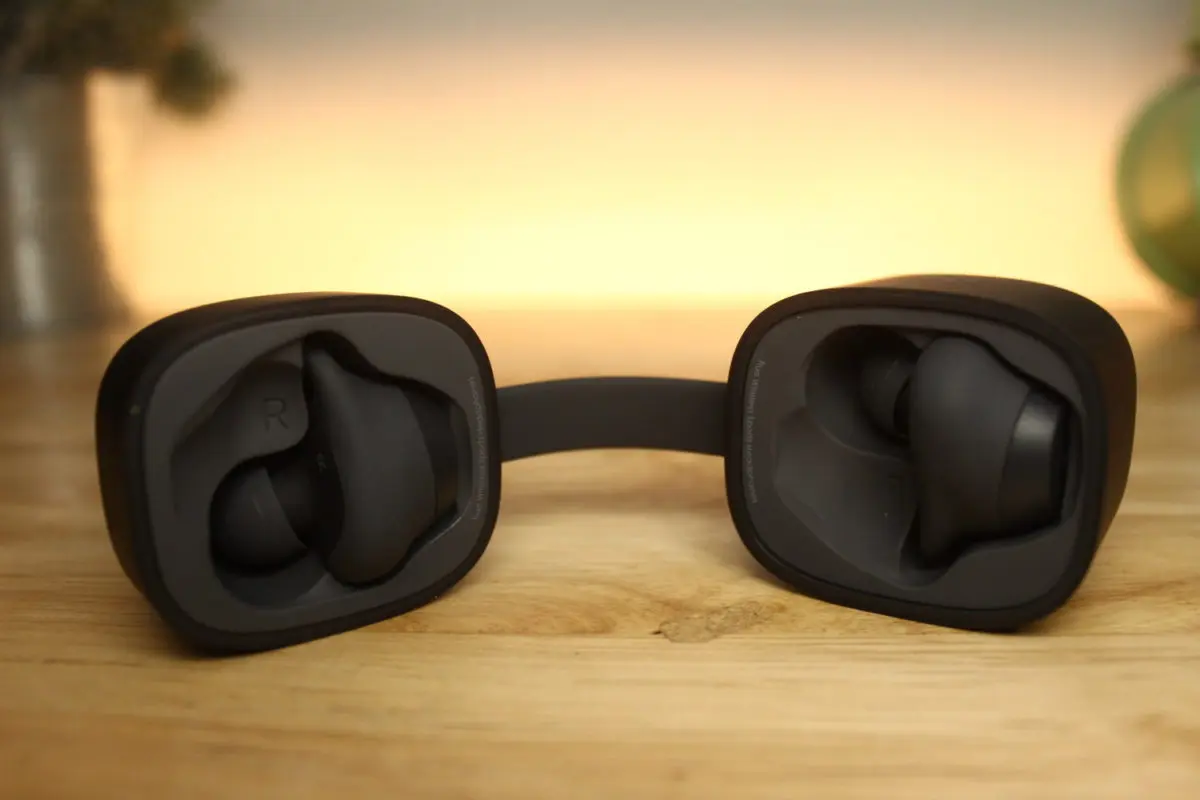 Both earbuds with the case weigh about 71g. Each earbud weighs about 6g which is very light. Here's what it looks like when you open the case while the earbuds are inside.
The brand's H series logo is embedded on each earbud. The embedded part of the earbuds also acts as a control button. It has an LED that indicates the status of the earbuds and it also has removable silicon parts for fitting adjustments.
On the side, each earbud features two gold-plated contact points used for charging and a microphone hole.
In terms of ear fitness and comfort, the earcup and earhook are removable. The package comes with an additional two extra earhooks with different designs to fit various ear sizes.
HAVIT G1 Bluetooth Indicator:
HAVIT G1 MONO: Earbud is in MONO mode. Left earbud solo connection.
HAVIT G1: Both Earbuds are in sync. STEREO mode.
HAVIT G1 LED Indicator:
Right Earbud LED Flashing: Bluetooth is on and discoverable (180 seconds)
Both Earbuds LED Flashing: Pairing time timeout
HAVIT G1 IPX5 Waterproof
One of the main features of the G1 earbuds is its IPX5 waterproof rating. IPX5 waterproof rating dictates that an item can survive a water projected to it by a nozzle (6.3 mm) or getting wet from the rain or sweat and it shall have no harmful effects.

That also means it is not waterproof enough to survive if submerged in water.
HAVIT G1 Wireless Earbuds Control
Performance – HAVIT G1 TWS True Wireless Earbuds
In this section, we conducted various performance test with the HAVIT G1 TWS True Wireless Earbuds. The purpose of this is to grasp and measure the overall performance of these earbuds. To know what it is good at and find its flaws.
Test Methodology
We will be using various tools and test setup to get a grasp of the G1's overall performance.
Tools
HAVIT G1 Earbuds
Huawei P10
ASUS Vivobook S14 S410U

Intel® Core™ i5 8250U Processor
Windows 10 Pro
NVIDIA GeForce MX150 with 2GB GDDR5 VRAM
256GB SATA3 M.2 SSD
Integrated 802.11 AC (2×2)
Built-in Bluetooth V4.2

Desktop

Intel® Core™ i7-6700K Processor
Windows 10 Pro
ASUS AMD Vega 64 GPU
Bluetooth 4.0 Adapter
ASRock Z170 Gaming K4
Seasonic X-650 KM3
G.Skill RipjawZ 16GB DDR4 2400
Test
Audio Test – Mobile, Laptop, Desktop Usage, Gaming
Driver Quality and Isolation Test via audiocheck.net
Mic Test
Distance Test
Use and Charging Time Test
Power Usage Test
Before anything else, we were not able to do any testing for the Bluetooth V5.0. This is due to the reason that we do not have any tools or device that supports Bluetooth V5.0 other than the G1 itself. For the following tests, we used Bluetooth V4.2 and V4.0 for testing.
Audio Test
Another one of the main features of the HAVIT G1 is the Bluetooth V5.0. With Bluetooth 5.0, all devices, mainly audio devices, will communicate over Bluetooth at low energy, lower than the Bluetooth V4.0 can. Which means reduced power usage and longer battery life. However, as we have mentioned above, we do not have another device that features the version 5.0 of Bluetooth to pair the G1 with.
So for this test, we paired the G1 with various Bluetooth enabled devices.
Smartphone Paired
We paired the G1 with our Huawei P10 smartphone and listened to various songs via Spotify and youtube. In terms of audio quality, the G1 delivers. We were not disappointed with the audio quality. The loudness is there and the clarity is solid. It exceeded our expectation, however, it's far from perfect. If you're an audiophile, then the G1 might not meet your standard. As a daily driver, these earbuds have superb audio quality for us.
Gaming wise, the HAVIT G1 offers an extra advantage to hardcore gamers. Since the G1 features a 2.0 channel audio system, the audio produced while gaming allows you to pinpoint your enemy nearby when playing games such as Rules of Survival or PUBG Mobile. Playing MOBA games gave me a very satisfying experience. The quality of the audio is superb and the communication between the team is clear and concise. However, I do get a couple of complains that my voice was staggering. We found out that the built-in mic is not quite that good in terms of quality for gaming.
Laptop Paired
When paired with our ASUS Vivobook S14 laptop, the performance is similar when it was paired with our Huawei P10. No issues found during the test excluding the issue with the microphone.
Desktop Paired
Out of the three pairing test, a desktop computer deems to be the hardest. It produced a couple of issues that we consider an isolated case. In this test case, to be able to pair the G1 we used an ORICO Bluetooth V4.0 Adaptor.
Read Our Review of the ORICO Bluetooth V4.0 BTA-408
After pairing, we listened to music and songs without any issues. We started to have some difficulty when we played some video games and test its built-in mic. Playing some games like Overwatch and Witcher 3 wasn't a good experience for us.
The most concerning issue is that the G1 did not produce any sound during gameplay. Though it's not permanent, after closing the game, the G1 started producing audio again. We are not certain if this is a product issue since the G1 is not designed for desktop use. After performing some more tests and troubleshooting, we believe this to be an isolated case. There could be some issues with the pairing of the devices or the adaptor or Windows 10 desktop just doesn't want to work with us.
When we tried to test the mic, the earphone switched to mono and did not return back to stereo. The company indicated that when communicating via phone call, the HAVIT G1 will automatically switch to MONO. It will then revert back to STEREO shortly after the call but in this case, it did not. We have to restart the connection to bring back the STEREO mode.
Overall, the audio quality is similar to the first two tests. The issues with connectivity and stability of the device are affected by many factors in this case. Thus we cannot claim that there is an issue with the HAVIT G1 when pairing with a computer desktop.
Noise Cancellation
The HAVIT G1 Wireless Earbuds features a high definition microphone with active noise cancellation technology. ANC or Active Noice Cancellation is more of a technique that incorporates a microphone that measures ambient sound. It then generates a waveform that is the exact negative of the ambient sound. Resulting in a clearer voice. However, this only works with taking or making a call. It doesn't work when you use the earbuds other than making a call.
Driver Quality and Isolation Test
For this test, we used the AudioCheck.net's Headphones and Earphones Benchmarking Test Files to measure the performance of the G1's driver and isolation.
HAVIT G1 TEST RESULTS
Frequency Response: BASS 10 Hz – 200 Hz
20Hz minimum frequency response
Frequency Response: TREBLE 8 kHz – 22 kHz
20KHz maximum frequency range
Spectral Flatness
Passed
Dynamic Range
From Full Scale to 70dB Below Full Scale
Driver Quality
Passed
Driver Matching
Passed
Wiring
Passed
Binaural Test
Passed
After running through the various benchmarking test by the AudioCheck.net, the HAVIT G1 passed overall. The only test that might bring up some concerns is its frequency range. However, it is already stated in the specification that the G1 has a frequency range of 20Hz to 20KHz. Out of all the test, the most notable result is the Dynamic Range at 70 dB below full scale. That's actually quite amazing.
Microphone Test
For this test, we used a voice recorder while the HAVIT G1 is paired with our smartphone.
The recorded result seems to dictate that the HAVIT G1 doesn't have a good built-in microphone. We have done this test multiple times but end up having the same quality of the recording. At this point, we're not certain about the purpose of a built-in microphone on each earbud.
Distance Test
The specification of the HAVIT G1 clearly states that the connection from the paired device can work up to 10M without any obstacles. Of course, this is a perfect scenario where the path is clear of any forms of obstacles. Obstacles stated here includes objects and signal interferences coming from the 2.4GHz spectrum
In a real world scenario where there is no object to block the connection from a linear path, the HAVIT G1 maintained a stable connection while listening to some music at 5M. Anymore exceeding that results to an intermittent connection.
Usage & Charging Time
HAVIT claims that the HAVIT G1 Earbuds can last up to 3.5 hours of playtime and 4.5 hours of talk time on a single full charge. Unfortunately, we have no means to verify this since this claim is performed using Bluetooth V5.0 connection. As we have mentioned above, we do not have a device that supports the version of Bluetooth as of this writing. We did, however, performed a test using the Bluetooth V4.2 connectivity.
Bluetooth V4.2 Test Results
Playtime (Medium Volume Level): 2 hours and 55 minutes
Talk time (Phone call with looping voice record): 3 hours and 17 minutes
From a single full charge, listening to music at a medium level lasted me about 2 hours and 55 minutes. Which isn't bad. That's actually great since there's only about 35 minutes difference from the company's claim. In this case, talk time will definitely last longer. On our test, we set up a call from one phone to another and played a looping voice record to keep the earbuds producing sounds during talk time. The G1 lasted about 3 hours and 20 minutes for this talk time test.
Power Usage Test
This test might be one of those that rarely interest someone to want to know. For this test, we simply emptied the battery of the G1 and its case. We also used a Micro USB Type-B cable that supports up to 3A of charging. This is to better measure the peak power draw of the G1 while charging. We also used a charging brick that's capable of producing 5A of output.
When charging, the HAVIT G1 peaks at 450mA of power then slowly goes down as the earbuds and the case reaches its maximum charging capacity. So charging the HAVIT G1 from 0 to 100% takes about 2 hours and 24 minutes.
Final Thoughts…
Before anything else, we would like to emphasize that the HAVIT G1 True Wireless Earbuds are designed for sports use. The overall design, performance, and physical form are intended ideally for sports usage such as running, biking, or simply having a work out in the GYM.
The HAVIT G1 True Wireless Earbuds is a kind of product that caters specific consumers but can also work with others. In terms of product quality, these earbuds are superb. Yes, it is far from perfect especially if you're going to demand a high-end or top of the line audio output. If that's the case, then the G1 is not for you.
In terms of audio quality, the G1 exceeds our expectations. The loudness, clarity, and clearness of its audio output are excellent. The earbuds fitting is also worth mentioning. Its overall ear fitting is very comfortable and it boasts HAVIT's "No Drop Design". It also comes with two additional earhooks and earcups to fit all ear sizes and to satisfy your personal fitting preference.
Overall, the HAVIT G1 is a great earphone for active people. It also works excellently as your daily driver for listing to sound, music, watching a video, and more. Just not for audiophile since there is a limitation in its overall performance. The bass is strong and the treble is satisfying but it is far from perfect. It shares its own issues but it should not be a concern since these issues are too specific and you are most likely not to suffer from it if you use this product as intended.