HAVIT HV-KB380L RGB Gaming Keyboard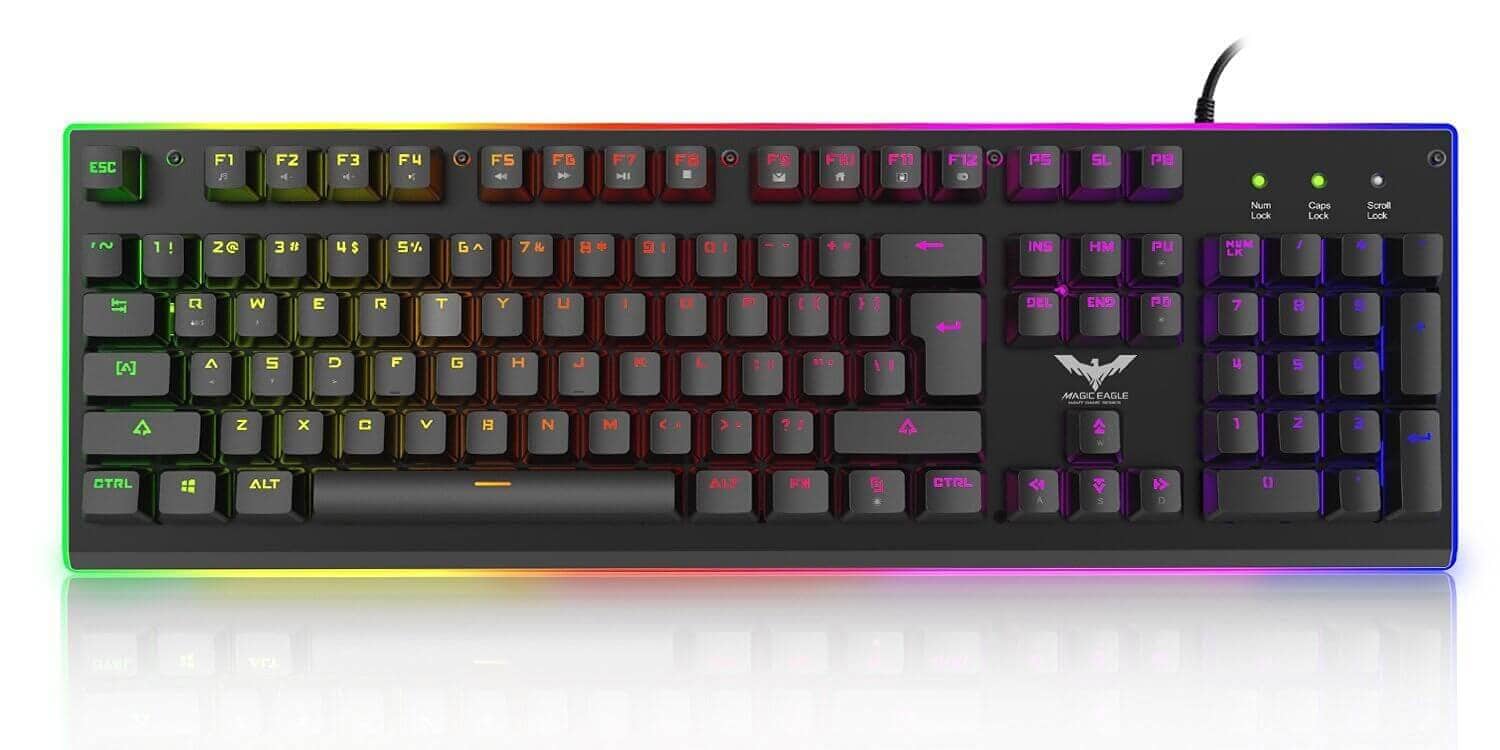 Facebook: https://web.facebook.com/HavitTech
Specification
Model: HAVIT HV-KB380L
Mechanical-Like Keystrokes
Keyboard Type Membrane (Semi-Mechanical)
Flexible DIY keycaps
Anit-Ghosting Up to 20 Keys Rollover
8 sets of anti-ghosting combination keys
8 kinds of RGB light modes (Since August 2017)
Backlit Brightness Adjustment
10 breathing rate options available
Multi-Media Keys

Email, Favorite, Homepage, Media player, Mute, Next Track, Play/Pause, Previous Track, Stop, Volume Down, Volume Up, Win Key Lock

Gold plated USB
Dimension: 446.9mm x (W) 149.3mm x (H) 40.5 mm
Actuation Force:60±15g
104 Keys Layout Design
Net weight: 1232g
Cable length :1800mm
Compatible with Windows Vista/Win7/Win8/Win10, MAC, Linux
Where To Buy HAVIT HV-KB380L
Unboxing – HAVIT HV-KB380L RGB Gaming Keyboard
The HAVIT HV-KB380L is probably the brands cheapest gaming oriented keyboard. Having a retail price of US$43.99, you shouldn't really expect much from this keyboard. However, as of this writing, it is priced at $31.99 on Amazon which is cheaper than the brands' online shop. Furthermore, it is wearing and boasting Amazon's Choice badge on Amazon.com as of this writing.
So we're very fortunate enough to receive one sample for this review. Let's take a closer look at the HAVIT HV-KB380L RGB Gaming Keyboard.
Packaging
The packaging of the keyboard features the brands signature packaging design and is more like a trademark. A black box inside a white box. The front side of the package displays the actual keyboard with its LED effect as well as a highlight of its main features. The back side of the box highlights more information about the keyboard such as its certifications, specification, and its features.
Opening the box reveals the inner packaging of the keyboard and its contents. The keyboard is inside of a thin foam bag that protects it from trivial damages such as scratches and minimal dents from accidental drops. Furthermore, the keyboard is held inside by two black thick foams that keep the keyboard in place and that also acts as a shock absorber. Giving further protection to the product.
It goes to show that HAVIT values every customer as they place more effort into their products. These days, it's rare to see a brand that doesn't leave small things unattended.
Cable
The HAVIT HV-KB380L comes with a braided black cable with ferrite noise filter that prevents interference from high pitch noise. The cable is 1.8 metres long and features a gold-plated USB.
Accessories
The HAVIT HV-KB380L only comes with one user manual and a feedback card from HAVIT.
The keyboard doesn't come with any extra accessories. That's one thing worth noting. We have seen some keyboards from other brands at a similar price range that comes with accessories such as keycap pullers, USB cable protection plugs and ties, and more.
Closer-Look – HAVIT HV-KB380L RGB Gaming Keyboard
On a closer look, the HAVIT HV-KB380L exhibits a mechanical keyboard design. I mean, anyone will think that it's a mechanical keyboard from the first look. The design is minimal but elegant. It features a 104 standard keyboard layout with media keys and backlight control via FN combination keys.
Function keys
Fn+F1: Music player
Fn+F2: Volume –
Fn+F3: Volume +
Fn+F4: Mute
Fn+F5: Previous Song
Fn+F6: Next Song
Fn+F7: Play/Pause
Fn+F8: Stop
Fn+F9: Email
Fn+F10: Web/Home
Fn+F11: Key Lock
Fn+F12: Favorite
Fn+W: Exchange A, S, D, W with ←、↓、→、↑
FN+Q: It could be changed to 60 bytes/s by pressing once.
Fn+Win Key: Lock/Unlock Win key
FN+Page UP: Increase backlit brightness 0%–33%–66%–100%(default)
FN+Page Down: Decrease backlit brightness 100%(default) –66%–33%–0%
Fn+ – : Slow down the breathing rate
Fn+ + : Speed up the breathing rate
Now looking at the back, the keyboard features a plain design. A lot of screw holes can be seen on this side. There are only two rubber feet that keep the keyboard in place and prevent it from slipping. It also features an angle adjustment feet but you are limited to two angles. Either you leave the keyboard flat on the surface or a pop out the feet for a slight angle adjustment.
The stick in the middle doesn't reveal much other than the products certification and further specification.
Features
One of the main features that distinguish the HAVIT HV-KB380L from other is its unique design. The simplistic, minimalistic design makes the keyboard look really good and elegant. Its silver edge accent really adds to its overall aesthetics. Typically, we usually see big keyboard frames at this price range but this keyboard is definitely minimalistic.
The clear plastic around its edges is designed to give an RGB luminance effect when the keyboard is plugged in and the backlight is turned on.
The num lock, caps lock, and scroll lock indicator is located in their default location. Each indicator emits and blue light when they are switched on. The silver round edge makes the overall design look more elegant.
The manufacturer's gaming series logo called "Magic Eagle", HAVIT's gaming series of PC peripherals, is visible. It is located in between the direction keys and PgUp/PgDn keys. You can learn more about the Magic Eagle product series here.
Key Caps & Switches
The keycaps used in this keyboard are double shot and uses an MX Key Stem design. Therefore, you can remove the keys easily and swap them with any keycaps that use similar key stem design.
Another feature that we do not usually see from a membrane keyboard is its switches. Typically, we do not see any sort of keyboard switch beneath the keys when its a membrane keyboard. For the HAVIT HV-KB380L, the case is different. You will see a white switch. These switches are not Cherry MX White. Unlike Cherry MX White that has a medium-stiff, tactile, soft-click feedback when pressed, the white switches of this keyboard don't have any tactile feedback. Although, it has a similar stiffness with brown Kailh Switch and a soft-click feeling to it after pressing.
Performance – HAVIT HV-KB380L RGB Gaming Keyboard
The HAVIT HV-KB380L offers a mechanical like feeling performance according to specs but on actual use, it still is a membrane keyboard. What we noticed though is that it has a consistency through on each of its key switches. Unlike the traditional membrane keyboards, this keyboard has a consistency on the keys on each press. It's similar when you're pressing a key on an actual mechanical keyboard. What it lacks is tactile.
The only key that gives a tactile feeling is the space bar. It has two springs that require stronger actuation force to press and it gives you a clicky and tactile feedback after pressing it. Other than that, nothing else is worth mentioning.
According to specs, it has an actuation force of 60±15g. Which is similar to black switches of Cherry MX and Kailh but again, it lacks the tactile and each press is silent.
Anti-ghosting Combination Keys
Like the most gaming-oriented keyboard, the HAVIT HV-KB380L features anti-ghosting. However, it's not a full pledge throughout anti-ghosting. Instead, HAVIT made a set of anti-ghosting combination keys. These combination keys are the keys usually used together most of the times especially when gaming.
8 sets of Anti-ghosting Combination Keys (Will not cause conflict when each set of these keys is conducted)
Tab+Caps+Shift+Ctrl+Q+W+E+R+T+A+S+D+F+G+Z+X+C+V+B+Space (20 Key)
Q+W+E+R+T+Y+U+I+O+P+Space (11 Key)
A+S+D+F+G+H+J+K+L+; +Space (11 Key)
Z+X+C+V+B+N+M+,+.+/+SpaceBack (11 Key)
TAB+CAPS+Shift+Ctrl+Alt+Q+W+E+A+S+D+Z+X+C (14 Key)
TAB+CAPS+Shift+Ctrl+Space+Q+W+E+A+S+D+F+G+Z+X+C+↑+ ←+ ↓+→ (20 Key)
Shift-L+Shift-R+Ctrl-L+Ctrl-R+Alt-L+Alt-R+Space+↑+ ←+ ↓+→ (11 Key)
A+S+D+F+J+K+L+;+SpaceBack (9 Key)
Despite not having a full pledge all thorough anti-ghosting features on all of its keys, it still is an amazing feature to have on a membrane keyboard. We tested all combination using this simple test https://scratch.mit.edu/projects/20966625/. All set of combination works without any issues.
RGB Backlight LED
RGB LED Modes:

FN + 1: Flow Light
FN + 2: Running Light
FN + 3: Circular Breathing
FN + 4: Comet Sliding
FN + 5: Single Colour
FN + 6: Diffusion
FN + 7: 6 Areas User Defined

Press Twice in 2 Seconds to Enter Custom Mode
Press FN + Left or Right: Select Area
Press FN + Up or Down: Change Colour of the Selected Area

FN + 8: Ripple
FN + Left or Right Arrow Key: Change Direction
FN + PgUp or Pg Dn: Increase/Decrease Brightness
Final Thoughts…
The HAVIT HV-KB380L is one fine keyboard and we can say a rare find too. These days, it's not uncommon to see a membrane keyboard designed to look like a mechanical keyboard. Most manufacturers are doing this to give a cheaper alternative to entry-level or cheapest mechanical keyboard on the market. However, a membrane keyboard will still be a membrane keyboard. It makes us question, why does this kind of product even exist? If you need a mechanical keyboard then go grab the cheapest one.
Decent and well built mechanical keyboard tends to be expensive. They are even more expensive if they have an RGB backlighting. You'll probably cash out about USD55 or more just to get a decent performing mechanical keyboard. Popular brand these days will cost you even more. Almost twice the price. That's probably the main reason why a product like the HAVIT HV-KB380L came to be. To offer customers the flexibility of owning a gaming oriented keyboard with RGB goodness for an affordable price. Furthermore, it's not just any keyboard. Despite being a membrane keyboard, it uses a white switch membrane design that we can mostly see on mechanical keyboards. Giving a consistency throughout every key press.
Overall, the HAVIT HV-KB380L is probably the best membrane keyboard we ever tried our hands on. On long use, you will get that weird feeling every press but you will then love the performance and consistency later on.
If you love the black key switches but don't want the tactile feedback of it then this is a good alternative and a cheaper one too. With a similar actuation force of 60g, it really has that similar resistance and feeling when pressing both keys together.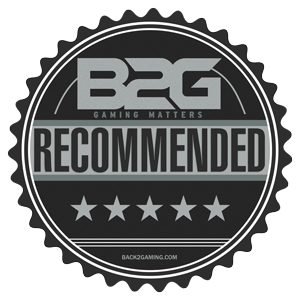 With its unique feature and design, we still find this keyboard on the expensive side of the market. Although, in terms of its performance, we can definitely give it a B2G Recommended award in our Gaming Keyboard Membrane category.
Where To Buy HAVIT HV-KB380L