Introduction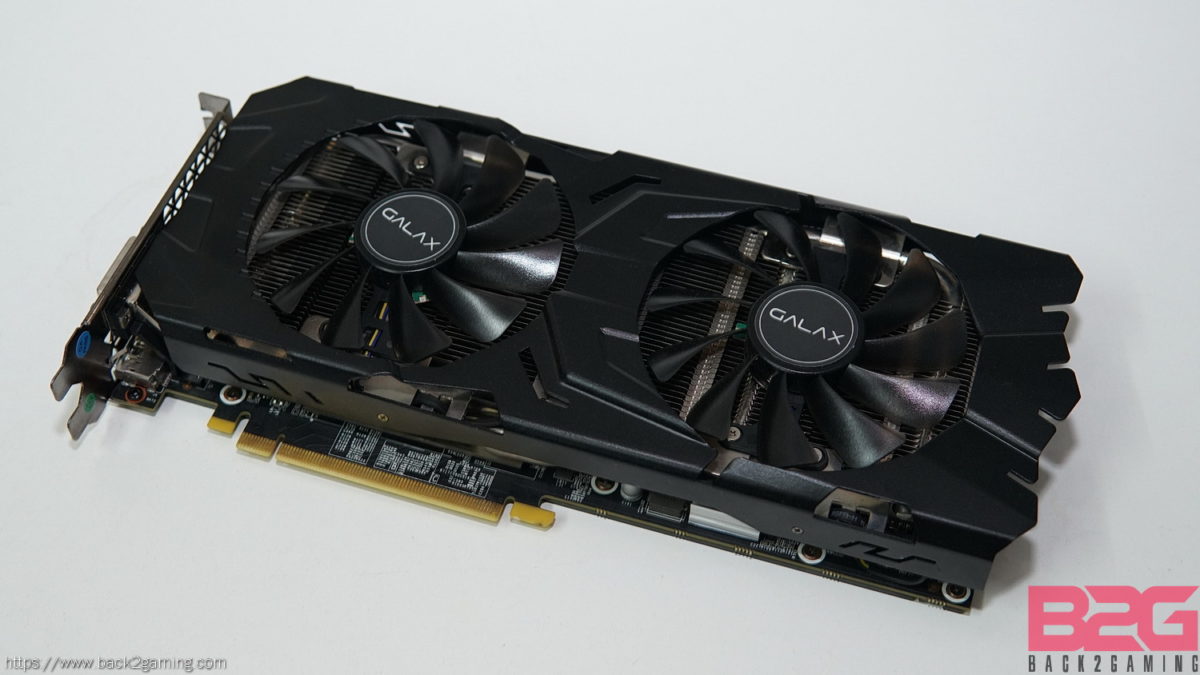 We reviewed the GALAX GTX 1070 Ti EX-SNPR WHITE earlier and noted that it was a well-cooled and well-built card for those looking for a aftermarket 1070 Ti. It was quite flashy and the white theme really made it pop but there are still folks out there that embrace the black and red gamer scheme that's more universally applicable to any build. GALAX is well aware of this and has released the GTX 1070 Ti EX model for those looking for a more dark, traditional theme to their build. More about the GTX 1070 Ti, the card was recently released as a direct counter to AMD's top-performer, the Radeon Vega64. NVIDIA filled the gap between the GTX 1070 and GTX 1080 to hopefully veer attention away from the competition and in doing so, has also managed to create a really incredible product in the GTX 1070  Ti. In our reference GTX 1070 Ti card review, we saw the card easily close-in to the overclocked GTX 1080 but noted how the NVIDIA reference cooler was holding back the GPU's full power which is pretty much inherent of all their reference-cooled design.
Since the NVIDIA doesn't allow partners to OC their 1070 Ti cards, GALAX (known to the west as KFA2) has dropped the EXOC naming for EX in this release but still maintains the same EXOC cooling as those found in other GPUs. In this review, we'll take a look at how the card compares against its EX-SNPR WHITE brother and the reference GTX 1070 Ti.
About the GeForce GTX 1070 Ti
The NVIDIA GeForce GTX 1070 Ti sits between the middle of the GTX 1070 and GTX 1080 but performs quite close to the GTX 1080. So much so that NVIDIA has disallowed AIC partners in developing factory overclocked editions of the GTX 1070 Ti. What we do get are custom-cooled cards that can extend the performance of the GTX 1070 Ti with custom cooling which allows for some good overclocking by the users who can do so via preset profiles or manually via GPU overclocking utilities.
At its core, the GTX 1070 Ti is forged around the GP104 silicon similar to the GTX 1070 and GTX 1080. It features a 1607Mhz base clock and a 1683Mhz boost frequency. The base clock is similar to the GTX 1080 but the boost frequency is from the GTX 1070 which means there's some flexibility to be had in further overclocking the card as the boost frequency is quite a bit restrained. The GTX 1070 Ti shares the same memory configuration as the GTX 1070 with 8GB of GDDR5 memory on a 256-bit bus. The reference design requires a single 8-pin power pin to work.
The reference card features NVIDIA's NVTTM Founder Edition cooling solution.
About the GALAX GTX 1070 Ti EX
Since NVIDIA disallows factory overclocked models with any GTX 1070 Ti, all cards clocks remain the same (see above for more details.) The difference maker is how the cards are built and cooled. For GALAX, they have undoubtedly upped their game in recent years and have been a growing name since they broke out of their rather conservative position in the market. Now GALAX sits comfortably alongside other mainstream brands as a viable competitor, renouncing its once budget position in favor of a more enthusiast-centric branding.
The EX series from GALAX features a black, metal cooling shroud and backplate. The looks is quite tech-inspired and features dual fans for cooling. The card has a built in backplate which is distinct from the EX-SNPR because of the lack of the accent lighting. The LED features of this card are centered on the logo sideplate and LED fans.
Performance Testing
Test Setup
Processor: Intel Core i7 7700K
Motherboard: ASUS ROG Maximus IX APEX
Memory: G.Skill Trident Z DDR4-3200 16GB
Storage: WD Blue SSD 1TB
PSU: Seasonic Platinum 1000
Cooling: Thermaltake Water 3.0 Riings 360mm
Monitor: ViewSonic vx2475smhl
VGA: GALAX GTX 1070 Ti EX

For a full-hardware workout, visit http://www.futuremark.com for our benchmarks of choice.
For benchmarking methodology please see our game benchmark method guide.
Frame rates and frame times of a 60-second game play were recorded using FRAPS v3.5.99. The test results are the average of 3 benchmark runs. Since this is a GPU review, we benchmarked the area of the games that put heavy load on the GPU.
All our test runs are repeatable, click the links below for area and details. Read our benchmarking methodology.
Crysis 3 – Post Human
Grand Theft Auto V – Palomino Highlands
The Witcher 3 – Woesong Bridge
Rise of the Tomb Raider – Valley Farmstead
DOTA2 – Shanghai Major Finals, Game 2, Team Secret vs Team Liquid (23:45 – 24:45)
See our Youtube playlist for benchmark sequences.
The games and corresponding image quality settings used are shown in their respective tabs.
Note: Some proprietary technologies of NVIDIA like PCSS, HBAO+, and HairWorks work on AMD GPU's BUT to maintain uniformity amongst GPUs, these have been turned OFF.
Rise of the Tomb Raider
The reboot of the gaming phenomenon Tomb Raider puts players in Lara Croft's hiking boots as we pick-up from the last game. Featuring upgraded graphics, DX12 support and new image quality improvements, this game challenges new hardware with its graphical offering.
DirectX11
Anti-aliasing: FXAA
Very High settings
Ambient Occlusion: On
Pure Hair: On
Vignette Blur: Off
Motion Blur: Off
Bloom: On
Tessellation: On
Screen Space Reflections: On
Lens Flares: On
Film Grain: Off
1920×1080
2560×1440
The Witcher 3
CD Projekt Red's latest installment in the Witcher saga features one of the most graphically intense offering the company has to date. As Geralt of Rivia, slay monsters, beasts and men as you unravel the mysteries of your past. Vast worlds and lush sceneries make this game a visual feast and promises to make any system crawl at its highest settings.
Frame Rate: Unlimited
Nvidia HairWorks: Off
Ultra Settings
Motion Blur: Off
Blur: Off
Anti-aliasing: On
Bloom: On
Sharpening: High
Ambient Occlusion: SSAO
Depth of Field: On
Chromatic Aberration: Off
Vignetting: On
Light Shafts: On
1920×1080
2560×1440
DOTA2
The most popular game on Steam and the biggest competition in eSports; DOTA 2 is powered by the Source 2 engine. The game is fairly light on low to medium settings but maxed out with heavy action on screen especially during clashes can really stress most systems especially with Reborn update. This is a game where frame times matter as responsiveness is very important in high-stakes competition.
DirectX9 (default)
Best-Looking slider setting (Ultra)
FPS_MAX 240
Vsync OFF
1920×1080
2560×1440
Grand Theft Auto V
The fifth and most successful installment to date in the highly controversial Grand Theft Auto series brings a graphical overhaul to the PC version of GTA V which many have lauded as a superior approach in porting a console game to PC. Featuring large areas and detailing, GTA V is a highly challenging application in terms of scene complexity.
FXAA Off
MSAA 4x
TXAA Off
Very High settings
Anisotropic Filtering: 16x
Motion Blur disabled
Advanced Graphics enabled
1920×1080
2560×1440
PlayerUnknown's Battlegrounds (PUBG)
Arguably the most popular game of 2017 with nearly 3 million active players at any given time, Bluehole's PUBG isn't by any standard the most graphically intensive game out right now but it does stretch Unreal Engine 4's maximum capability in terms of handling large maps. The official launch of PUBG introduced new graphical improvements to the game which makes it more visually appealing and to introduce a more detailed environment to make it more strategic to blend in with the environment.
Ultra Settings
Post-Processing: Ultra
Texture:Ultra
Anti-Aliasing: Ultra
Effects: Ultra
Foliage: Ultra
Motion Blur: Off
1920×1080
2560×1440
Rainbow 6 Siege
The most ambitious title from the Rainbow 6 franchise, Siege introduces highly destructible maps so tension is always high in the multiplayer-based FPS. Rainbow 6 Siege is focused on teamplay and is predominantly an online multiplayer experience with an eSports Pro League built around it to promote the game. R6 Siege features support for native Ultra HD textures and its highly-detailed, highly-dynamic environment makes it a very challenging game for any system making it one of the most ideal modern benchmark.
Ultra High Settings
Texture Quality: Ultra
Texture Filtering: Anisotropic 16x
LOD Quality: Ultra
Shading Quality: High
Ambient Occlusion: SSBC
Lens Effect: Bloom + Lens Flare
Anti-Aliasing: T-AA
We're currently introducing this title to our standard benchmarks and we're still exploring benchmark options for the game. For now, we present you the ingame benchmark results.
F1 2017
Built to be the official eSports counterpart of the Formula 1 series, F1 2017 is a highly-detailed simulation of the real thing with heavy attention to details including track condition, vehicle condition etc. with realistic visuals to further feed a sense of realism to players. Built around the EGO Engine 4.0, the game is a great workout and benchmark for racing sims featuring realistic lighting, track detail and physics.
Ultra High Graphics Settings
Lighting Settings: High
Post-Process: High
Shadows: Ultra High
Ambient Occlusion: HBAO+
Texture Streaming: Ultra High
Weather Effects: Ultra High
Dynamic Hair: High
Temperature & Power Consumption
To measure both power consumption and heat, we stress the video card and record the peak values for heat and wattage. We use default values on the cards and stress test them using 3DMark FireStrike Ultra in 20 loops to simulate gaming loads and this is where we also base our power draw. System power draw is measured from the socket.
Analyzing the power draw of the GTX 1070 Ti in a gaming-like scenario, it peaks at close to 140W which is quite efficient compared to an overclocked GTX 1080. The custom cards do show us the GPU is more than capable of bridging the gap in performance and it does so with a bit of extra juice which they draw from their extra PCIe power sources. This is still below a custom GTX 1080 and as we see in the charts, it goes without saying if utmost efficiency is a factor, the GTX 1070 Ti does show the excellent efficiency of the Pascal architecture.
The main difference, barring aesthetics, from the EX and EX SNPR GTX 1070 Ti is the accent lighting and backplate thickness. While the lighting doesn't serve any cooling purpose, it does elevate the backplate of the EX-SNPR unlike the GTX 1070 Ti EX which has a closer distance to the PCB which allows it to absorb radiant heat faster than the EX-SNPR as evident in the image above the heat is much more concentrated on the backplate. Something now shown here is the quicker spread of heat on the backplate which we feel is more optimal vs. the EX-SNPR. Still, its nothing deal-breaking and both cards hold-up fine in GPU thermal performance but for those more conscious about design, its something certainly worth noting. Also this backplate does not block the PCI-e slot release clip.
Conclusion
We highlighted the popularity of a white-themed build and how there's only a few brands that offer totally white products particularly graphics cards in the market right now. GALAX has been one, if not, the flagbearer of white builds but still, they offer plenty of other options for people that want a solid graphics card that can fit any theme and their mainstream EX and EXOC line of GPUs are capable of doing that.
More on the GALAX GTX 1070 Ti EX, it certainly performs well above the GTX 1070 Ti reference design card and has plenty of cooling power on it to give it more edge versus the reference card. The excellent build quality resonates across the card's cooling shroud all the way to the backplate and the accent design prints compliment the card well. Looks is pretty much subjective and the neutral black scheme with red LEDs on the GALAX GTX 1070 Ti EX may not be to some people's palate but its a standard gaming theme and those who don't care about looks may feel the LED lighting is a decent bonus not to mention the added LEDs on the logo sideplate.
The GALAX GTX 1070 Ti EX is a great example of a simple, well-designed graphics card that addresses the basic needs of gamers: good cooling and great performance. The card's looks is simple enough for minimalist build but has that aggressive, gamer vibe to it when paired with the right components.
The GALAX GTX 1070 Ti EX retails for a touch less than the GTX 1070 Ti EX-SNPR WHITE so if you're asking if there's any difference aside from the accent backplate lighting and white theme, there isn't any. So if you're looking for a decently-cooled GTX 1070 Ti with competitive performance, the GALAX GTX 1070 Ti EX is an attractive option.
GALAX backs the GTX 1070 Ti EX with a 2-year warranty. We give it our B2G Recommended Award!