Kingston is intent on reestablishing its high-performance brand, FURY, and we've already taken a look at a couple of Kingston FURY products with the first one being the Kingston FURY Renegade DDR4 memory. In this review, we'll go over the Kingston FURY Renegade PCIe 4.0 NVMe M.2 SSD, their fastest SSD to date. Like with their most recent releases, this is coming off their FURY line; Kingston's post-HyperX brand that focuses on high-performance product following the acquisition of the HyperX brand by HP. Kingston retains their memory products but has sold-off their peripheral business. You can read more about that acquisition here.
This move allows Kingston to focus on its main business: flash memory products. Thankfully, Kingston's Fury SKU was so popular they just had to take the name and run with it and luckily no peripheral from Kingston had the Fury name. Thus, the FURY brand was born.
In the same vein as the Renegade memory, the Renegade SSD is also the king-of-the-hill for Kingston FURY products despite sharing hardware with the mainstream KC3000 SSD. We'll talk more about those and more in this review so read on to find out more!
Features & Specification
Kingston FURY Renegade SSD
Kingston KC3000 SSD
Form Factor
M.2
M.2
Interface
PCIe 4.0 NVMe x4
PCIe 4.0 NVMe x4
Size/Capacity
512GB, 1024GB, 2048GB, 4096GB
500GB, 1TB, 2TB, 4TB
Controller
Phison E18
Phison E18
NAND Type
3D TLC
3D TLC
Sequential R/W
512GB – 7,000/3,900MB/s
1024GB – 7,000/6,000MB/s
2048GB – 7,000/7,000MB/s
4096GB – 7,000/7,000MB/s
500GB – 7,300/3,900MB/s
1TB – 7,300/6,000MB/s
2TB – 7,300/7,000MB/s
4TB – 7,300/7,000MB/s
Random 4K R/W
512GB – up to 450,000/900,000 IOPS
1024GB – up to 900,000/1,000,000 IOPS
2048GB – up to 1,000,000/1,000,000 IOPS
4096GB – up to 1,000,000/1,000,000 IOPS
500GB – up to 450,000/900,000 IOPS
1TB – up to 900,000/1,000,000 IOPS
2TB – up to 1,000,000/1,000,000 IOPS
4TB – up to 1,000,000/1,000,000 IOPS
Total Bytes Written
512GB – 400TBW
1024GB – 800TBW
2048GB – 1.6PBW
4096GB – 3.2PBW
500GB – 500TBW
1TB – 1.0PBW
2TB – 2.0PBW
4TB – 4.0PBW
MTBF
1.8 Million Hours
1.8 Million Hours
Warranty
5-year
5-year
Incredible PCIe Gen 4×4 NVMe performance at speeds up to 7300MB/s read and 7000MB/s write

Low profile graphene aluminum heat spreader

Slim M.2 2280 form factor for enhanced gaming experience on your rig and laptop

High capacity options up to 4TB to store your games and media

Compatible with Playstation 5
Closer Look – Kingston FURY Renegade SSD
As a gaming drive, particularly a flagship model, it is quite surprising that Kingston packages their FURY Renegade SSD in a simple packaging. The Kingston FURY Renegade SSD is sealed in a thermoformed plastic shell in a blister card packaging.
The Kingston FURY Renegade SSD is a standard M.2 2280 card with a graphene heatspreader. The graphene heatspreader is pre-applied. In most cases these types of drives are best used underneath another heatsink but can also be used by itself while cooled passively.
Removing the graphene heatspreader shows us a normal graphene spread. Do know that it is not advised to remove the graphene as it will ruin the look of the heatspreader.
Checking out the component of the Kingston FURY Renegade SSD, we have an array of Kingston-brand SSD as well as a Kingston DDR4 DRAM cache.
Performance Testing – Kingston FURY Renegade SSD
Test Setup
Processor: Intel Core i9-11900K
Motherboard: ROG Maximus XIII EXTREME
Memory: G.Skill TridentZ Royale DDR4-4000 CL14 16GBx2 (32GB)
Storage: Patriot Viper VP4100 1TB (OS), tested drive as listed
PSU: Seasonic Platinum 1050w
Cooling: Corsair H150i 360mm AIO
Monitor: ROG PG27UQ
VGA: ZOTAC GTX 1050 Ti
Our sample for this test is the Kingston FURY Renegade 2TB SSD
AIDA64 Disk Benchmark
AIDA64 features an internal storage benchmarking tool. It has a large suite of read and write tests that will measure both linear (sequential) and random disk performance in both transfer rate and access times. AIDA64's write tests are destructive and will destroy all drive data. Linear write testing in AIDA64 is what I use as a stress for our thermal capture. The random read benchmark here shows us how consistent the read performance is in varying sizes and location on the disk the data is written.
Linear Write
The Kingston FURY Renegade 2TB averages 5000MB/s write until around 35% total capacity written. After that, the drive does drop to around 500MB/s. Do note that this occurs is when a total of 700GB or so has been written which is an immense file size.
Anvil's Storage Utilities
This benchmark features a dedicated SSD benchmark which measures disk transfer rate as well as IO speed. The benchmark serves to compliment the other sequential tests in this review to show consistency.
AS SSD
Another SSD benchmark oriented towards sequential and 4K transfer performance. This benchmark also features a compression and file copy benchmark for more specific testing.
CrystalDiskMark
CrystalDIskMark has been the most actively updated disk benchmark amongst all the ones we use and is effectively the most reliable. Unfortunately, version to version results are not comparable which limits the ability to extrapolate comparative data. Still its a reliable and direct benchmark. Like the previous, it allows control over test data pattern, the test data size, amount of passes and individual benchmark control.
3DMark Storage Benchmark
The 3DMark Storage Benchmark uses traces recorded from popular games and gaming-related activities to measure real-world gaming performance, such as:
Loading Battlefield V from launch to the main menu.
Loading Call of Duty: Black Ops 4 from launch to the main menu.
Loading Overwatch® from launch to the main menu.
Recording a 1080p gameplay video at 60 FPS with OBS (Open Broadcaster Software) while playing Overwatch.
Installing The Outer Worlds from the Epic Games Launcher.
Saving game progress in The Outer Worlds.
Copying the Steam folder for Counter-Strike: Global Offensive from an external SSD to the system drive.
Final Fantasy XIV Benchmark
Final Fantasy XIV has a standalone benchmark application for PC, always updated to the latest game expansion with the latest Endwalker benchmark delivering some very nice graphical updates. A long-standing feature of the Final Fantasy XIV standalone benchmark is the loading data is captures which is a summary of all the load times between scenes in the benchmark.
Playstation 5 Testing
The Sony Playstation 5 supports storage expansion thru M.2 devices and many SSD makers are advertising their drives as supporting the Playstation 5. That said, we've included PS5 bandwidth testing in our reviews. We use the Playstation 5's internal read speed test for the primary initialization. Due to how Sony designed this benchmark, our testing averages at least 5 reads with the drive formatted after a rest period for best thermal results.
User Experience & Conclusion
At time of publishing, the Kingston FURY Renegade SSD 2TB is currently going for PHP22,000 or a little over $400 in most e-tailers. The Philippines is currently obsessed with Samsung drives but Samsung currently puts their top 2TB drive at a little over $500. Currently, the newer part of our benchmark suite with 3DMark Storage Benchmark as well as the Playstation 5 testing does confirm this is one of the fastest drives around, especially against Seagate and its heavily-cooled solution (albeit a 1TB model). Regardless, Kingston is looking to impress with the FURY Renegade SSD and its twin brother the KC3000. While differences look minimal on paper, as we do not have a KC3000 to compare, we cannot comment on the difference but going on what's actually being told to us, the Kingston FURY Renegade is the faster product, in exchanger for a few gigabytes.
Focusing on the 7000MB/s lot of drives we've tested, it is easy to see that we're looking it a fairly competitive market, one that's going to either be marketing to the performance crowd or the professional crowd. Regardless of which they target, performance SSDs have not had much improvement in pricing since Gen3 drives and 2TB sizes, while better than 5 years ago or so has not made the GB-per-dollar ratio much better. That being said, in terms of value, storage performance will ultimately be based on what you do and as a gaming website, I am compelled to conclude that Kingston's FURY Renegade SSD is arguably one of the fastest out there now.
Backed a by a 5-year warranty, Kingston is confident with their products and the FURY Renegade SSD is the the current flagship of their SSD line-up so performance is worth the title of flagship. The Kingston FURY Renegade SSD is an easy recommendation and the 1TB model is competitively-priced and should be in your shortlist of high-performance drives for your next-gen build or even your Playstation 5. As an aside, testing on the Playstation 5 yield 60*C average thermals on this drive so heat isn't an issue in passive application provided its not a heatpump. In closing, Kingston is obviously ready to lift their FURY brand but is currently undecided on what look that form takes so most of the products are physical rehashes of their previous HyperX namesake. While that is not a bad thing in itself, if Kingston intends to convince gamers and power-users alike that need to relate their performance expectation to a memorable brand.
Kingston back the FURY Renegade SSD with a 5-year warranty. I give  out B2G Gold Award for performance.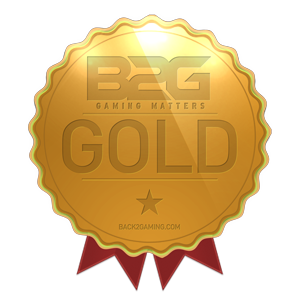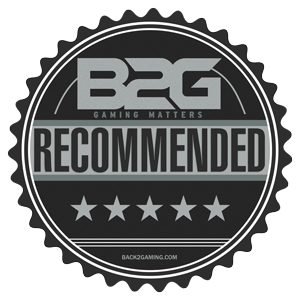 Kingston FURY Renegade PCIe 4.0 NVMe M.2 SSD Review
Final Thoughts
Kingston is confident with their products and the FURY Renegade SSD is the the current flagship of their SSD line-up so performance is worth the title of flagship.
Pros
Great performance
Good thermal performance
Cons
KC3000 has better heatpsreader design