Transcend 250H M.2 PCIe NVMe SSD Review
Final Thoughts
One of Transcend's most performant SSD but struggles to compete in a very congested market where even its Gen4x4 speeds and DRAM cache, aren't enough to standout.
Pros
Decent performance overall
Good build quality
Fits PS5 perfectly
Cons
Warranty void if heatsink removed
Introduction: Transcend 250H SSD Review
We have looked at various Transcend products in the past and the company has maintened a very straightforward approach in marketing their products. They're quite the staple in most shops in the USB flash drive and storage section but we've rarely looked at Transcend products for their performance aspect but rather value. With SSD's now dropping in pricing, its made creating value-based options for brands that thrive in this segment to compete in the performance scene and Transcend's latest SSD option aims to put neck-to-neck with common names in the top ranks.
Today we take a look at the Transcend 250H SSD specifically the MTE250H SSD in 1TB capacity. Available now in the Philippines at Lazada and Shopee with capacities starting at 256GB. They also have flagship Shopee store as an alternative option but check for pricing variance as well as with local authorized dealers.
In this review, we'll put the Transcend 250H SSD thru its paces and see where it ranks in our battery of gaming tests. Read on to find out more!
Features & Specification
Transcend's MTE250H PCIe SSD follows the latest NVMe 1.4 standard, supporting the PCIe Gen4 x4 interface, allowing four lanes to transmit and receive data simultaneously. Its 8-channel controller delivers sequential R/W up to 7,500/6,700 MB/s, and up to 540K IOPS, providing captivating performance and response times for your PC systems and game consoles.

Transcend's MTE250H features the new PCIe 4.0 specification, supporting a bandwidth of 16 GT/s per lane as opposed to 8 GT/s per lane for PCIe 3.0. Backwards compatible with PCIe 3.0, PCIe 4.0 unleashes higher transfer speeds and guarantees lower system latency. For advanced gamers, this means a more seamless and immersive experience.

Transcend's MTE250H features a high efficiency aluminum heatsink to improve heat dissipation of the high performance, compact-sized SSD. The high thermal conductivity of aluminum and increased surface area reduce drive temperatures by 15%, allowing the SSD to maintain lower operating temperatures, even when you're maxing out performance on your desktop PC or game console.

Transcend's PCIe SSD MTE250H is engineered with LDPC (Low-Density Parity Check) coding–a powerful ECC algorithm–to keep data secure. With its built-in dynamic thermal throttling mechanism, operating temperature is precisely monitored and controlled for the MTE250H, delivering superior endurance and stability for high-end applications.

Featuring the M.2 2280 form factor, Transcend's MTE250H is available in capacities of up to 4TB, giving users plenty of space to store multiple blockbuster games.
Dimensions
Double-sided 80.0 mm x 23.1 mm x 9.2 mm (3.15″ x 0.9″ x 0.36″)
Weight
34 g (1.19 oz)
Type

Interface

Bus Interface

Storage

Flash Type

Capacity

Operating Environment

Operating Temperature
0°C (32°F) ~ 70°C (158°F)
Operating Voltage

Performance

Sequential Read/Write (CrystalDiskMark)

4 TB

Up to 7,500/6,700 MB/s

2 TB

Up to 7,100/6,500 MB/s

1 TB

Up to 7,200/6,200 MB/s

4K Random Read/Write (IOmeter)

4 TB

Up to 540,000/440,000 IOPS

2 TB

Up to 530,000/420,000 IOPS

1 TB

Up to 530,000/420,000 IOPS

Terabytes Written (TBW)

4 TB

3120 TBW

2 TB

1560 TBW

1 TB

780 TBW

Mean Time Between Failures (MTBF)
3,000,000 hour(s)
Drive Writes Per Day (DWPD)
0.43 (5 yrs)
Closer Look: Transcend 250H SSD
Transcend packages their 250H SSD in a full color box. The hero shot of the product is done in a stylized theme while the back consists of just plain text in various languages. The model name, Gen4x4 and DRAM Cache SSD type as well as the capacity is printed on front. This SSD goes up from 1TB to 4TB, please check your label for the proper capacity.
The Transcend 250H SSD comes only with the SSD itself protected by a thermoformed clamshell housing. A  warranty card slip is included in the bundle.
The Transcend MTE250H comes pre-installed with a heatsink. Transcend voids the warranty if the heatsink is removed so please take importante note of this. If you're running this on a board with an M.2 heatsink shroud, check if you want to run without the cover and just use the one included in the Transcend 250H SSD.
The heatsink is compliant with Sony's PlayStation 5 dimension requirement for M.2 disks. As shown above, the fit is exactly right for the PS5 with plenty of vetical space.
Here's shot of the Transcend 250H SSD on a motherboard.
Again, it will void your warranty if you remove the heatsink. The photo above shows us the heatsink of the MTE250H SSD removed.
With consumers becoming more aware of part revisions and how they can affect performance down the line, we include the key components in our SSD reviews. Below are the components used by Transcend 250H SSD 1TB PCIe Gen4x4 (MTE250H) sample as pictured:
Controller: Silicon Motion SM2264
Flash: Transcend-branded Toshiba 112-layer BiCS5
DRAM: Samsung K4A8G165WC-BCWE
Test Setup
Processor: Intel Core i9-13900K
Motherboard: ROG Maximus Z790 HERO
Memory: Kingston FURY Renegade DDR5-6400 32GB (2×16)
Storage: Kingston FURY Renegade SSD (OS), tested drive as listed
PSU: FSP Hydro GT Pro 1000W
Cooling: NZXT Kraken X72 RGB
Monitor: ROG PG27UQ
VGA: ASUS GTX 1050 Ti Phoenix
Our sample for this test is the Transcend 250H SSD 1TB capacity version
Linear Performance Testing
SSD performance rating especially on write usually only achieved in optimal sitautions particularly sequential transfers. In this we use a script to write 1GB data files to fill-up the drive or until we hit the saturation point where the drive doesn't delivery its rated performance.
In this test we see the Transcend MTE250H drop performance by 97GB written and then perform at SATA speeds by this point moving from 1680MB/s average to 423MB/s for 831GB more. It then subsides to fill out the rest of the disk.
Crystal DiskMark
CrystalDIskMark has been the most actively updated disk benchmark amongst all the ones we use and is effectively the most reliable. Unfortunately, version to version results are not comparable which limits the ability to extrapolate comparative data. Still its a reliable and direct benchmark. Like the previous, it allows control over test data pattern, the test data size, amount of passes and individual benchmark control.
PCMark 10 Storage Benchmark
PCMark 10 introduces a set of four storage benchmarks that use relevant real-world traces from popular applications and common tasks to fully test the performance of the latest modern drives.
3DMark Storage Benchmark
The 3DMark Storage Benchmark uses traces recorded from popular games and gaming-related activities to measure real-world gaming performance, such as:
Loading Battlefield V from launch to the main menu.
Loading Call of Duty: Black Ops 4 from launch to the main menu.
Loading Overwatch® from launch to the main menu.
Recording a 1080p gameplay video at 60 FPS with OBS (Open Broadcaster Software) while playing Overwatch.
Installing The Outer Worlds from the Epic Games Launcher.
Saving game progress in The Outer Worlds.
Copying the Steam folder for Counter-Strike: Global Offensive from an external SSD to the system drive.
Final Fantasy XIV Benchmark
Final Fantasy XIV has a standalone benchmark application for PC, always updated to the latest game expansion with the latest Endwalker benchmark delivering some very nice graphical updates. A long-standing feature of the Final Fantasy XIV standalone benchmark is the loading data is captures which is a summary of all the load times between scenes in the benchmark.
Playstation 5 Testing
NOTE: There are appears to be some changes on the PS5 which has caused performance to increase. Since our last test of the Netac NV7000-t SSD in August, there have only been 2 official firmware updates and only is officially disclosed to be related to storage to support 8TB SSD on the PS5.
Still, as of this testing done in the week of October 18, performance has increased significantly for SSDs on the PS5. This has been verified with older drives we've tested including as indicated by the Seagate FireCuda 530 in the list (denoted as Re-test). That said, this list will be nuked in a later review which will include some of our recent drives only.
The Sony Playstation 5 supports storage expansion thru M.2 devices and many SSD makers are advertising their drives as supporting the Playstation 5. That said, we've included PS5 bandwidth testing in our reviews. We use the Playstation 5's internal read speed test for the primary initialization. Due to how Sony designed this benchmark, our testing averages at least 5 reads with the drive formatted after a rest period for best thermal results.
Conclusion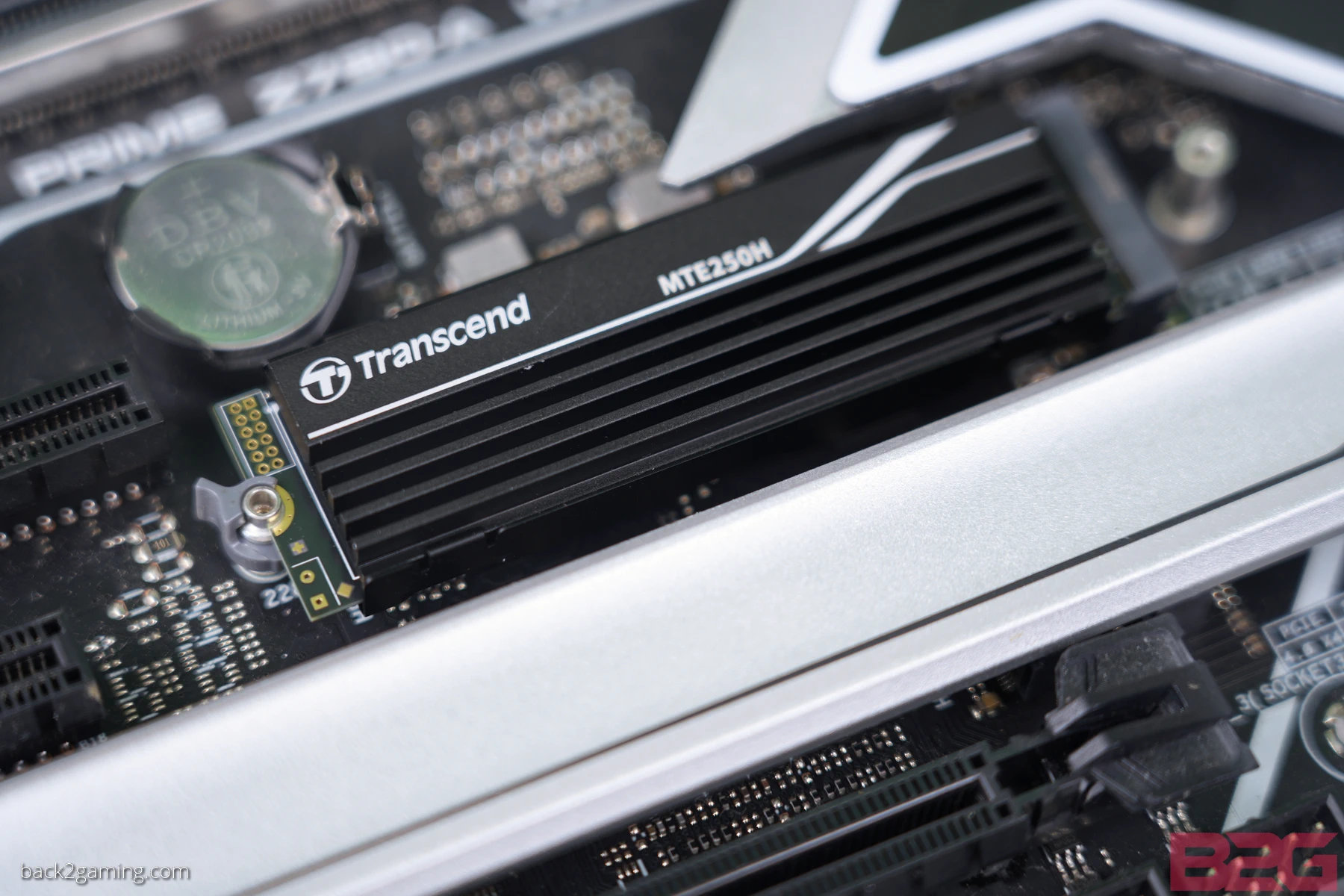 Available at Lazada) or Shopee), the Transcend 250H SSD is indeed a good performing drive and it manages to steal to show away from the YMTC-powered Netac in our charts. Much like the Netac SSD, the Transcend 250H SSD sits in the same price spot and while it does enjoy a performance parity against even top brands like WD or Samsung, many of these drives have gone down in pricing. While they may still be using older parts, in terms of absolute performance, many of these drive will offer the same gaming performance between them which makes it a tough spot for the Transcend 250H SSD when compared with these other drives.
Where it does shine a bit is in situation where the built-in heatsink would matter so PlayStation 5 gamers, mini-PCs or SFF PC builders that don't have built in m.2 heatsink shroud can get the benefits of a cooler drive Transcend's stock heatsink.
Still, its ultimately about the price and the Philippines is a region where DRAM-less drives are slowly breaking more and more ground as the drives of choice due to their more affordable price. This spells a lot of trouble not just for Transcend but every other SSD drive maker out there despite the Gen4x4 speed backed by a DRAM cache on the Transcend 250H SSD, its going to be tough convincing folks at its price range.
Still, it is worth its asking price of just a bit above $100 but ultimately this will be dependent on the region. For us here in Asia, options are abundant. Still, if the Transcend 250H SSD fits your budget and options are limited, it certainly won't disappoint.
The Transcend 250H SSD is backed by a 5-year warranty (subject to terms).  It gets my B2G Recommended Award.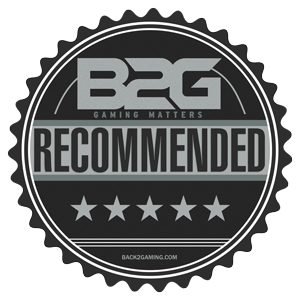 Transcend 250H M.2 PCIe NVMe SSD Review
Final Thoughts
One of Transcend's most performant SSD but struggles to compete in a very congested market where even its Gen4x4 speeds and DRAM cache, aren't enough to standout.
Pros
Decent performance overall
Good build quality
Fits PS5 perfectly
Cons
Warranty void if heatsink removed