Today we'll be taking a look at a group of GeForce RTX 4080 graphics cards and this article will focus on the much coveted ASUS ROG STRIX RTX 4080 OC Edition graphics card featuring a new style cooler that leaves the old 30-series design, this new style cooler features a large heatsink with a blue and red metal ornamental plate along the shroud which brings a touch of old-school ROG.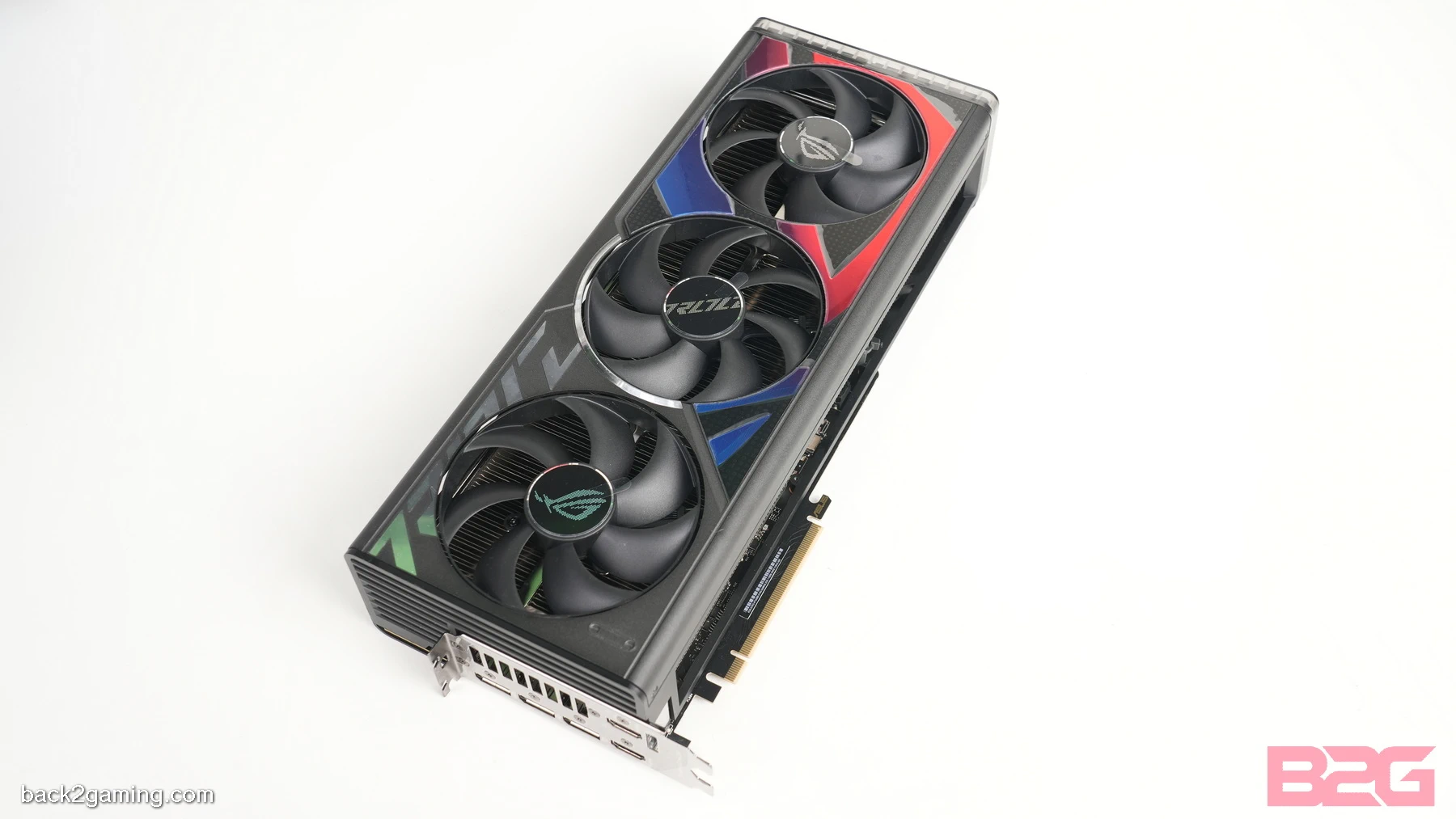 Based on NVIDIA's Ada Lovelace architecture and built on TSMC's 4N node, the AD103 silicon of the RTX 4080 features 9728 CUDA cores and features 304 4th-gen Tensor (neural) cores and 76 3rd-gen RT cores.  NVIDIA sets a 2505Mhz boot clock for the RTX 4080 with an 11200Mhz memory clock on the 22.4Gbps 16GB GDDR6X video memory. The RTX 4080 sees a large difference in overall specs against the RTX 4090's large 16384 CUDA core but keeps video memory fairly close with 16GB but is wired on a narrower 256-bit bus. NVIDIA announces that the RTX 4080 will start at $1199 and will go on sale starting today.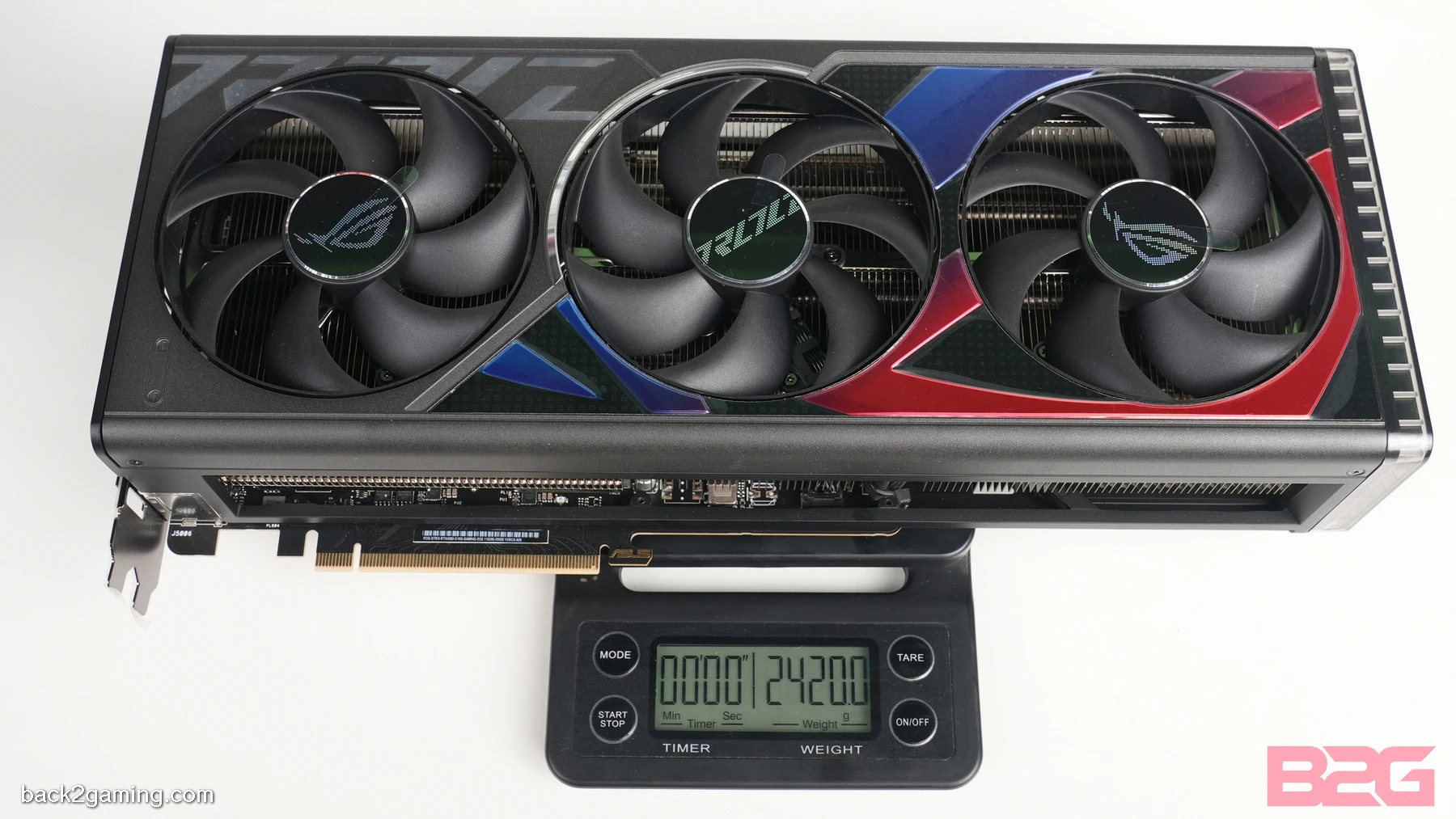 The ROG Strix cooler for the RTX 40 series doesn't really have a name unlike the older DirectCU type coolers but ASUS is very adamant in their Axial-tech fans and vapor chamber. The 3.5x slot height cooler promises better cooling performance than previous generation coolers. Its unclear why NVIDIA is mandating these larger cooler designs for their partners but the RTX 4080 clearly doesn't need to share the same size cooler as an RTX 4090 but alas, it is cheaper to manufacturer these coolers in larger numbers as 1 design than having variations that require a different assembly line.
The ROG Strix RTX 4080's cooler comes in at 2.42kg. Its mass comes mostly from the heatsink as ASUS is proud to share their "compact" PCB design for this card.
ASUS includes a 3x 8-pin PCIe power to 12VHPWR 12+4 power adapter in the package as well as a support stand.
ASUS bumps up the HDMI count on the their ROG Strix RTX 4080 versus NVIDIA's default of 3xDP,1xHDMI by adding another HDMI port  which brings our output option to 5.
ASUS adds some extras with their card. Most noticeable is this pair of fan connectors so your case fans can be controller directly via GPU versus the traditional CPU controlled fans that would only rev up if your CPU is loaded which may not be the best scenario for some applications.
An OC and Silent BIOS switch is located on the side which allows users to switch between an aggressive fan curve for gaming as well as a more tame BIOS for silent operation.
I mentioned something old-school in the opening and just to expound on that, ASUS has pretty much dropped colors on their ROG Strix designs many years ago except for the RGB lighting. This is the first time that hard material that is not RGB has received the color treatment from ASUS with the metal design plates adding a streamer style blue/red fade to the heatsink shroud.