ECS's LIVA line has been one of the most enduring products from the company for a decade. If you haven't heard about it, that's fair as the mini PC market itself is dominated by the more mainstream prebuilt PC but there is still that niche of buyers that want a very tiny form factor for many reasons. Discrete home PCs that want a simple and clean setup for browsing and light home office use is a prime example and businesses that want a small footprint as well as kiosk use are also good examples.
Regardless of where you lie in the user spectrum, ECS has been making many options for around 10 years now. We started with the original LIVA and we've come a long way then. Performance has followed suit and ECS is introducing their model of the LIVA: the LIVA Z3.
Powered by an Intel Jasper Lake SOC, the LIVA Z3 is offered in either a Celeron N5100 or N4500 or a Pentium N6000 CPU. Our sample unit is powered by a Pentium N6000 and we've tested it for a couple of weeks to see how it handles for light office and entertainment use. Read on!
Specifications
ECS Liva Z3
CPU
Intel Jasper Lake SoC (Pentium Silver N6000 & Celeron N5100 / N4500 processors)
RAM
2 x SO-DIMM DDR4 2933 MHz, dual channel up to 16GB
STORAGE
128GB eMMC
EXPANSION
Supports M.2 expansion
I/O

3 x USB 3.2 Gen 1
1 x USB 3.2 Gen 2 Type-C
2 x USB 2.0 Ports
1 x HDMI 2.0
1x miniDisplayPort

NETWORKING
Gigabit LAN, 802.11ax/ac WLAN (varies)
POWER
19v (65w)
DIMENSION
117 x 128 X 35 mm
Others

Preinstalled Windows 10 Pro
Kensington lock notch
Included VESA mounting kit
Fanless design
User-serviceable
Closer Look
ECS packages the LIVA Z3 in a black display box. The packaging is a sleeve which covers a standard black card board box. Aside from the model print on the front, nothing much of importance on the package aside from the serial label which contains the specs of the device. Take note that this comes in at least 3 configurations so please check the label to ensure you have the proper model.
Inside the package, the LIVA Z3 is secured in muliple compartments with most of the inclusions wrapped in plastic. Take note that underneath the main divider are the flat parts for the VESA mounting assembly
The ECS LIVA Z3 package includes the LIVA Z3 mini-PC, a 19v power brick, an AC 3-prong power plug, a a VESA mounting plate and screws as well as a quick manual.
The LIVA line has had multiple forms over the years but ECS has settled on the flat square as the final form the product line. There will be slight variation but the pocket-sized cube of the LIVA is one of its strengths as a mini PC. The LIVA Z3 itself is a compact 13cm x 12m and roughly 4cm thick. The body is a metal bottom housed in a plastic upper.
There's not a lot of unique physical features here with the glossy top featuring the LIVA logo and the bottom lined with feet and is made with aluminum to help in heat dissipation.
The ECS LIVA Z3 feature IO on the front and back. The main array are at the back with HDMI2.0, a miniDisplayPort, RJ45 port, two USB2.0 and the DC input. You'll want to connect your keyboard mouse on the USB2.0 ports so you can max out storage or other devices on the front.
The front of the LIVA Z3 features a power button with a LED indicator light, a trio of USB3.2 Gen1 5Gbps ports and a USB3.2 Gen2 Type-C capable of 10Gbps. Last up is an 3.5mm audio jack for a headset.
Lining the sides are exhaust vents to help exhaust hot air inside the case. The LIVA Z3 is passively cooled with no moving parts so nose is not an issue on the LIVA Z3 during operation.
There is a Kensington lock notch (pictured above) to help secure the LIVA Z3 in case you'll be using it in public.
By itself, the ECS LIVA Z3 is very tiny. Its barely the size of two full-sized gaming mouse side-by-side.  If the USB ports on the front is your measure, we're talking around 6 USB-A ports wide. That is very small. There is some heft to it which still shows that the LIVA Z3 is packed inside.
Loosening the 4 screws on the base, we get access to the internals. The screws are held-in-place so you just need to loosen them up. Once removed, we're greeted with one side of the motherboard which has access to the RAM as well as two M.2 slots. One is occupied already by an M.2 2230 WIFI module while the other is free for the user to install an M.2 2280 SSD in.
The included WIFI module does not need screw-on antenna. The entire housing of the LIVA Z3 serves as the receiver for the WIFI and Bluetooth of this mini PC.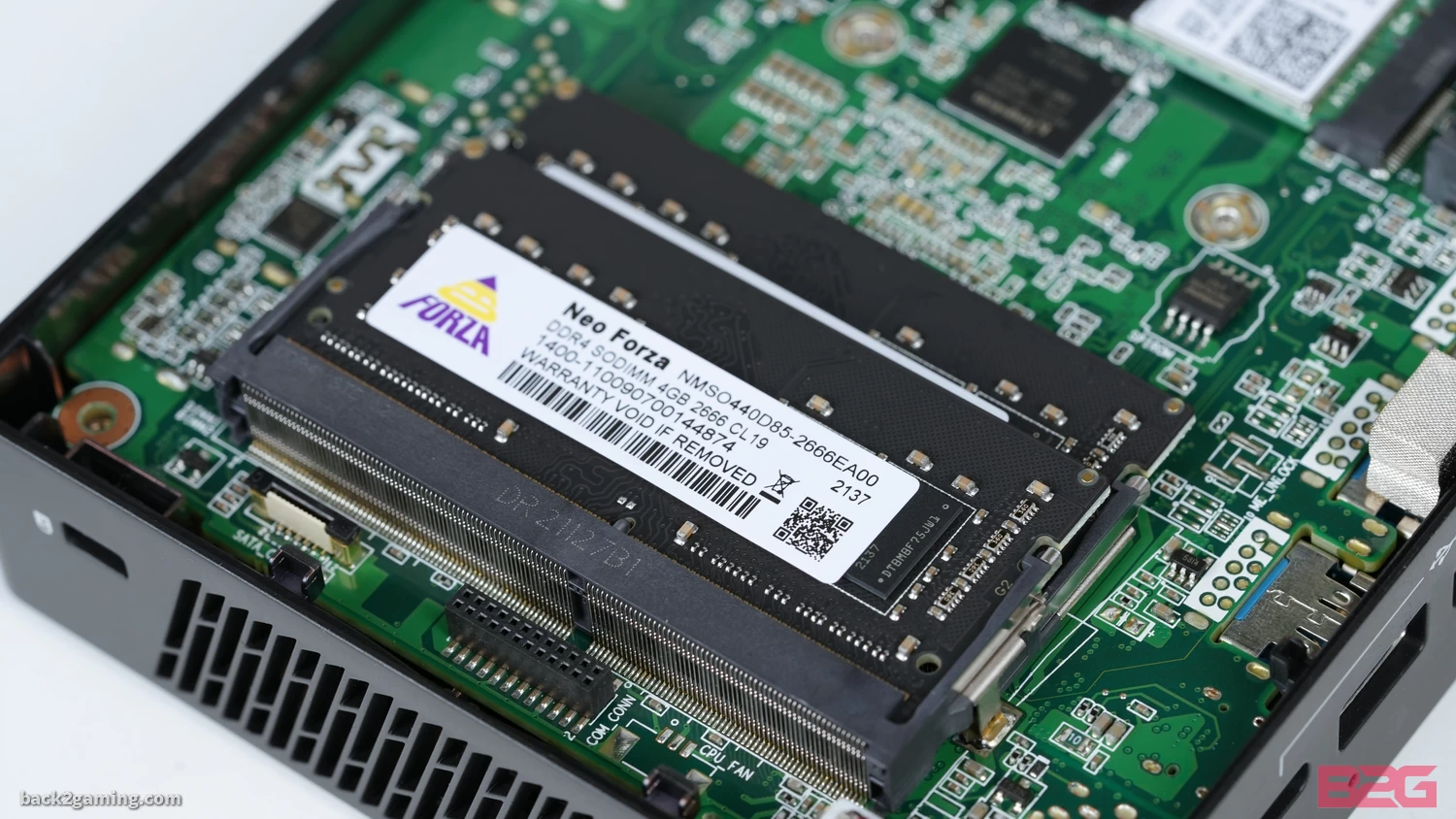 The LIVA Z3 supports up to 16GB of DDR4-2933 SODIMM. Our sample unit comes with 8GB of DDR4-2666 via two sticks of Neo Forza CL19 SODIMMs.
Carefully lifting up the upper housing we see the heatsink ECS uses to cool our Jasper Lake Intel SOC. There's nothing user-serviceable on this end so you don't need to be accessing this area. It is important to be aware that the WIFI/BT wiring are tightly wired on the upper housing so be careful when removing it to avoid damaging or accidentally disconnecting the antenna cables.
ECS is generous enough to include a VESA mounting kit with the LIVA Z3. A simple bracket-and-screw system, you install two included screws on the bottom of the LIVA Z3 which lines up on VESA mounting holes on monitors. Take note that you will need to have a free-standing monitor to use this on the VESA mounts as some monitors use the VESA mounts for the stand. In which case, you won't be able to mount the LIVA Z3.
That was the case when I was preparing the unit for mounted photos but our ROG and Lenovo monitors all had their stands blocking the VESA mounts.
Performance Testing
Let's open this up by talking about gaming. Is it possible to game on the LIVA Z3? The quick answer is a resounding no. While realistically you can run very light games or browser games, the threshold is very small and it becomes easily apparent that outside of light usage like browsing, office work and watching videos as well as listening to music, that's the extent that the LIVA Z3 can handle.
Steam has a stream function which allows you to play games on a more powerful PC and stream it to any Steam device. I tested this on the LIVA Z3 but it was a choppy mess. Elden Ring even kicked me out of online mode for having sub 30FPS graphics and mind you, this is running on an RTX 3070 system.
That said, we tested performance on office and general use. Starting off with Procyon Office from UL Benchmarks which uses actual Microsoft Office in gauging performance, our system score for the LIVA Z3 is 2038. This is acceptable enough for office use although I'll talk about a snag on this in a bit.
UL Benchmark PCMark 10 reflects the same score as Procyon although as expected, content creation is not a strong point for this system and anything that does rendering will heavily weighed down.
Based on my actual experience, the biggest problem with the LIVA Z3 is the internal storage. It causes the system to lag sporadically that even simple task such as typing is painfully stuttery. Booting off a 500GB M.2 SSD yield a more positive experience but again, this only improves the feel of the system but does increase performance overall. You will be able to use the LIVA Z3 on a 4K  60Hz monitor for office use and light Photoshop but more intricate Powerpoint files or gigantic Excel sheet may take a hit.
Conclusion
Picking up from that last segment, I want to acknowledge that home, school or business users that just want a PC for browser use with minimal app support and need it in the smallest form factor available, the ECS LIVA Z3 is easily the only choice outside of a tablet convertible or a laptop. Good luck getting a $400 laptop in the Philippines that isn't as slow as molasses or a Chromebook.
Kidding aside, the ECS LIVA Z3 is a concept that works and ECS' years working with industrial solutions has affirmed that there is a a need for desktop-based systems but orgs cannot afford the space for a desktop PC case nor need the power. The ECS LIVA Z3 is the latest addition in a decade-long existence for the LIVA and ECS looks like they won't be stopping anytime soon.
Available in Celeron N5600 or Pentium N6000 configurations and priced at Php15,600 and Php18,240 via GrandTech International, the ECS LIVA Z3 is a very niche product. The price is offset by a free copy of Windows 10 Pro as well as a power draw of below 30 watts. The LIVA Z3 is a set-it-and-forget-it solution for light computing. While many households may opt for surplus PCs, businesses and homes that want a compact system to mount on an existing monitor for use for children's home schooling or the elderly for browsing may be able to appreciate the appeal of the LIVA Z3 but businesses are the primary possible usecase here especially for terminals that will only see browser-based work on a corporate ERP portal or word processing and spreadsheet all while being discreet and out of the way, the LIVA Z3 is probably the only consumer-choice around.
ECS Liva Z3 Mini PC Review
Final Thoughts
Small and capable, ECS's LIVA Z3 can get the job done if the job is just typing, browsing or watching videos. Its small footprint and even smaller power draw makes it an ideal terminal for various light computing scenarios.
Pros
Decent light computing performance
Rich IO
Windows 10 Pro included
Expandable storage
Low power draw
Cons
Terrible internal storage
Could be priced lower