Gaming has never been the same as how it was before. Nowadays, hardware performance matters more than the storyline of a video game. Although, we do still get awesome video games with epic tales. It's just that, the market and consumer demand dictates otherwise.
So when it comes to gaming, more specifically playing video games on the PC platform, the hardware performance seems to matter most. Monitor display ends up on the least priority as most consumers settle for cheaper ones or with their old existing monitors. Especially those that have a budget to consider. And because of this, companies and manufacturers have become aware of what's going on. Which resulted in a market full of affordable computer monitor displays.
Consumers call for wider selection and options for monitor display has been apparent. It resulted in various affordable displays appearing left and right from unknown or brands that you may not have ever heard before.
Today, we're taking a closer look at one of the most affordable computer monitor display to date. The BEZEL 27MD845.
The BEZEL monitor brand is owned by a local company in the Philippines called Next Technologies Philippines. We've recently done a hands-on review of one of their monitors, the BEZEL 27MD28911, which is their very first 27-Inch computer monitor. It featured a 144Hz VA display panel, 1080p native resolution, and 27-inch panel size. Learn more about that monitor by reading our review here-> Review – BEZEL 27MD28911 144Hz FreeSync Gaming Monitor
BEZEL 27MD845 FreeSync Gaming Monitor
Specification
Model Number: 27MD845
Color: Red Black
Viewing Angle: 170°(H) / 160°(V)
Display Area: 597.6 X 336.15 mm2
Resolution: 1440p (native)
Max Brightness: 300cd/m2
Screen Ratio 16:9
Display color: 16.7M
Size: 27 Inches (Diagonal)
Screen Type: TFT LCD
Display Panel: MVA
Refresh Rate: 144hz
LCD type: AUO
Contrast: 3000:1
Response Time: 3ms
Power: AC 100-240V
Power Consumption: <25W
Stand-by: 0.05W
Interface: HDMI and DP
Accessories: Power cable and Display Port Cable
Where to Buy
EXCLUSIVE PROMO –
Planning to buy this monitor (BEZEL 27MD845)? Get Extra ₱300.00 discounts with our LAZADA Code "B2G300OFF" Until 2019.12.01 ONLY
---
BEZEL is probably a brand that none of us has ever heard before. It is a new brand in the display market and is only available in the Philippines as of this writing. If you do a quick Google search of the brand, there is a high chance that you might not find anything about the brand or the company. BEZEL monitors are distributed by NEXT Technologies, a company that produces mobile accessories, monitors, and retail Wi-Fi solution.
---
Unboxing – BEZEL 27MD845
Let's start with a quick unboxing of this monitor first. At first glance, the packaging may seem to look familiar. It's quite a similar packaging that we usually find on most OEM TV products from small or newly emerged brands.
The packaging box doesn't have much anything to showcase for. There isn't much to see on both sides of the box and the front and back display the same design. Other than that, the packaging highlights the physical look of the monitor as well as a couple of its features such as blue light eye care, LED color spectrum, energy saving, and lead-free. If you're wondering what the Chinese text says, it simply mentions the ultra-thin bezel design of the monitor and nothing much else.
Take out the content of the box, the inner content is protected and held in place by a customized foam cushioning. This protects the monitor from shipping and travel.
The monitor is placed in the middle of the foams. While one side of the foam contains the included accessories.
Removing the foam cushion was fairly easy enough. In most branded monitors, the monitor is usually held by two foams on both sides. So it's unusual to see one covering the whole monitor.
Once you remove the foams, the monitor is safely held between the two foams. The monitor is only inside a foam bag to protect it from dust and trivial damages such as scratches.
Removing the foam bag reveals what the back of the monitor looks like.
Accessories
Monitors that are considerably cheap and affordable doesn't usually come with cables. So any consumers will appreciate knowing that the BEZEL 27MD845 comes with a couple of cables and this includes 1x Display Port cable, 1x Display Port cable from UGREEN (Very nice), 1x HDMI cable, 1x Power Brick adapter, 1x Power cable, and a nice looking V-shaped center stand.
We're not quite sure why it comes with a DP cable from a different brand but it goes to show that the company is generous enough to ensure that you get the best out of their monitor. Kudos to Next Technologies for ensuring value to their customers.
Closer Look – BEZEL 27MD845
Next is taking a closer look at the monitor. Although there's no official statement from the company, it looks like that the BEZEL 27MD845 is the successor of the company's 2018 model, the BEZEL 27MD28911 144Hz FreeSync Gaming Monitor. This monitor mainly features a 27-inch screen size display, a native 1440p resolution which is an upgrade compared to the 1080p of its predecessor, the 27MD8911, FreeSync, MVA Display Panel, and a more gaming oriented design V center stand.
Display Thickness
It still has that ultra-thin bezel design and a thin body frame at around 7.9mm in thickness which is thinner than most smartphones. Although, the monitor's predecessor is thinner with a body thickness of 6mm only. The increase in thickness might be due to its more gaming inclined design as well as to have more accent and appeal for gamers.
Input/Output Connectivity Ports
Found at the back of the monitor is its Input/Output ports. The monitor features one port for HDMI, one port for Display Port (DP), and one port for DVI (Dual Link). It also has one 3.5mm audio port and a DC power port. It's nice to see that all of the ports are located in one place but we didn't like its placement. The ports are positioned downwards and are quite close to the edge of the display.
Resulting in cable management difficulties which also makes it difficult to hide the cables.
VESA Wall Mount
If you ever wish to wall mount this monitor, you can do so with its 75mm VESA wall mount support. Although, just a warning, ensure that you're hooking the monitor up with a quality wall mount bracket. The monitor doesn't have a metal frame body that's attached to the VESA holes. Furthermore, the VESA holes are plainly positioned on the plastic cover of the monitor.
Display Button Controls and Functionality
The monitor has 5 control buttons located at the back. One of the buttons is for power while the rest are for navigation, increase/decrease, and select/exit function.
Design
One of the things we liked about this monitor is its gaming-oriented design. The monitor features a red and black color theme design with a few red accents found only at the back of the monitor.
It also comes with an unusual design stand that really adds up to the overall aesthetics.
Looking at the front side of the display, the first thing we noticed is the sleek and clean look. At the first few minutes, we got our head scratching thinking and figuring out the difference. We know somethings a miss, but we can't pinpoint what it is. We then, later on, noticed that the brand logo is nowhere to be found which is usually placed in the center of the bottom bar bezel, like most monitors and TV in the market.
Having the brand logo placed at the back of the monitor instead of having it at the front is a simple design that we always have wanted. For this, hands down to the company. This gave the front look a sleek and clean, brandless look.
But if there's one odd thing that we found in this monitor, it's gonna be the speaker design placement at the back side. Unfortunately, this monitor doesn't come with a built-in speaker. So, it's very odd to see a frame with a speaker holes design if there's actually no speakers in it. We can't help but think that there could be a monitor that uses the same monitor case that has speakers in it. Otherwise, it could be a potential new model in the near future.
Built-In Menu | Settings
The BEZEL 27MD845 monitor features a built-in system configuration. You can access this menu by simply pressing the menu button located at the back of the monitor.
The monitor has 6 main menu options and one of them is the AMD FreeSync toggle settings.
The monitor can also be configured to produce less blue light for eye care, change the display aspect ratio, and overdrive then enables FreeSync to work with AMD cards.
Under the setup option, you can configure to manually select which input to display for multiple input setup, mute or change the level of volume if you got a speaker hooked up to this monitor since it features one audio port, and a reset function to reset every changed made.
Next is we have the OSD Settings. This option simply lets you change the overall look, position, and duration of the built-in menu of this monitor.
As the name suggests, color is an option that allows you to change the overall color temperature displayed by the monitor or manually adjust the amount of red, green, and blue.
Last but not least, we have the picture settings. This option lets you change the overall brightness, contrast, and sharpness of the display. Furthermore, ECO is an option that lets you change the overall mode of the display. Basically, this monitor has 7 display namely Standard, Movie, Game, Photo, FPS, RTS, and User configuration. Each mode or profile instantly applies the pre-configured setting once selected. Although, we didn't like each mode and how they were intended. For example, the FPS profile ends up having too much brightness while the Game profile gave us a saturated color display.
Performance – BEZEL 27MD845
To measure the overall performance of this monitor, we will be using benchmarking tools provided by https://www.testufo.com/ to interpret the capability of this monitor. So let's begin.
Refresh Rate | Ghosting | Motion Blur
Using the refresh rate checker tool, we can accurately measure the actual refresh rate of the monitor. On papers, it says that it features a 144Hz refresh rate. To measure the actual refresh rate, we had to close every tabs and application to focus the monitor resources to the test and to eliminate any stutters caused by applications.
After a minute of the test, we got a solid 144Hz refresh rate.
Next, we check for ghosting issues.
Using the ghosting tool benchmark, we can also test for coronas, and overdrive artifacts. If you wish to learn more about this, you can read here.
Our test result shows minimal ghosting but it mostly appears when we crank things up. Pushing the monitor beyond its limits. In this case, we set the transition of color per pixel to 3000 per second and that test is usually done to 4K displays. No issues with Motion Blur, Coronas, and overdrive artifact as well. For this kind of test, there's no way to show the actual result since results cannot be shown or recorded as to how they are when seen with the human eye.
Display MPRT Measurement (Motion Picture Response Time)
For this test, we're measuring the pixel visibility time of this monitor. In more simpler term, it's the standard for measuring the "motion blur" of rapidly moving objects in a sequence of images. The lower it is, the less motion blur we see.
Our test result shows that this monitor has a 1.7ms MPRT and 576 MCR.
Viewing Angle | Colour Shifting
Since the BEZEL 27MD845 doesn't feature an IPS panel, it's only expected that color shifting or degradation will occur when viewed at an extreme angle. On specs, the monitor has a good view angle rating of 170°(H) and 160°(V).
To test, we used an image that contains all the basic color and secondary color of the color spectrum. At a glance, the monitor performs really well will high color accuracy reproduction. Although, the limitation becomes noticeable when viewing colors of almost the same shade with a 1 to 5% difference. Most notably, the color blue in the middle looks almost identical even though they are different shades of blue. The same thing can be seen with the color brown on the right side of the monitor. But this is expected since VA monitors cannot produce the same accuracy of color reproduction that we can find with IPS panels.
Viewing at the top around 150 to 160 degrees, the image became brighter resulting in a few color saturation.
Viewing at a lower angle causes the image to become darker. The top part of the image started to saturate negatively and contrast shifting occurred.
Viewing at an angle for both sides doesn't affect the image.
Uniformity | 50% Std. Dev
Using a 50% standard deviation of all colors, the monitor has excellent grey uniformity. No clouding issues found at all level of red, green and blue. It did not exhibit any dirty screen effect when browsing the web as well.
Note: Please ignore the circular color effect seen on the image. This is due to the difference in refresh rate and the shutter speed of the camera.
Defects | Dead Pixel
For pixel defects, we simply made the monitor display the 3 basic colors in full-screen mode. By doing so, we can check if there are any pixels that are dead, stuck, or simply malfunctioning out of the box.
Since pixels are made of RGB colors, it'll be easier to determine if there are any pixel issues by making the monitor display each color. After inspecting and viewing each color, there are no defective pixels found.
Banding | Clouding
Banding is probably one of the issues that most talk less about. It is definitely a monitor issue that everyone should look out for. But, what does monitor banding even look like?
On a gradient scale, banding will look like this…
On a perfectly working monitor, it shouldn't look like the image above. Instead, it should be a perfectly smooth transition from white to black.
For this monitor, there were no banding or clouding issues found.
Moreover, the monitor performs perfectly in this case.
Contrast | Brightness
In the world of display panels, VA has one of the best contrast to offer. The luminance of each color displayed on the image above makes every shade distinguishable.
The brightness is perfectly balanced as well. Out of the box, it's set to 50% by default. Cranking it up to 100%, we're getting as high as 340cd/m2 of brightness.
Overclocking
When it comes to overclocking, we won't tinker much into details and configuration. Our test and setup will be straightforward. This is to set a standard expectation among all monitors of this model. Since every hardware performs differently when setting outside factory configuration.
So for overclocking, we have to patch the drivers first to remove pixel clock limitations. From there, the only thing that we will change is the refresh rate.
Overclock Methodology
UGREEN Display Port Cable
The highest possible refresh rate we could get without changing anything within the utility is 162Hz@1440p. That's about 12.5% increase in refresh rate performance.
Using the UFO Test, we can verify that we are getting a 162Hz refresh rate without frame skipping issues. Although, the difference between 144Hz and 162Hz is barely noticeable. Unless you have a very sharp eye in motion tracking. Otherwise, the extra 18 frames per second are beneficial at a minimum.
---
Final Thoughts…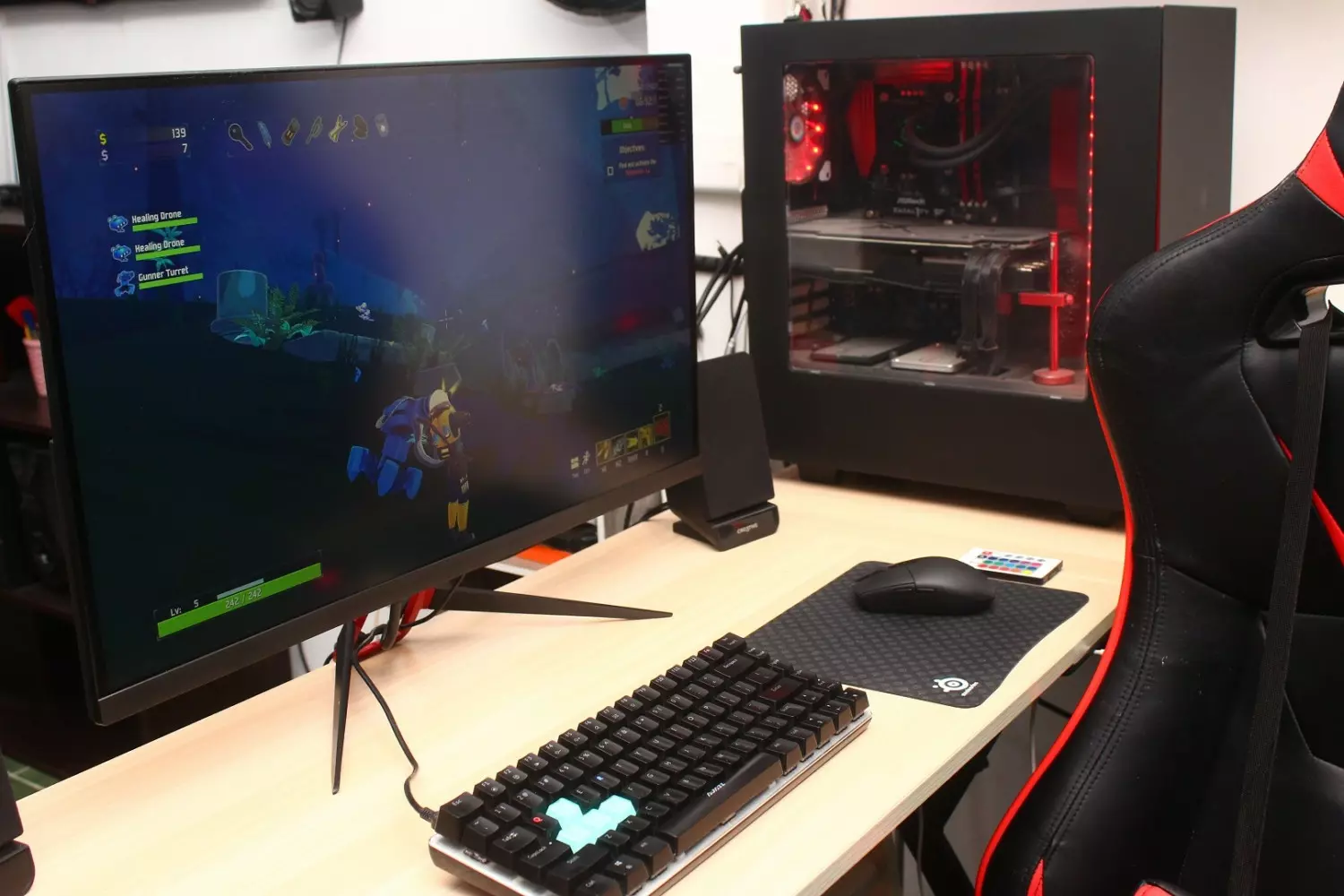 Overall, the BEZEL 27MD845 sets the bar high for mid-level 144Hz gaming oriented monitor. With a selling price of ₱11,499.00, not only you get a 144Hz monitor, but you'll also get a 27-inch display, 3ms response time, a VA display panel with excellent contrast ratio, and a monitor that boast its gaming-oriented design.
What we like about this monitor is its features for its price. Nowadays, the market is filled with 144Hz monitor. Some are cheap while some are not. For the BEZEL 27MD845, it places around the entry to the mid-level competition. However, this has been the cheapest 27-inch 144Hz monitor with a native display resolution of 1440p we have seen so far. Furthermore, you get a ton of free cables from DP to HDMI which can cost you around ₱500 or so. Adding more value to the overall package of this monitor.
The quality and performance of the monitor have by far exceeded our expectations. We're not expecting much when we heard of the selling price. It did, however, performed above expectations.
The monitor is definitely leaning towards the gamers or consumers who want to enjoy a bigger screen with a 144Hz refresh rate without breaking the bank. Although, if you're looking for a curved display, then you're out of luck. There's no curved option for this model.
Furthermore, not having the brand logo around the actual display makes this monitor look sleek and clean. Especially if you hook it up with a wall mount.
What we did not like about this monitor is the positioning of the I/O, the odd design at the back for speakers, VESA holes with no metal frame to support the whole display, and something that some of you may or may not agree, the use of VA panel. It would have been great if this monitor uses IPS panel but it can't be helped if the target of this monitor is those budget-conscious individuals.
Ultimately, the BEZEL 27MD845 is an excellent monitor considering its price. Compared to the competition, some models with similar specs already cost more but has similar performance.
So all in all, in terms of value, quality, and performance. We highly recommend the BEZEL 27MD845 if you wish to purchase a 27-inch Flat 144Hz gaming monitor.
EXCLUSIVE PROMO –
Planning to buy this monitor (BEZEL 27MD845)? Get Extra ₱300.00 discounts with our LAZADA Code "B2G300OFF" Until 2019.12.01 ONLY